There's a lot of reasons I'm angry, annoyed, frustrated, during any given day.
And, usually, the reason is because my ankle/ foot/ leg just isn't doing what it's meant to do.
"Good morning Rachel, do you feel like limping for four hours today? Don't worry, we can get that sorted. And you'd like to struggle going down the stairs today, too? I'll add that onto the order. Just FYI, tomorrow we're going to be really swollen for literally no reason."
It can get pretty tiresome for me and also pretty tiresome for anybody who I happen to mention it to because they've probably heard me complaining a thousand times already this past year.So yeah, it's a whole year (!!!!) on now and I'm still having physiotherapy, swelling, and general being-pissed-off about it all.
But this isn't a whine post. It's a post about the power of injury, and the overwhelming positivity that a seemingly 'bad' thing has brought into my life.
It's taught me about the power of slow progress
I've always been about fast. Fast results, spontaneity. My life has revolved around change and quick, vivacious drive.
For somebody like me who likes to see instant results, slow progress is a killer.
It's fucking infuriating when, each time I go climbing, each time I go to stretch my ankle, I edit a video – anything – I feel like I'm making zero progress. Some weeks my progress goes backwards. And, don't get me wrong, I still come back from the climbing wall in a sulk because I feel like I'm not getting anywhere. I'm actually feeling pretty grumpy about my climbing progress as I type.
My core climbing group is full of people far better than me. But, when I sit back and think about it I know I'm being ridiculous. I've actually only ever climbed at full fitness for 5 months. The rest has been injury.  But now, despite flexibility, pain, and fear issues – back muscles have appeared. I climb routes I couldn't even dream of climbing before my ankle injury.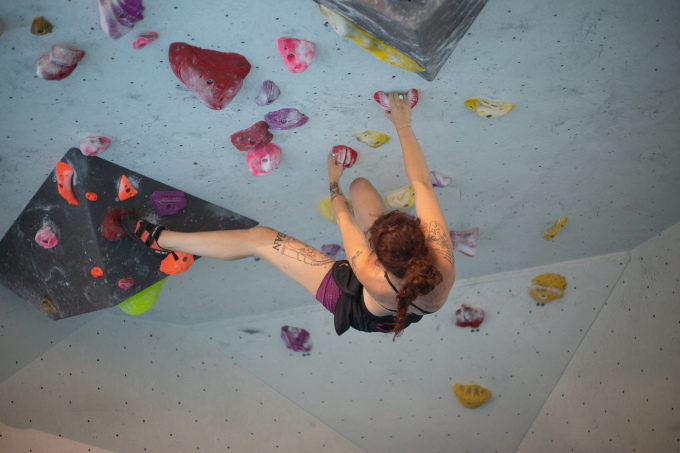 I hang upside-down quite happily and I am now leading sport and trad routes. The progress, mentally and physically, is slow (for me) – but it's present, it's there.
And that brings me onto… fear.
I've learned that fear is not this intrinsic, unchangeable thing
Fear. I pretty much had none of it up until the age of 25. Skydiving, flying a plane solo, bungee jumping (yeah, alright – somebody did have to push me), traveling solo. Alongside my mental health issues was a fearlessness that usually pushed me through when insecurity bit at my heels.
But as I started climbing again, I began experiencing what I can only call panic attacks. Real, raw, -I can't move- attacks of panic. I also get nervous on hikes – sure I'm going to slip and hurt myself.
For the past 5 months or so I've been analysing, listening to podcasts, reading books, watching videos – about climbing fear, fear in general, and trust.
I realised I didn't trust my body – my walking or climbing abilities. My balance is off, I can't bend to save myself from a wobble – the list goes on.
So – I got better at climbing.Has it helped? To a degree.
I continued to train, but not just physically. I tried full immersion in scary situations (exposure therapy) but that did not work – at all. So, I began slow, small. Trying climbs I felt okay on. Getting a little higher, getting a little harder, getting a little scared. Coming back. Trying again. Bouldering higher, leading easy sport outside.2 months ago I said I wouldn't be able to lead a pitch of traditional climbing, no matter the grade.
Last week I lead three pitches of a Severe multipitch.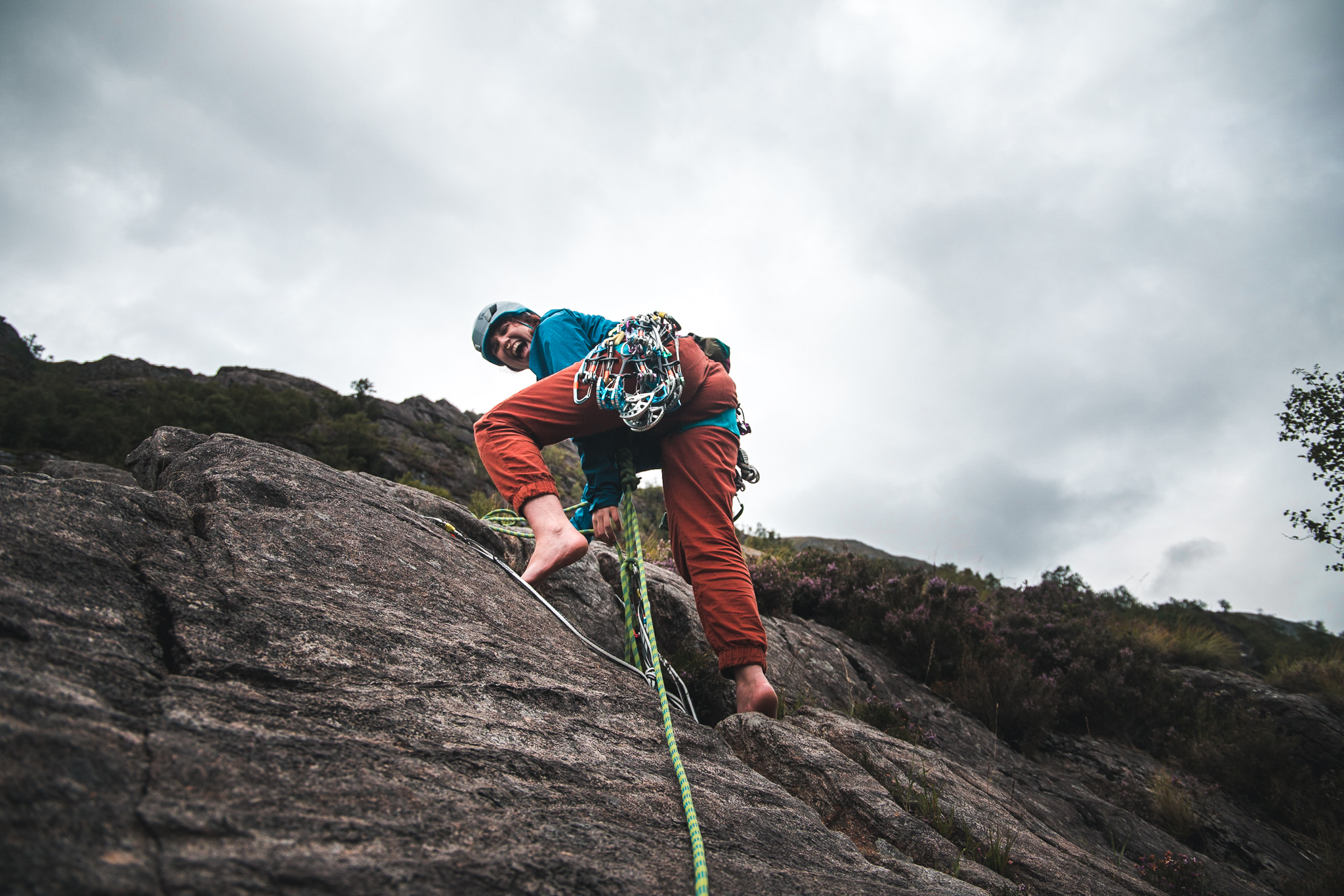 (I have literally the worst rope management ever, and really tight shoes not suitable for trad)
Fear conditioning is a thing. And I'm so excited to have discovered that I have control.
I realise that I have control
There are some things I have no control over.
But I can choose to train so one day I can work on the same climbing projects as Michael. I can put myself in ever-more scary situations, little by little, to shift my fear levels. A technique that's as vital in everyday life as it is in climbing.
It lead me to the love of my life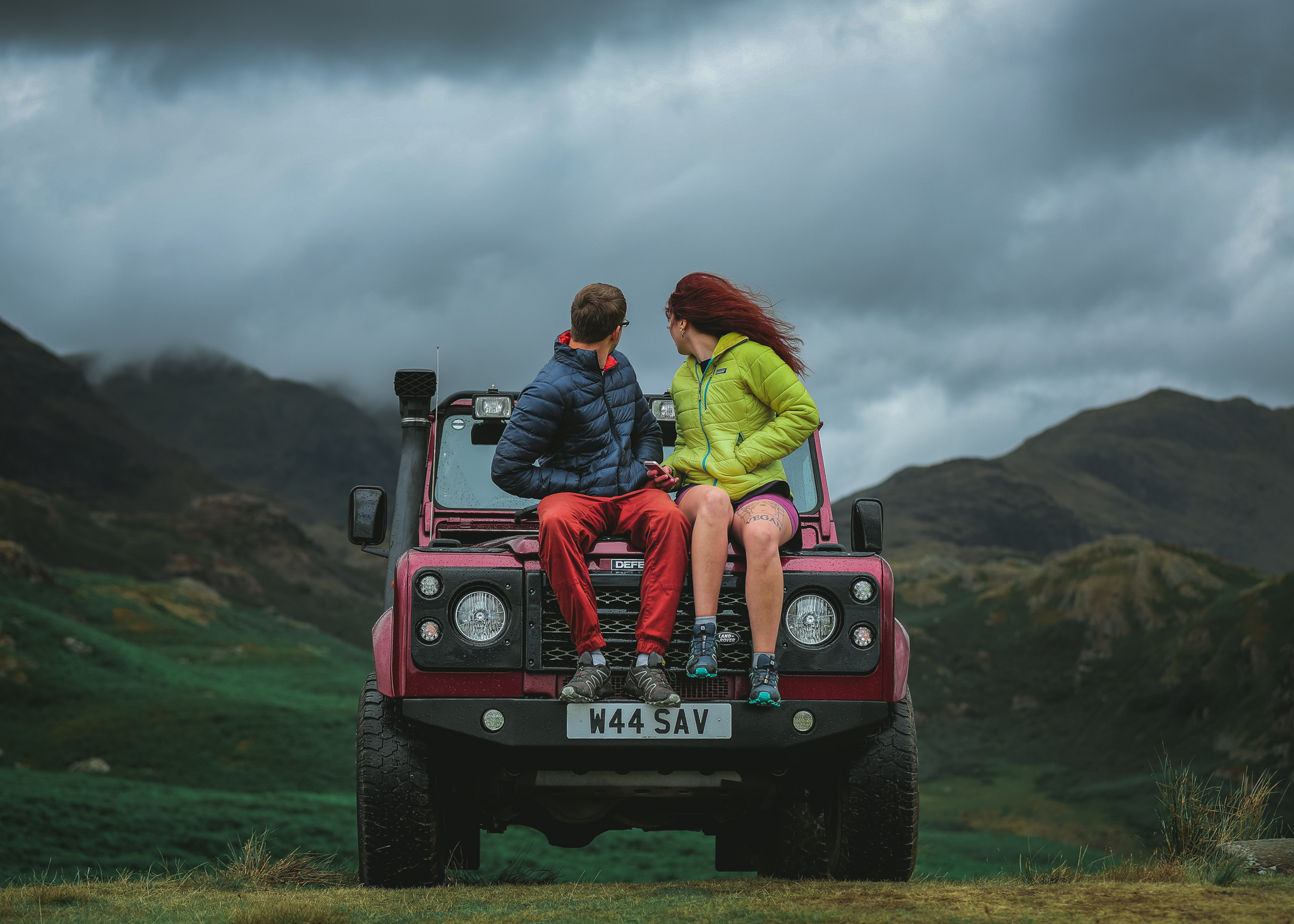 (Or it lead him to me? I don't know.)
Centre of my world. Life and climbing partner. As much as I feel a strange wave of weird opening up (I don't tend to write much about our relationship) – I can't leave Michael out of this list of reasons. My dramatic retelling of the accident via tinder messaging was the conversation that sparked a conversation and a weird bed-bound (because I was in a cast and on lots of meds!) first date. It will be our one year anniversary next week.
Oh, and a couple of other things-
I worked from home for so long whilst injured that when it finally came to go back to the office, I just didn't want to – I struck out and went freelance (best career decision of my life).
I felt the support of people around me (near and far) – it was really beautiful and I'll never forget it.
I now value my health and my body, and look after it so much more than I used to.
I have realised that it's just an ankle. It could have been worse.
Have you ever had anything bad happen in your life that's turned into a positive?