Sunday 7th April, Arnside
8:30am
The airbnb I booked was kind of weird. Michael told not to spend too much on accommodation for his birthday, so I put aside thoughts of 5 star hotels with pools and went to search on more reasonable places. 
I ended up not quite hitting the mark, though…
We ended up staying in somebody's converted garage – no big deal, that's fine. But… it had a huge glass door with windows looking out into their house and we didn't have any curtains!
Buh bye, privacy.
Anyway, we packed up, made the bed back into a sofa, and drove ourselves back into the heart of the Lake District, with one place in mind. Somewhere we'd never been before.
11:00am, Castle Rock of Triermain
One of the most difficult things I have to do when going hiking or climbing is making the decision to leave the camera behind.
I know the higher I get, the more my viewpoint changes, the more beautiful the landscape is and the more, more, more I just want to have the camera in my hands to capture it. It breaks my heart when I see the soft light breaking through the cloud, highlighting details in a valley far away. And the camera is tucked away, miles from where I stand. 
But that's what I did. I left the camera behind, we packed up the climbing gear and made our way up (the long way round) to Castle Rock of Triermain, a beautiful, imposing piece of rock jutting out into the little valley of St John's in the Vale. 
The crag is the perfect place for those looking for a short walk in and a variety of single-pitch climbs in the Lake District. A free car park stands at the bottom of the crag, and all you do is simply walk through a field, some trees, up a hill, and you're there.
Sadly a couple of the classic routes are off limits at the moment, due to the rock having a bit of a nightmare and falling apart and cracking open, making those routes pretty unsafe to climb.
But no bother, there are still several lovely climbs from VD up into the Es. We found ourselves warming up on Yew Tree Climb, sharing leads on this small multi-pitch (we condensed 3 pitches into 2) before I moved onto lead the exposed but easy Gangway Climb (where all my micronuts came out as I went up, apparently. Glad Michael waited til i'd gotten to the top to tell me) we then finished with a lovely slab Severe, imaginatively called 'Slab climb' which I let Michael lead as I'd had enough micronut poppin' excitement for one day. 
The sun started coming down – we had plenty of time for more climbs but we didn't have plenty of time to get back down the car, to drop our climbing gear, to grab the camera kit, and then run all the way back up past the crag and to the top of our summit. 
Golden Hour, up above Castle Rock of Triermain
We thought that golden hour was falling a little flat. How wrong we were. I sent the Mavic up and it captured what my own, high viewpoint eyes couldn't quite get: an even higher sweep of the two valleys, the misty hidden mountains in the background, and the stillness of the air.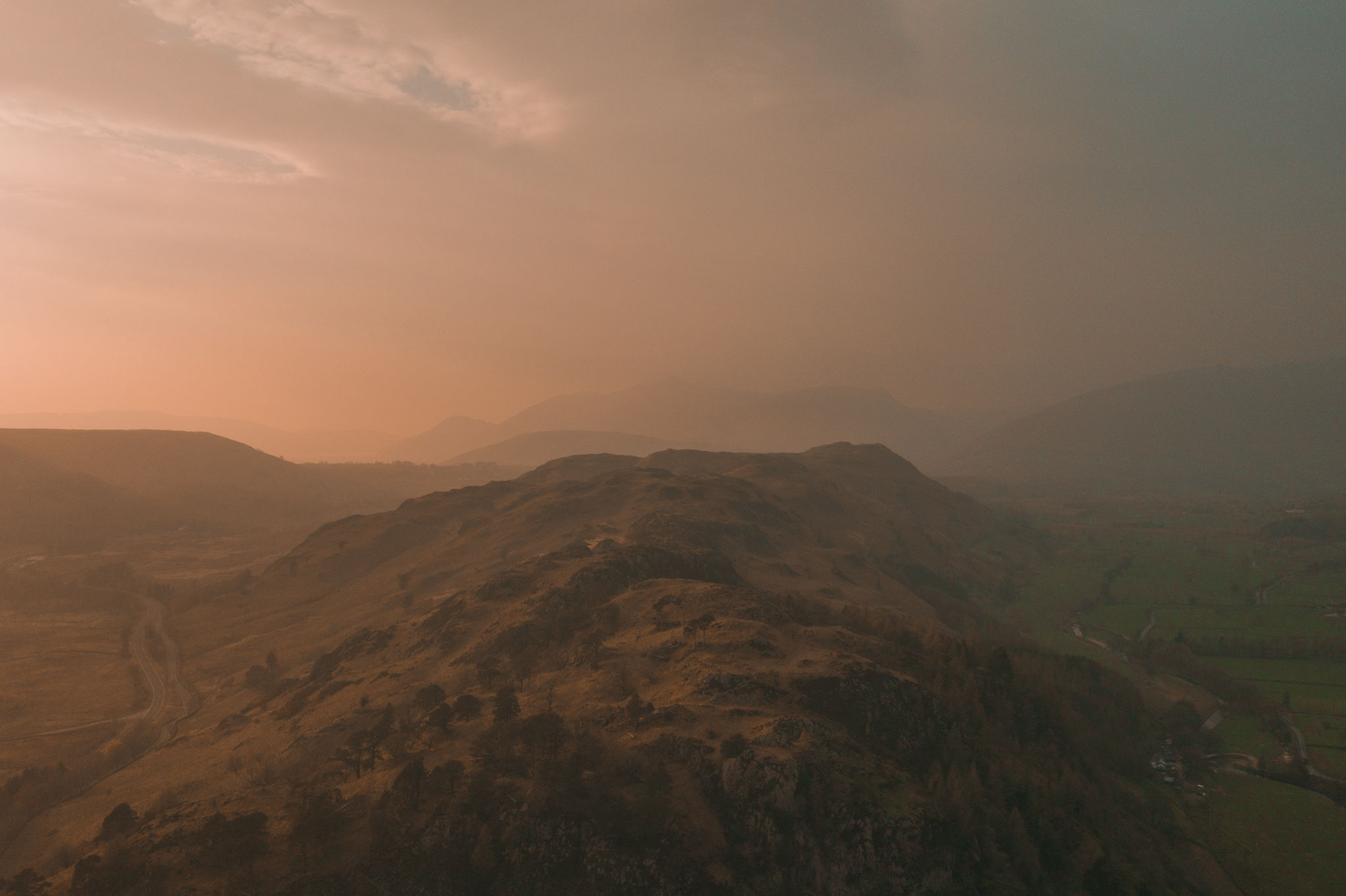 We stayed a while, as the sun went in and out of cloud and then, eventually, fell out of sight. 
Then, we made our way down as the shadows grew and began to muddy into darkness. A pit stop at Fellinis as a belated birthday meal, we were completely underdressed for such a lovely restaurant, and spoiled ourselves with high-end veggie food, starter to dessert. A late night drive back home, a head-hitting-pillow kind of falling asleep, the kind where you forget to brush your teeth.