Sunday 31st January 2021, 21:25
We've been at home for almost two weeks now, our first time isolating since this all began. I'm sat on my sofa, re-watching Netflix like I don't have a career to worry about. Feeling confused, stressed, like most people are right now I think. And the more I think about not being able to go out, the more I think about my relationship with going outdoors, especially at the moment when options for where I can go are just so limited.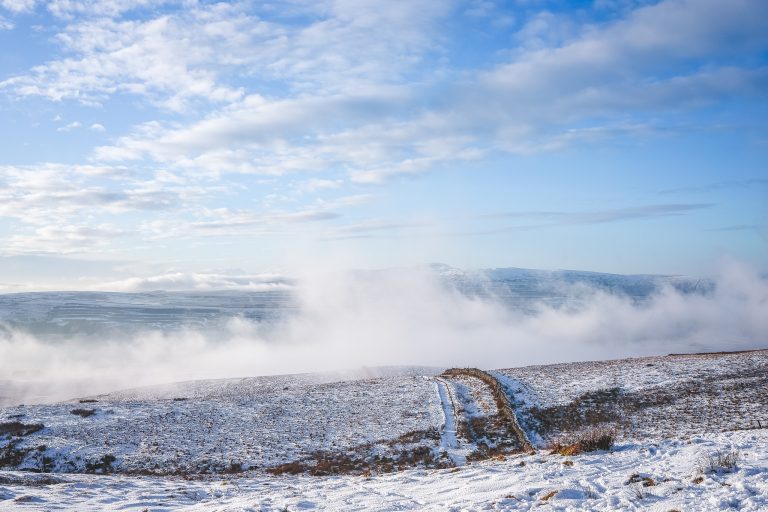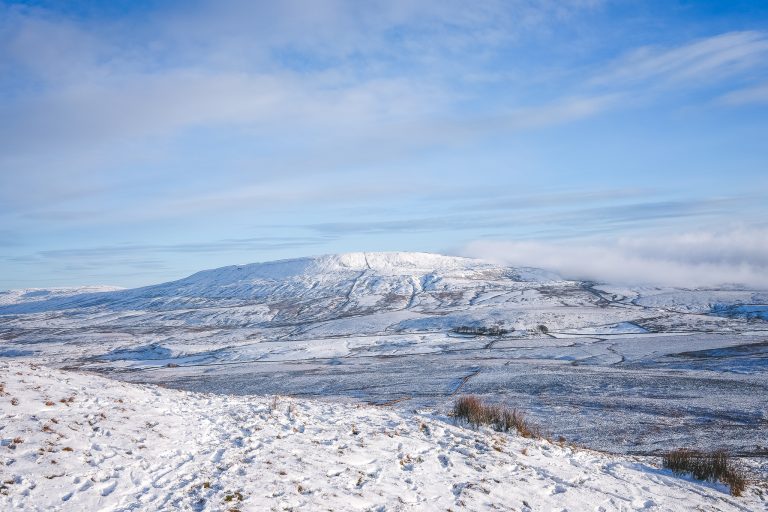 I think about the last run I did. In the soft snow and unforgiving ice in the Yorkshire Dales, micro-spikes over my trail shoes which made me feel like I was invincible on the slippery trails. It was one of those rare, bluebird days – cold, but warmed enough by the sun and our own moving bodies that we didn't need coats, or even fleeces, as we made our way up Pen Y Ghent.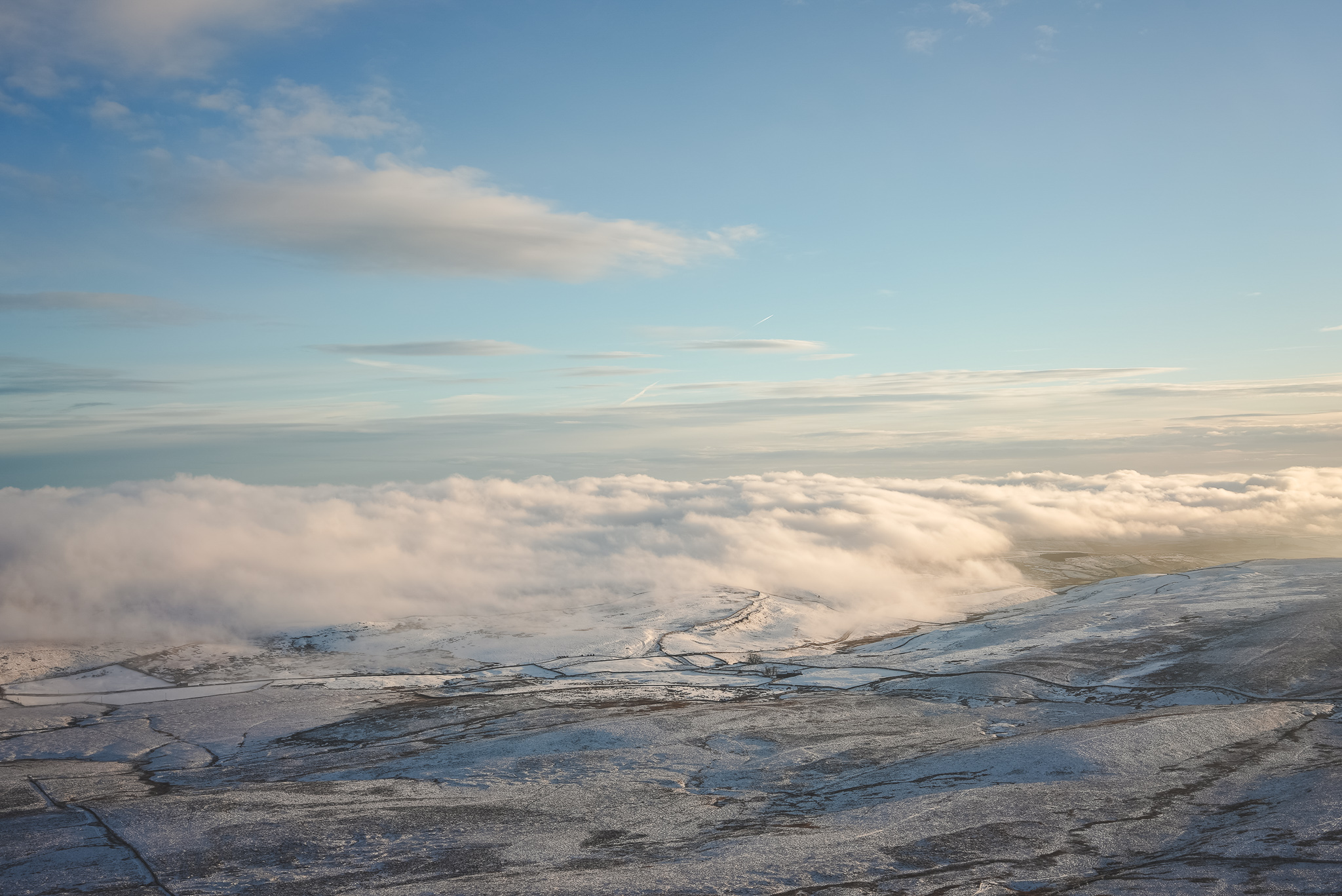 I'm thinking how much we want to do something when we realise we can't, or shouldn't.
Like running. I've historically never liked running, or any exercise, after some bad experiences and body issues from my early childhood. I always felt like my body was too large and clumsy for sport, and every single time I did any cardio like running, my face went bright red.
I have vivid feelings of shame tied to cross-country at school, and memories of envy as I watched the small, thin girls at school doing cartwheels – something I never dared to really try because I was scared that instead of looking cute and silly when falling, I'd look lumbering and would 'crash' down onto the floor and be laughed at for being the 'fat girl' who was trying and failing to be athletic. 
I always 'outdoorsy' as a child – playing outside often – but the embarrassment that was tied to exercise has been a common theme throughout my whole life. 
So, a long winded way of saying that there are some body issues and societal standards to unpick (at some point when I really have the headspace). Oh, and that I've never been a runner.
However, on this day we are running. Well, walking-running-walking-taking photos-running-walking. And we make it to the top just as the clouds start moving in beneath us and the light begins to turn golden. There are other people up here but we ignore them, and take in the views.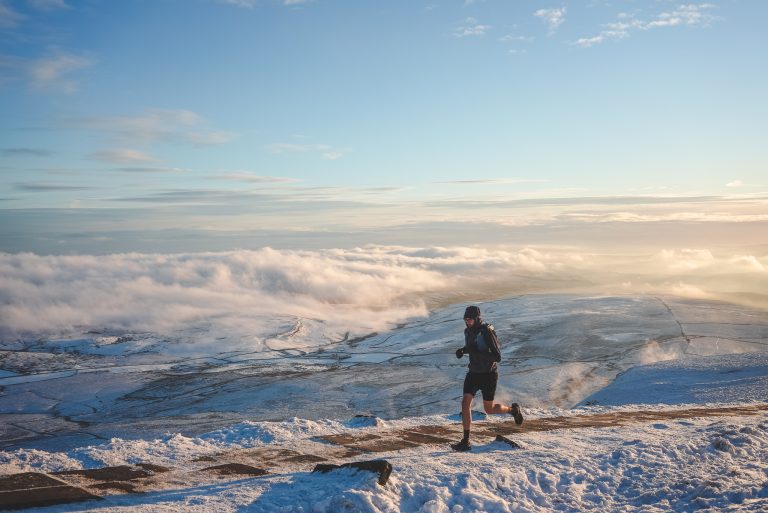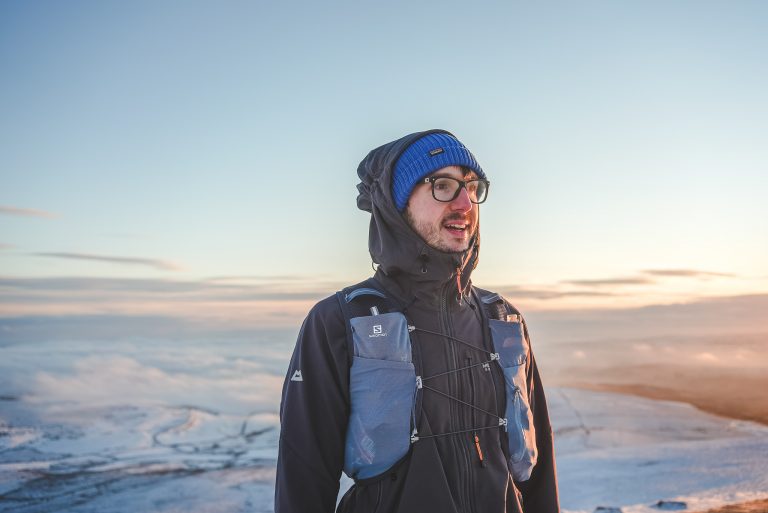 A few years ago I used running as a way to stay busy and driven when I was staying with my sister Natalie, after – well, you know. And if you don't, well maybe I'll write about it again another time. I was houseless, unemployed, and a bit (a lot) lost. And it was then that I started running for the first time, ever.
I kind of liked it. Even though it was just city-bound pavement pounding and stopping at traffic lights all the time kind of running, it was a revelation. A way for me to find direction and some purpose in desperate days of anxiety and uncertainty.
The sun sinks lower and lower, the others up at the top eventually head down, slipping on the ice. We stay. I know Michael wants to head down but I want to keep watching the light as it creeps across the inversion, as it transforms the landscape – a landscape I've never really appreciated or liked before because I never felt the Yorkshire Dales were exciting enough. But I feel happy to have been wrong, and to be up here tonight.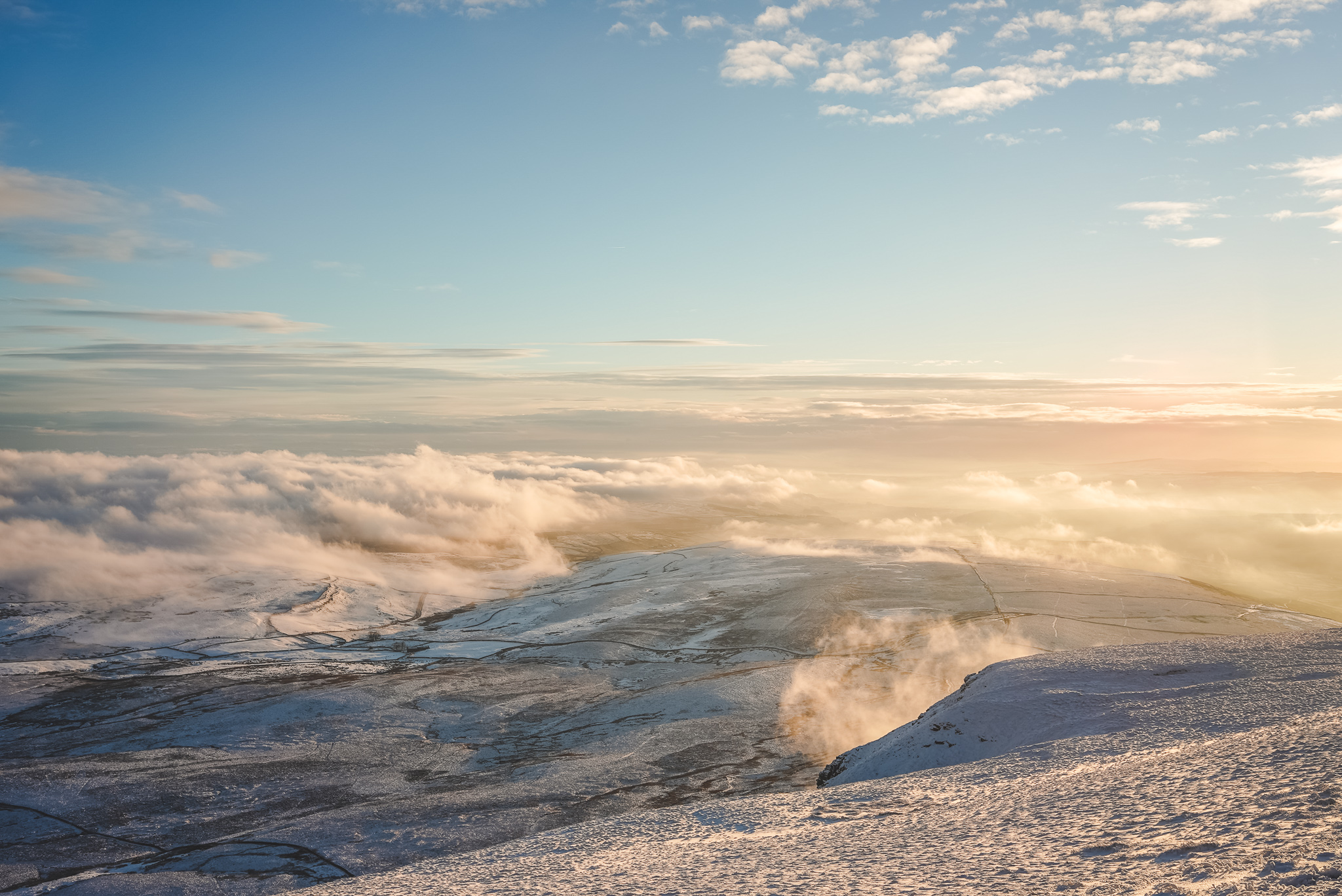 I went to the gym, I ran, I slept on my sister's sofa-bed, I applied for jobs, Repeat, repeat, repeat. And then I got a job, I got somewhere of my own to live. I forgot about running as life changed.
Then, climbing found me, instead. So I didn't mind the absence of running, I guess, because it felt like I'd found 'my' way of exploring wild places and challenging my body. 
We stayed. Hopping from one foot to the other to stay warm, coat-less, as the golden light faded to pink and blue hues. I pass the camera to Michael and ask him to take some photos of me. 
The longer my love for photography goes on, the more I don't like handing the camera over to anybody else. I don't want photos of me, I just want to be taking the photos myself. But, I also realise that there's a part of me that, if I do grow old, I know I am going to want these photos of myself. Freezing my ass off in the middle of winter as the sun goes down in the hills.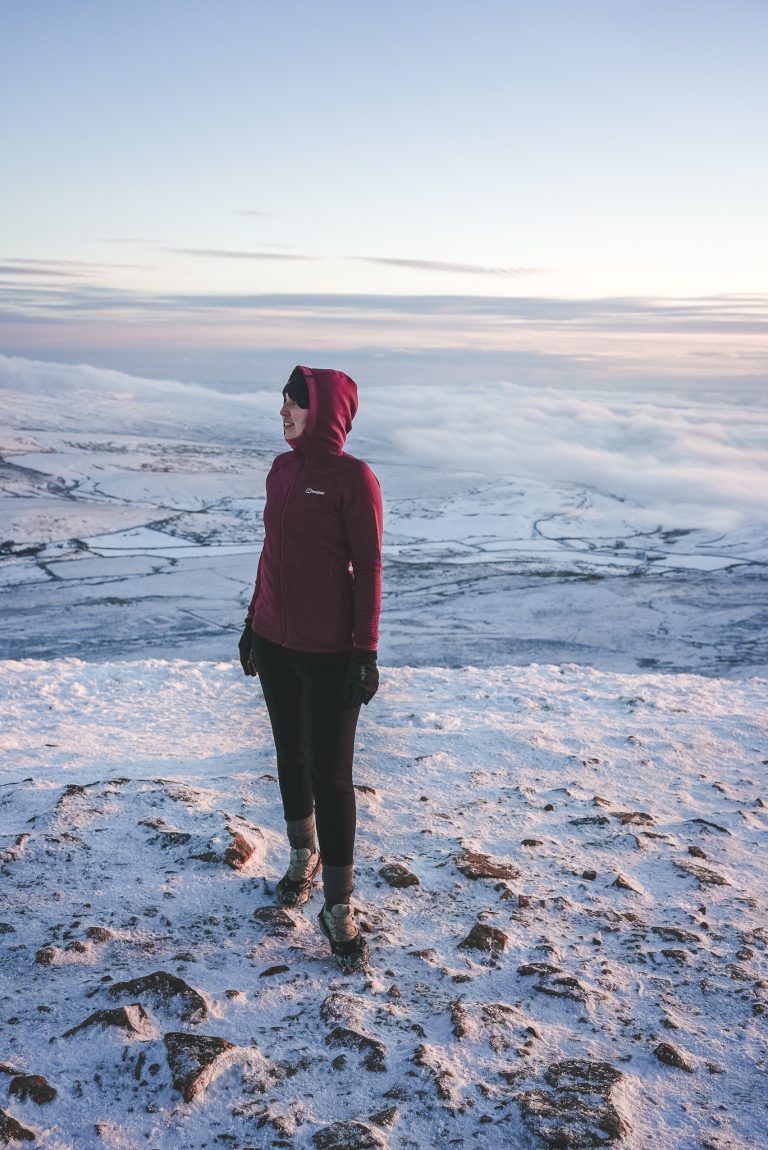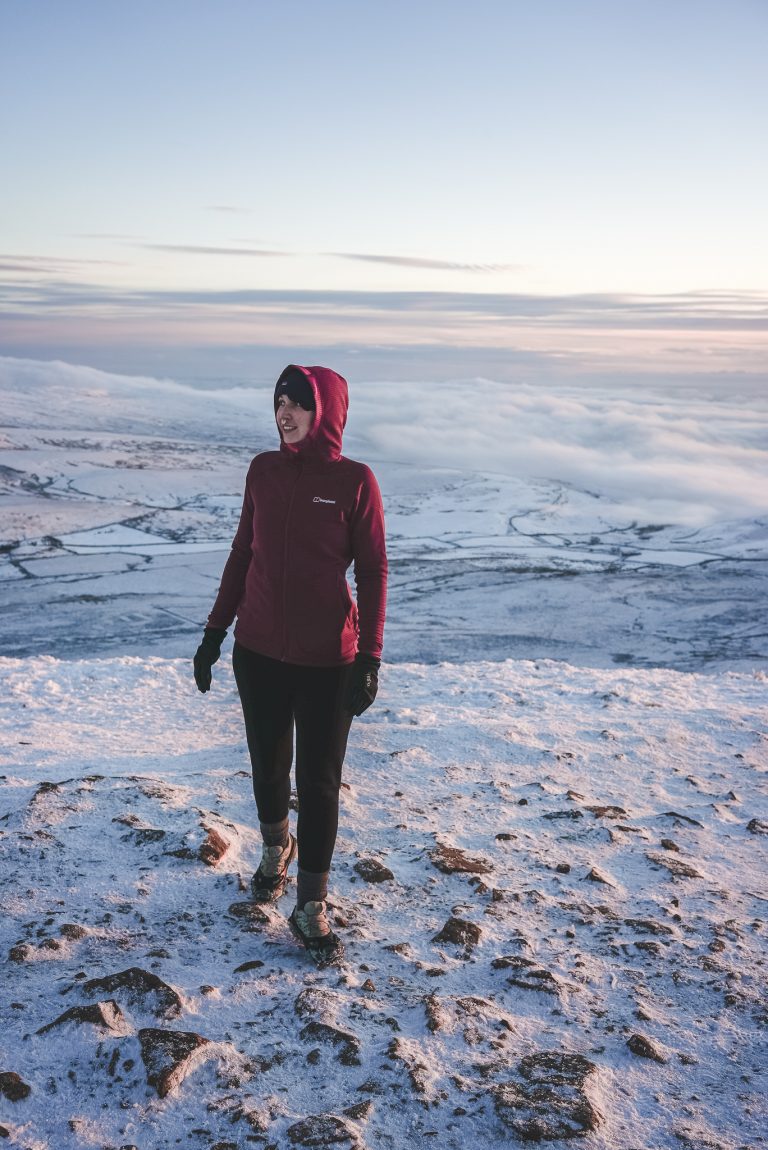 Goodbye running, hi bouldering. And then, bam, my ankle. Suddenly I couldn't walk, and I now really missed running. I think I just wanted to go as far as I could. To just run and run and run. I dreamt about it whilst I was bed-bound in the same way I fantasize about it now being house-bound. Back when I was in a cast, and then a boot, crying at night and then, later, making tentative steps, I promised myself I would never take my body for granted again. A promise I often forget I've made, to be completely honest.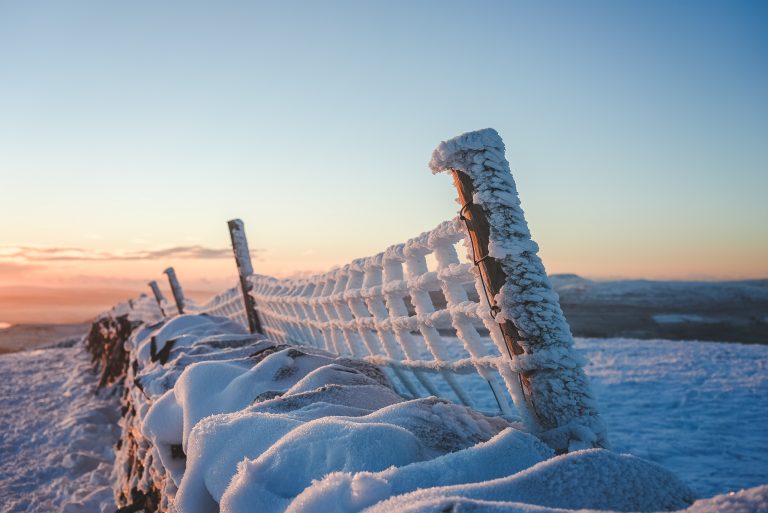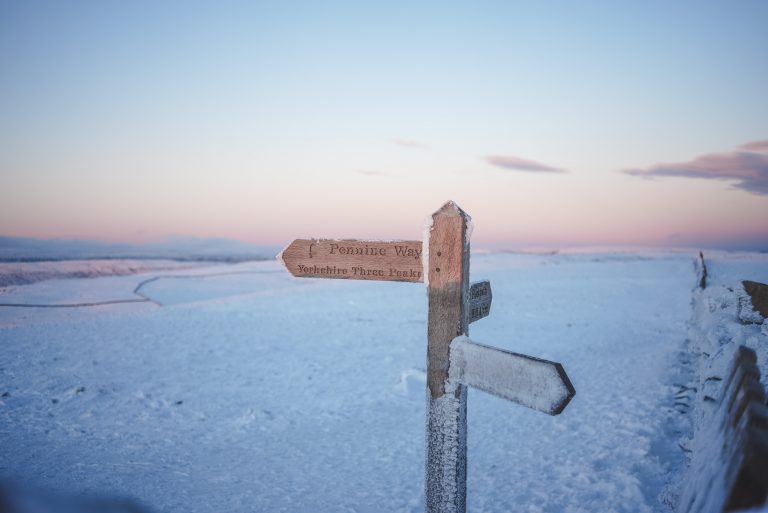 Last year, in March, with Filo to walk everyday and an abundance of energy and time, the first lockdown brought running back into my life. I did my first 10k. It felt kind of easy on the day. A good day. And I really enjoyed so much of my time out, running. Some days I had Filo towing me up hills and almost dragging me headfirst down them, a dog leash on my waist, and some of the days it was just me and my music. It was good.
But these couple of months running also brought into sharp relief the realisation that long-term running will, for certain, do so much damage to my body. Days in-between runs spent limping, some runs catching my ankle, others the limp was more pronounced. 
It was a hard thing to understand. Especially since I never even liked running to begin with. I felt like I was mourning a loss of something I'd only just realised I could love.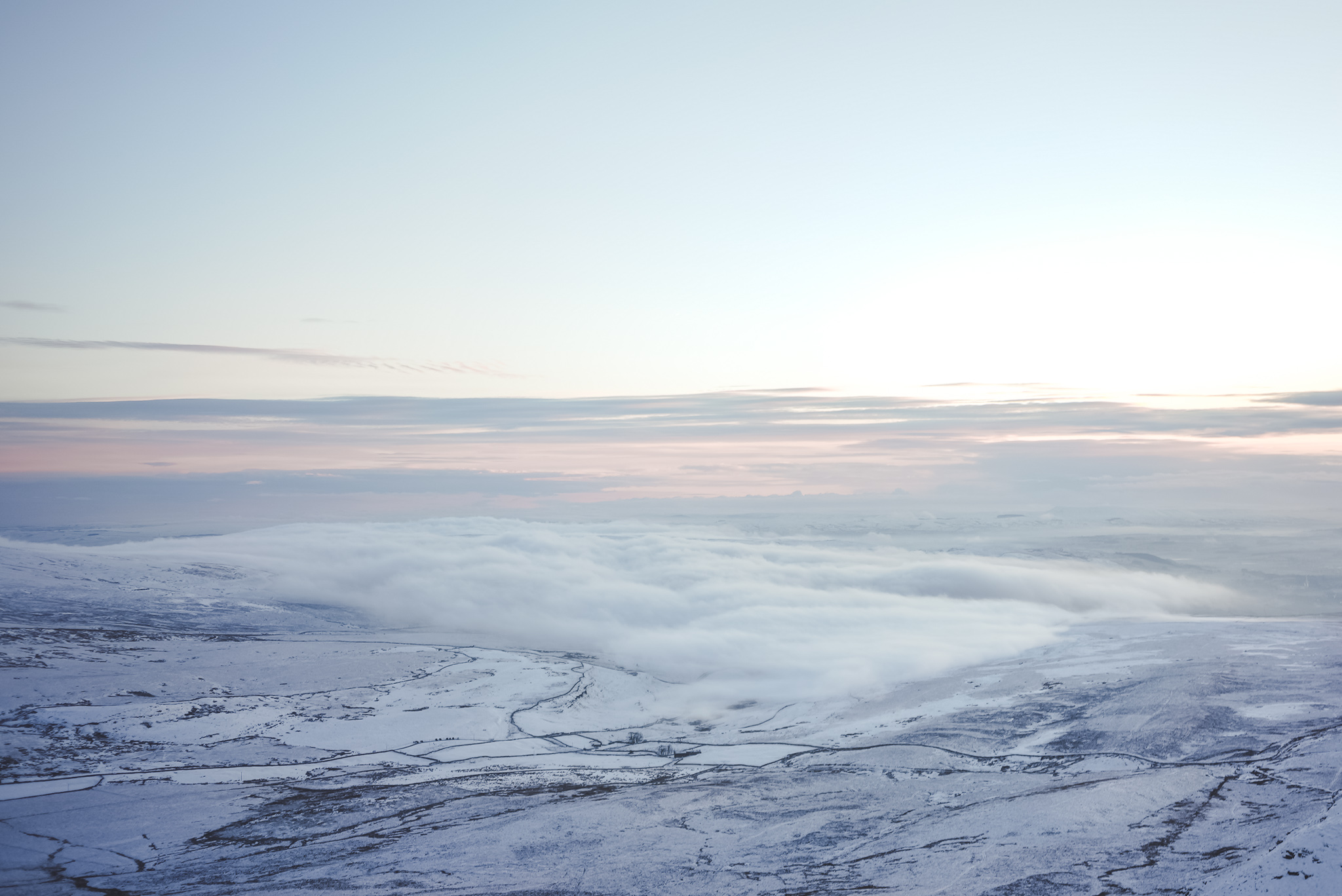 Now, running won't ever be something I do a lot of, day after day – but spending time writing about running and editing photos like this from this beautiful trail run-walk-run in the Yorkshire Dales reminds me that it doesn't need to be absolutes.
We are quite cold now,  the sun has finally set and the skies are settling into their gentle colours. The snow is softly glistening; we get out our head torches and start joyfully running the entire downhill home.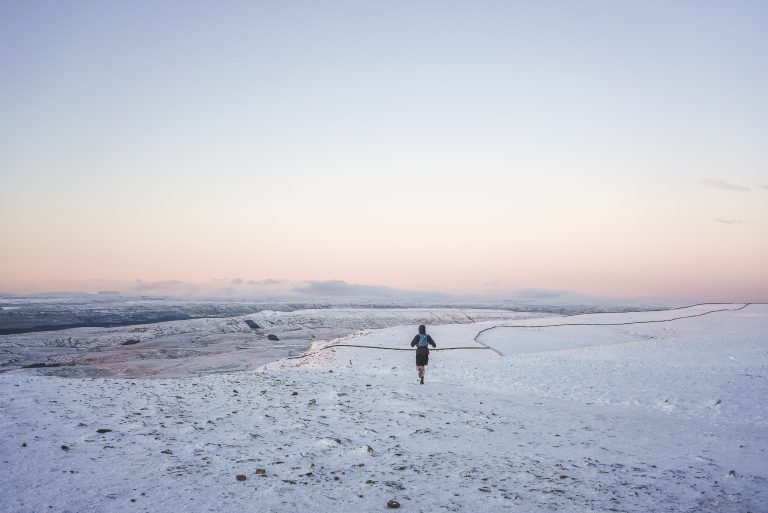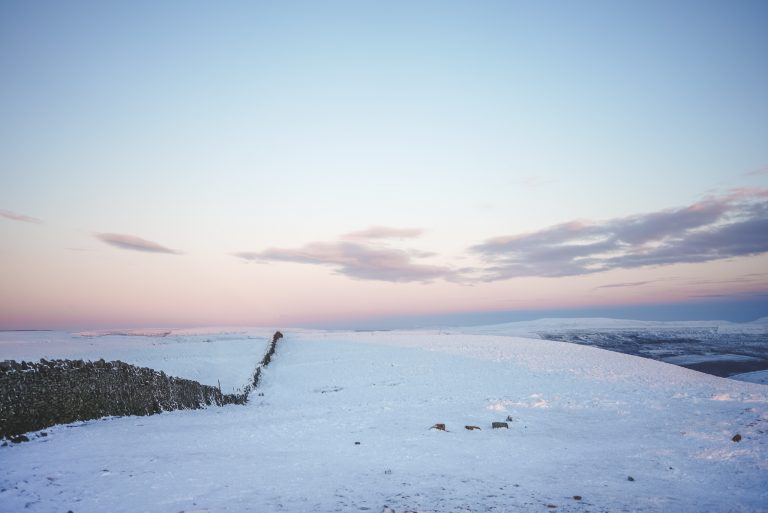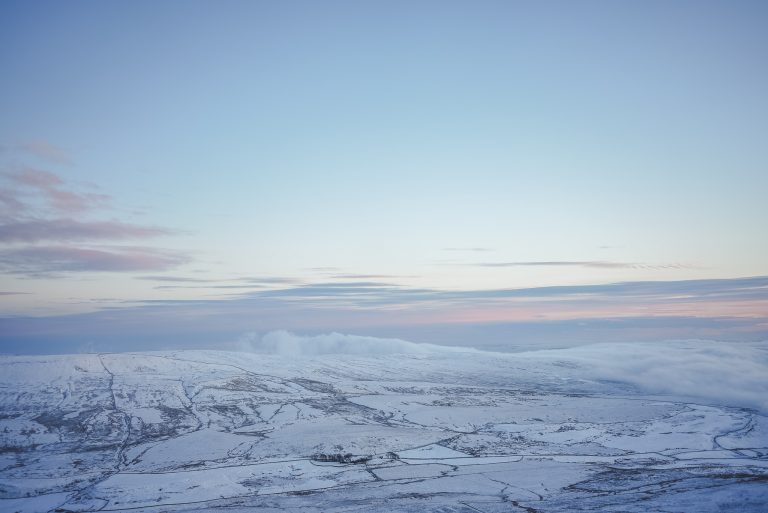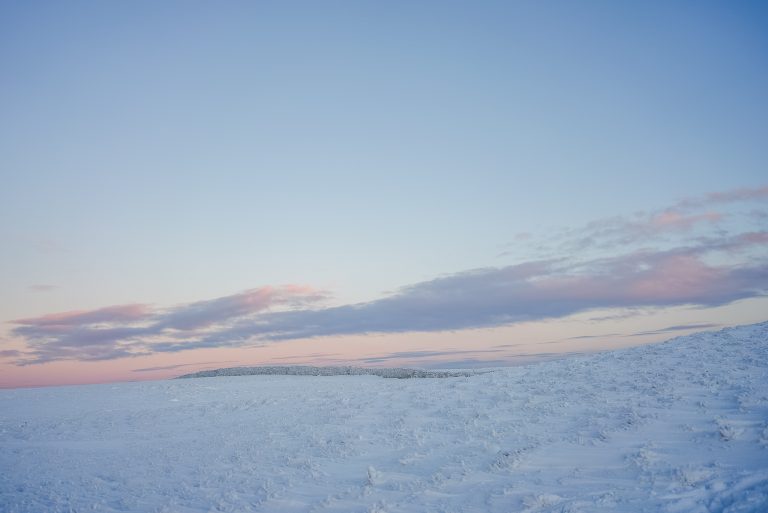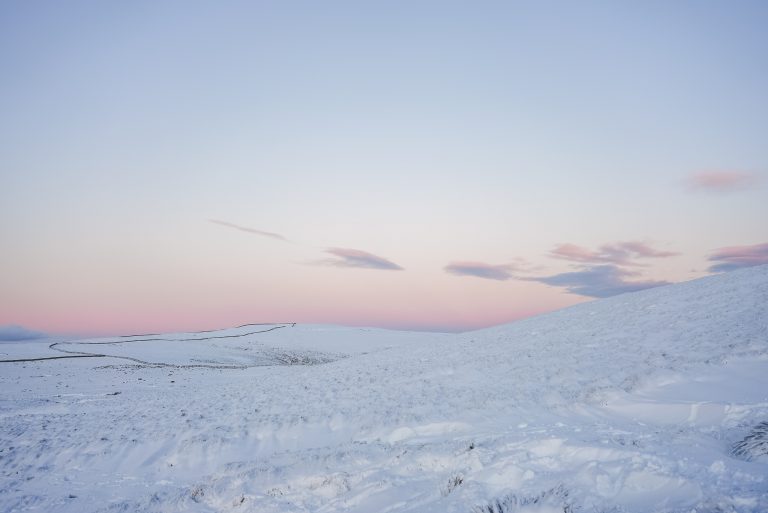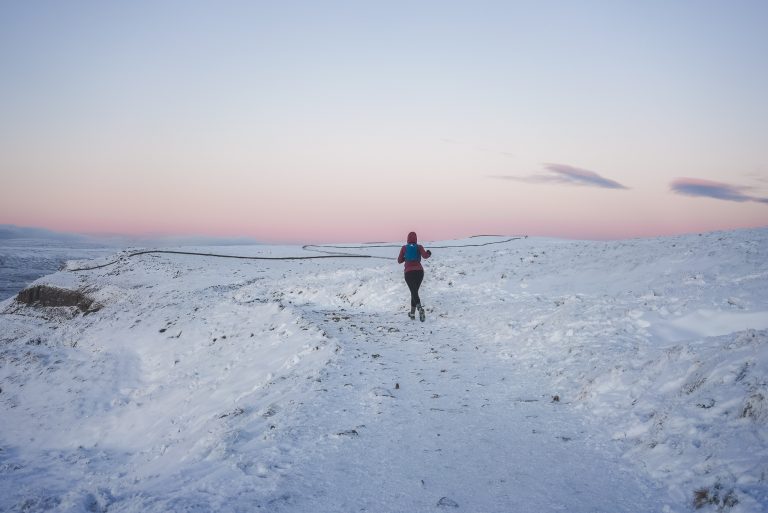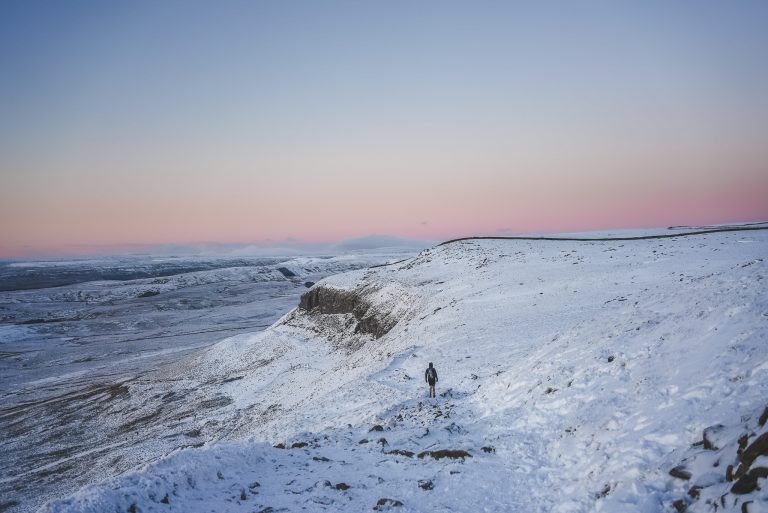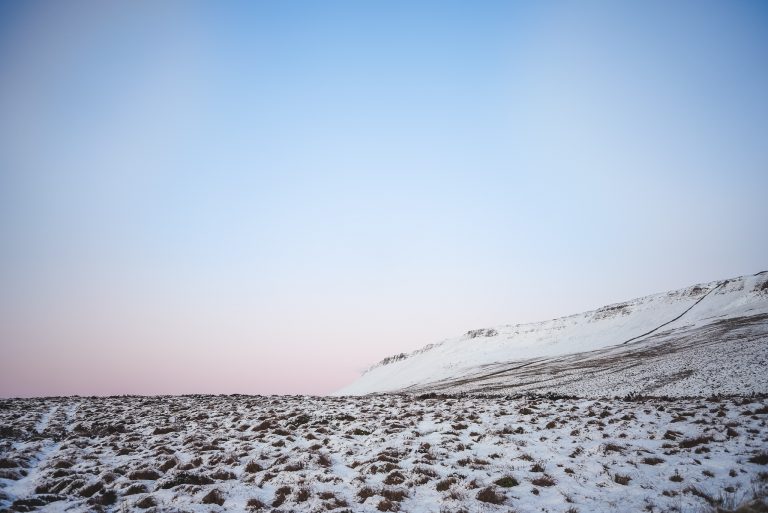 I'm thinking ahead to a few days time when I'll be okay to go out again. To run or cycle or wander my local streets. Once I'm allowed to do these things, I wonder whether I'll just think "oh that's too much effort" or find excuses not to go as far as I can – to escape my local street in search for greenspace, after all I think the more we're hindered from doing something the more we just want to do it.
A lot of people hate the downhills, I love them. For now, at least. Uphills have always been my enemy – maybe that link again to exercise and embarrassment – but downhill has always been easier, more joyful. Swapping burning thighs for gravity-assisted leaping.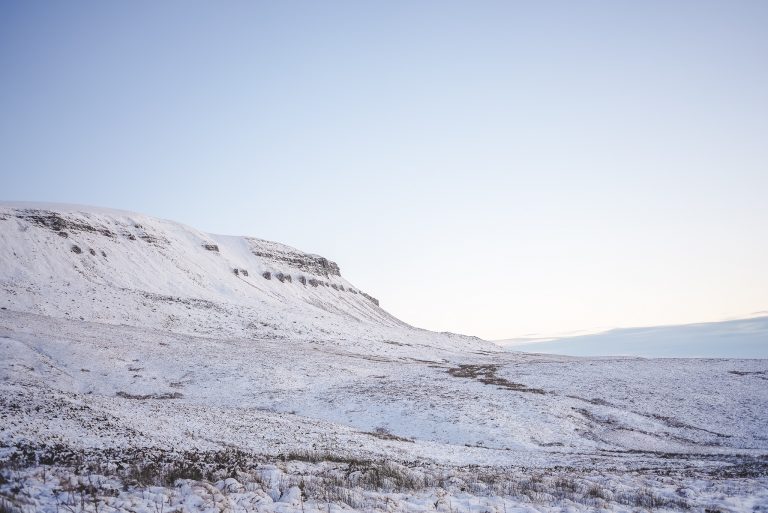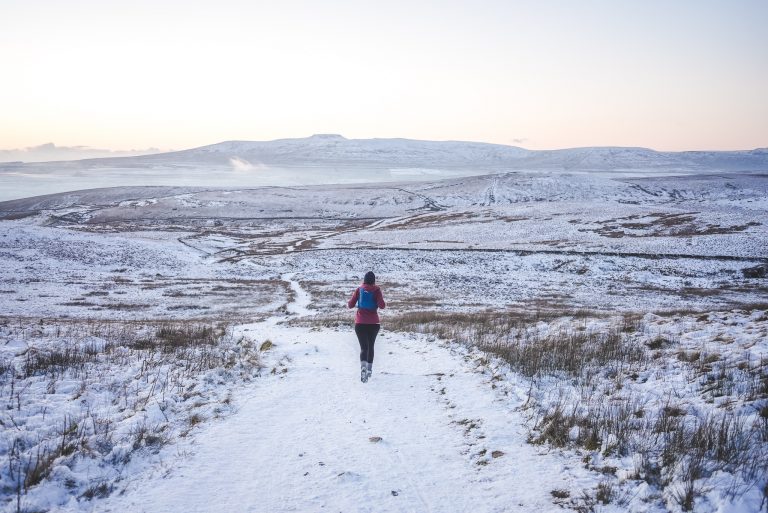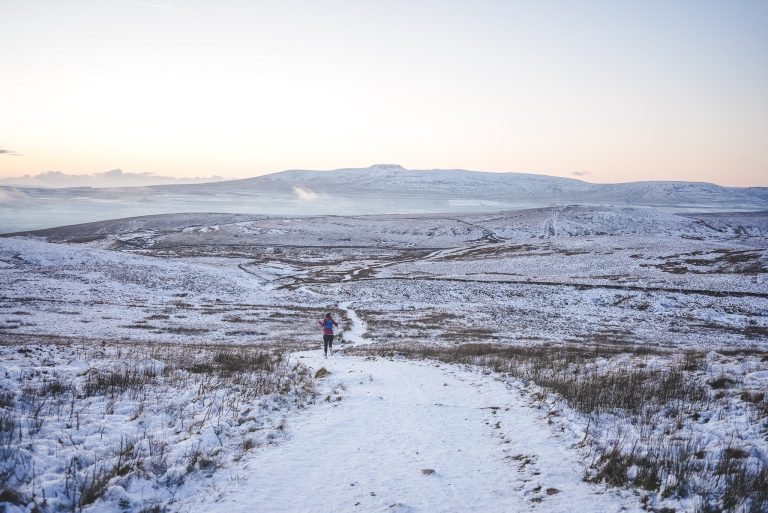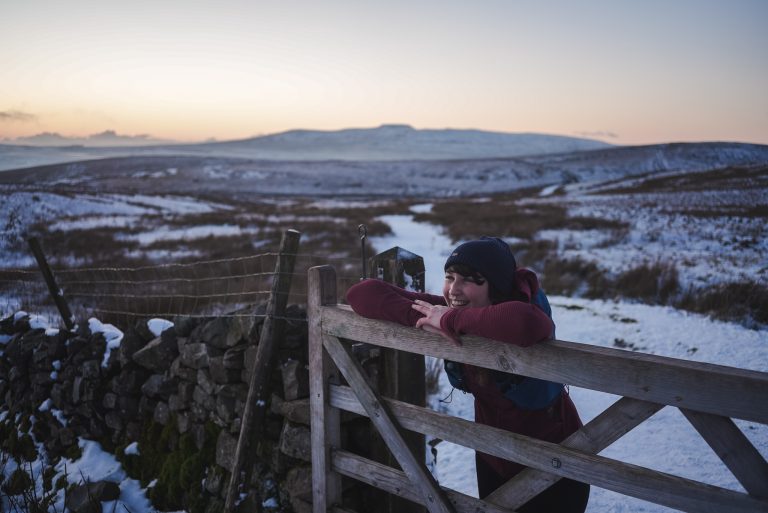 It quietly turns to blue hour. My legs are tired, there's a small bubble of frustration deep in my chest at my lack of fitness, but my heart is happy for being out. To have headed out with a tiny camera and trail running packs and to have been rewarded with an evening like this.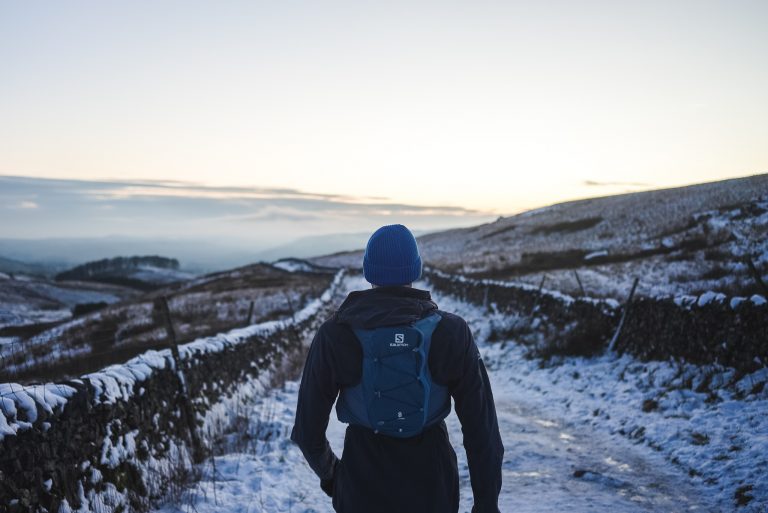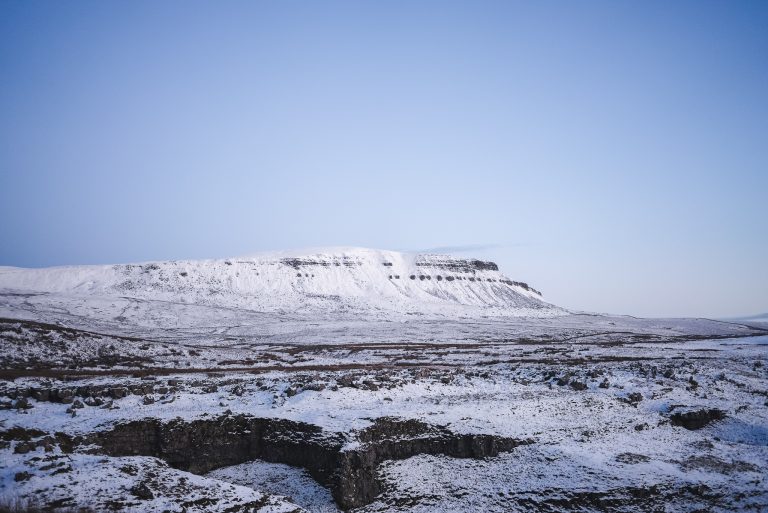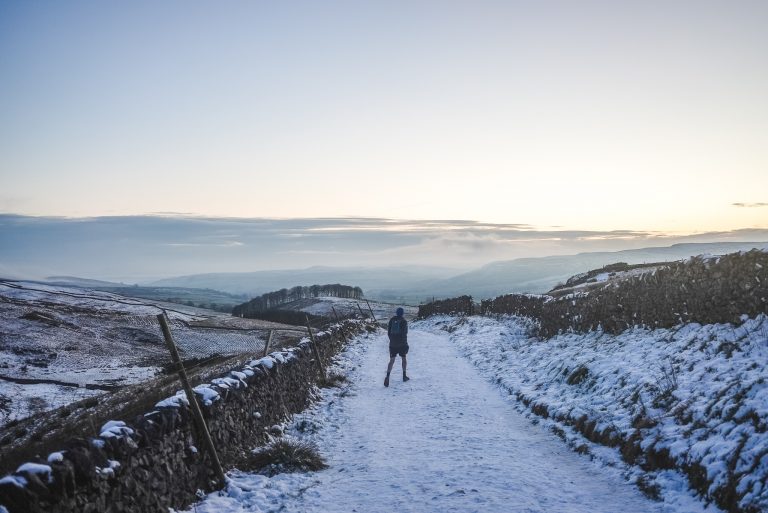 We get back to the car, perfectly in time to say goodbye to the light of the day.
And so in my reflections I realise that I can pick this up and put this down. Running can be now and then, it can be on soft ground, and stopping to walk when I need to. It can be realising that I might be a little less stable jumping across rocky ground than most people. Understanding my body and what it tells me, so when I'm listening to the creaky scraping of bones and feeling a dull pain in the morning I can just go "okay so maybe not today".
all images taken with my new lightweight setup: Sony a7siii with Samyang 35mm. It's soooo teeny tiny.