For the last few months I've been working alongside a team of five others on a project called the Kit Collective.
Sunday 26th July, 2020, 08:00am
Heading to the Peak District
These last weeks, the conversation around diversity and representation has gotten louder and louder, with voices and perspectives and experiences making it into the mainstream. 
I'm driving down to Sheffield to pick Marie and her dog Millie up, and then we're both heading onto Edale to meet up with a group of people – many of them we've never met before. This feels strange in a few ways. With everything happening with Covid, the idea of meeting in a group is still daunting to me. I socially distanced before the pandemic and since lockdown I've been even more introverted than usual.
But, do I trust Mohammed and his organising. Him and Carey from The Great Outdoors Magazine are bringing together a variety of individuals and groups who are working to diversify the outdoors. Marie and I are here on behalf of Kit Collective – and we turn up with dogs attached around our waists and excited to meet people we have only really ever seen online or never met before at all.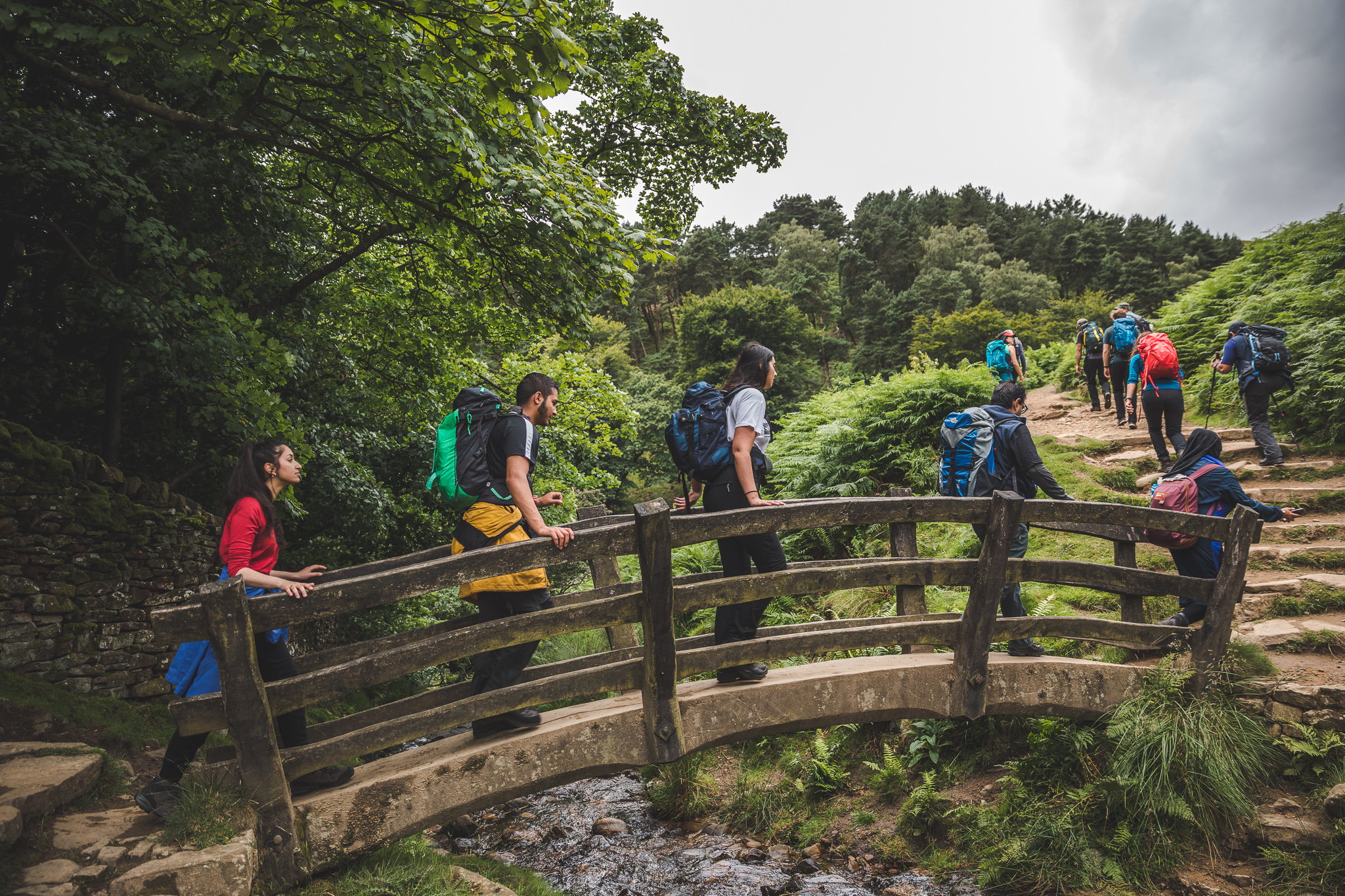 I've met with Mohammed a number of times now – twice on Mosaic group events, once for the first Kit Collective kit drop and filming, and today's walk. On all of these occasions we've spoken about a huge range of things: from his favourite outdoor activity (it's hiking) to the barriers Black and Ethnic Minorities face when it comes to getting outdoors, to his own work in the outdoors which spans decades.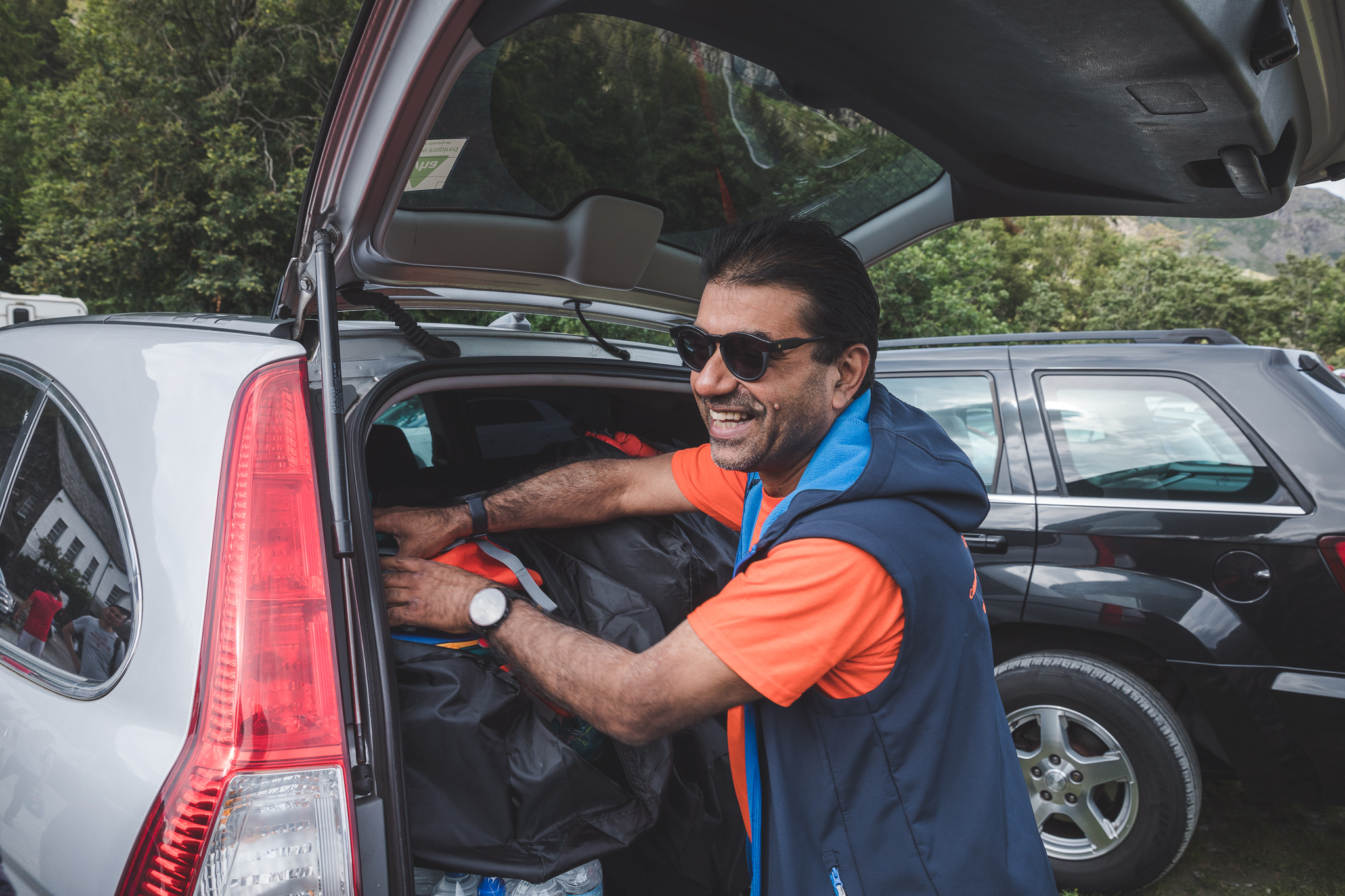 He's a mountain leader and runs the group Mosaic Outdoors, which exists to connect BAME communities with the outdoors. Mosaic officially came into being around 10 or so years ago. It came into being as a funded project but when it finished, individuals decided to take over and keep Mosaic going. Even before then Mohammed had been going out with groups since the 80's and has some rad vintage photos from then – groups caving, kayaking, hiking above cloud inversions. It's really important for the outdoor community (especially us white folks who are recently joining the conversation) to understand that the work to diversify the outdoors has been going on for a very long time.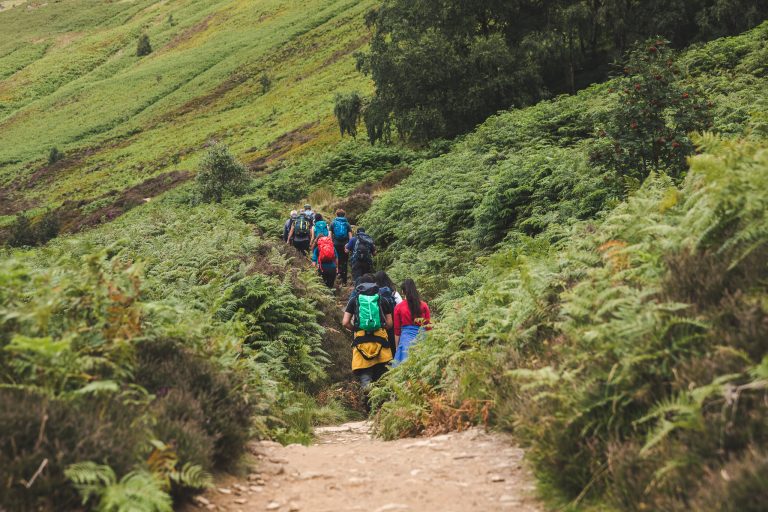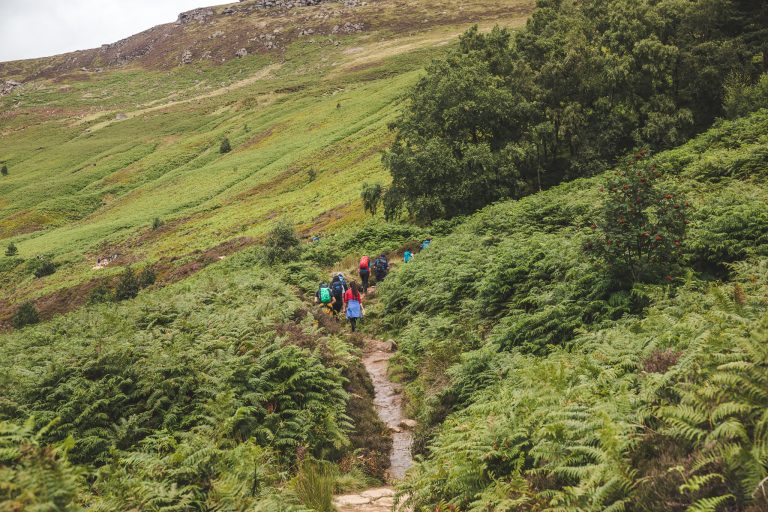 We wind up and up into the beautiful Peak District, I have absolutely no idea where we are going, I'm just hopping around taking photos and finding out a little about what people do, what their relationship to the outdoors is. Turns out that all of us are pretty acquainted with the outdoors and so the route we are taking is a fun, scrambly one. As we make our way up, the path turns into a rocky gully. Marie and I precariously balance talking, scrambling, and managing overexcited dogs that keep threatening to pull us over as they leap from rock to rock.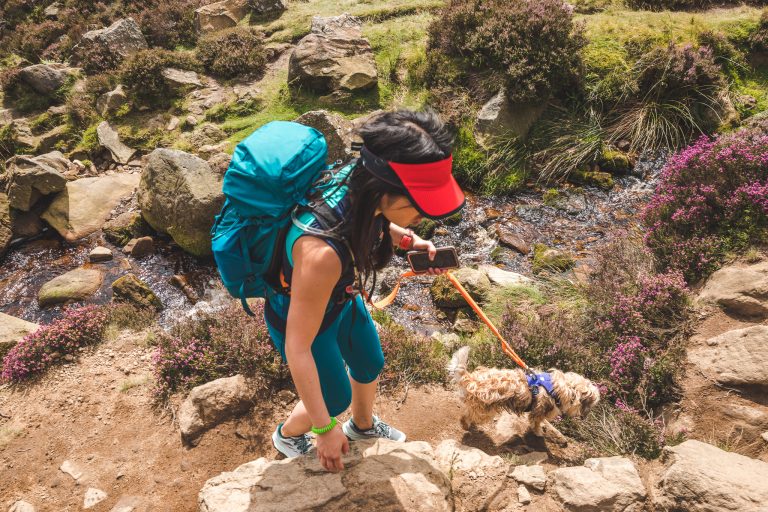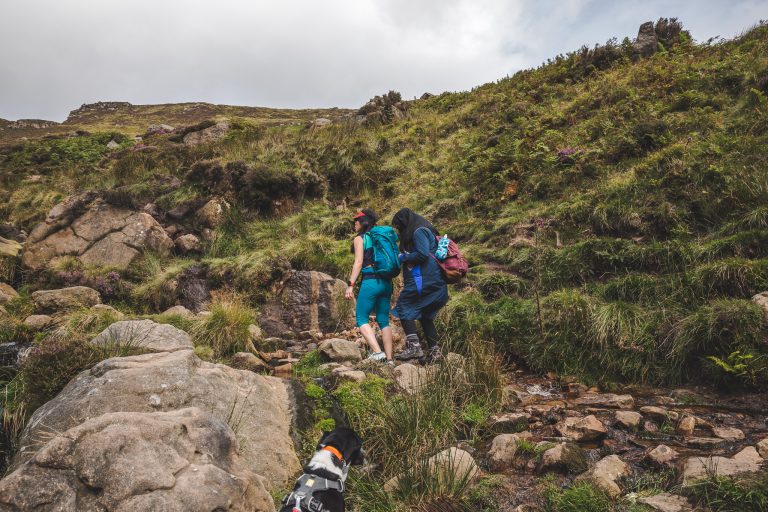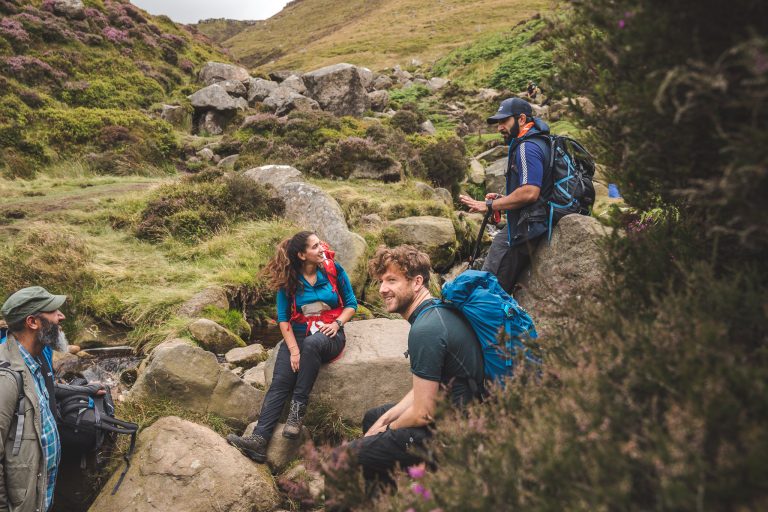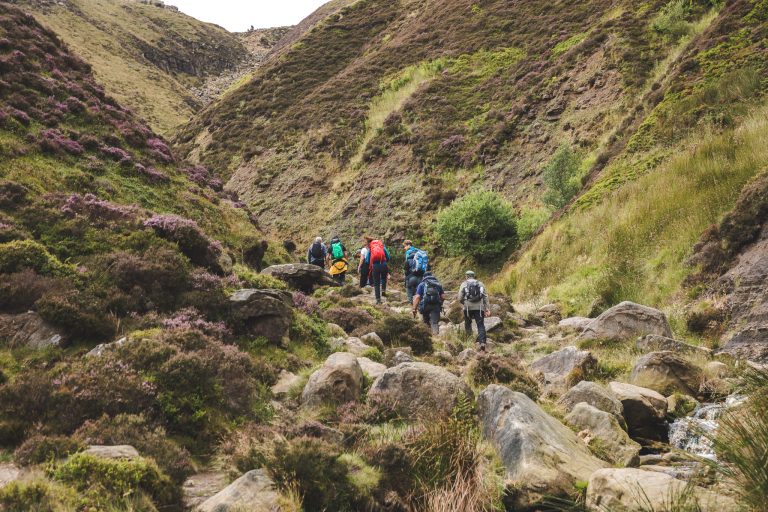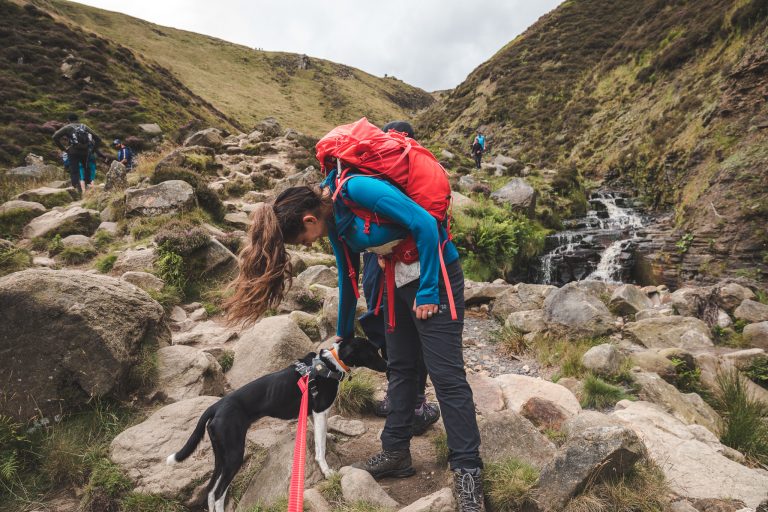 We eventually manage to find ourselves on fairly flat ground and take in the views.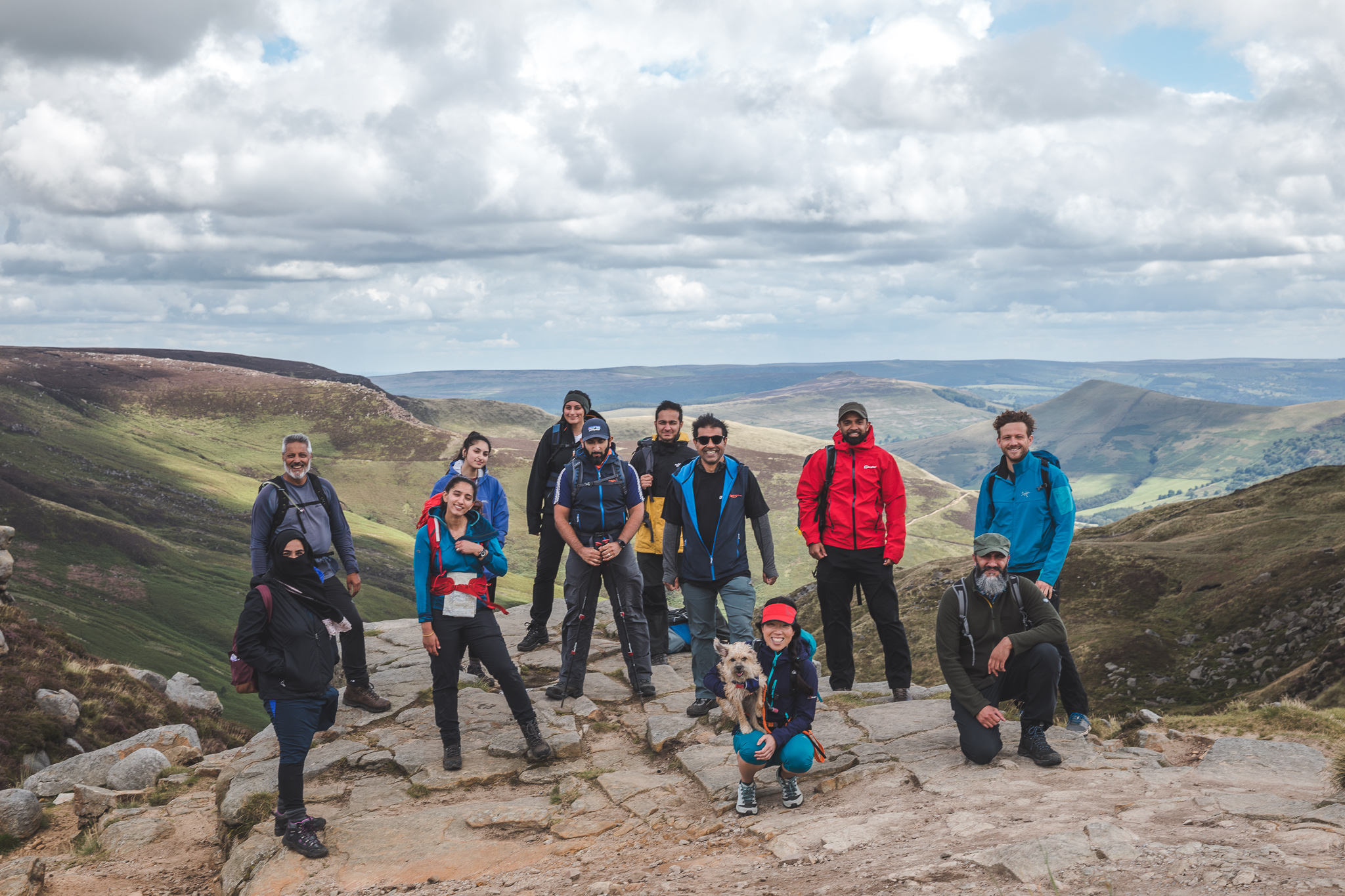 It feels strange. Taking photos like this "is everybody stood apart, yep – okay, good, one, two, three!" – it's going to be so nice to one day be able to say, instead "everybody squidge in a little more, closer!" for group photos but for now I am grateful that we are able to come out at all and have a day like this, even if we are saying hello by touching elbows and eyeing up how far away we are from one another when taking a selfie. 
As we all settle on some classically beautiful gritstone rocks for lunch we begin to talk more as a group. Well – in little group pockets. I recently found Rehna on Instagram so I was pretty excited to meet her in person and talk with her. She's a youth and community worker with Lindley education trust and an outdoor instructor.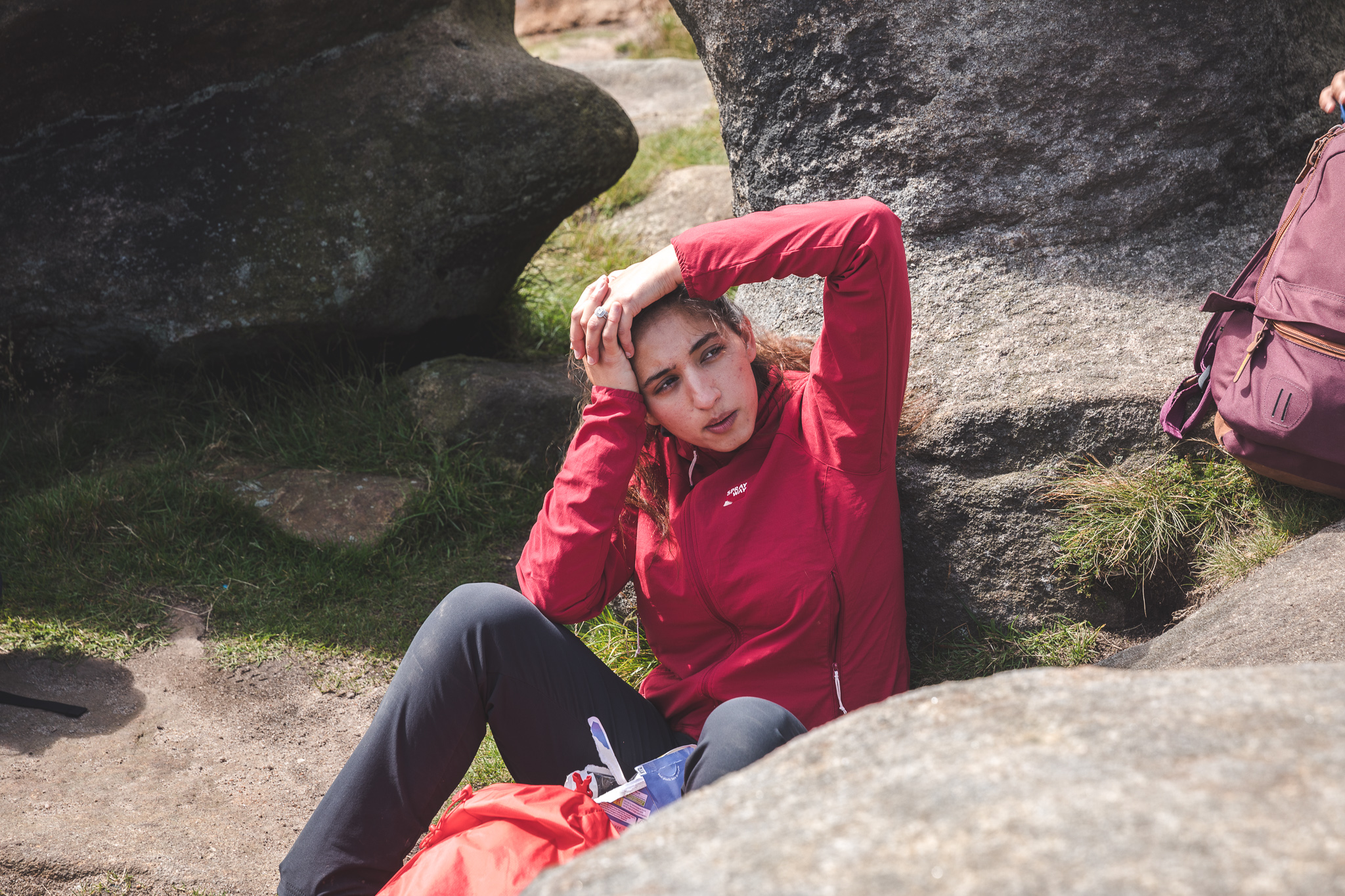 As we sit there Rehna asks Marie and I about the long-term vision for Kit Collective, which is a really important and valid question as we are so new as an organisation, and become part of a network of people who have been working at this for a long time.
"In order for any real changes to be made within this industry there needs to be longevity. People can't come in, have a few conversations and think that's sufficient. Lindley put 10 years worth of work into me which has enabled me to be the person I am today. Without that I wouldn't be in this position today as a youth worker and outdoor instructor facilitating these same experiences for other young people like me. We have been doing this work for the last 15 years within our community working with BAME people.
This shows our commitment to the wider community and that we're actually here because we want sustainable change not just because it fits what's going on in the current climate."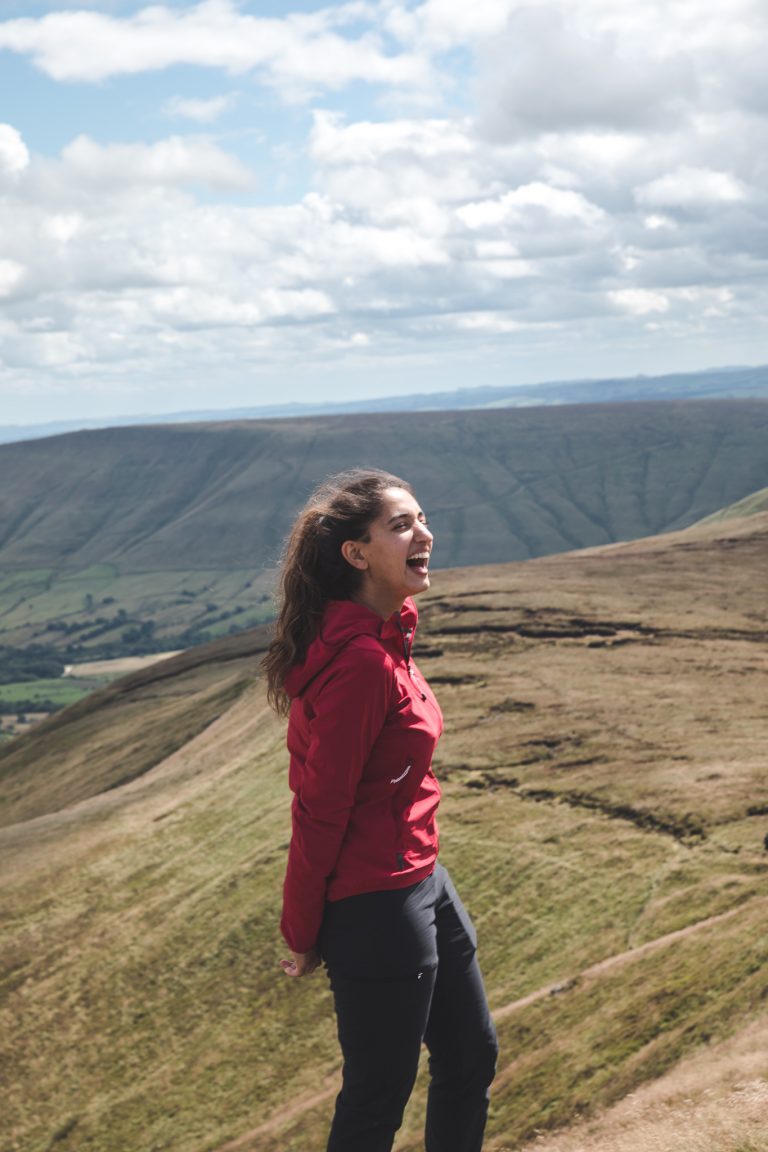 And that is such a valid and important point. With the rise of conversations around race, diversity, and representation – more and more brands, more people, more organisations, are becoming aware and becoming active – both performative and positively, and it's often hard to distinguish between the two. There is also a saviour complex that can grow from times like this so it's finding that balance of positive and helpful action which draws upon necessarily skill sets and, most importantly, which highlights and provides a platform for those people who have been hard at work way before it was 'mainstream'. 
Even typing that is a little weird. 'Before being 'actively anti-racist' was mainstream'. But it's true. I can't remember these candid conversations about outdoor representation truly happening on the wider stage until now. And perhaps without sustainable, long-term thinking, many shows of solidarity become just that – short-term shows.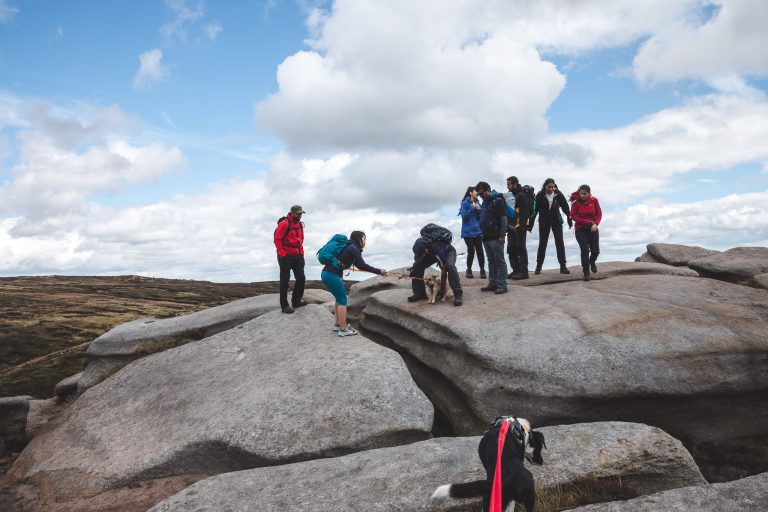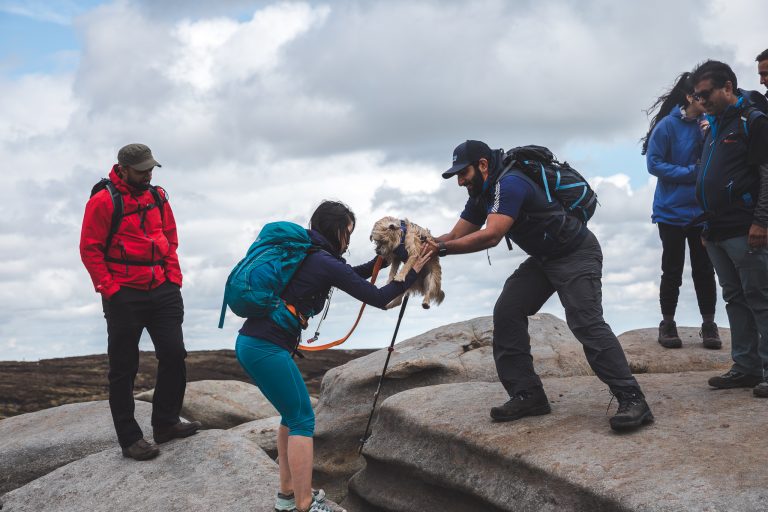 By 2pm we realise that we've kind of let the day run away from us. We'd set off an hour or so later than planned, and Carey had managed to box his car in with a stranger's at the overflowing car park and had agreed to be back by 4. The rest of us were pretty happy to amble back down rather than go on the longer route that was originally planned. 
As we began our walk down I properly got a chance to talk one on one with Amira, and was pretty excited to find another woman drone pilot. Weirdly enough Frit and I had had this very conversation the week before, about our lack of women drone fliers in the UK, so it was nice to walk down and talk about video creation, creativity, crashing drones, and experiences in solo hiking. 
Amira runs outdoor walks for Muslim women, and over the last few weeks she's found that her community has grown exponentially -partially due to people finding solace in the outdoors since lockdown and due to her making a dedicated instagram page for her walks.
She's currently not mountain leader trained and does make sure that's clear when speaking to her community; I asked her whether she had considered going for her mountain leader. She's tempted, and giving it a lot of thought, but hasn't made a decision yet. She would actually love to create outdoors meditation retreats for women (not just Muslim!) with wellbeing techniques taken from her culture. 
Our conversation turns to solo adventures. We both talk about our love for heading out alone, camera (drone) in hand, and experiencing the outdoors in solitude. For me, this can come with some worries and prep. As a woman I've had sleepless nights in my tent thinking there's a man outside, when it's just the wind. I've felt unsafe and vulnerable and I take simple precautions like not tagging my sleeping location and letting my partner know where I am to check in.
Amira talks about having those feelings as a female hiker, too, and we both found some overlap, but also a lot of differences. Things I have never and will never have to experience.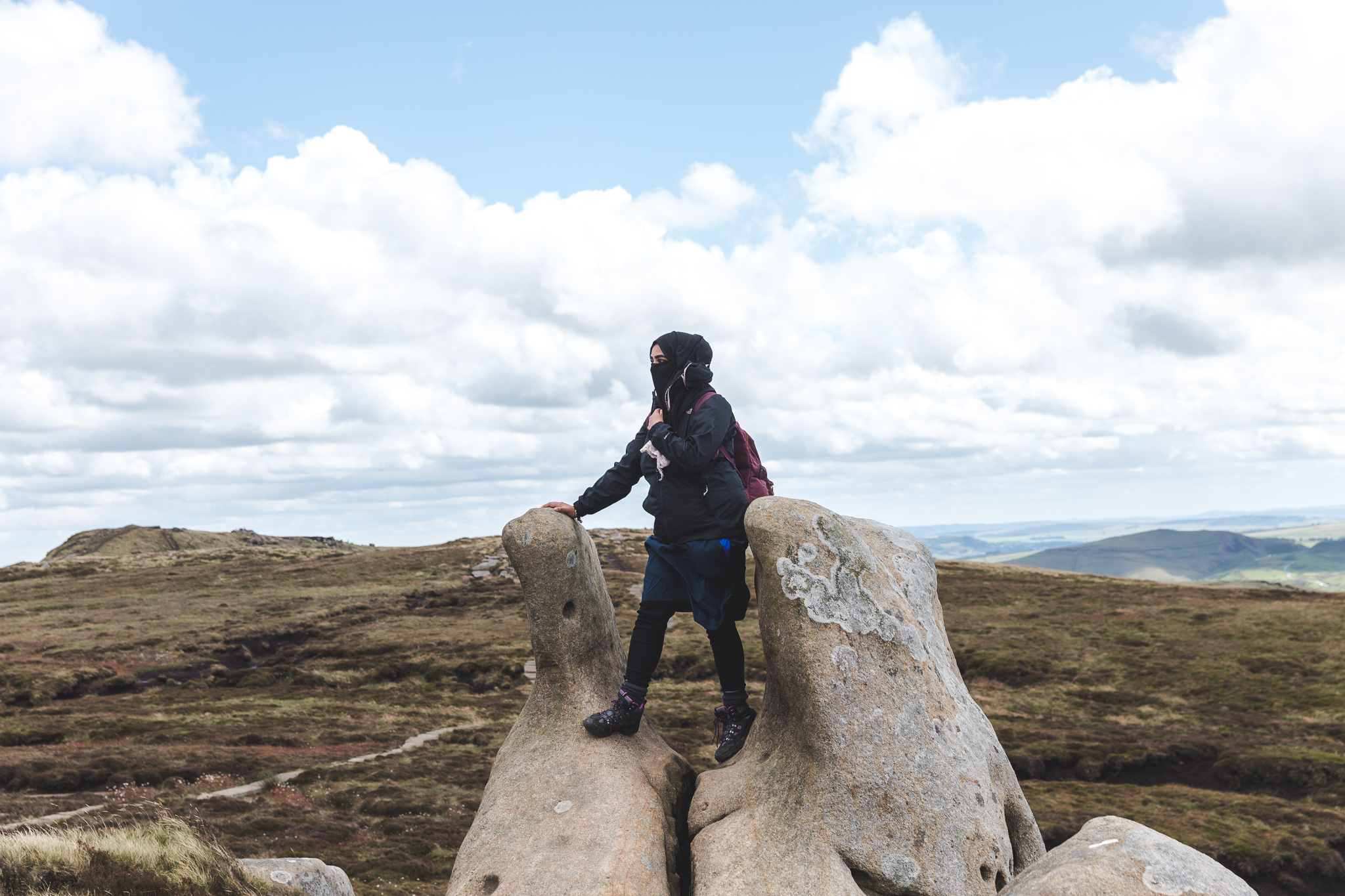 "As both a woman and a Muslim wearing the niqab, there are multiple things I have to think and worry about when it comes to going out on solo adventures. There is that conversation that women are vulnerable – yes, there are dangers to being alone in the outdoors – but that doesn't mean women aren't strong and shouldn't be there, and shouldn't be able to enjoy the outdoors in solitude. There is that decision to be made – to think about the dangers and stay at home, or to understand them, and go out anyway, to explore and enjoy these solo adventures."
She tells me about getting 'the look' – when she's out. That not-overt racism but those looks that are uncomfortable and could put people off coming outdoors. And she also tells me about the people who go out of their way to be friendly, those who make her feel welcome in the hills.
This conversation is nuanced – how our experiences as women share similarities but that Amira's experiences of discrimination are more layered. I see so many people who look and dress like me up in the hills, with my technical gear and brightly coloured coat, bungee waist-tie dog lead. It's a lot rarer for Amira to relate, physically, with other hikers on the trail.
And aesthetics in the outdoor community is huge, right?
This is something Marie and I talk about on the car journey home.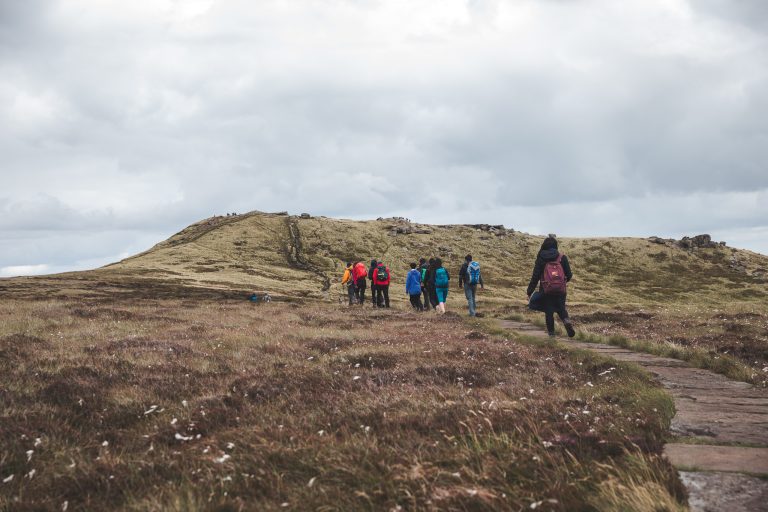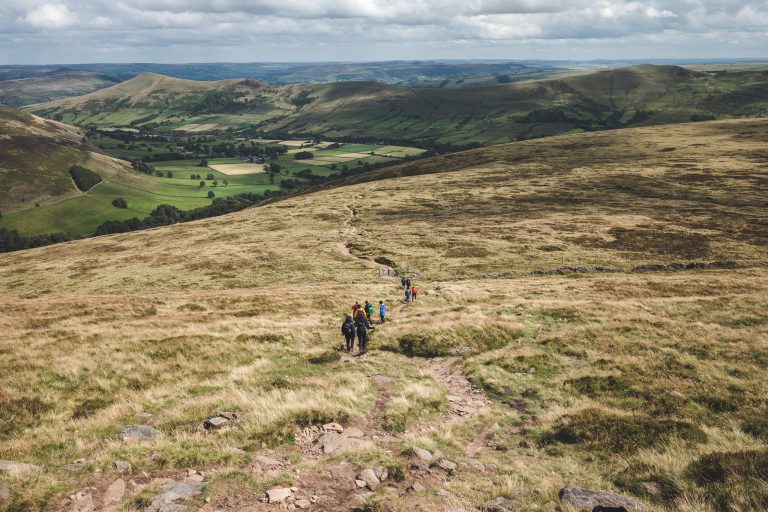 Amira and I continue talking, planning out a film idea together, right into the car park where we are still exchanging ideas excitedly. Carey has already ran off to let the other car out, Marie and I say our goodbyes and jump into the car. 
On the car journey back we both felt we had a lot to talk about. Marie and I only recently met and are in touch, thanks to Kit Collective. She's a expedition organiser and all-round badass outdoors human, so I'm pretty glad we met. We're both very good at getting stuck into these kinds of conversations together already.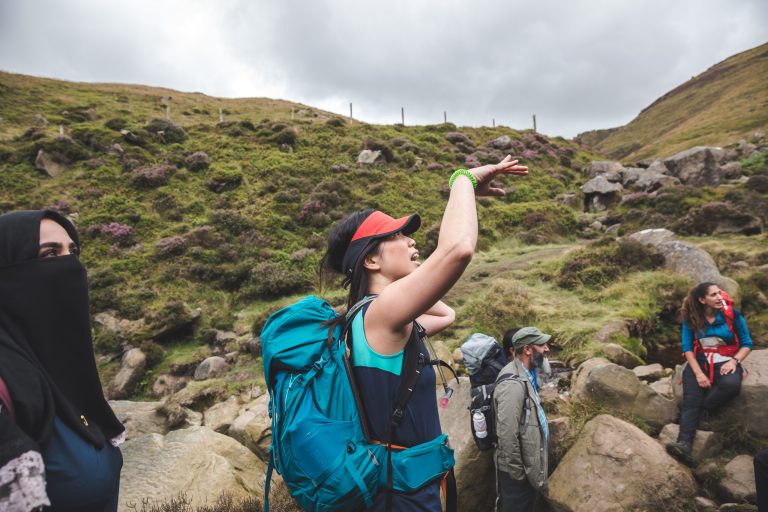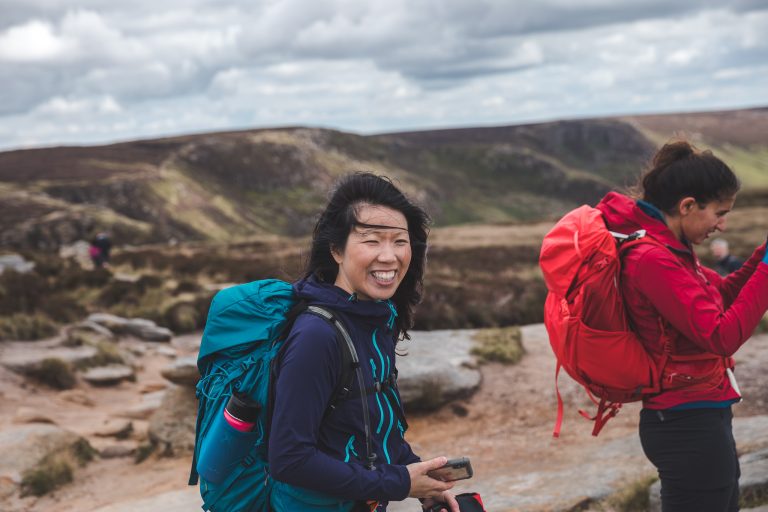 Back to aesthetics, and 'fitting in'. Marie brings up Kendal Mountain Festival as an example. We both muse on our first ever experiences there. I didn't own a down jacket, I didn't know anybody. It was intimidating, for me! We talk about that sea of brightly coloured technical coats and the whiteness of the crowds. The cliques of the outdoor communities online – you can see the friendship groups – who hangs out with who, takes each other's 'instagram bangers', those who go hiking and climbing and swimming together. It's not a criticism because friendship groups are natural and I'm part of a community of people I enjoy spending time with, too.
But it just demonstrates how difficult it may be for somebody to feel welcome, or to get established in the community, if they're perhaps worried that they don't have the right kit or if they don't look like the other people in the group. Marie talks about walking into a rural pub with a group of outdoors friends and being the only Chinese person in there, and just for a split second seeing that 'look' from people sat in there, the look that makes her feel different. We talk about the fact that different people have such widely different experiences and that Marie's background and history is a far cry from anybody else – that she doesn't speak for 'all diverse voices'. That all voices have different things to say and unique backgrounds that affect how they interact and experience with the outdoors.
"We need to be cautious, myself included, that just because we aren't ourselves being discriminatory, prejudicial or racist, we don't become oblivious to the cases of discrimination, prejudice and overt racism that still do happen in the outdoors and the countryside."
– an excerpt from Marie's recent instagram post.
I crash on the sofa with Filo. She is exhausted, so am I. Partially from the early morning and from the hike but quite a lot from my mind processing the conversations we had today and wondering how things can change in both drastic and incremental ways.