Last month I headed down to London, a super packed schedule ahead of me, and an exciting job creating some video content for Clink Hostels. 
Despite the fact that London is only a couple of hours' train ride away, I don't tend to go there all that often; it was so lovely to be down South again (I swear it's  a teeny bit warmer there than it is up here in the North) to see some friends and to explore London in the autumn. 
After a beautiful day celebrating Shantelle's engagement with my University group of friends, and another day checking out the local London climbing at Yonder, I finally headed over to Clink for my first night's stay. 
Monday 21st October, 2019
Clink has two hostels in London. I was staying over at Clink78, a ten minute walk from London King's Cross. This worked perfectly for me as Kings Cross is where my train from Leeds gets in.
My first impression of Clink78 was… woah. Most hostels I've stayed at have tended to be smaller, newer builds – other buildings and shops on either side. You know, just… your regular hostels. Clink78 is very London. It's this huge, old courthouse with an intensely historical feel to it when you're looking at it from the outside.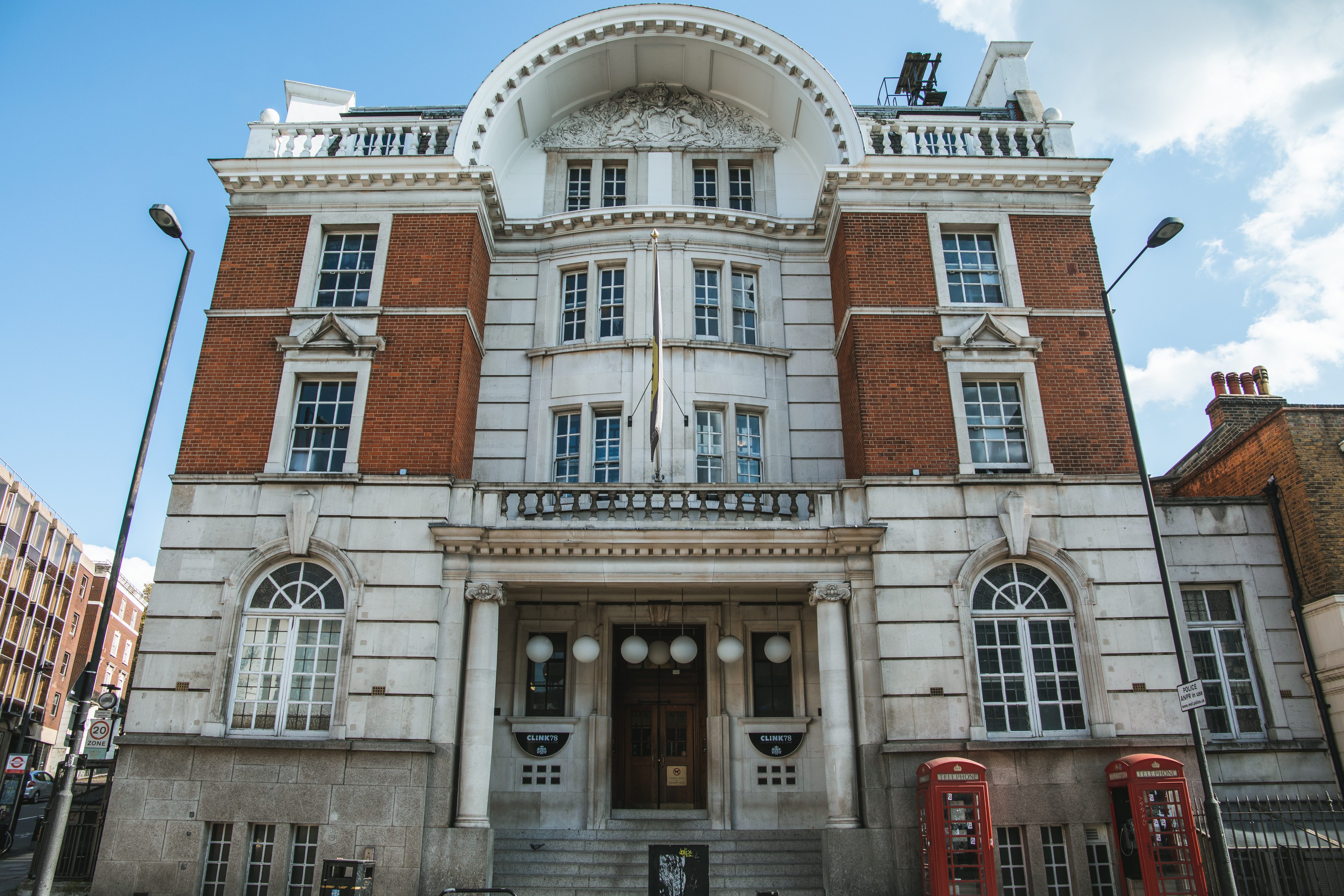 …aaaaand it's the same on the inside, too. I was pleasantly surprised to see that Clink had kept the common areas true to their original builds. The TV room was a courtroom with benches covered in cushions, the games/ studying room the same, complete with a judge's chair.
Beautiful stained glass windows contrast with bright cushions and wall art, added to make the rooms a little cosier and modern. It's pretty cool, and I have to say I'm also quite surprised the common areas are so big because, you know… it's London!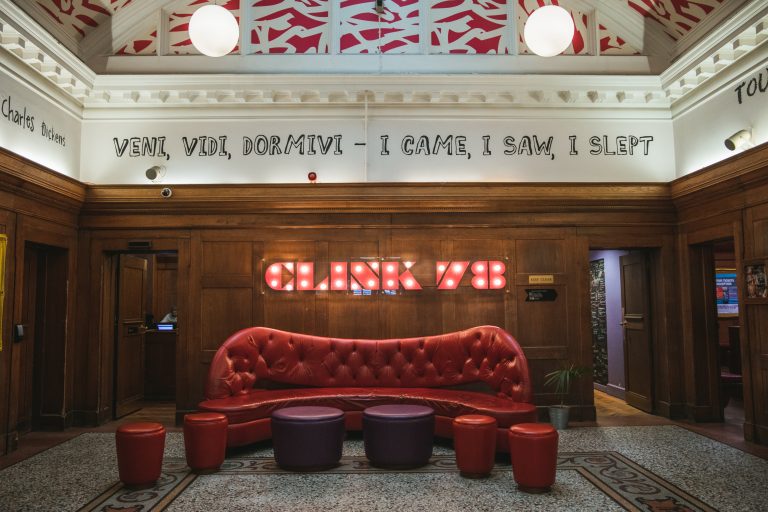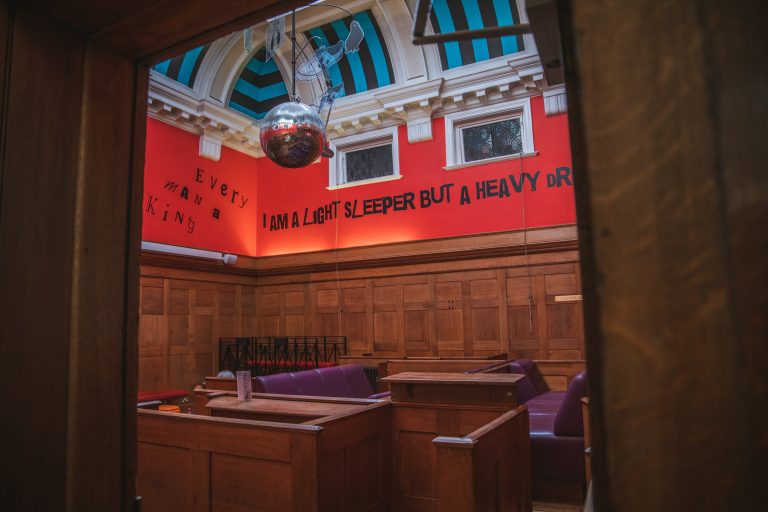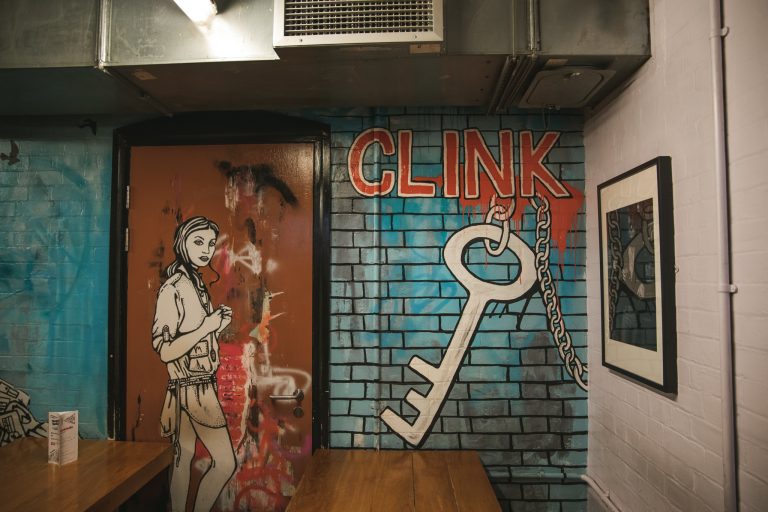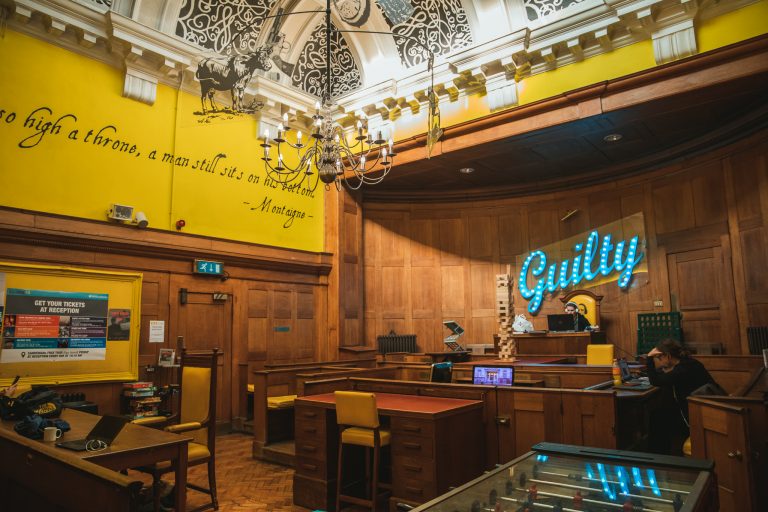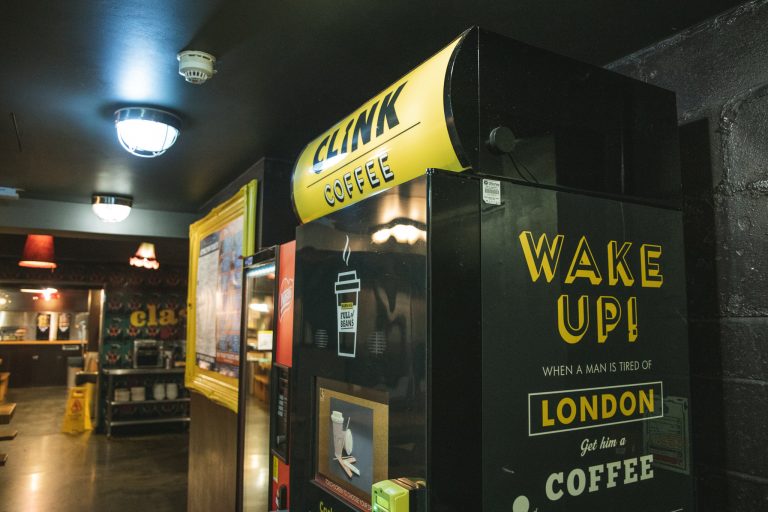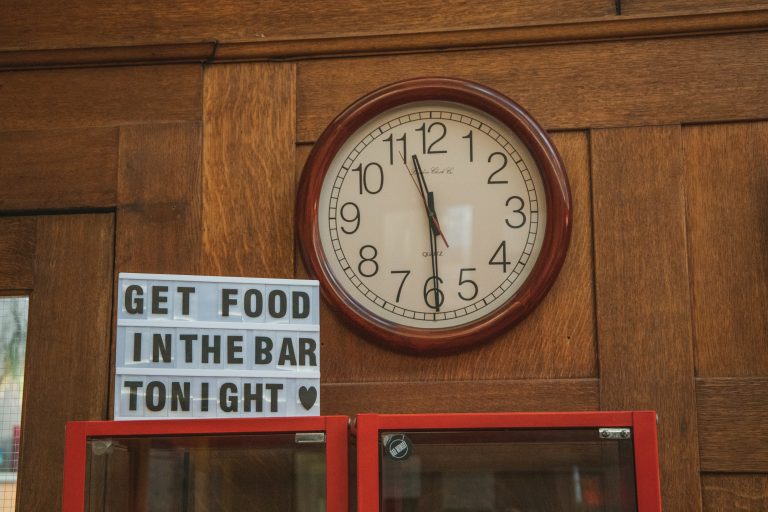 The nice thing about being so close to King's Cross and St. Pancras is that you can get to most places in London with just one train or underground ride. I headed over to St. Pancras, jumped on the Thames Link and 15 minutes later found myself outside The Tate.
Jumping on the train to The Tate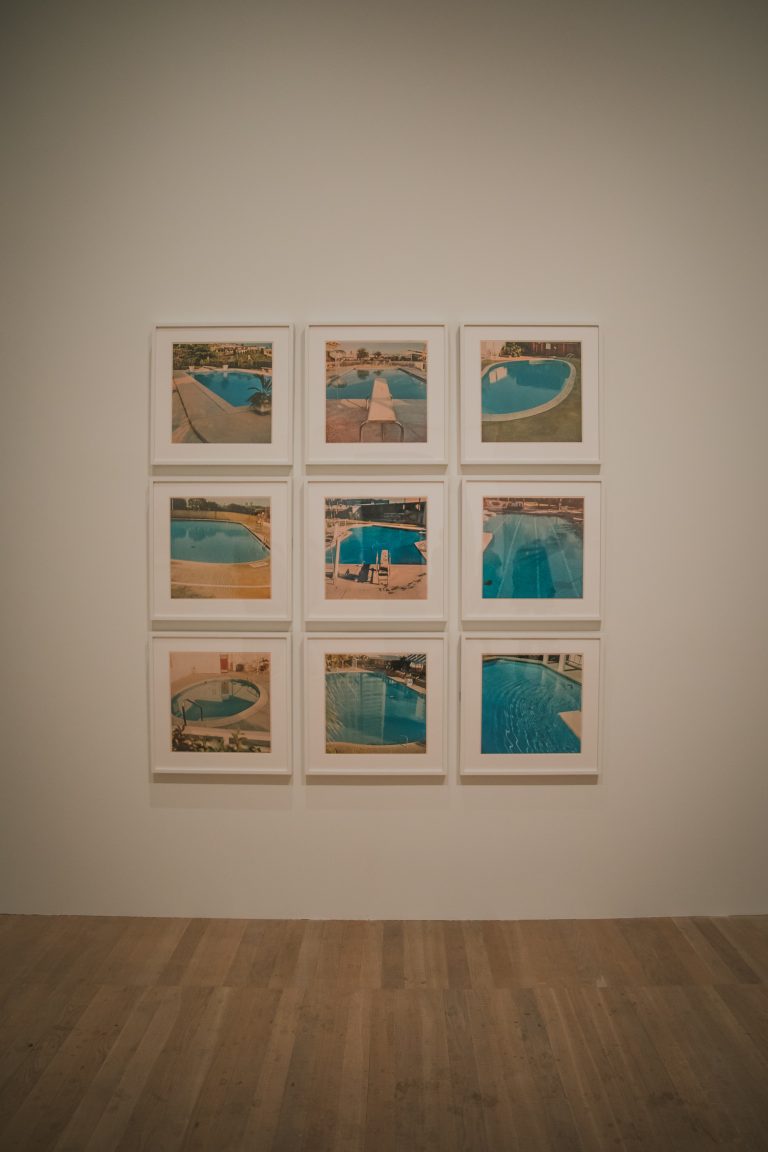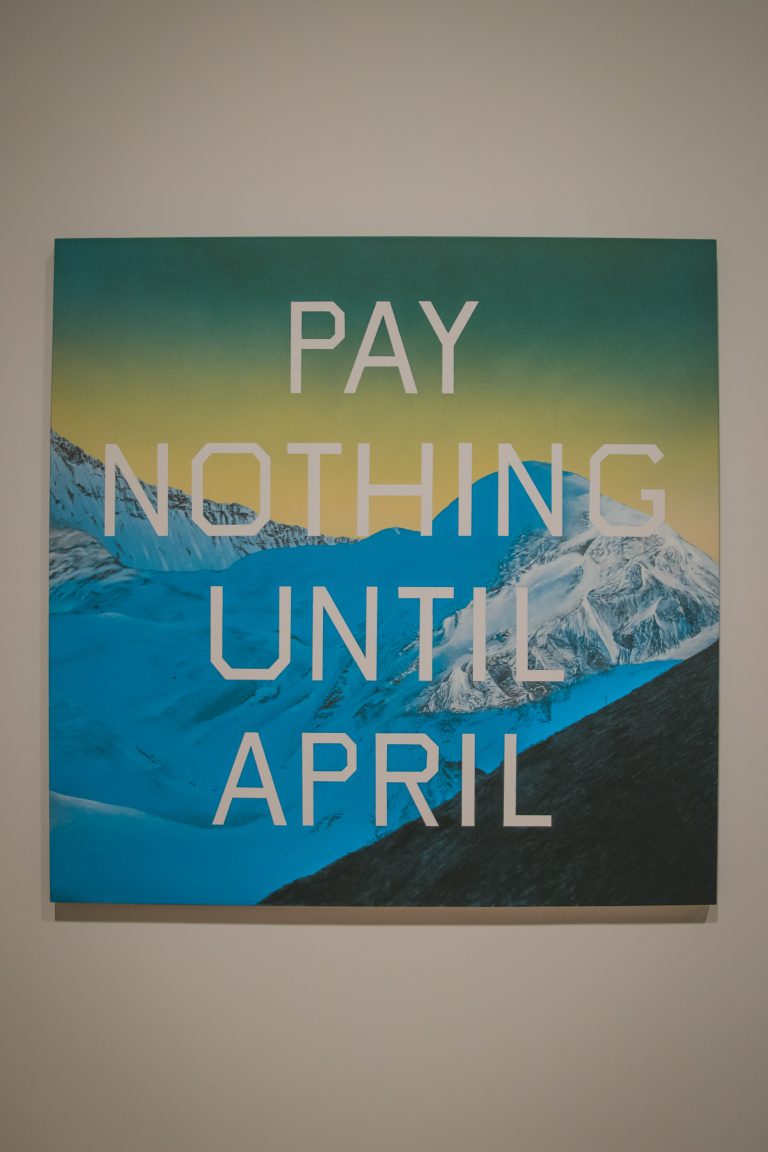 Top tip: don't use your tripod in the Tate because you will get told off. 
Whenever I'm in London I always try to find time to visit The Tate. I always have to remind myself that this amazing place is free. It's ridiculous; the whole building is huge – full of unique and thought provoking art pieces. You could spend all day in there, just wandering around. Well I could spend all day in there, anyway.
For the veggies: just around the corner from The Tate is a vegetarian weigh-and-pay restaurant with a huge selection of vegan dishes. I ended up filling up my plate before I got around the whole carousel. 
Monday Nights = Karaoke at Clink78
As well as the common areas on the ground floor, Clink78 has a basement where breakfast is and, most importantly, where the bar is. Tonight's activity: karaoke. 
I'm a bit hit and miss with karaoke. Sometimes I'm pretty average/ passable. Others (after a few drinks) it all goes horribly wrong. But, I think that is the point of karaoke. It makes it way more fun. 
When I first got down to the Clashbar the mood was quite relaxed. There were some solo travellers chilling out on their phones, reading books.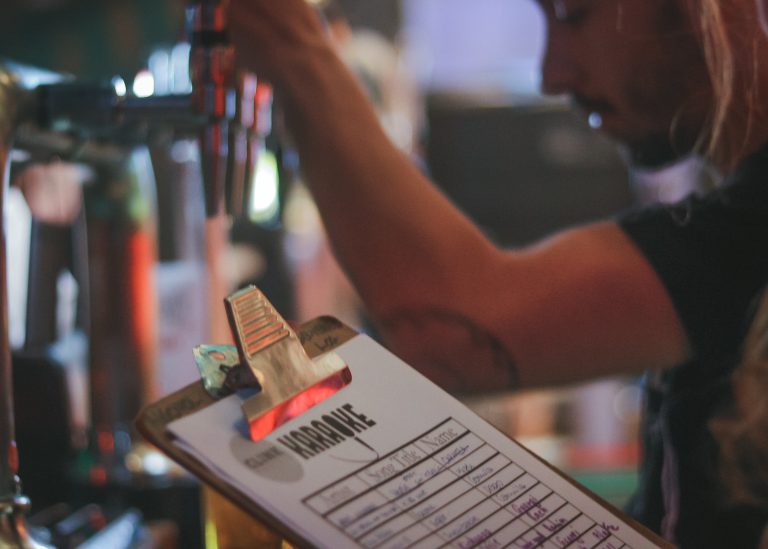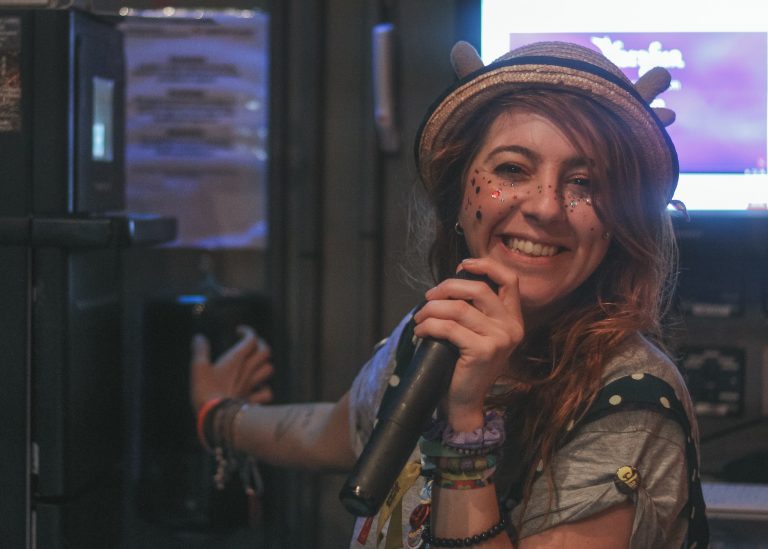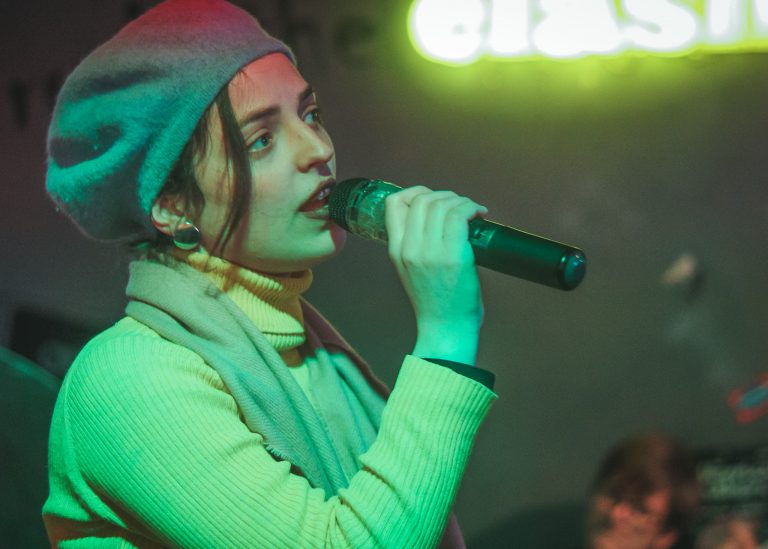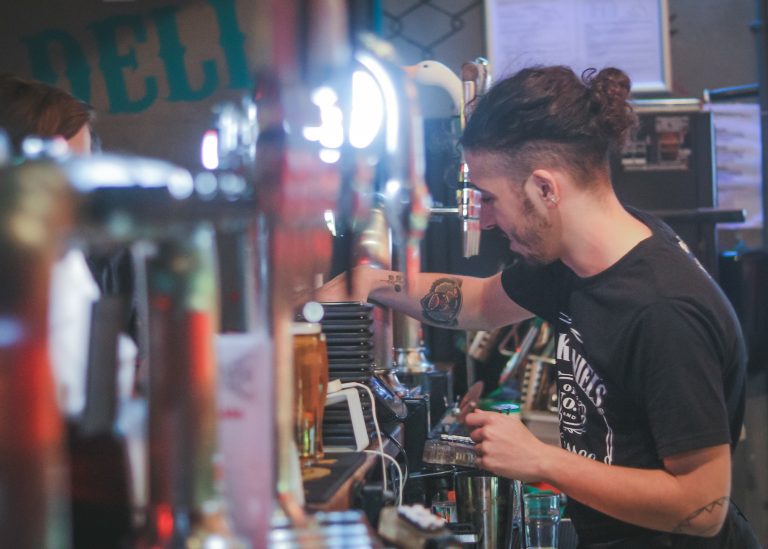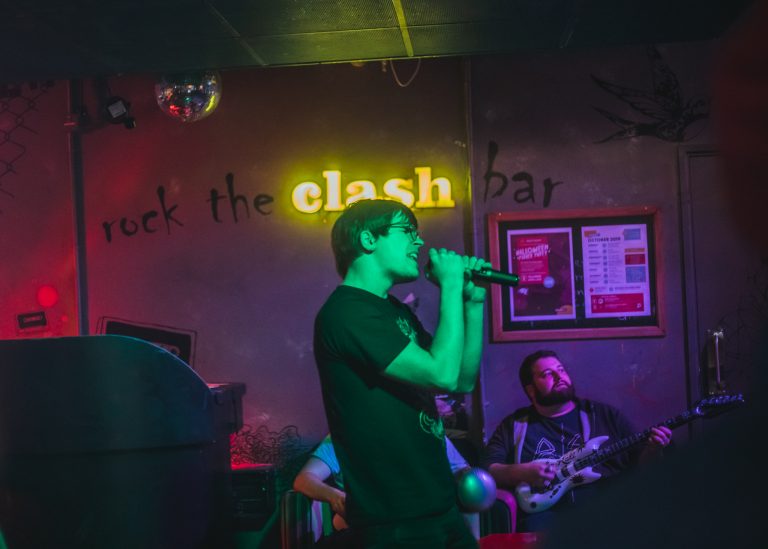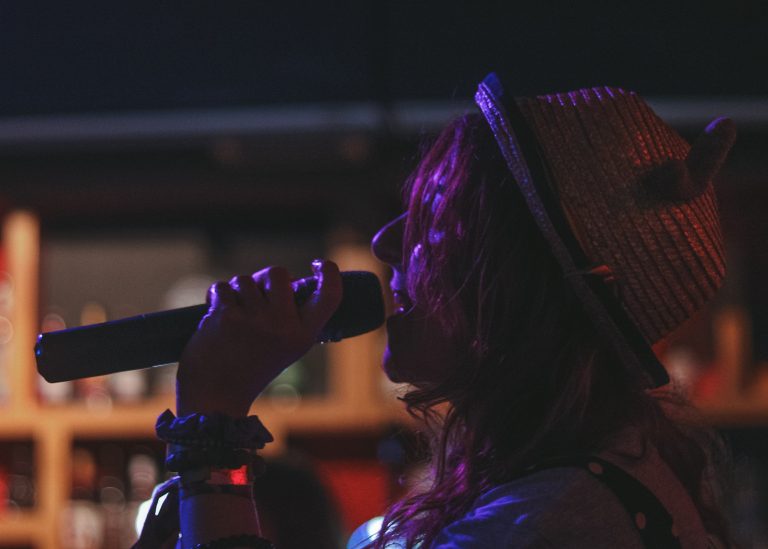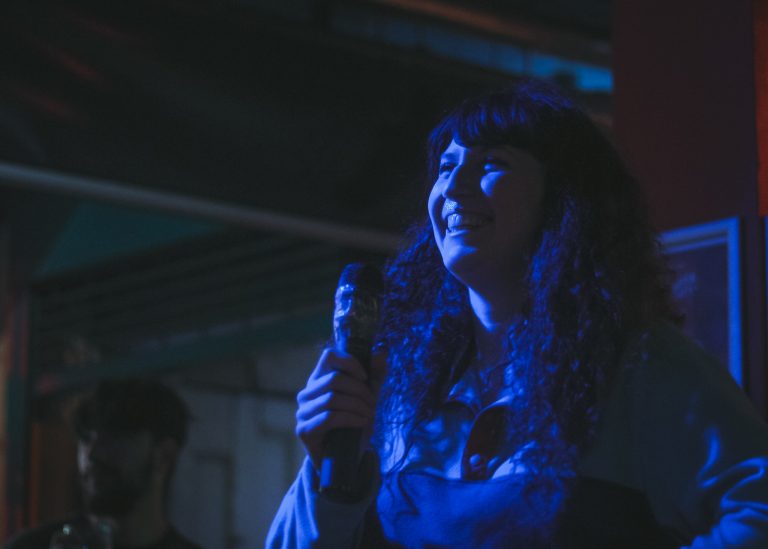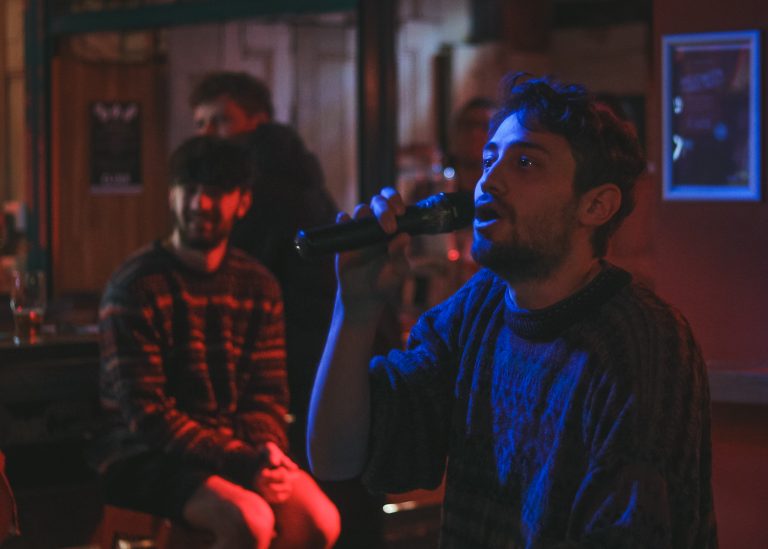 Once karaoke started, the mood really changed. More people piled into the main bar area, people were talking more, signing up for the karaoke, our karaoke hosts who worked at the bar were taking part. It was really good fun to be a part of and shoot. It can be hard shooting something like karaoke because it's a very vulnerable thing for somebody to be doing, but everybody was really laid back about it and let me video them as they sang their heart's out (the video for Clink has music over the top anyway, so there's no drunken singing to be heard!).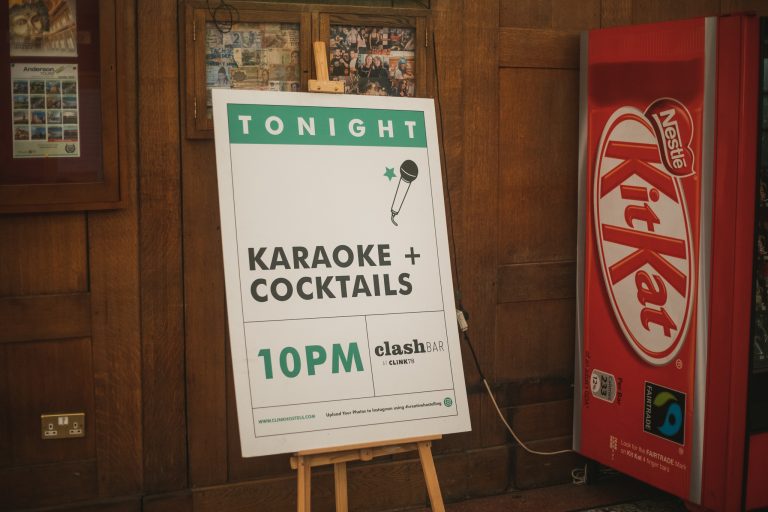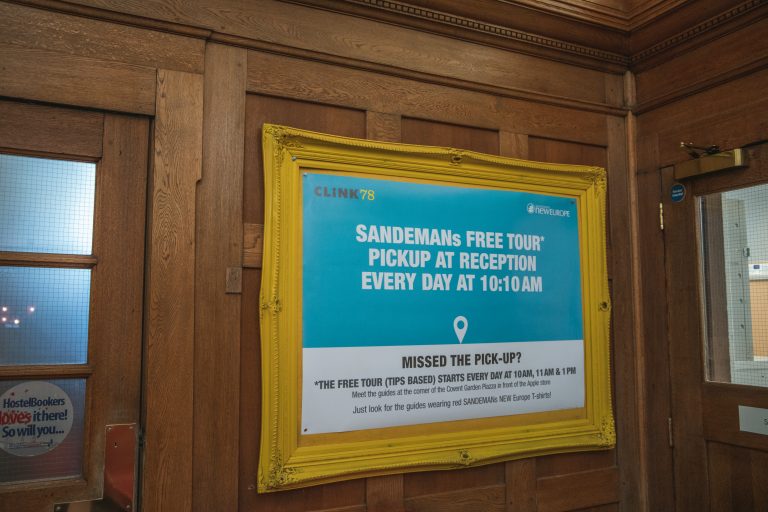 I am always really appreciative and impressed with hostels that make a big effort, every day, to bring travelers together. Solo travel can often be really scary and, especially when you're tired and jetlagged, striking up conversation is difficult.
The fact that Clink has tours every day as well as different events in their bar every evening, and movie nights – it shows a commitment to catering to everybody and a big effort to help people feel included when they're in a new city or country. Not every hostel does that. 
The independence of solo travel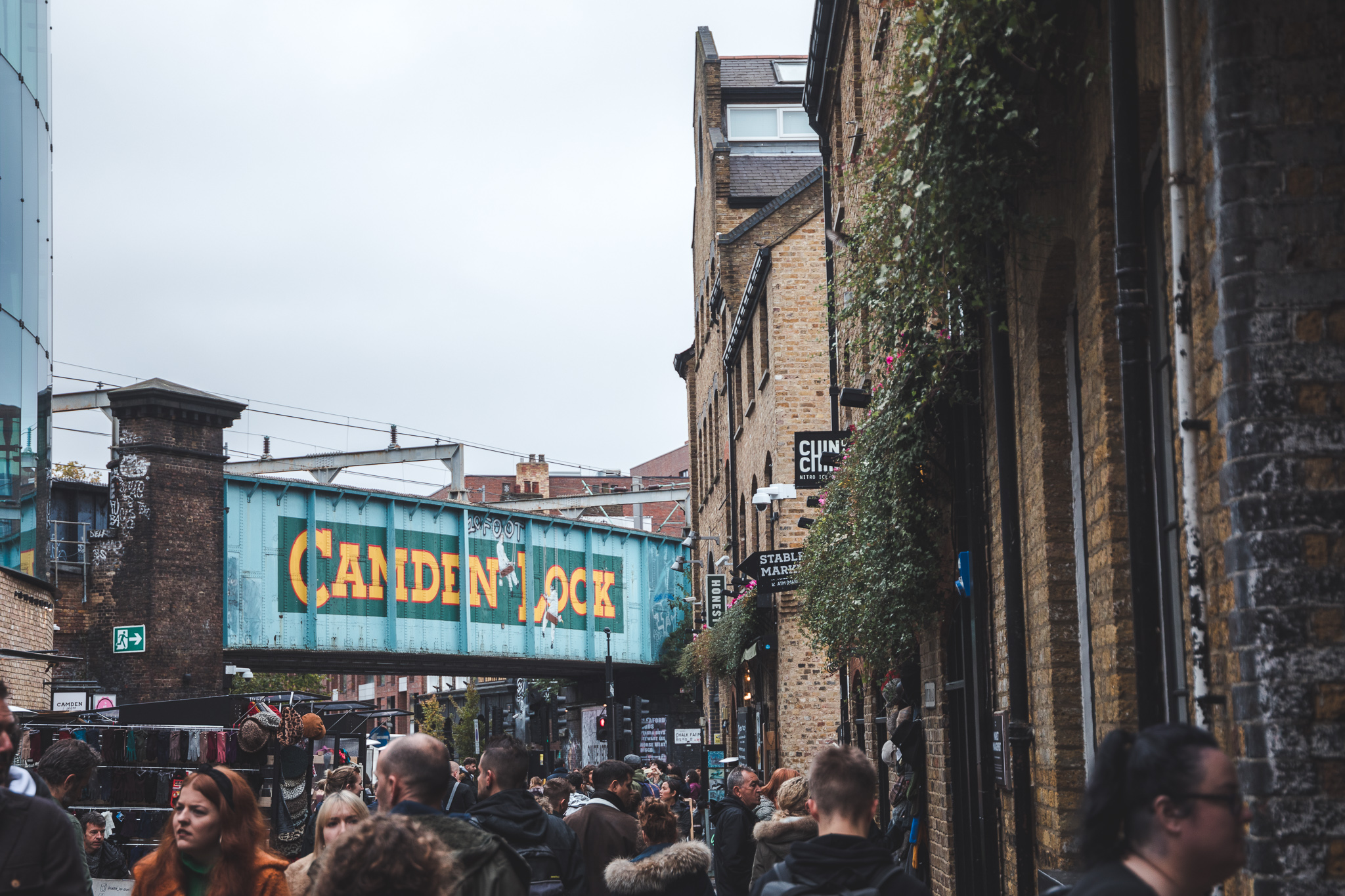 Saying all of that, I did enjoy my next day of alone time. I know London well, so a city tour would have been lost on me. Instead, I opted to walk to Camden via the canal and Temple of Seitan (vegan fried chicken). 
If you have time, and the weather is beautiful, you have to spend some time by the canal – looking at the boats, enjoying the views. I think this is especially important if you feel a bit overwhelmed by the busyness that is London – it's like a little bubble of calm in the sea of city life. 
Another top tip for the veggies: just a 5 minute walk from Clink78 is Mildred's – a ridiculously good vegetarian restaurant with mostly vegan options. I loved it so much there that I went twice!
I am really stoked to be heading on another Clink Assignment in a week's time, shooting more video content for them over in Amsterdam.
Until then, below is a taste of what you can expect on a Monday evening staying at Clink78. 
Next stop: ClinkNOORD, Amsterdam –>
(to be written soon!)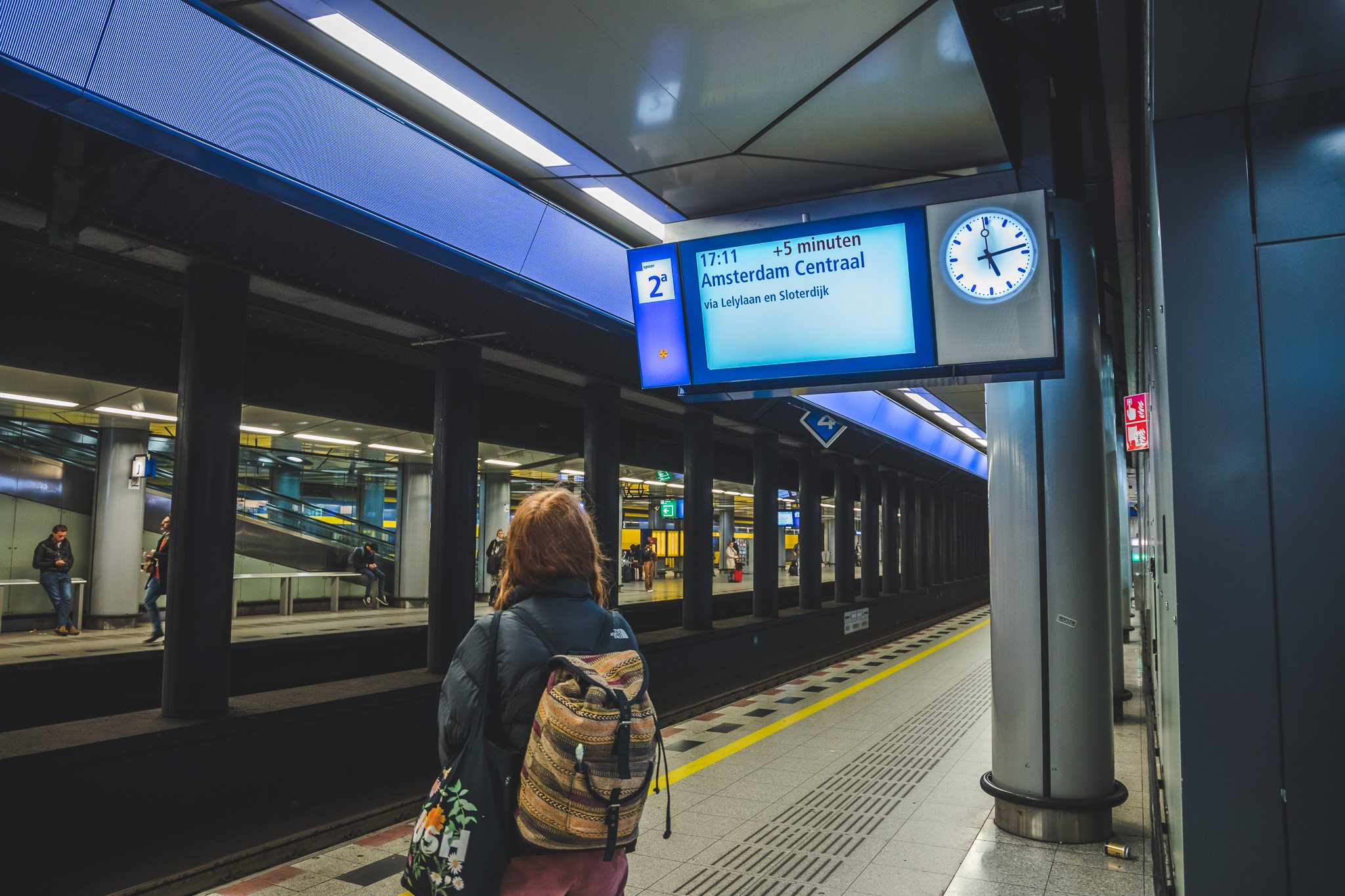 I'm always looking for interesting opportunities working with brands on multi-media projects involving photography, video, and writing. 
If you'd like to talk about a specific project, or just think we'd be a good match, send me an email at:
rachel@rachelsarahmedia.com
Or give me a call on +447482272109.