Ingredients:
2 tablespoons raw cacao powder
1 tablespoon soaked/ blended raisins/ sultanas/ dates
[1 spoon of one, or ½ or two – you choose]
½ tablespoon raw coconut oil
[Perhaps 1 tablespoon if you don't use any other liquid ingredients]
½ teaspoon raw agave syrup/ natural sweetener/ sugar *
A pinch of salt
*optional, but recommended. Raw chocolate can be a little bitter to new tasters!… and I have a sweet-tooth.
Method:
Add all ingredients in the order above, do not mix yet!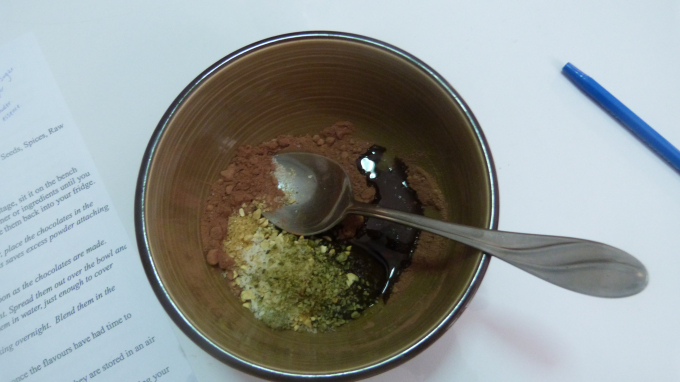 [Add any extra ingredients at this point]
Gently mix, mix, and mix until you have a squidgy, yet firm consistency.
Scrape all ingredients together into the corner of your bowl, and poke at your mixture.
If your finger comes out relatively clean, pick up your mixture and gently roll it with your hands into a ball.
[If your mixture is too liquidly, slowly add some more cacao until you get the ideal consistency]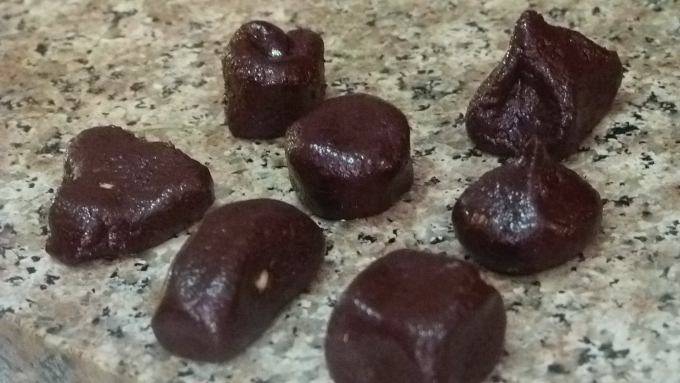 Now, here's for the really creative part:
Squeeze and shape your mixture into lots of different shapes and get decorating!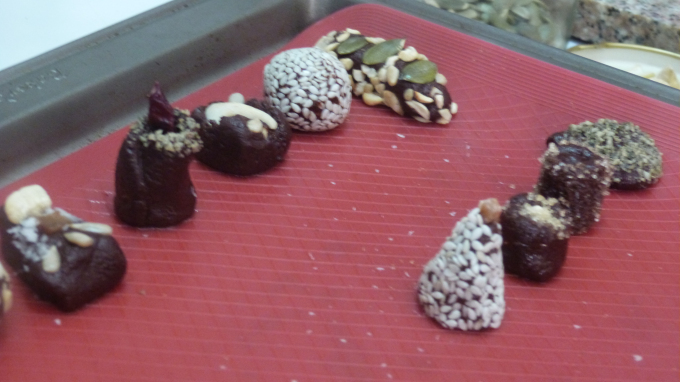 [Remember, any spices and ingredients you decorate your chocolates with will provide that first burst of flavour. Different toppings and shapes makes each individual chocolate, from a base mixture, become unique.]
Keep them cool! Chocs will keep up to 10 days in the fridge, and taste even better out of the freezer!
[You might want to test taste your choc, after 10 minutes of it being in the fridge; if you don't like it, leave it out for 10 minutes to soften and have another play around. Perhaps it needs to be sweeter, or you feel it needs a kick. Whatever it is, add in moderation!]
In the first 2 days expect a myriad of flavours fighting to be noticed at different points of the day. Perhaps in the morning, cinnamon will make an appearance, closely followed by chili at brunch. Your Raw Chocolate will taste best after 2 days (if they last that long!) as the flavours will really settle and complement each other.
Enjoy!
Rach x