Tuesday 23rd July, 2019, 09:00am
A lie in. 
Well… kind of. 
After post-Rainbow Mountain dinner and drinks, I kind of floated into bed; falling asleep  was a lovely, cosy blur. I mostly remember being so grateful for the two hot water bottles that had been placed in my bed. I put one on my feet, and cuddled up with the other one at my stomach.
I woke up, again, at around half past 5 but enjoyed the fact I didn't have to get up for anything. I played around with the camera, packed up my suitcase, and headed off to breakfast.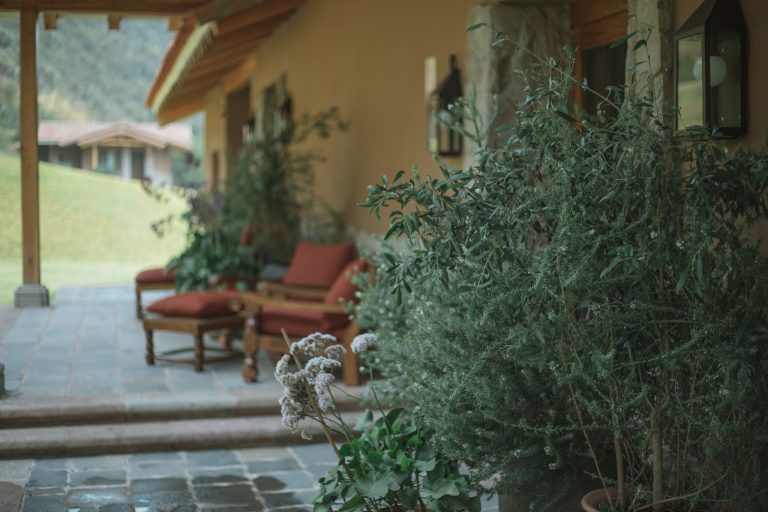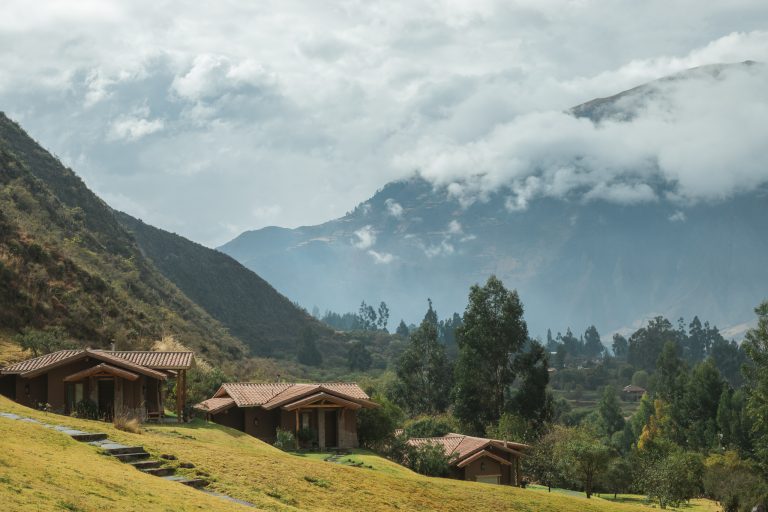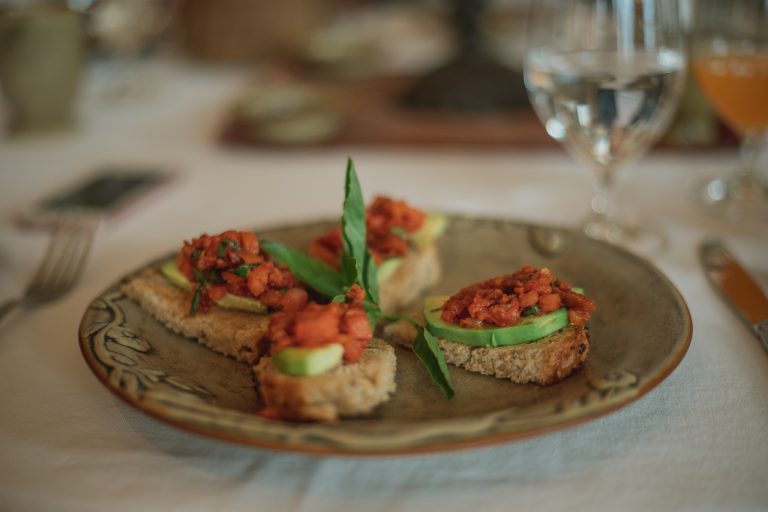 I finally had some time to breathe – some time to wander around Inkaterra Urubamba and get some shots of my room, the communal areas, the beauty of where we were staying. By ten we were all checked out of our rooms, so we spent the next few hours just… relaxing. Something we hadn't really done on this trip yet.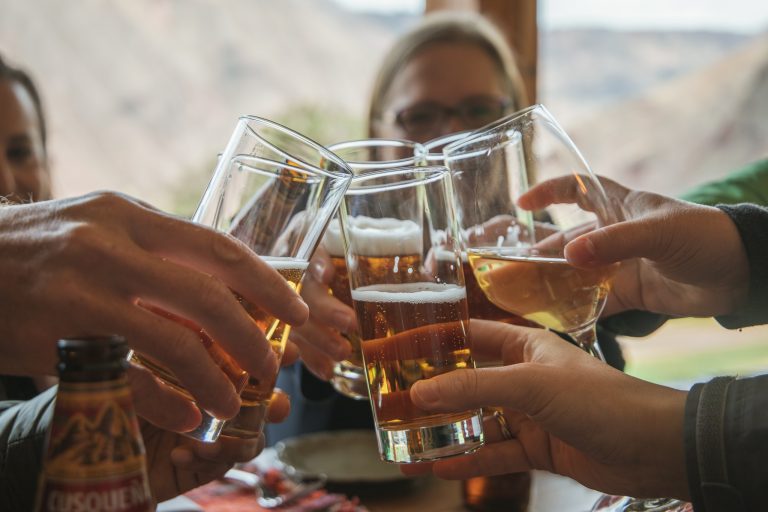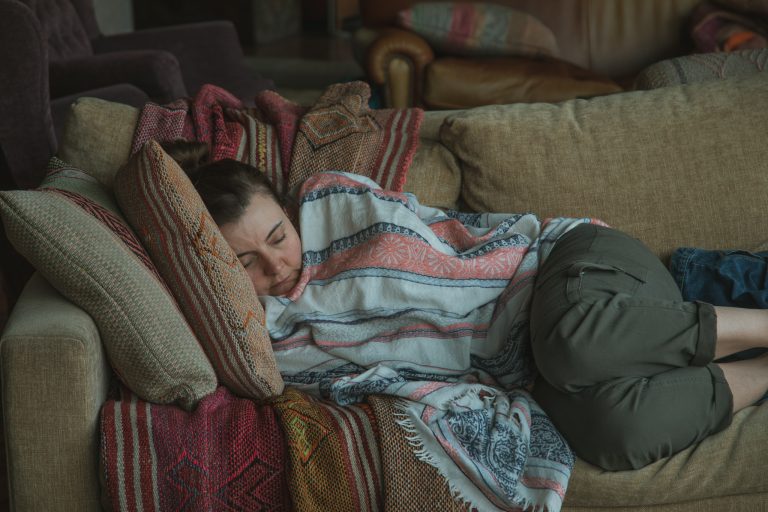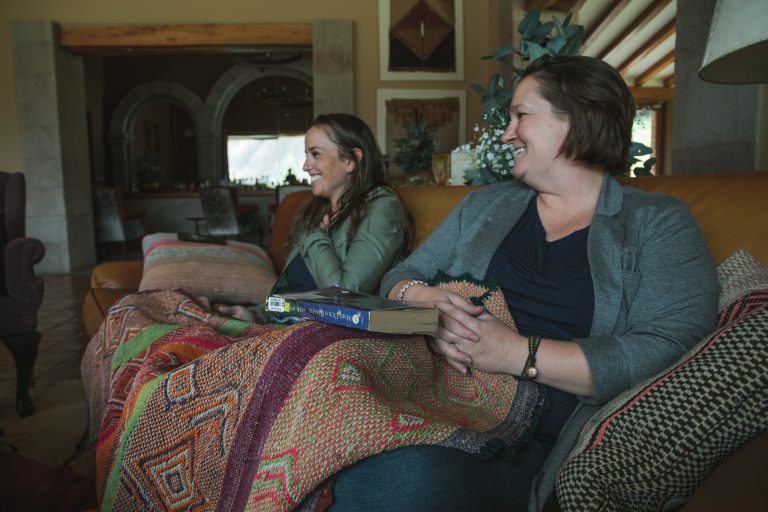 I organised my harddrives, cleared memory cards, charged batteries and got everything I needed for our last adventure of the trip: Machu Picchu. 
Boarding the train to Aguas Calientes.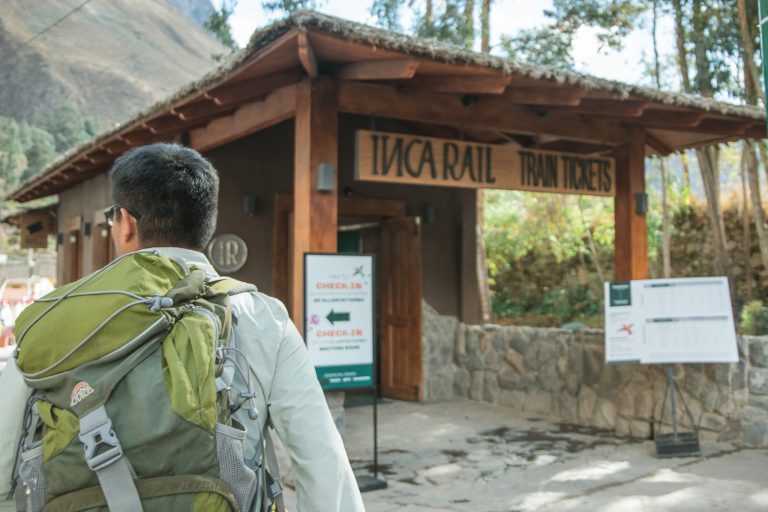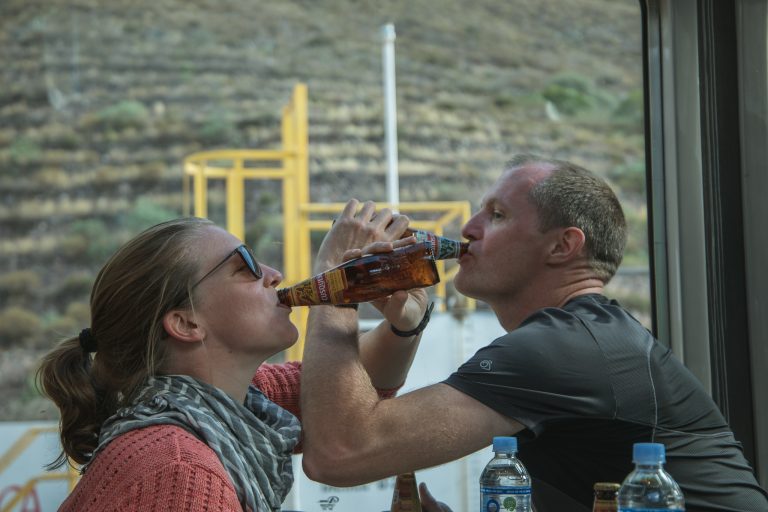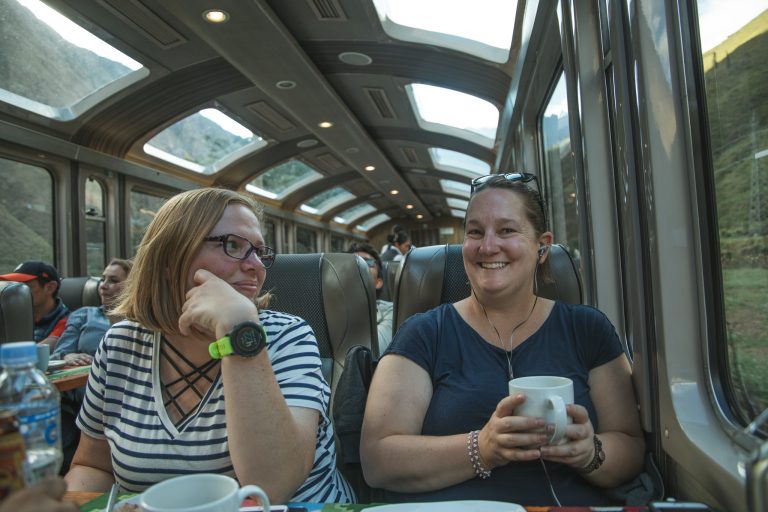 It was time! Tomorrow we'd be heading up to see one of the wonders of the world, so we found ourselves at the train station, and made our way to Aguas Calientes (Machu Picchu town). 
The train was not what I was expecting. I don't know what I was expecting but it wasn't this lovely, shiny, new train with food service and a supply of beer. I looked out of the windows to mountain views, snowy peaks in the distance. It was one of the nicest train journeys I've ever been on. And it was less than two hours! Before I could properly settle, we were there. 
Inkaterra El Mapi and drinks on fire.
I didn't know anything about Aguas Calientes before I arrived, which was why it was all the more awe-inspiring when I left the train station and looked up. 
We were in this tiny town, completely surrounded by huge, towering mountains, completely covered in mist. We walked through the rain to our hotel, El Mapi, and found ourselves greeted with free drinks and a timeslot for a massage. 
And, wow, was the massage needed. All the heavy camera kit had taken its toll. And I was so excited that I got a massage! Who gets a massage whilst they're working?! A Flashpack photographer, apparently. Thank you Flashpack. 
On a high from our massages, we  cuddled up in the bar, set our drinks on fire, and the headed up for dinner (yes, in that order).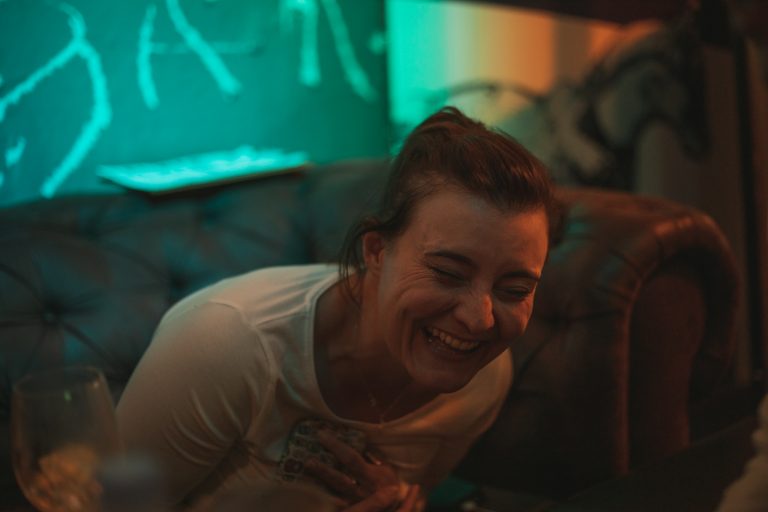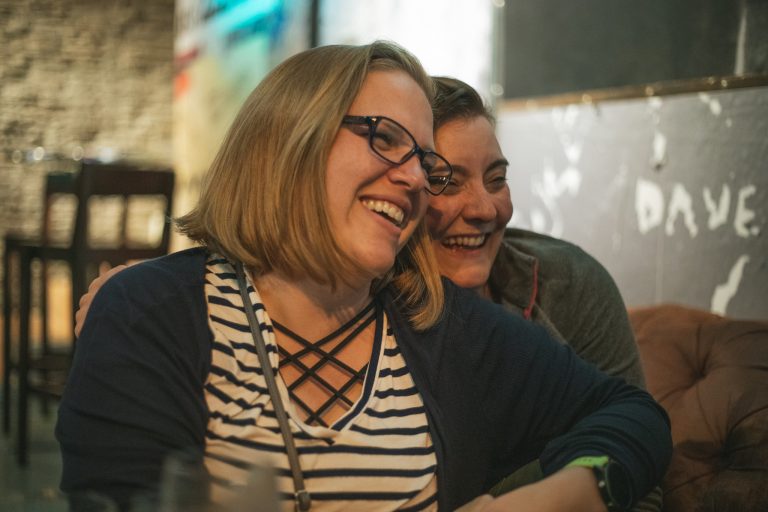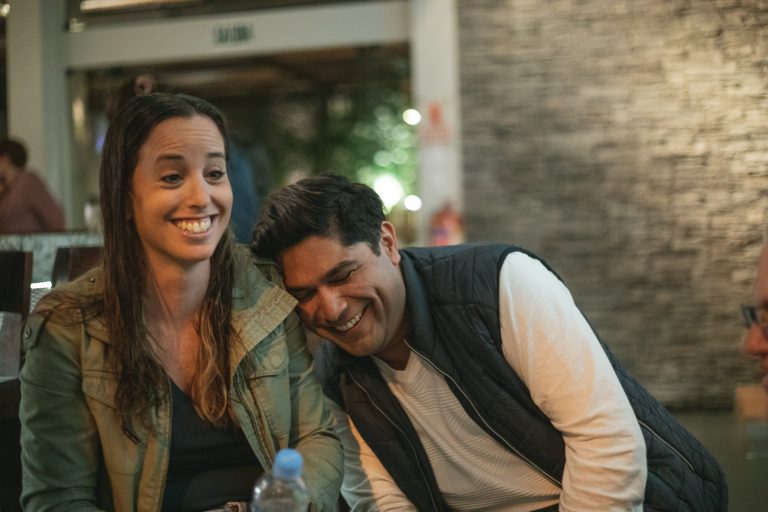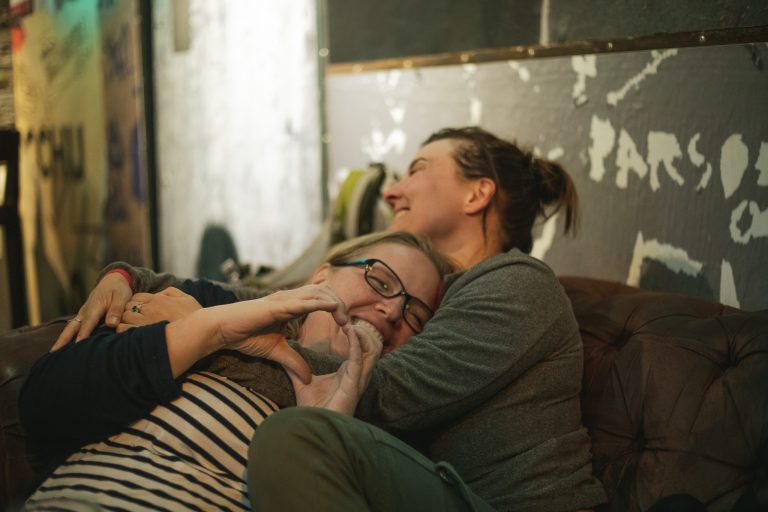 Wednesday 24th July, 2019, 08:00am
The others had gotten up early, as they were going right up to the top of Machu Picchu mountain. Because I had been brought on as photographer kind of last minute, I couldn't get a ticket all the way to the top, and neither had Nirav. So we had a little bit of a lie in. 
I looked out of my window and was greeted by beautiful mountain views. The mist was still obscuring the views, rain gently falling. I was simultaneously awed by the mist, and worried – my plan for the morning was to go out Nirav and get some beautiful shots of Aguas Calientes. The rain was kind of ruining that plan.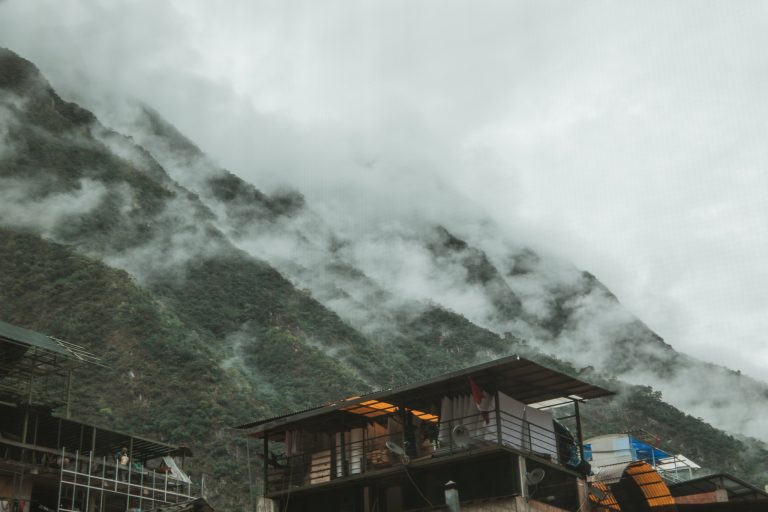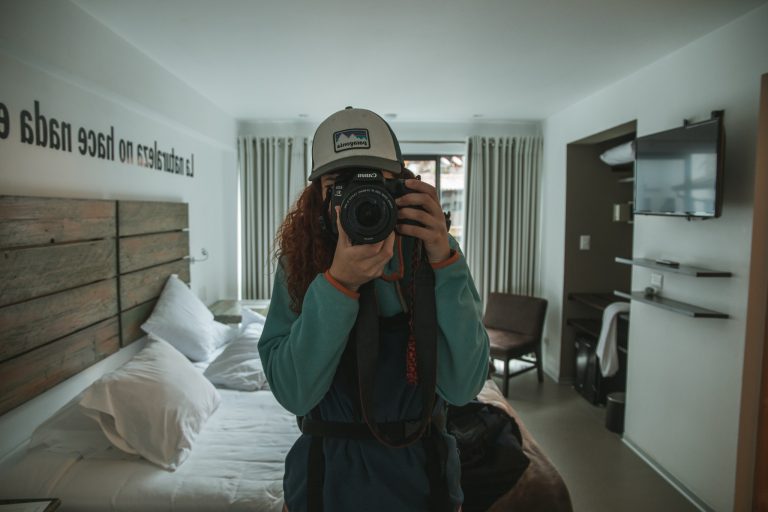 I wandered around El Mapi, sheltering from the rain (delaying the inevitable), taking photos of the place. 
El Mapi Inkaterra s is a pretty cool hotel – I was sad we only had one night here. It has more of an obvious eco-focus  than the other Inkaterras, and was abundant with jungle vibes and built into the mountain itself.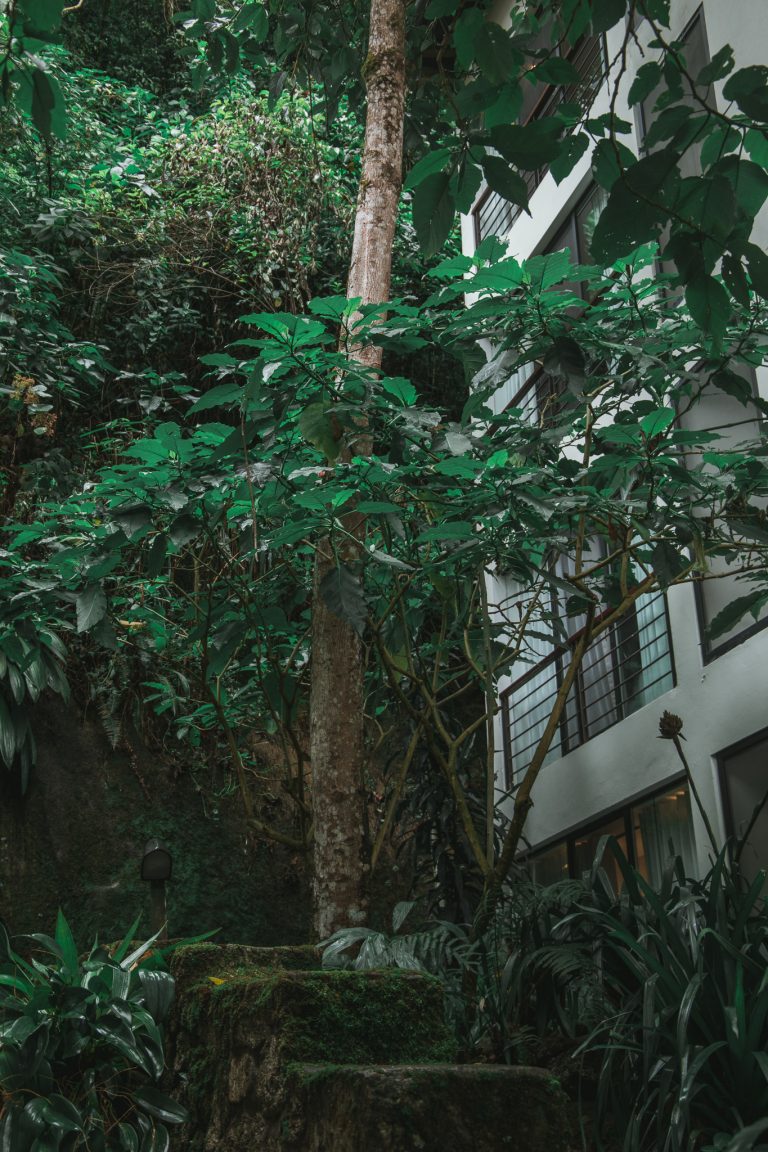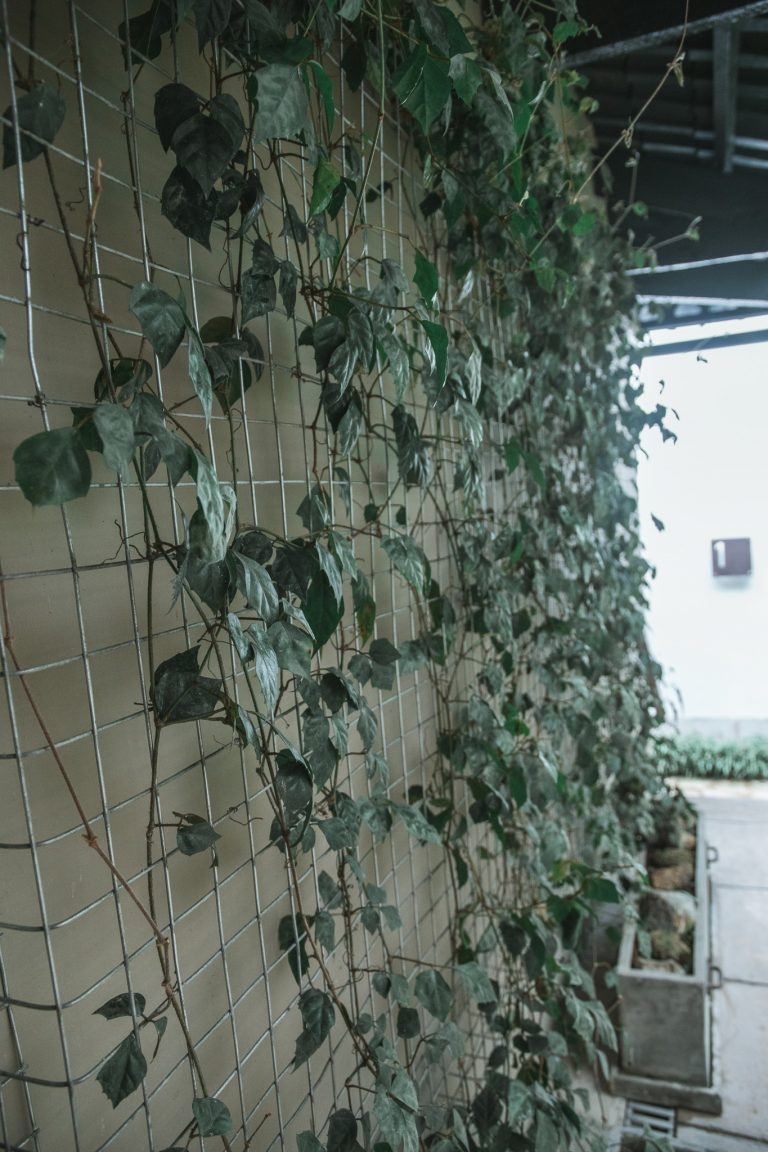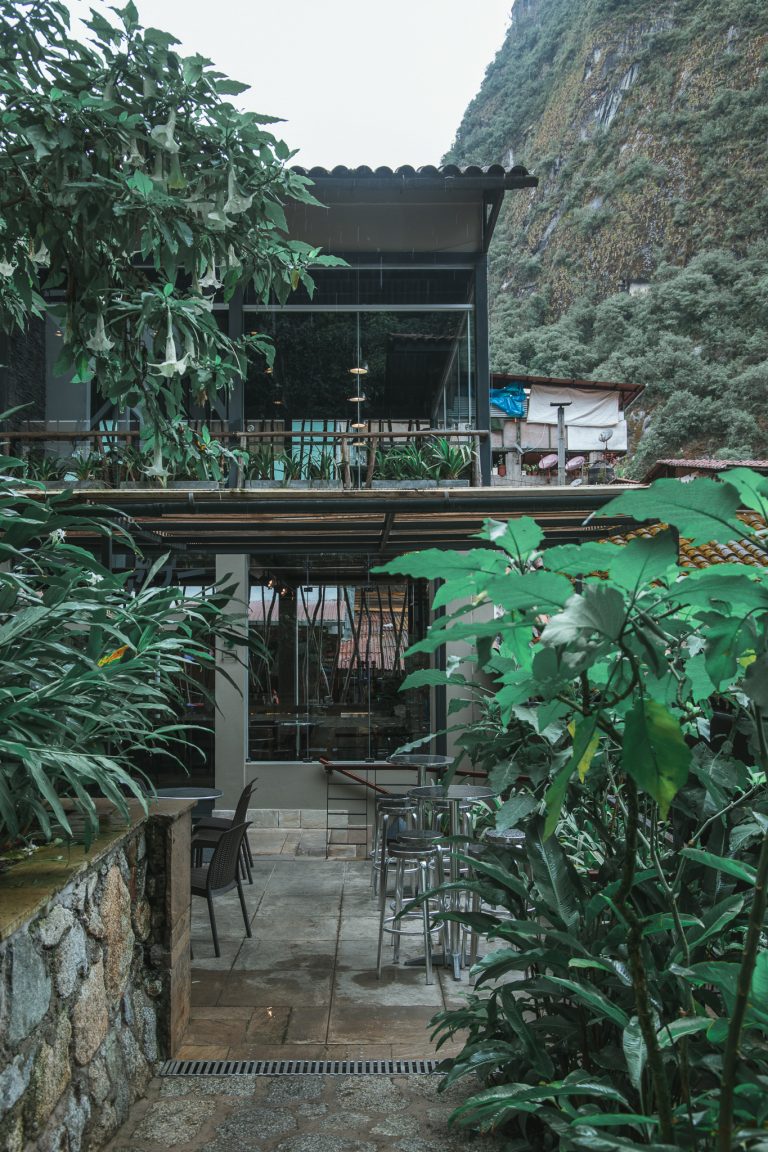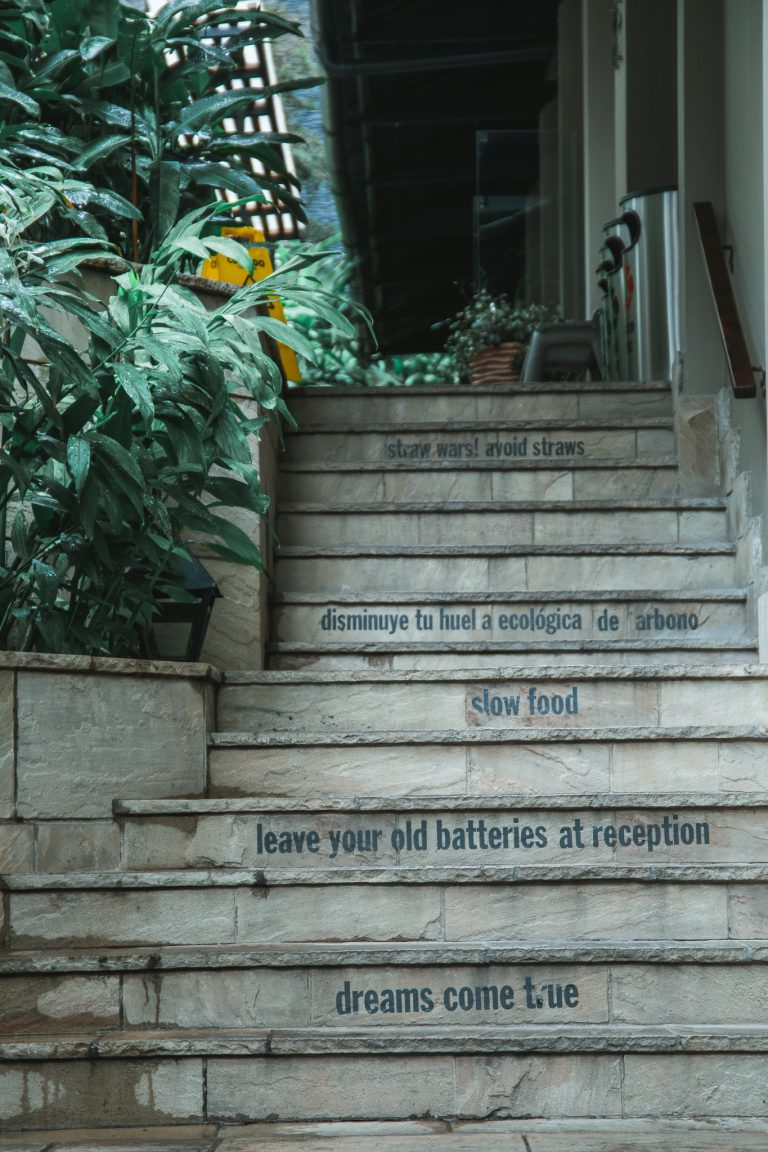 Nirav and I met up and… we went out and braved the rain. For the shots!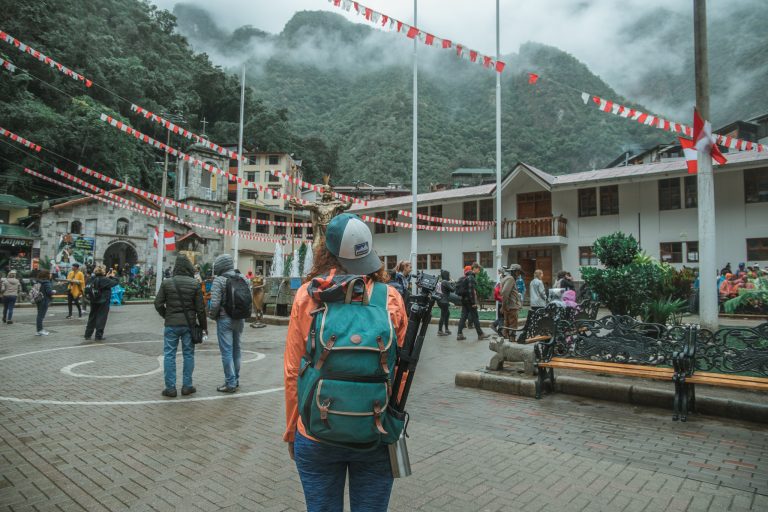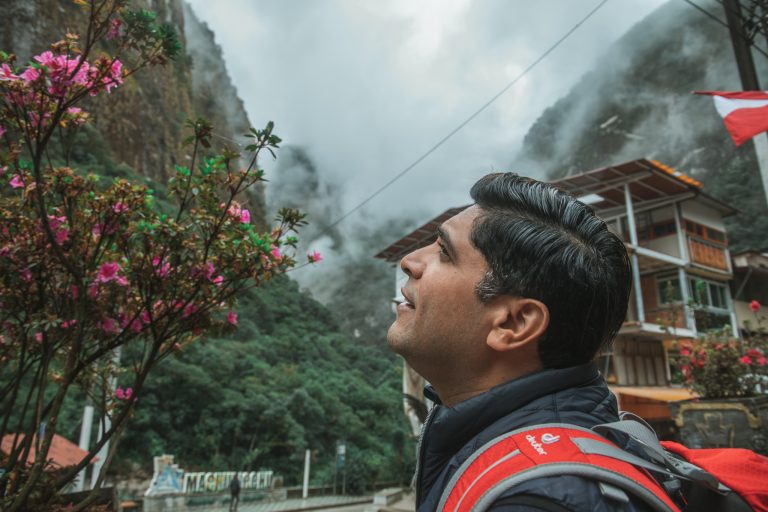 Aguas Calientes is this small place nestled, hidden, in the mountains. And that's all you can see – Mountains. Towering all around you. It might have been claustrophobic if it wasn't so beautiful, especially as we couldn't see the sky or sun the whole time we were there.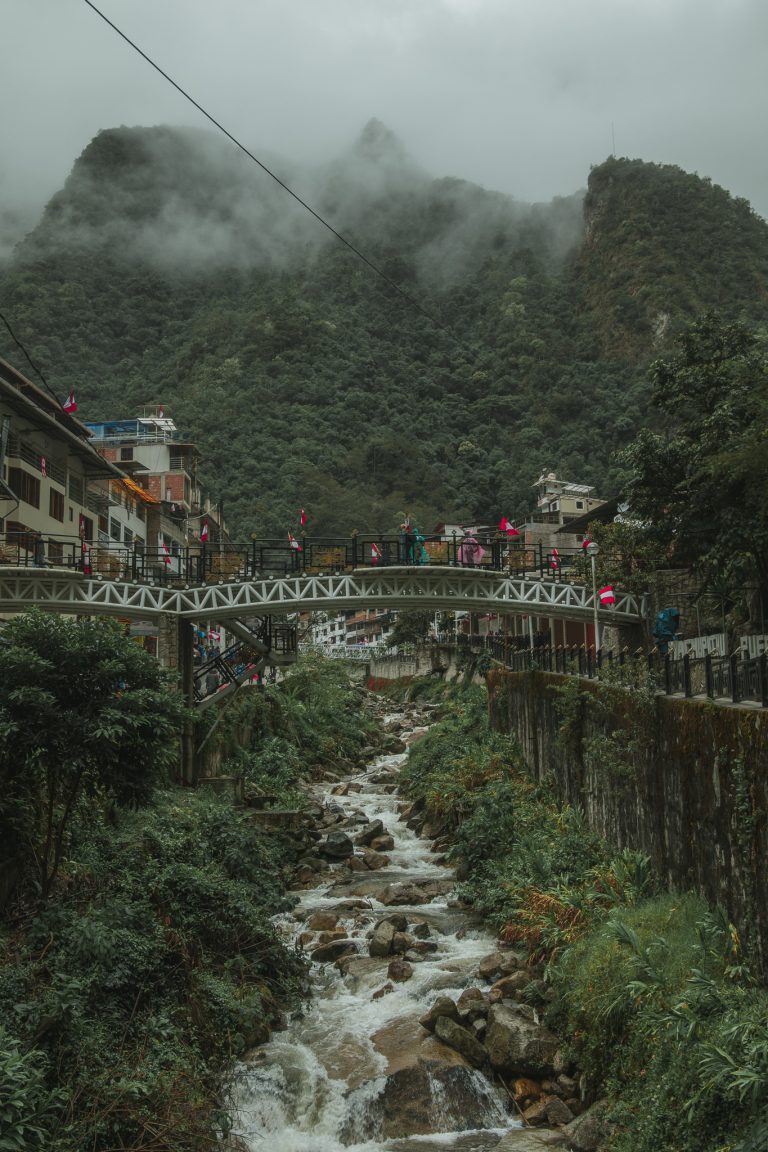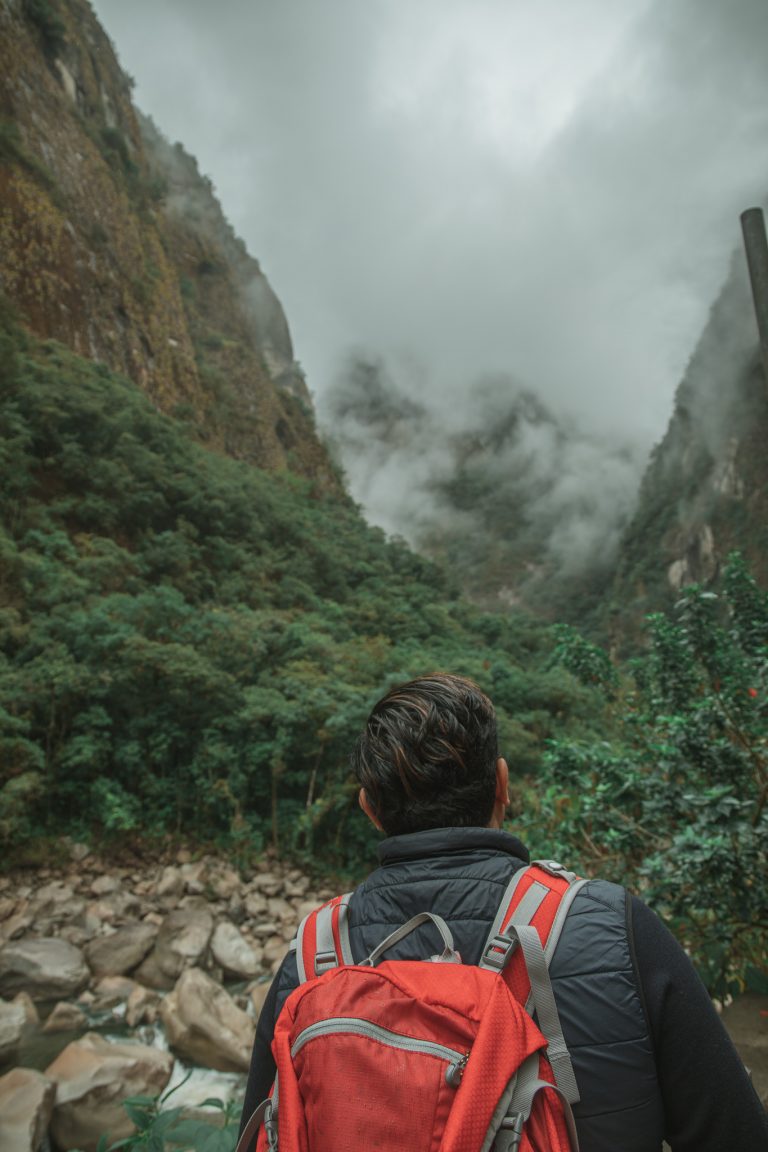 It rained, I wiped off my lens. It rained again, we ducked into sheltered areas, hiding from the rain. It wasn't the photoshoot I'd planned in my head. But it would have to do. After a couple of hours we met up with our own tour guide who took us to the back of the queue to wait for the bus up to Machu Picchu.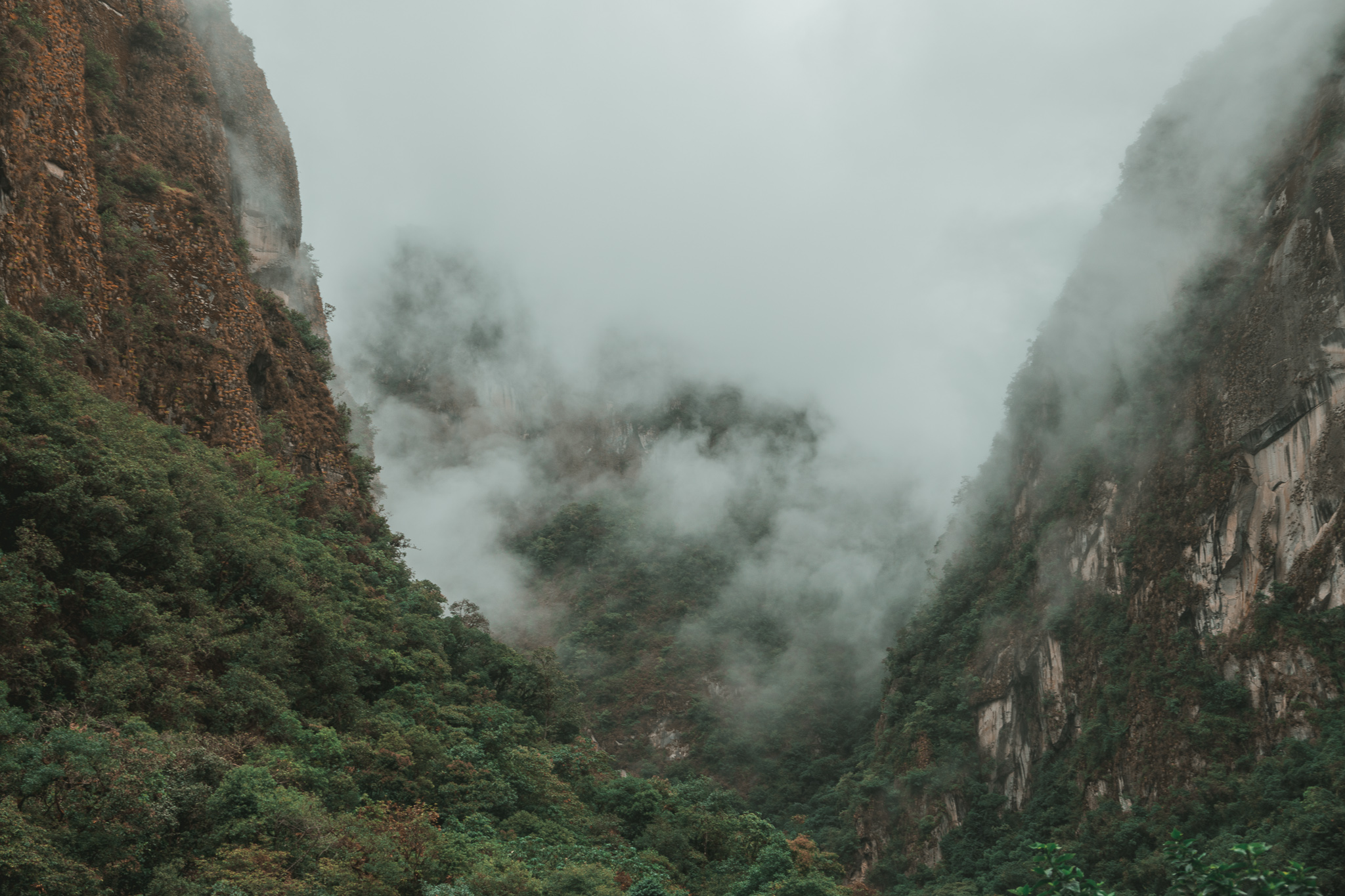 As we waited in line, rain pouring down, I looked up at the mountains and wondered what it would be like when we finally got up there.
To get the bus up to Machu Picchu, you book your bus timeslot way in advance, get your ticket, and wait for a long time in the bus queue.
After what seemed like forever, we were on the bus, which wound up and up into the mist on this road that didn't seem built for buses. Each time we encountered a bus coming down there would be a battle of driver wills. One would reverse, we'd continue.
It was otherworldly – the mist, the tall mountains.
We reached the entrance and I was promptly told on arrival that my tripod wouldn't be going any further. I paid for the privilege of losing my timelapse plans and for my tripod to sit in a cloakroom created for this very specific reason. 
It was just the three of us. Nirav, our guide, and I. I began to worry about the shots we'd get for today. Machu Picchu was argubly the most important destination for good photos – but the weather was terrible, and I was missing most of the tour group. They were up at the top of Machu Picchu, somewhere in the mist. Hopefully coming down to meet us soon.
So, I gave one of my cameras to Nirav and he got snapping.
May I saw he would make a pretty excellent second shooter.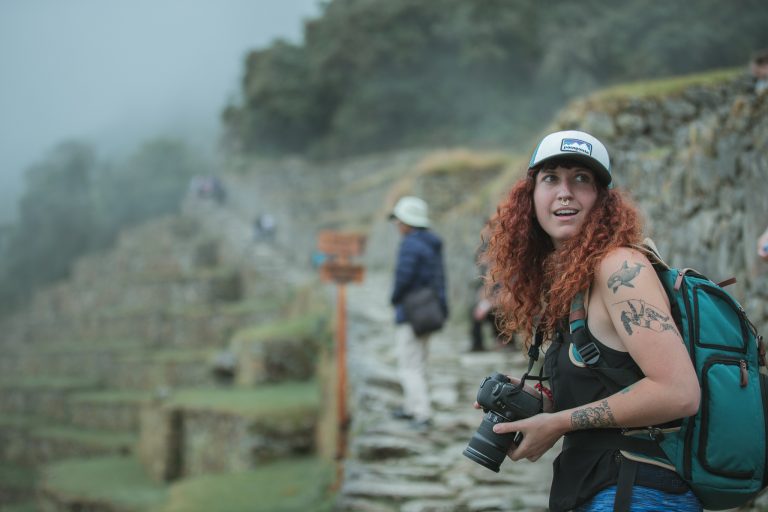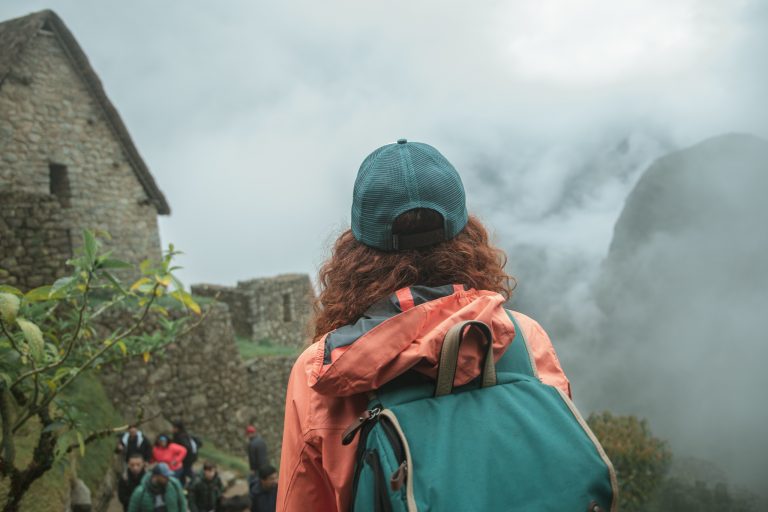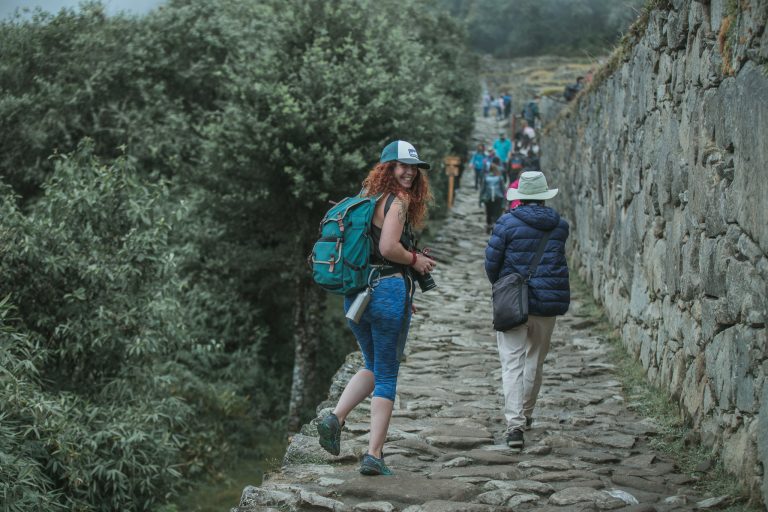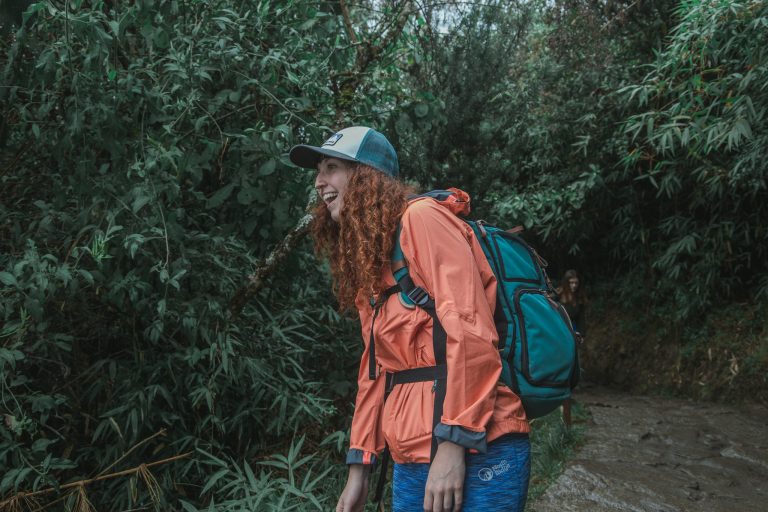 Then, we finally made it to that viewpoint. The site commonly known as Machu Picchu loomed below us.
Invisible.
We couldn't see it.
It was too misty.
I have to admit at this point I was internally screaming a bit. A worry that was mixed with my utter awe at being at such a beautiful place. 
I actually think it was more beautiful this way.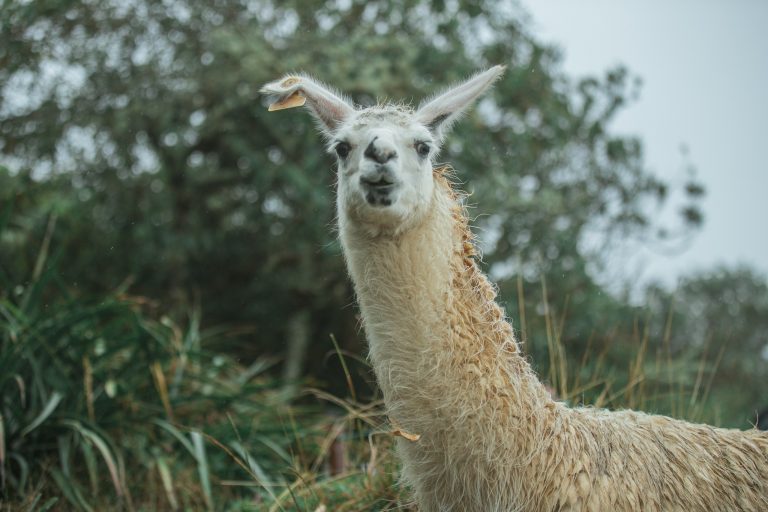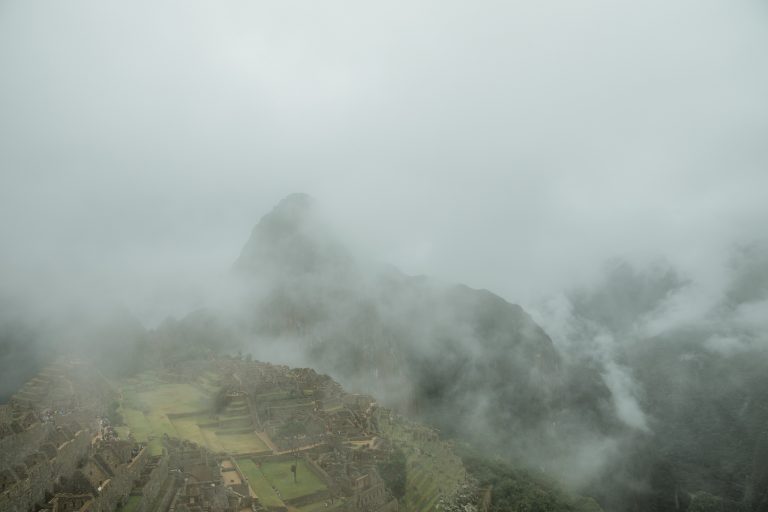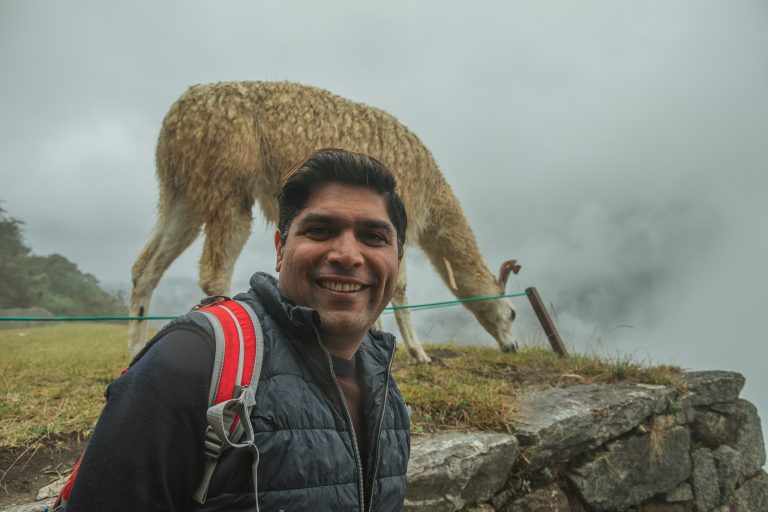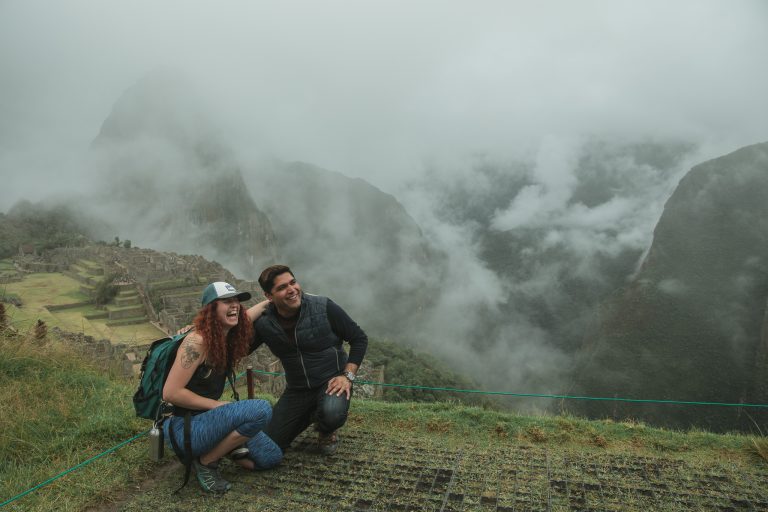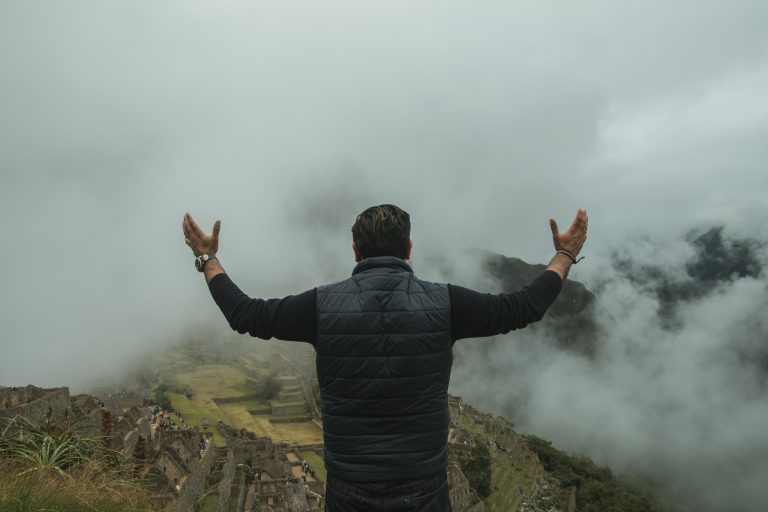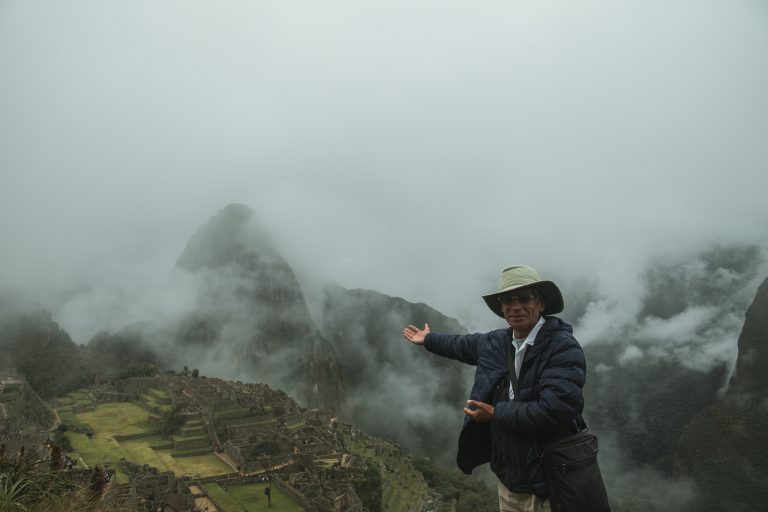 You know all these photos you see of Machu Picchu? Perfectly clear, sun shining down.
I had been expecting that, and  I know those conditions what would have been ideal for the job. 
But, deep inside, I was kind of glad we had these conditions. My cameras were weatherproof so the rain wasn't too much of an issue, and the landscape was just incredible. I'd never seen this famous site like this in any photos. It looked ethereal. Completely unexpected. The mountains look on this looming, atmospheric personality, charged with emotion. The mist obscured the people, making it feel a little more like you were the only person there.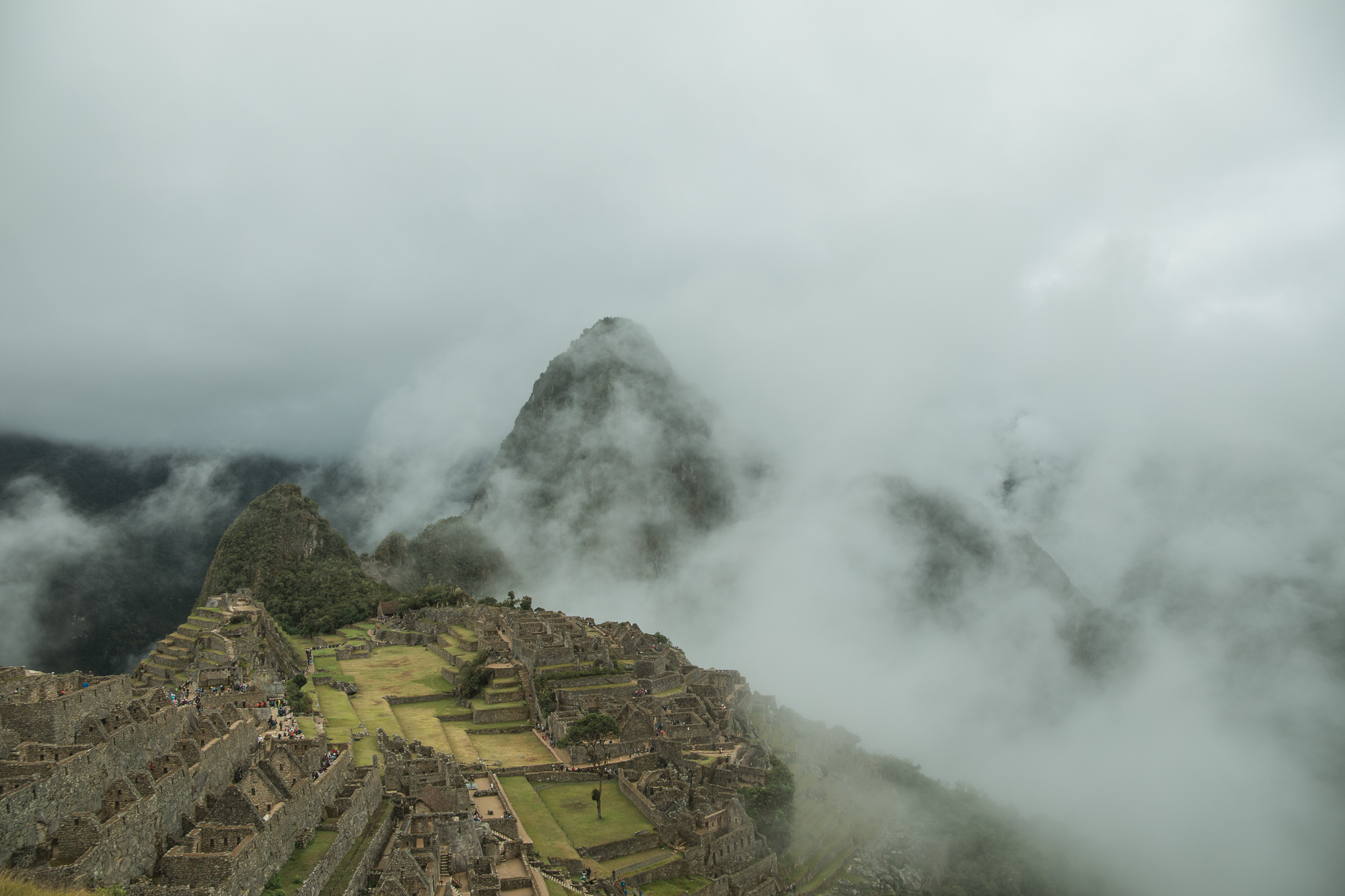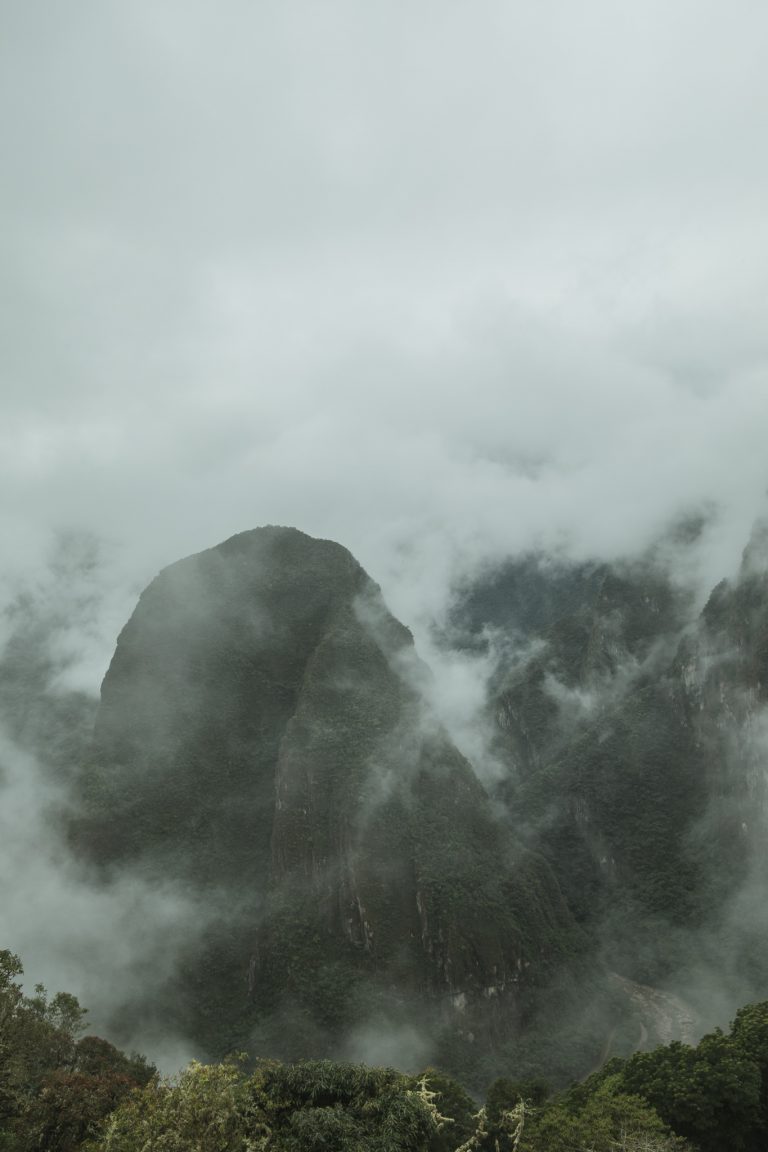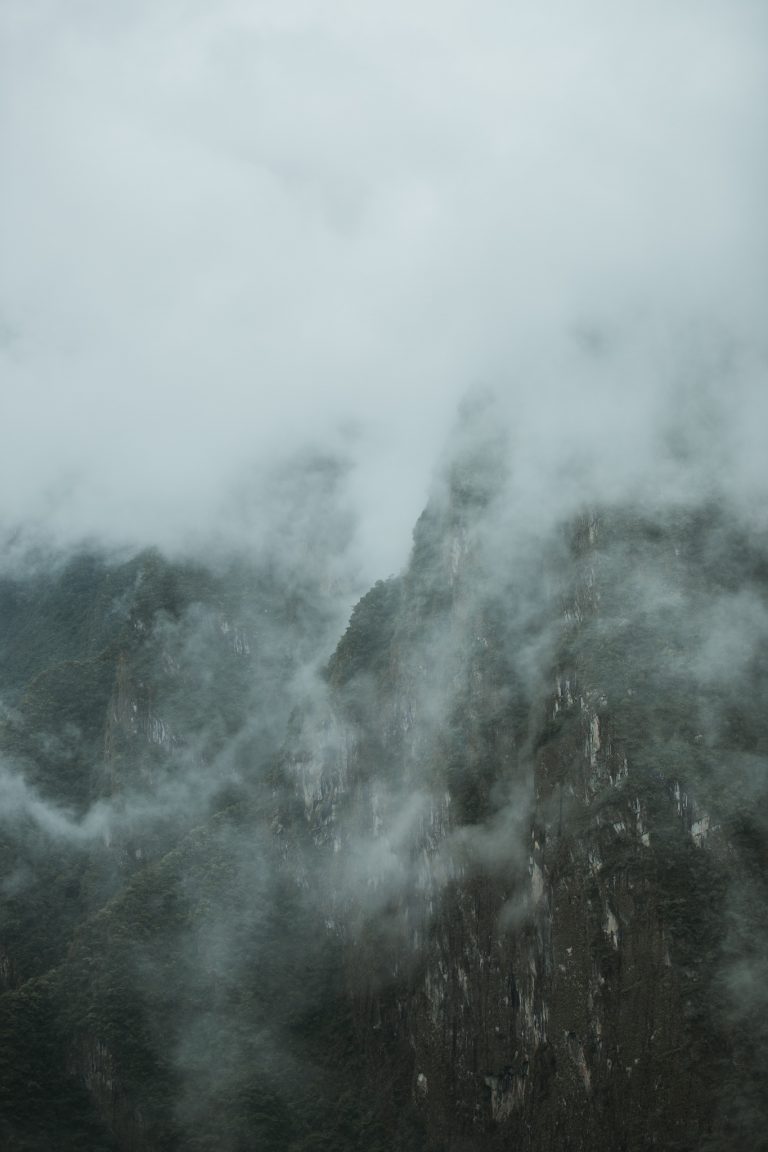 And we were the only people at one point, exploring around the site, waiting for the group. Which meant that we were the only people to capture this beautiful moment.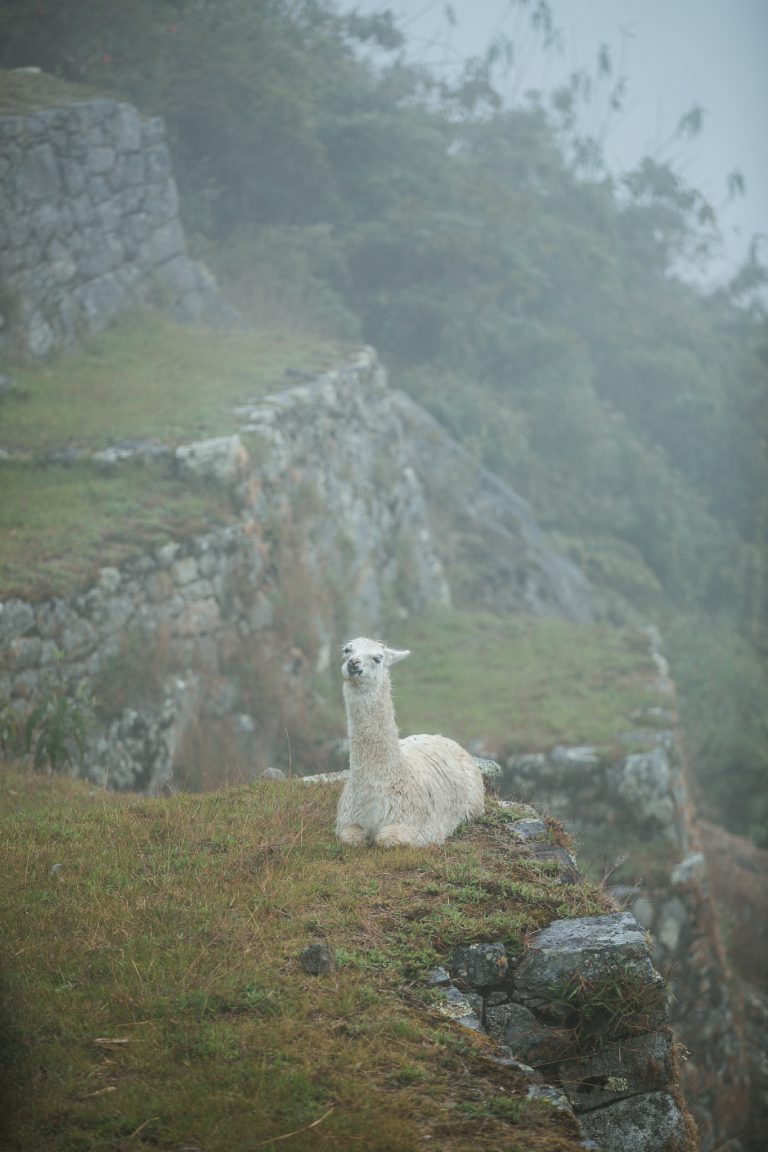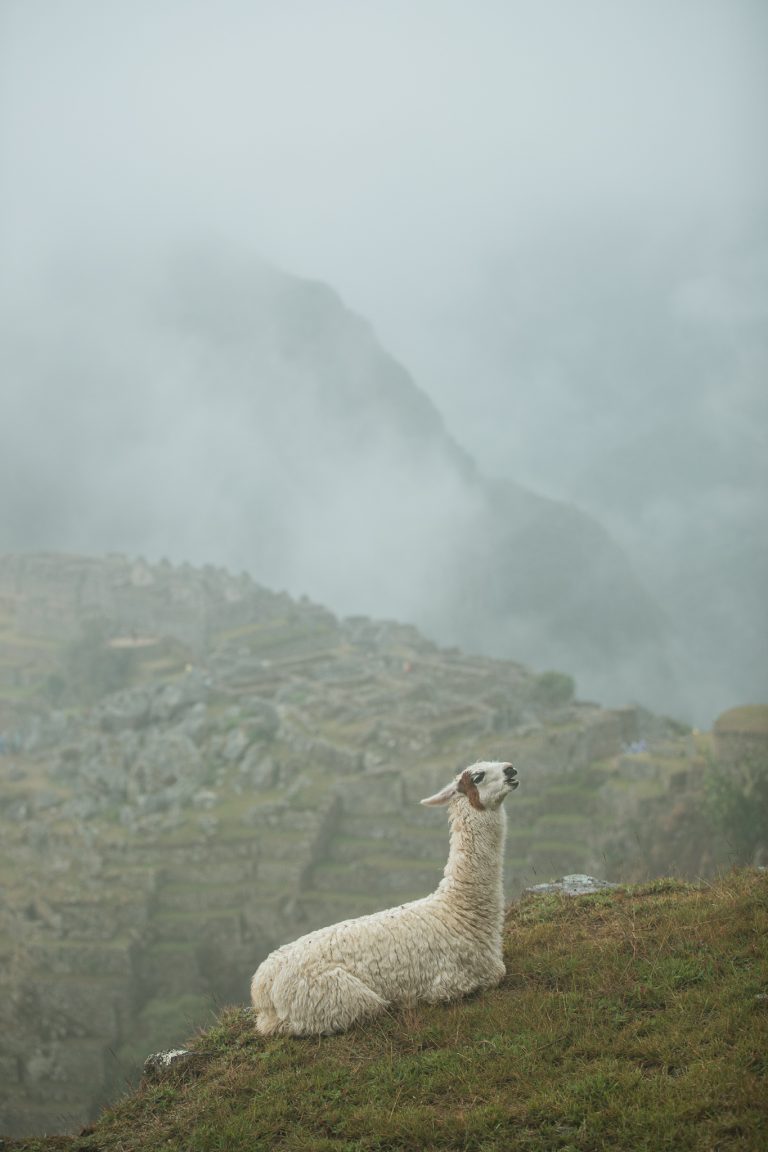 This llama just settled down in the most perfect spot.
We tiptoed around him, taking photos. After I was done with the 70-200, I gestured, animated, to Nirav "we need to swap cameras!" – I managed to get all of the shots I wanted. Telephoto and wide.  Still not sure what photos are my favourites.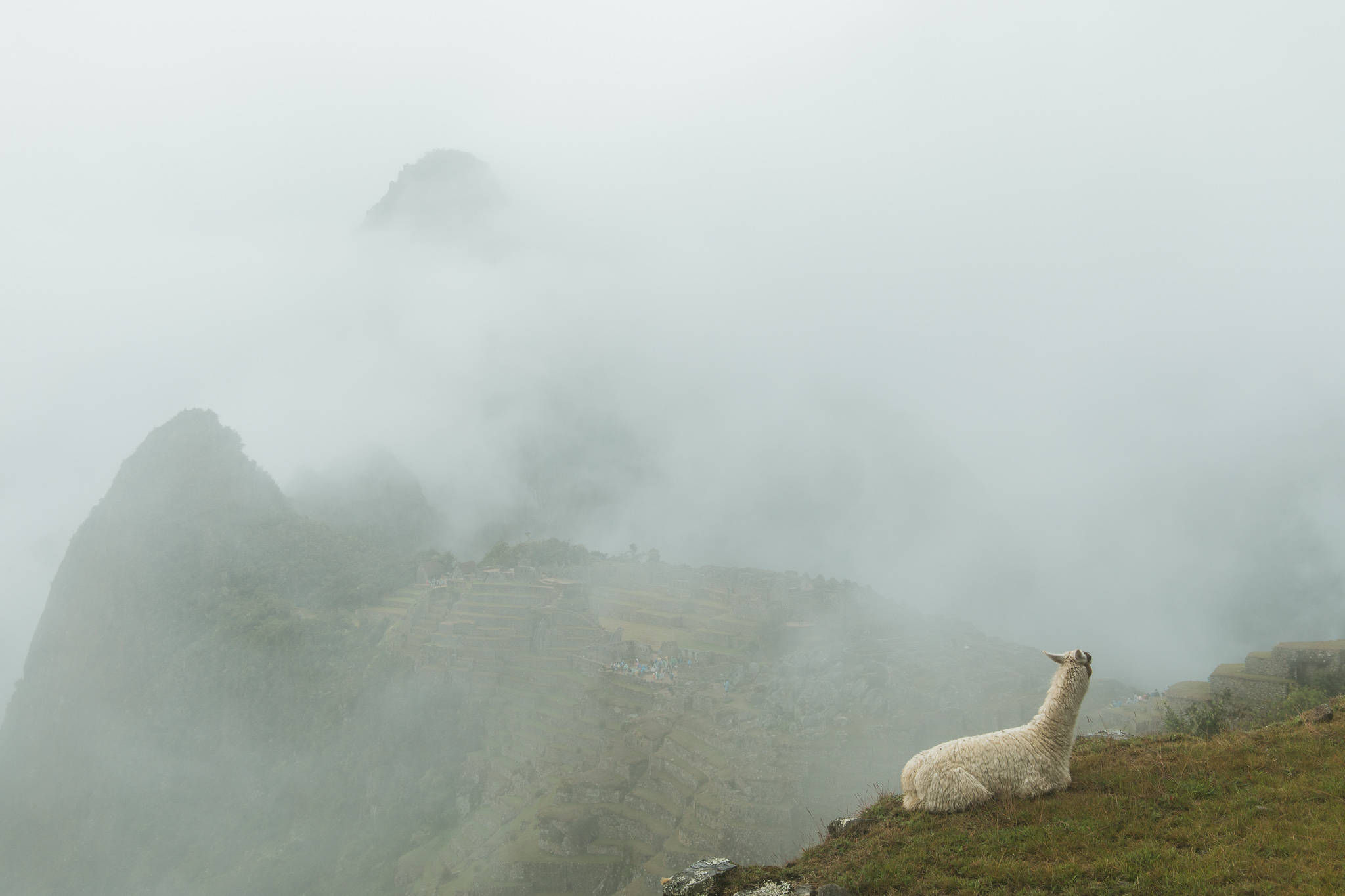 After what seemed like an age, the group appeared out of the mist – soggy, a little unimpressed. They had gotten up in the early hours, hiked and hiked and hiked – summitted Machu Picchu to find absolutely no view – just a thick layer of cloud blocking their view.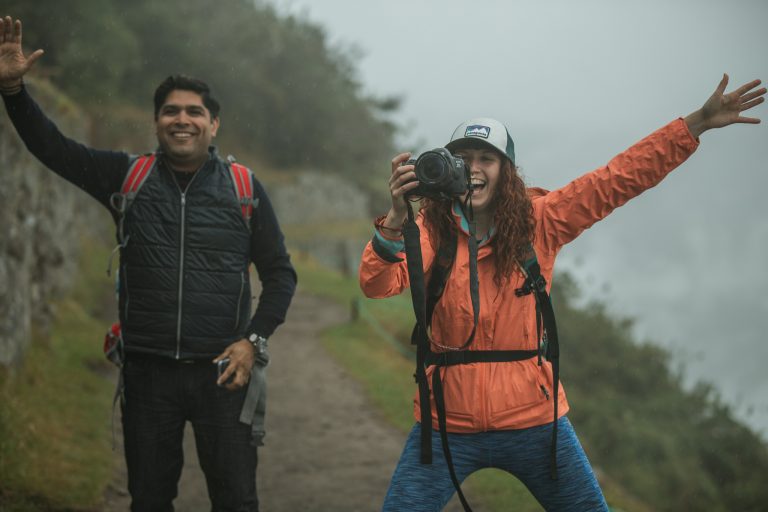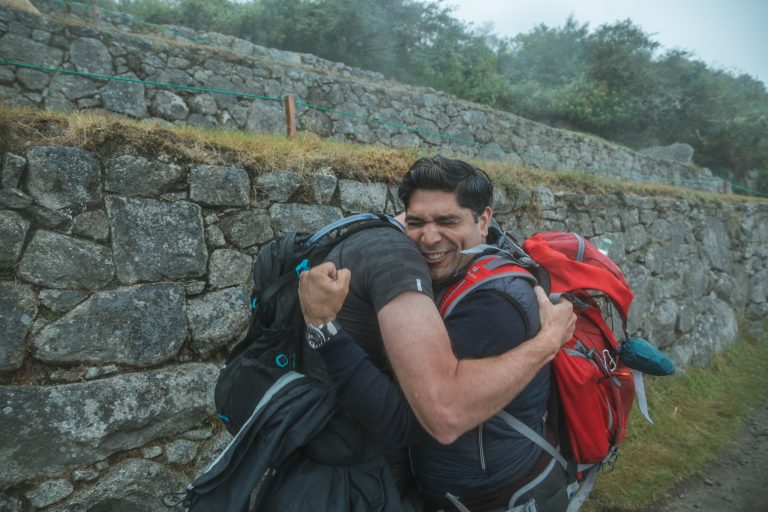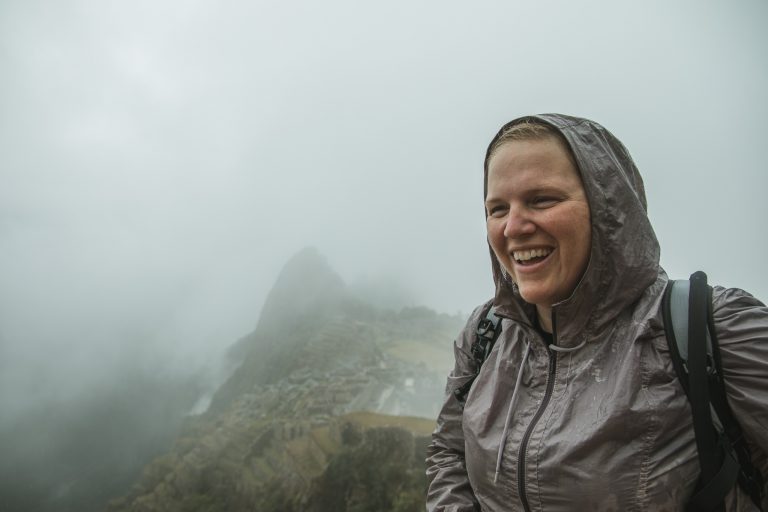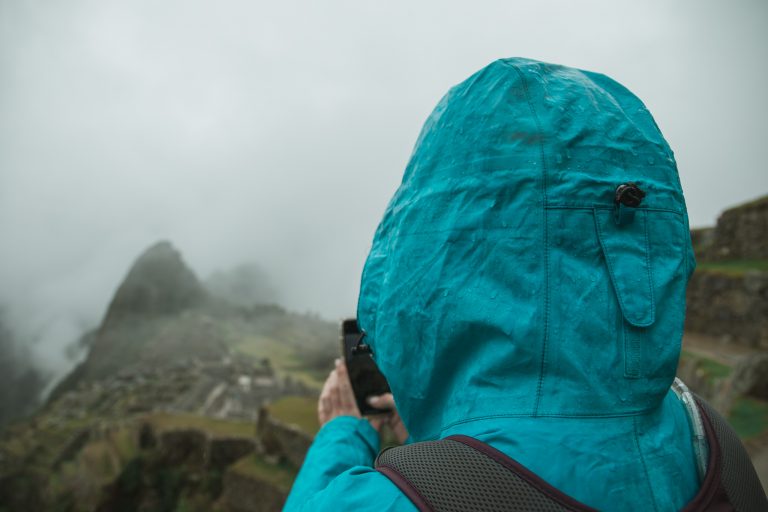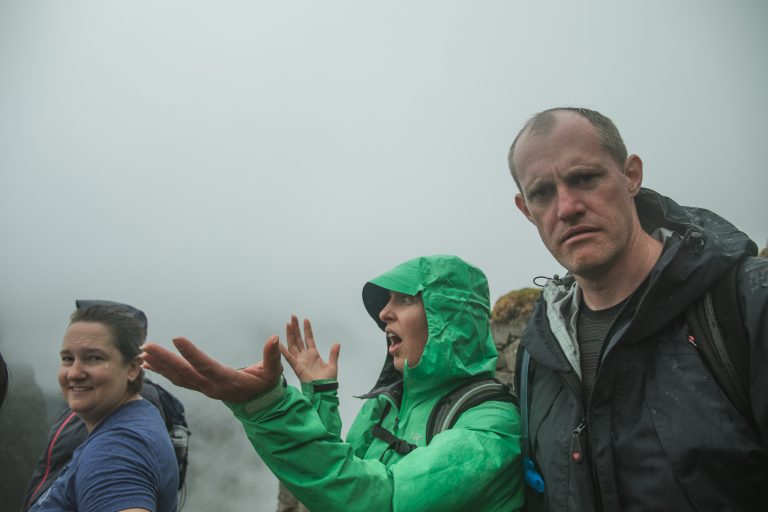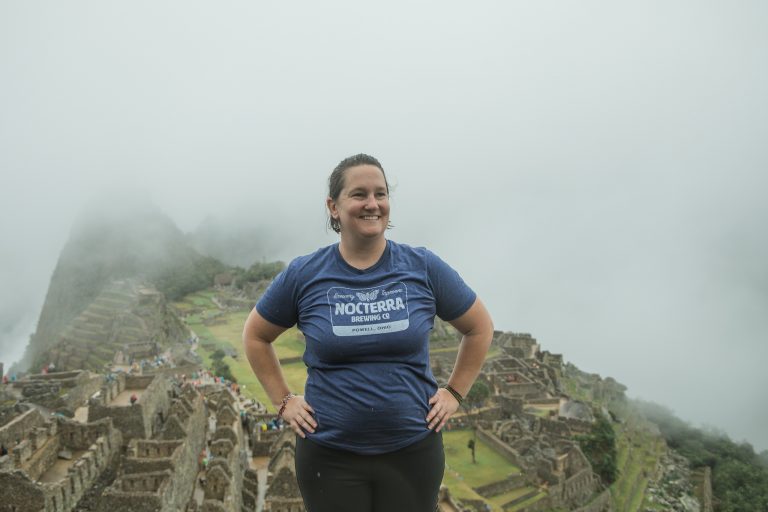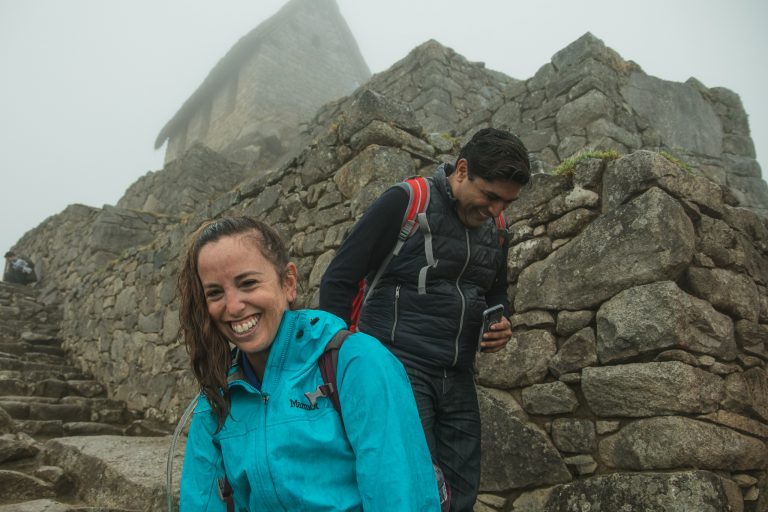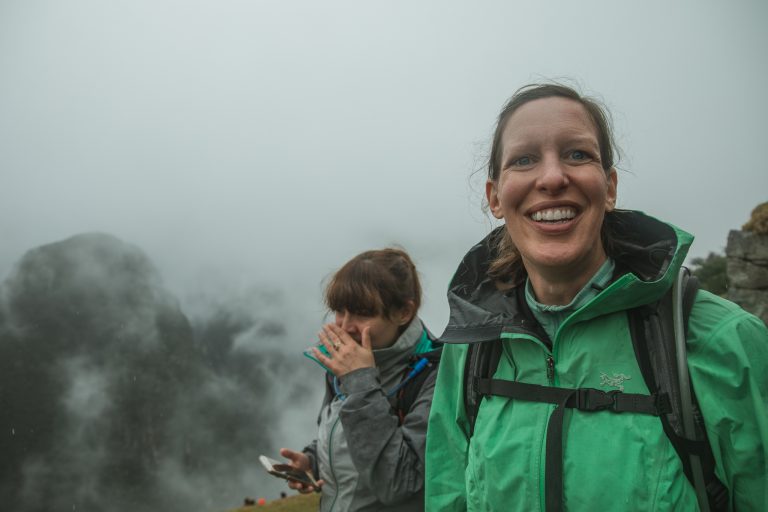 Because my trip was so last minute, my train back from Aguas Calientes was an hour and a half before the others – I only had 20 minutes with the group before I had to dash back down from the mountains to catch my train.
20 minutes!!!!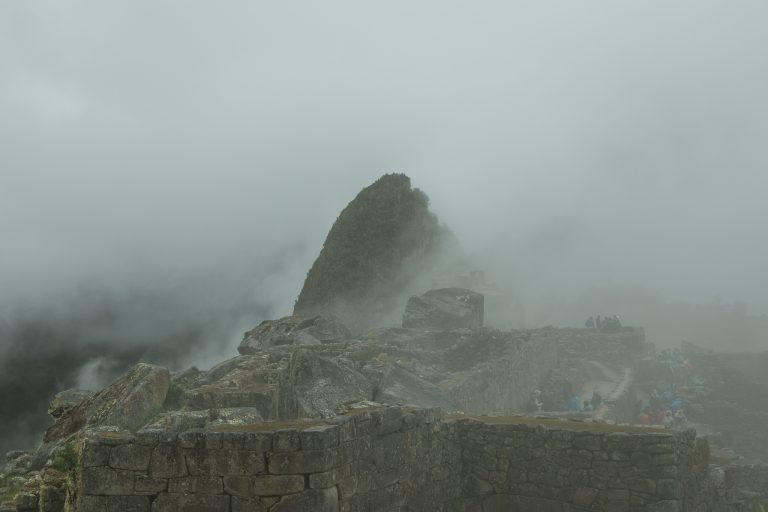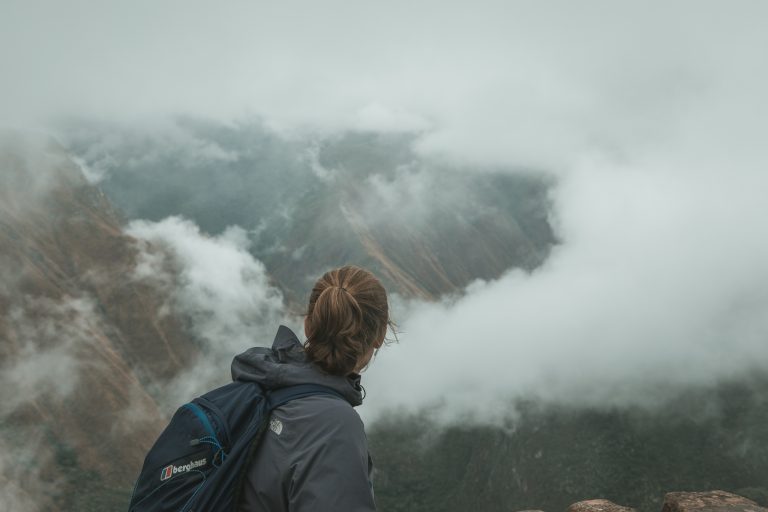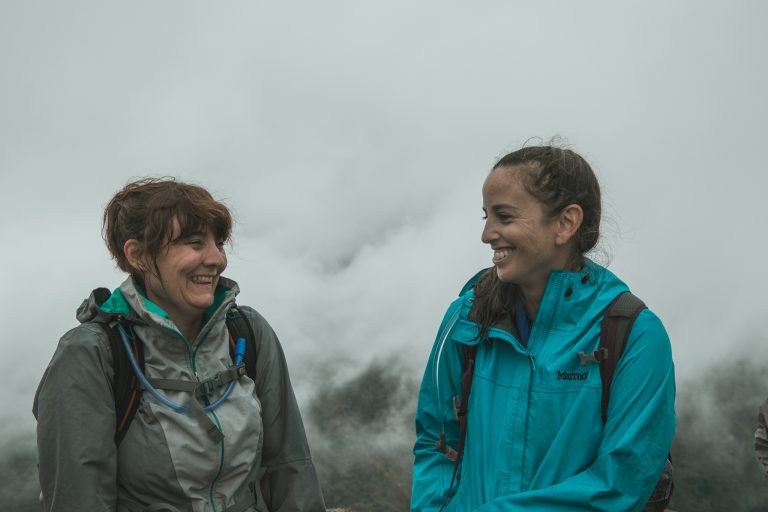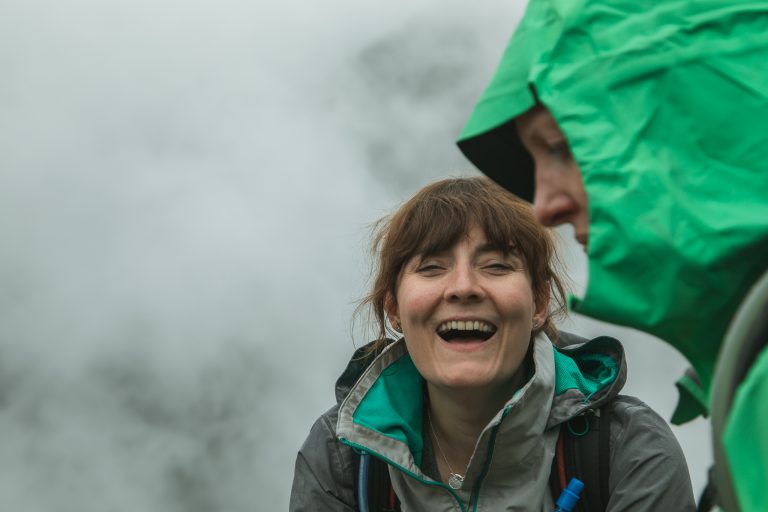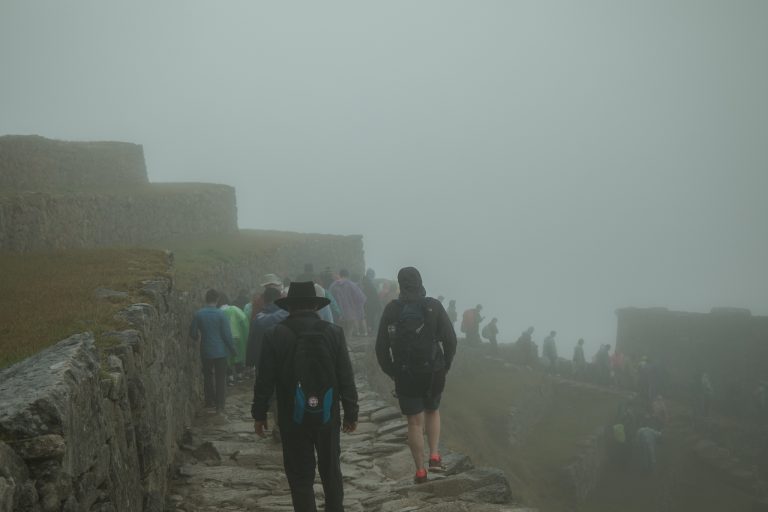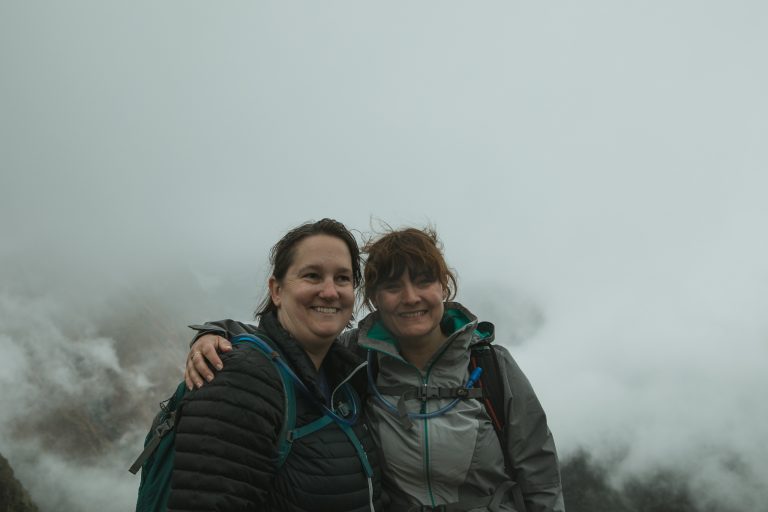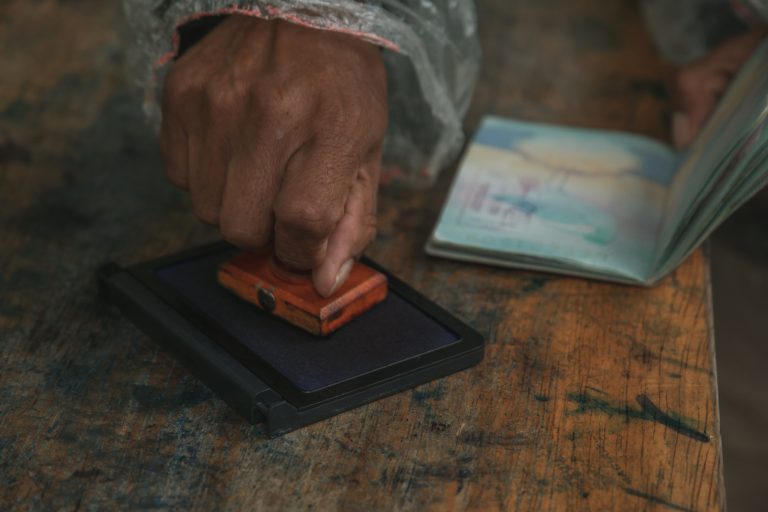 We made our way down to the main site, I ran around taking as many photos as I could, trying to get as many smiles as I could from the soggy group. Quick, I got my passport stamped, retrieved my tripod, and was whisked away by my tour guide who managed to skip the bus queue on the way down, using his negotiation skills combined with my sad, puppy-dog eyes at the fact I was going to miss my train if we waited in the hour-long queue.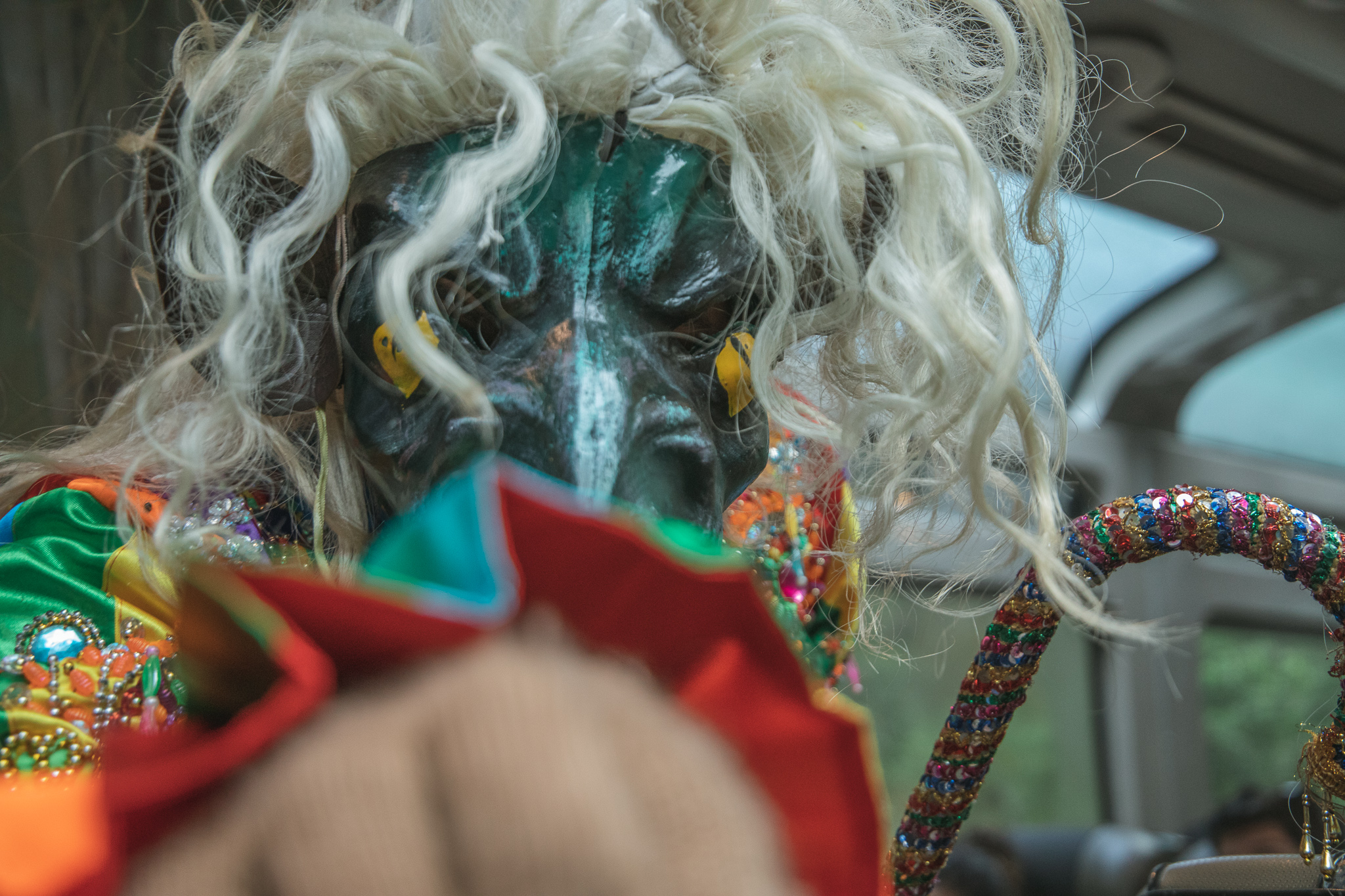 I didn't miss my train. But it was a lonely journey, punctuated by a very interesting fashion and dancing show. I arrived in Ollantaytambo and waited at the station for a couple of hours, excited to be reunited with the group. I couldn't believe we were heading to Cusco from here and that it was our finally night. I started to feel that heavy sadness associated with the end of a trip and a separation from people you've gotten so close to, in such a short space of time.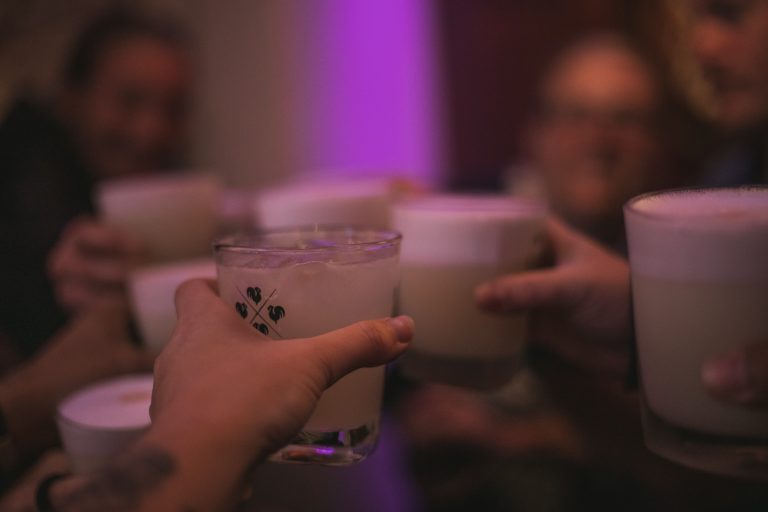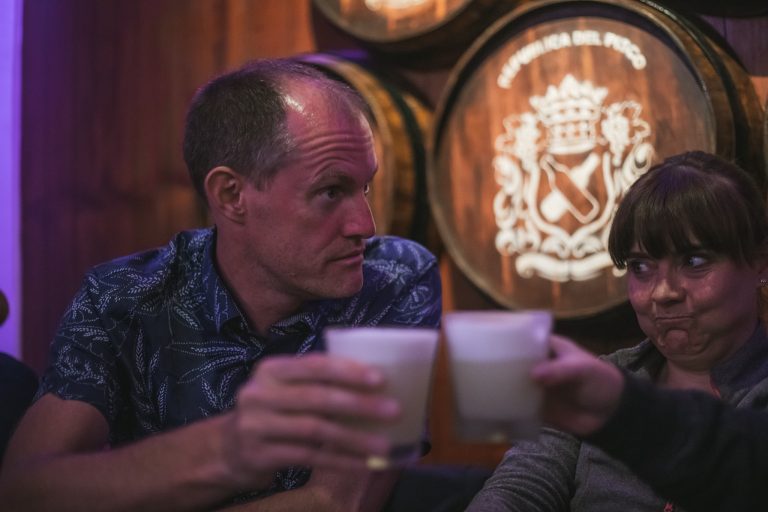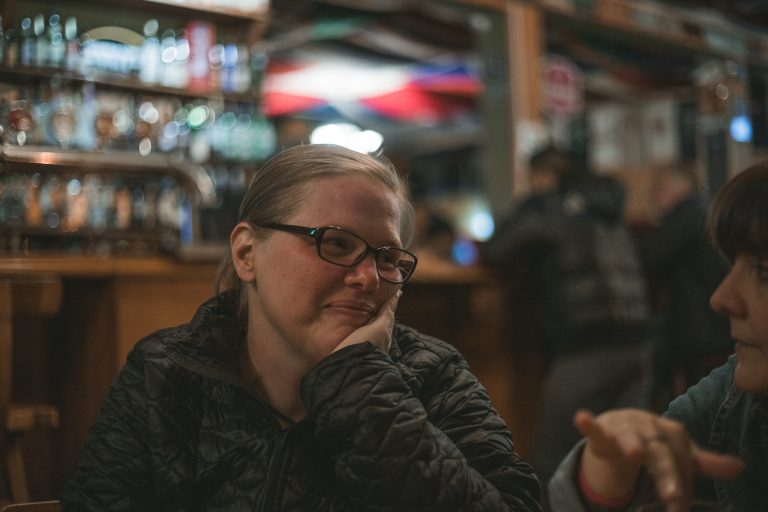 Exhausted, we arrived back in Cusco late into the night and were unable to fulfil our plans for karaoke. We had to make do with drinks. I finally had my trip cry when Nirav decided to say lovely things about each and every one of us at the Irish bar. 
Thursday 25th July, 2019, 08:00am
Good morning, and goodbye, Cusco (and Peru).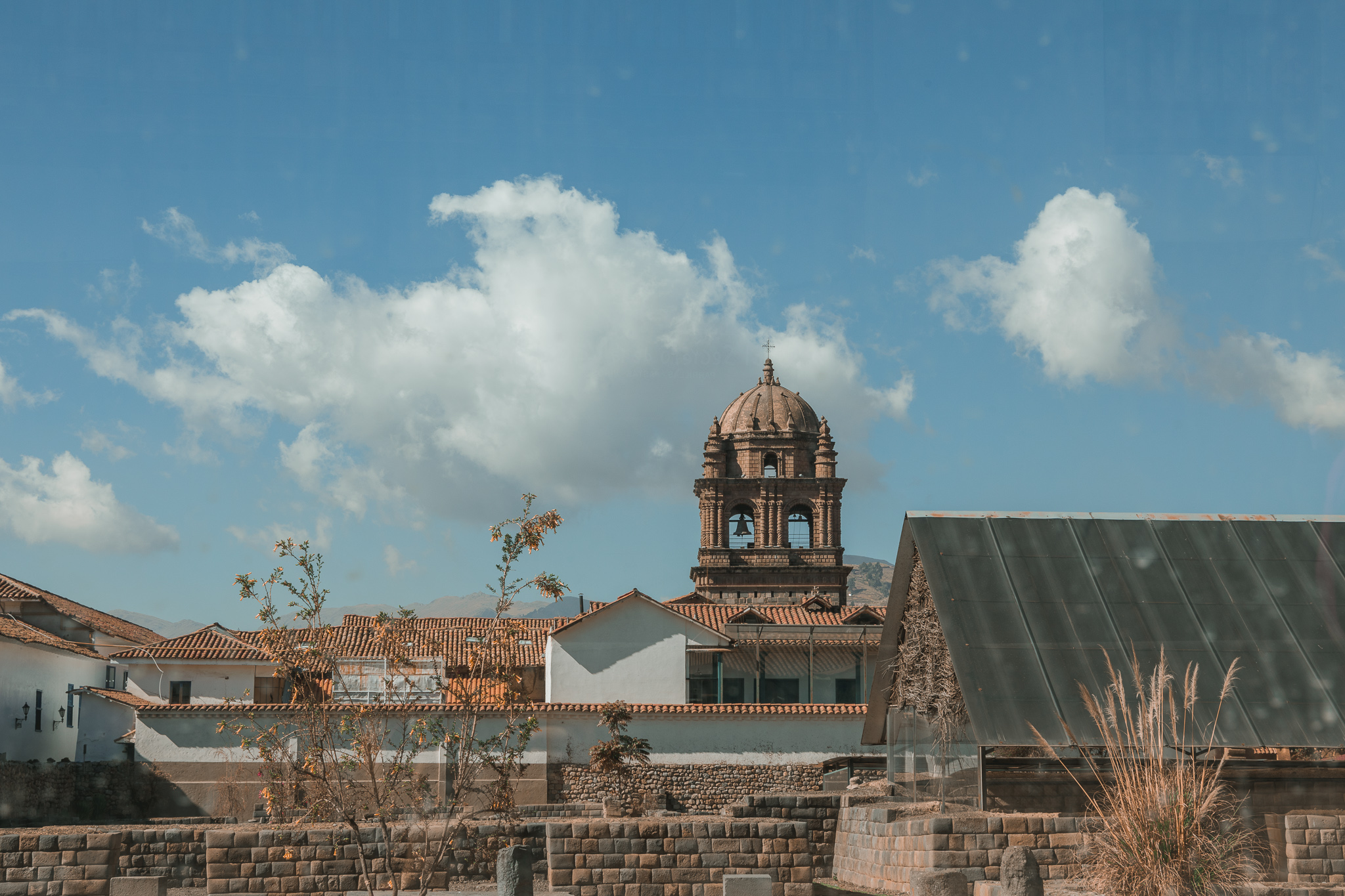 I took one last walk through the streets of Cusco, before teary goodbyes, and a taxi to the airport (in which we had to walk part-way because all the roads were blocked off). 
I started my 25 hour journey home, with an excitement to get editing, and that loneliness that you only get when you're finally saying goodbye to an experience like this. As first international jobs go, this was everything I had looked for. 
<– Last stop: Rainbow Mountain Base Camp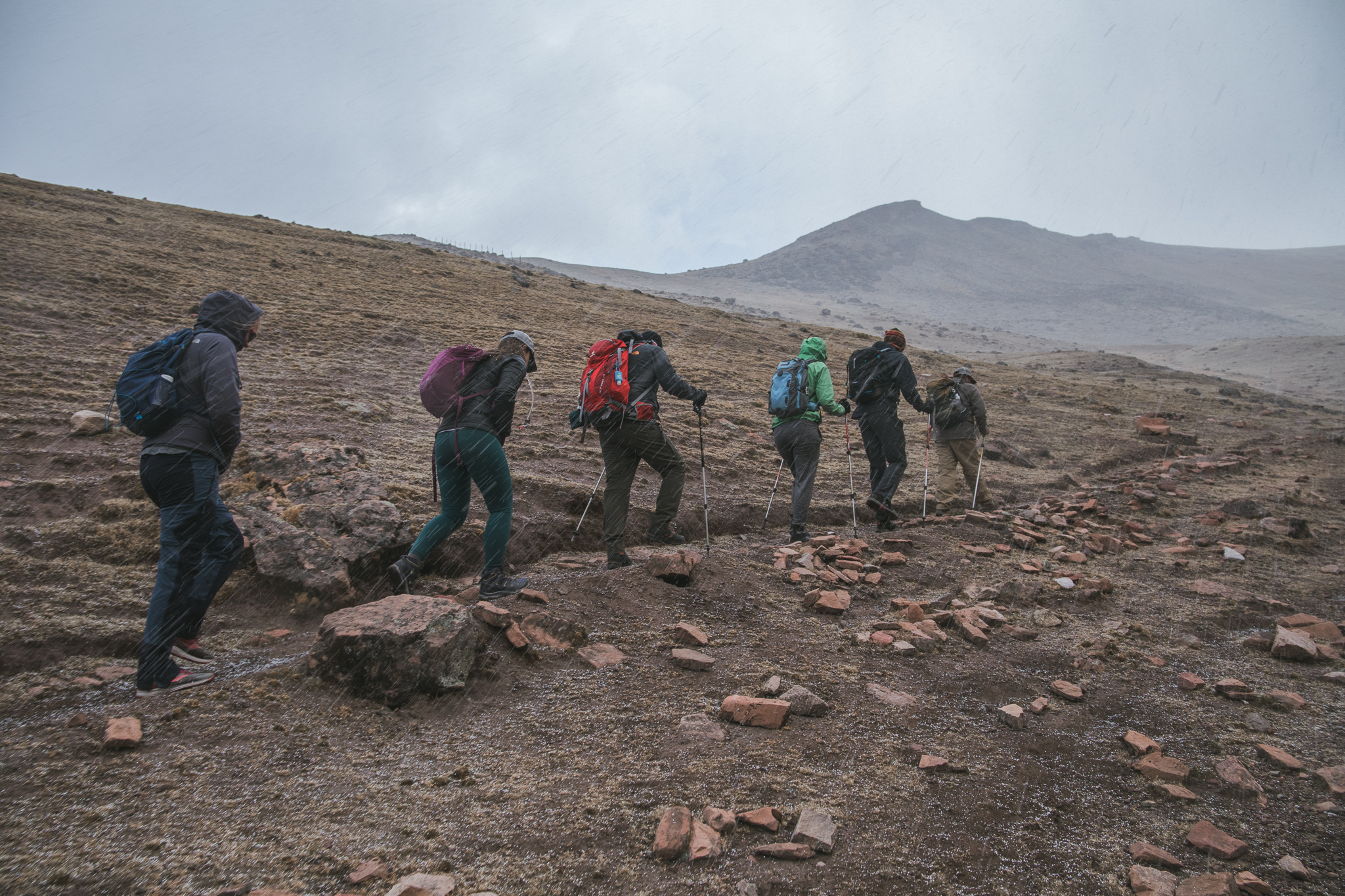 And that's the end of my working as a photographer in Peru blog series. I hope you enjoyed it!