It had started to get late, almost dusk. After ten hours hiking the Tongariro crossing we now found ourselves in an almost empty pick-up area: wanderings, lost belongings and photo-taking caused a tiny bit of extreme lateness.
We sighed with relief. Time to go back to the guest-house for a cups of tea, hot food and a Lord of the Rings movie night.
"Uhh, where's our bus?"
~
Baaaaaaaaack to some 20 minutes before dawn. Rolling sleepily out of bed I put my 'New Zealand' woolly (but not really wool because that's not very vegan) hat over my tangled bed-hair, and pray for storm clouds: the desire for true Mordor conditions overpowers all rational hiking knowledge.
Grabbing our pre-packed lunches out of the fridge (Shantelle decides half a watermelon is an appropriate hiking snack), I'm first to stumble out of the cozy little hostel, and I'm bathed in moonlight and stars. Wandering out of our hostel walls, for the first time, I look upon our 'unofficial tour' transport:
And what rolls up? $10 dollars cheaper than the regular bus from Turangi to Mordor, we've ended up with this hilariously ancient, American-style school bus, and, for added fun, it's driven by our extremely eccentric hostel owner.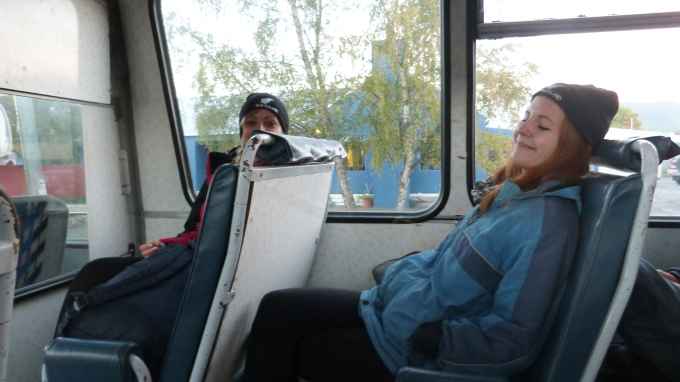 Slowly, but somehow very suddenly, dawn warms our shivering bodies through the rusted, rattling windows. We're sleepy, seatbeltless, and utterly besotted with the looming landscape ahead of us. Not reeaaallly quite comprehending that we'd be spending the entire day climbing its peaks and falling down its ridges (we're all looking at you Shantelle).
We climb; up, up and up. We by-pass Mount Doom (apparently somebody has glued a gold ring to the top – I believe it).
Shantelle falls. A lot. I catch it on video. We run down volcanoes. We bask in glorious sunshine and Mordor doesn't quite look like Mordor. The blue-green pools fill our vision and my eyes swim with awe for such a perfect experience, and slight agony as my feet bleed copiously from my old army boots.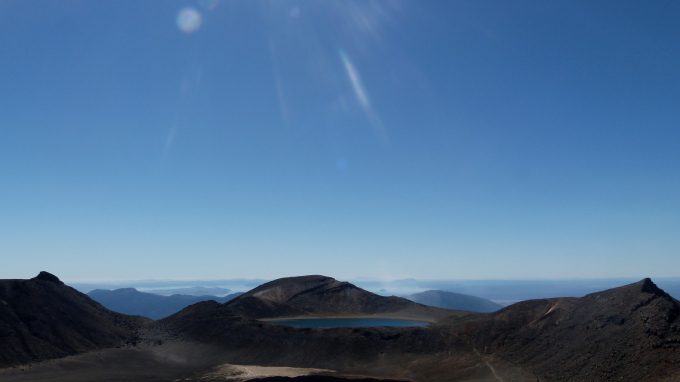 I lose my sunglasses, and a few hours later after back-tracking and searching, I've also lost my scarf. Stopping for lunch in the midst of glistening lakes means devouring crisp sandwiches and, for Shantelle, a five-thousand ton watermelon snack (I'm clueless as to why I still find this so amusing).
Up, down, ziggedy-zagging. Scrapes, laughter, "ooooh's" and "aaaaaah's". We make a few buddies, but lose them in the thrall of lazy photo-taking. Eventually, we leave the volcanic ridges behind and descend into a lush valley. The sun begins to dip, and we realise our bus is due to pick us up, er, now. It's okay, it will wait.
With our lateness in mind, we spend half an hour in a forest trying to take pictures of a friendly bird….
… and, eventually, skip down into the car-park.
~
 Oh yes. No bus. Without phone service, weapons or elven cloaks, we're stranded. In Mordor. MORDOR. Slight stress ensues with a tiny bit of excitement as a cute couple found both my sunglasses and scarf on the hike, and during our time of crisis they come strolling down the track and begin to position my possessions on a wooden post!
Anyway, as we're just starting to imagine the news stories of three twenty year olds disappearing in Mordor and our families suing our guest-house owner, we're instead offered a lift by one of our hiking comrades. We umm and ahh for a grand total of 0.0003 seconds before piling 8 people into a 5 seat car for our merry journey home.
~
Exhilarated, grateful, and slightly furious, we stomp (okay, I limp) back into the guest house and our chirpy host greets us with a sheepish smile and a "oh, I was just coming to get you! I was worried!"
A family atmosphere folds us into its sweet embrace. We cook, then cuddle up in the warm living room to share adventures. I don't even remember my head hitting the pillow; sleep finds me so easily.