Ingredients:
1 tablespoons raw cacao powder
1 tablespoon soaked/ blended raisins/ sultanas/ dates
[1 spoon of one, or ½ of two – you choose]
4-5 tablespoons raw coconut oil
½ teaspoon raw agave syrup/ natural sweetener/ sugar *
A pinch of salt
*optional, but recommended. Raw chocolate can be a little bitter to new tasters!… and I have a sweet-tooth.
Method:
1. Place a freezer friendly molds on a baking tray.
[I recommend to invest that little extra as a good mold will last years!]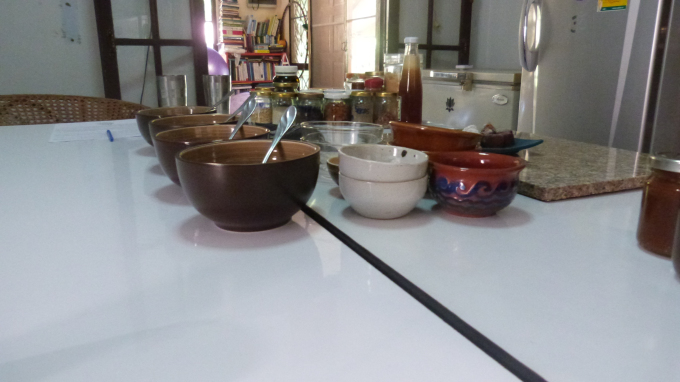 2. Decorate your molds by sprinkling in your chosen toppings.
3. Add all ingredients in the order above, adding any extras!
4. Mix that rich chocolatey smoothness until you have a deliciously runny fusion.
5. Pour into your molds, gently banging them to release any air bubbles.
6. Pop into the freezer, and lick your bowl clean to save on the washing-up!
7.Your Raw Chocolate will taste best after 2 days (if they last that long!) as the flavours will really settle and complement each other.
Enjoy!
Rach x