February 2022.
I am cursed, I am cursed, I am cursed with warmth and thaw! I'm singing this as I type. But seriously I'm okay with it being pretty much snow-less whilst I'm here. The weather just has this restlessness and changeability that I've honestly just come to love and respect about this place. I'm up here (again!) working on a project for Stramash and the Scottish Government, which is really cool and not at all in my usual wheelhouse of outdoor-adventure. But it's all about early years and outdoor education and I know these projects have a positive impact on the communities around them, and this one in particular is part of a movement that could influence policy when it comes to outdoor education, so it's so good to be invited back to work with Stramash again.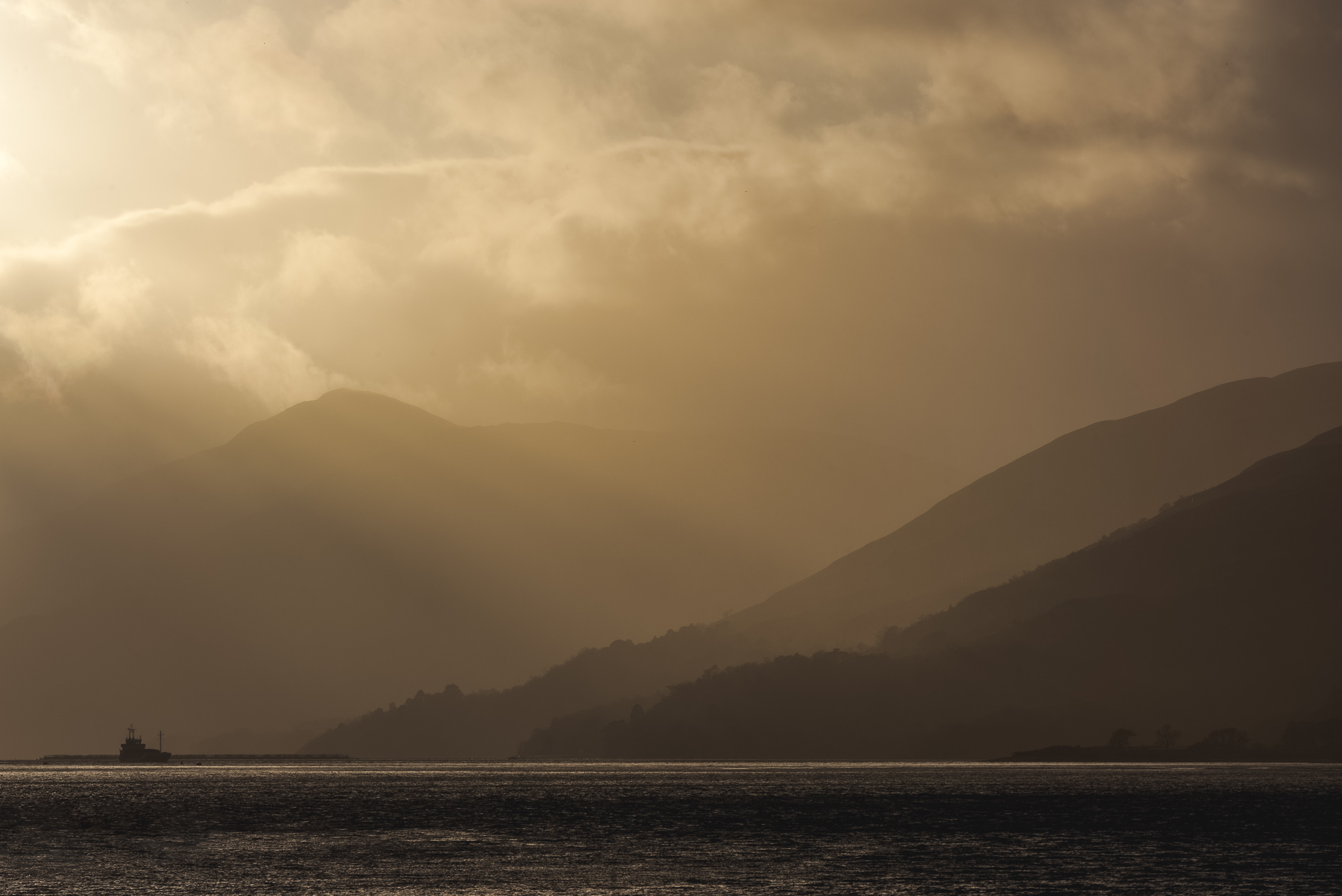 And despite the lack of snow, and the mist and rain and the four seasons in one day, I've seen some gorgeous scenes whilst I've been working here, between Oban and Fort William this week. Glancing out of the window of the van and scrambling to grab my camera before the scenes disappear, as they all too quickly do. 
And the nice thing is that once again I've dragged Michael up so he can lend a hand when I need it, and work from the van when I don't. We have a couple of days before shooting, so we're attempting to find winter. We know there's a bit of it, high up on Ben Nevis. So we're on a mission to find it. 
I haaaaaaate this walk in.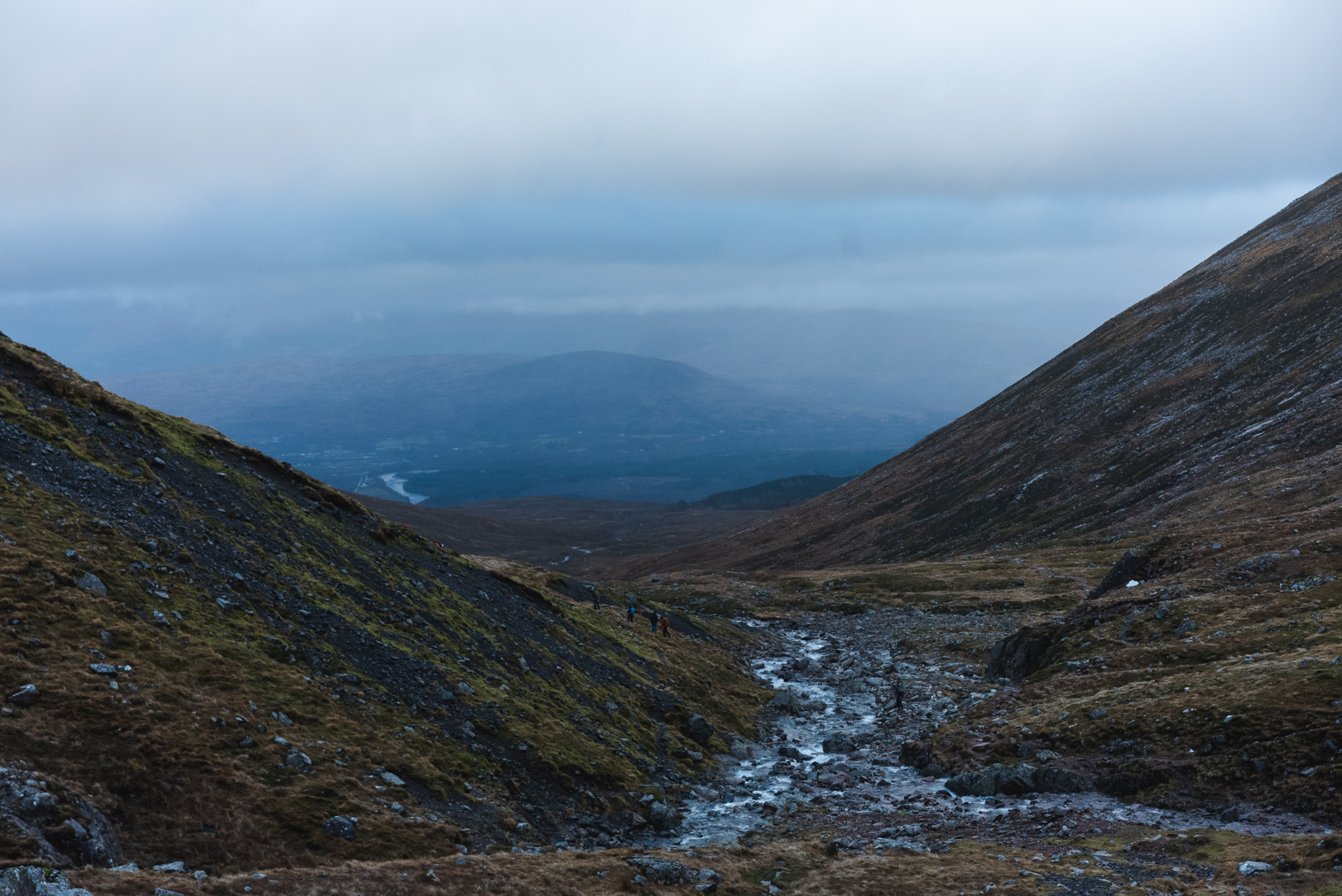 It's just really long, isn't it.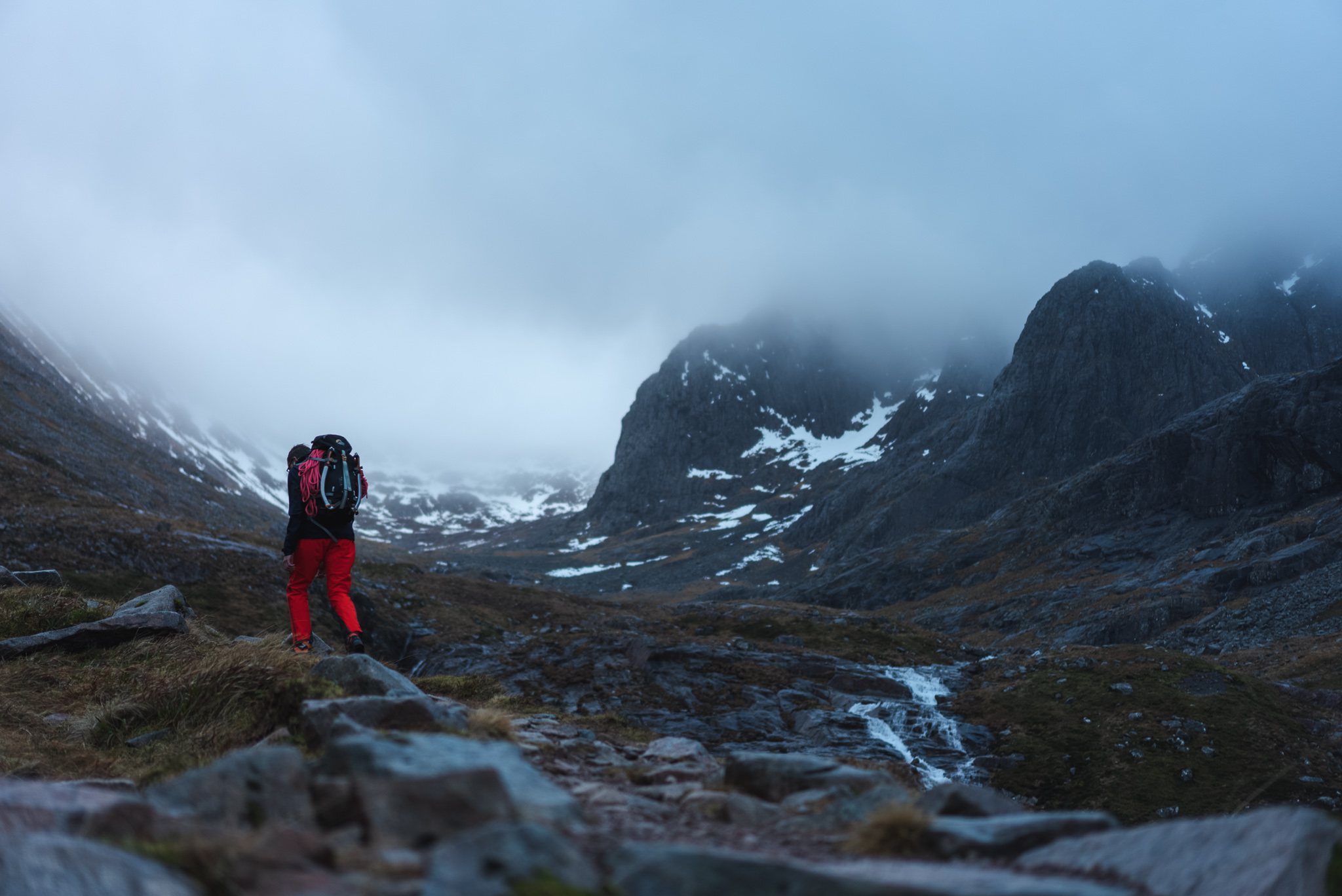 We set off a little late. Snoozing the alarm for a bit (lot) longer than we should have. Already a mistake on a short winter's day, so it's already pretty light as we're walking up from the North Face car park, up that endless forest trail and then forward, forward, forward, eyes scanning for the CIC hut and sure that the mountains aren't getting any closer with each step. But one thing I have actually nailed this time is actually eating. See, for some reason over the last few years whenever I've been out (even on jobs) I just didn't have breakfast, thinking that my attitude of eating later in the day at home translated perfectly fine to mountain days. 
Newsflash, it definitely doesn't translate and has often left me feeling really terrible and lethargic by mid-morning and wondering why I was just so tired. So yeah, it feels like to have found the solution to this complicated puzzle – to just eat breakfast before I leave.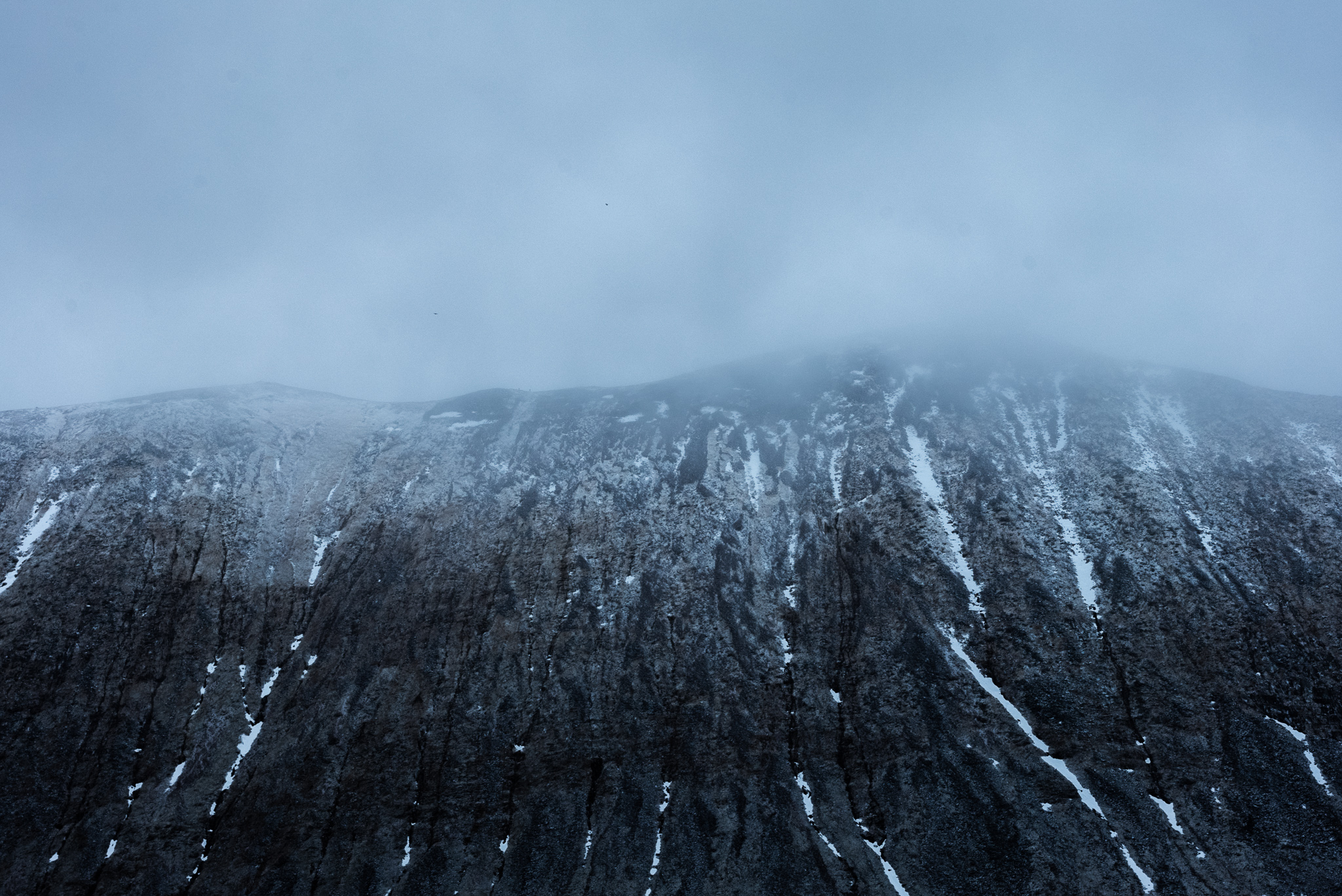 Up, up and up toward number 2 gully, it still felt like winter was a long way away, this far up. Though I feel like the lack of snow makes that long walk in a bit nicer. I think back to past more wintry days in these mountains sinking into knee and hip deep snow, each step more and more tiring. So I can't complain about soggy rock and some sparse snow patches.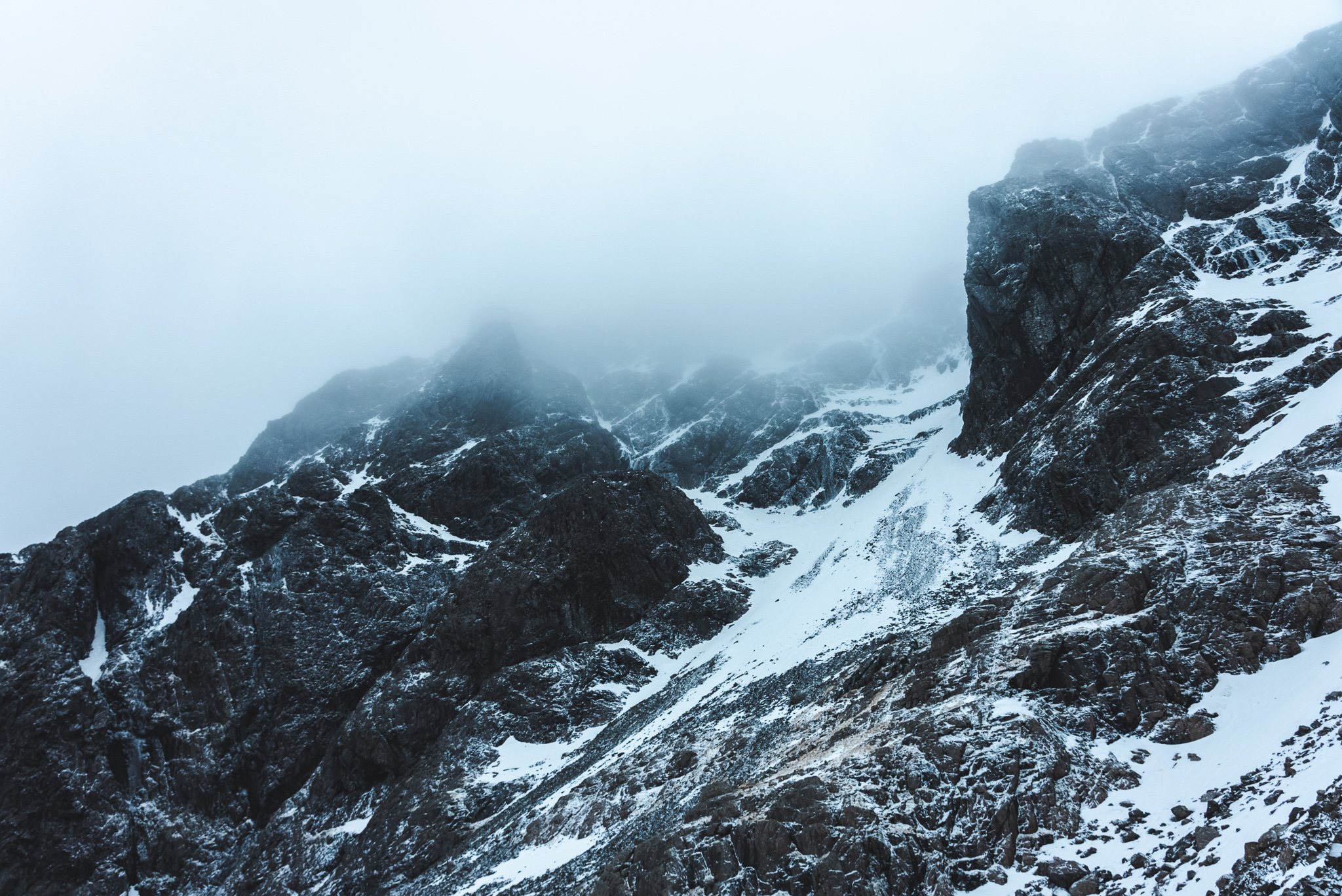 It feels like I've already had a full day out by the time we get to the star of number 2 gully. And we have to go up, and come back down. I feel tired for future me already. 
We solo on the gentler start, comfortable on the terrain but then the rope comes off the bag, time to pitch. This will be our most technical gully, we've done some II climb on ridgey-clambery terrain but not in a gully, so I'm quite interested to see what the gear-situation is.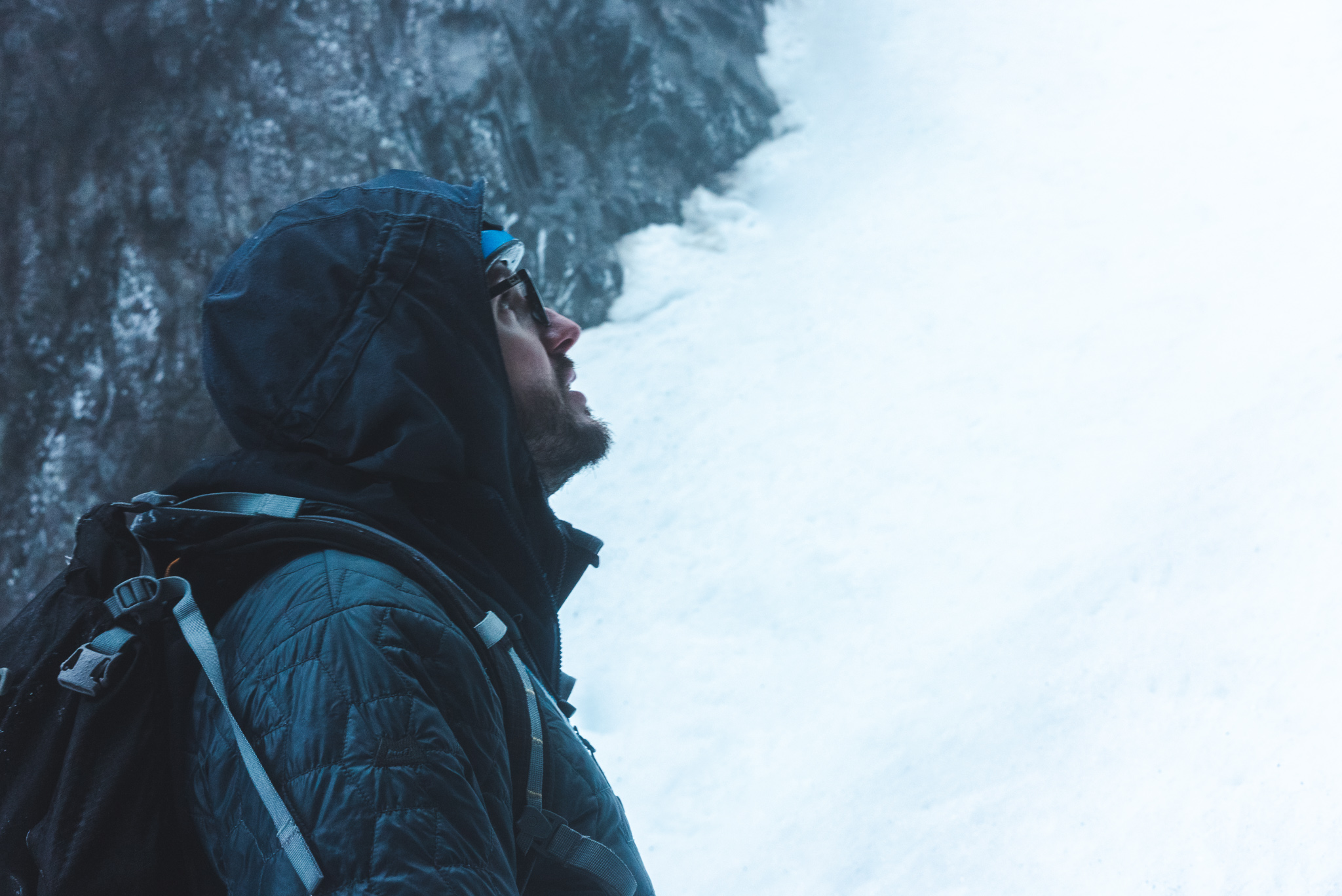 There's not much gear and we definitely need to buy more ice-screws. But it's fine, I lead the first part but I'm slower than Michel and not as strong, so he takes over as the ground gets a little trickier. It's not really getting-the-camera- out terrain, as I'm either climbing or belaying, but I manage a few sneaky shots once Michael's safe and getting ready to belay me. I look up out of the narrowing gully, I can't see a thing up there. But I can hear a helicopter, mountain rescue must be out. I wonder who they're looking for and I hope they're found, but I can't see the helicopter staying around for long in the mist.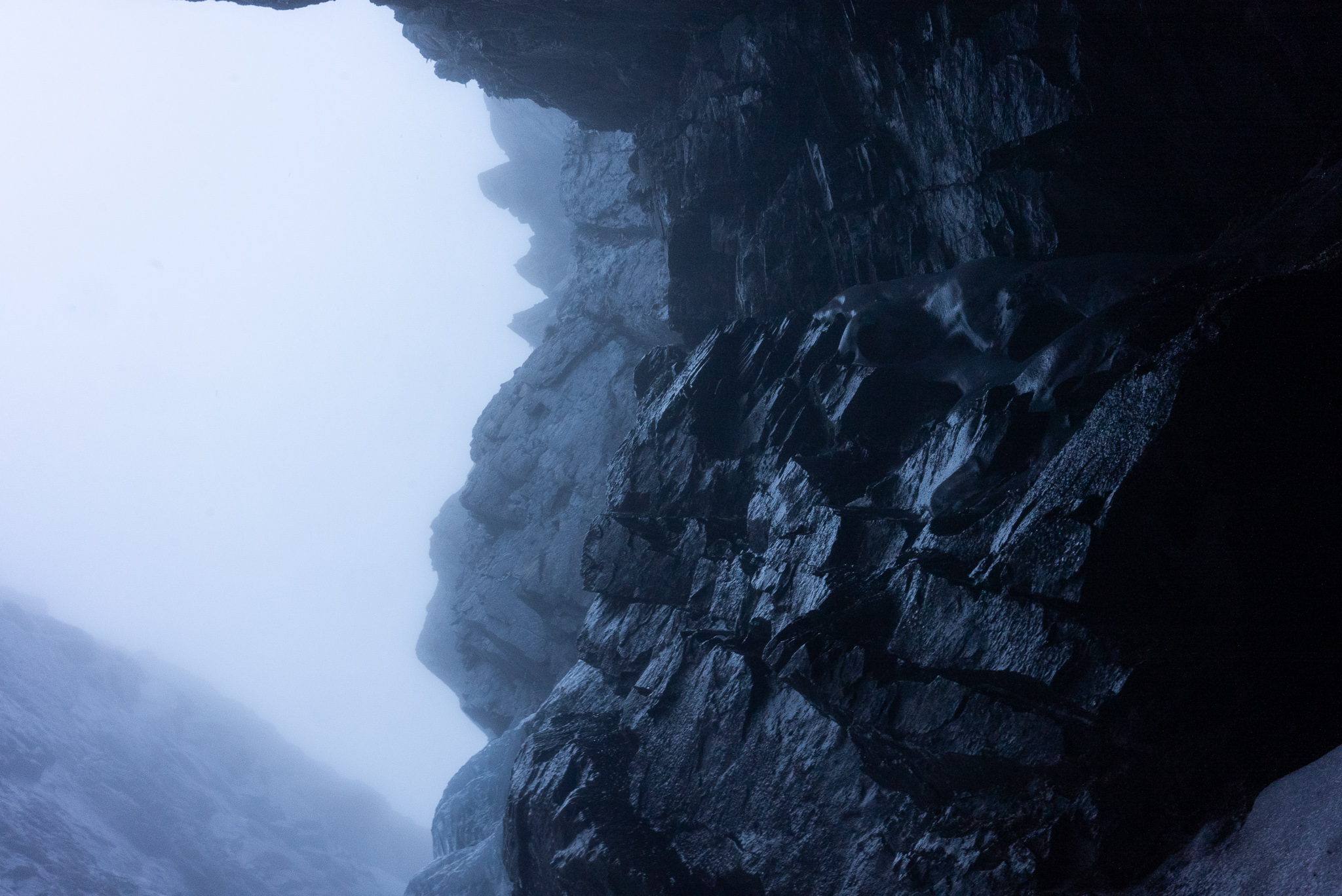 I can see icy terrain ahead me, glad Michael has taken the lead and I can just breathe easy, second my way up. Not feel so nervous about my burning calves. They're not used to this! They're angry with me. I remind myself to start diligently doing calf raises when I get home. Knowing, that I definitely won't b doing them. Future me always rolls her eyes at past optimist planning me, no matter how well-meaning she is.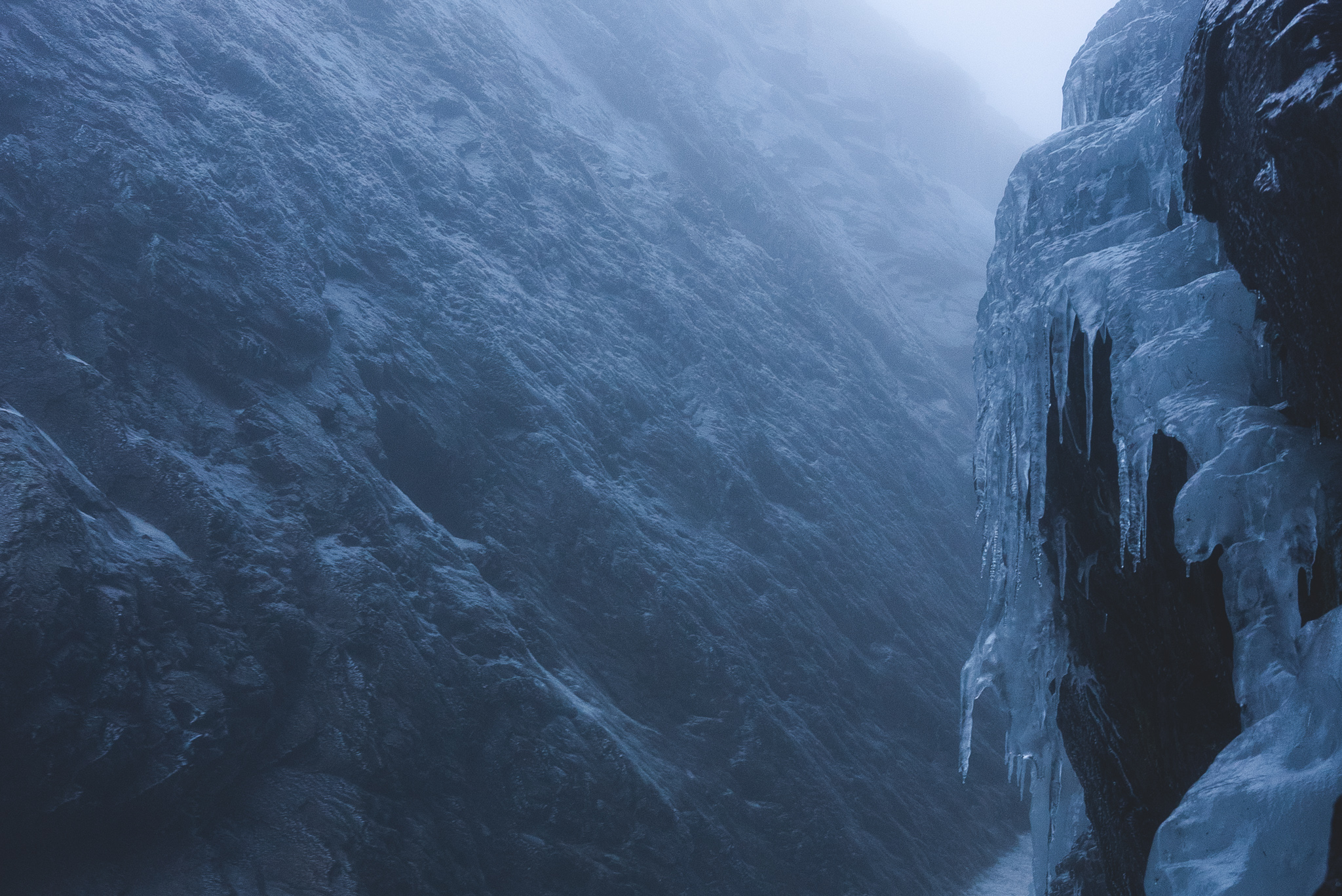 Michael's at the top and I'm only a few meters away. He can't hear and I can't hear him which tells me the wind must be high. Which seems almost unbelievable because it is so still in here. The gully has taken on a pastel lavender colour and I get the most overwhelming sense of peace as I come up this last part. It's a dreamy, surreal 30 seconds. I emerge from the gully and immediately buffeted by the wind, which is howling and way more fierce than the forecast. But it's the highlands, so what can you expect.
It's also the end of the day, with light beginning to fade. It's time to get down and safe, navigating our way off the notorious plateau in a windy white-out.
I've been up on this plateau a fair few times now, and I've never seen the view.
It's a long descent. It honestly goes up there as one of the worst, just because it felt so. long.  We were planning originally to go down number 4 gully but as we've never been down it before and with the light fading, we went for the longer and safer option instead.  Down to to the loch and then the boggy slope to get back to the North Face. That endless, endless path of switchbacks through the forest. And then, finally, finally finally, we're back at the van. It's dark dark by now and gently raining, and I'm just so excited to get my boots off my throbbing feet.
I'm not winter-ready, my body is fighting these long days but I'm ready to push anyway.
I'm excited for a rest day and few days of shooting in what feels very much like not-winter, and then maybe another day on the hill if the weather gods allow. Fingers crossed. But maybe send some more snow?