The beginning of March 2022, another Cairngorms bluebird day.
I am feeling pretty spoiled at this point. More sunshine forecast on mountain-forecast.com. Multiple DAYS of sunshine on their way. With low winds, cold temps. What's going on? 
So the camera has been left behind today. At some point it just doesn't make any sense to bring a bulky camera on personal climbing days, and I'm leaning toward getting a little point and shoot which can just live in my pocket. I'm pretty overwhelmed with the choice of which one to get, so for today, I'm happy with using my phone and the memories it can capture in a 'no pressure to get amazing shots all of the time' kind of way.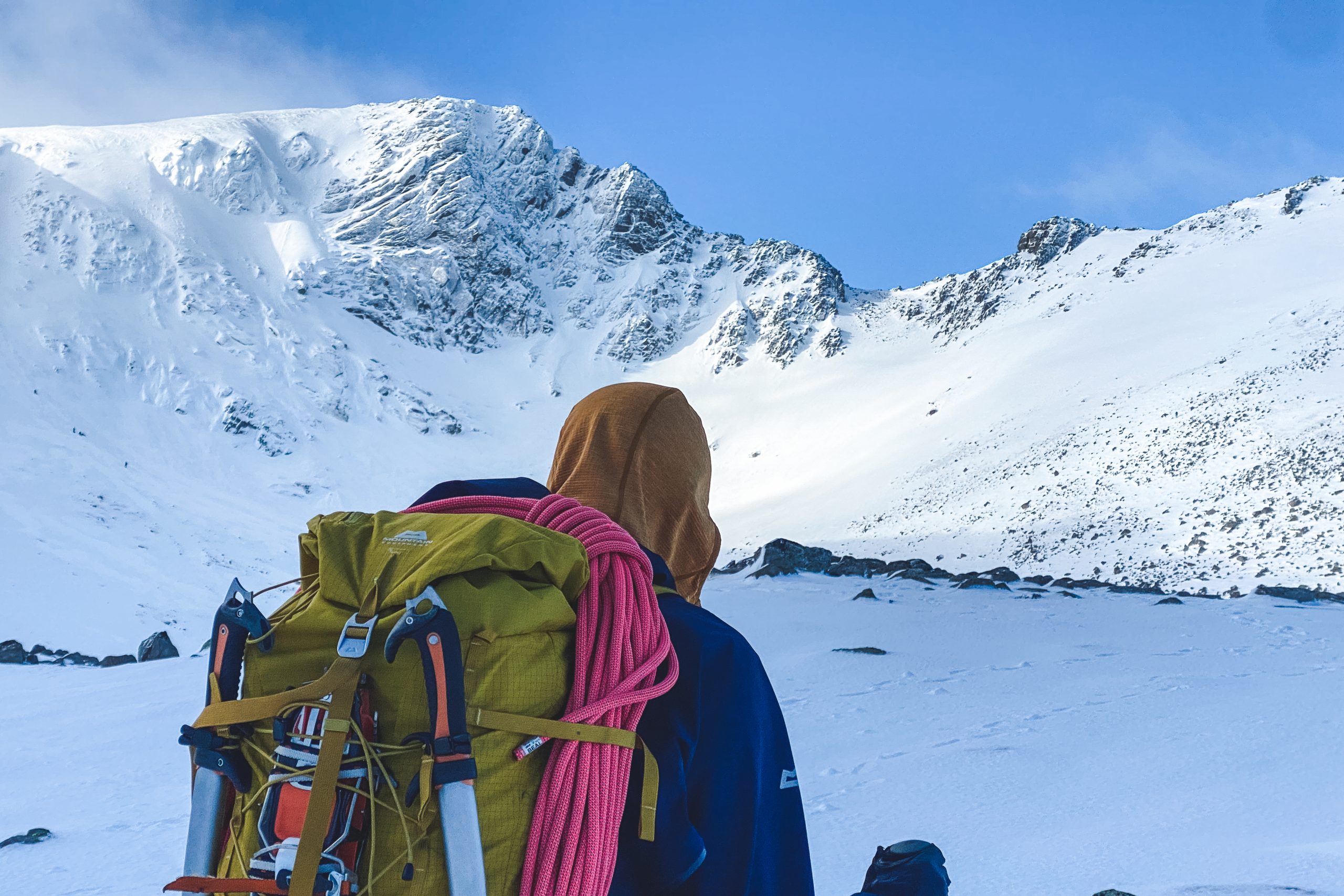 It's been a week of mixed weather and feelings, snow hurling itself at me as I film b-roll at Loch Morlich, sunshine melting it all away within an hour. The build up to Becca's Ice Mile attempt and then… well I won't get into it now but, the Ice Mile didn't happen this week so the three year limbo for Becca continues, and now I'm starting to understand how fickle this attempt really is. And slightly worrying for our film. And Becca. And the film.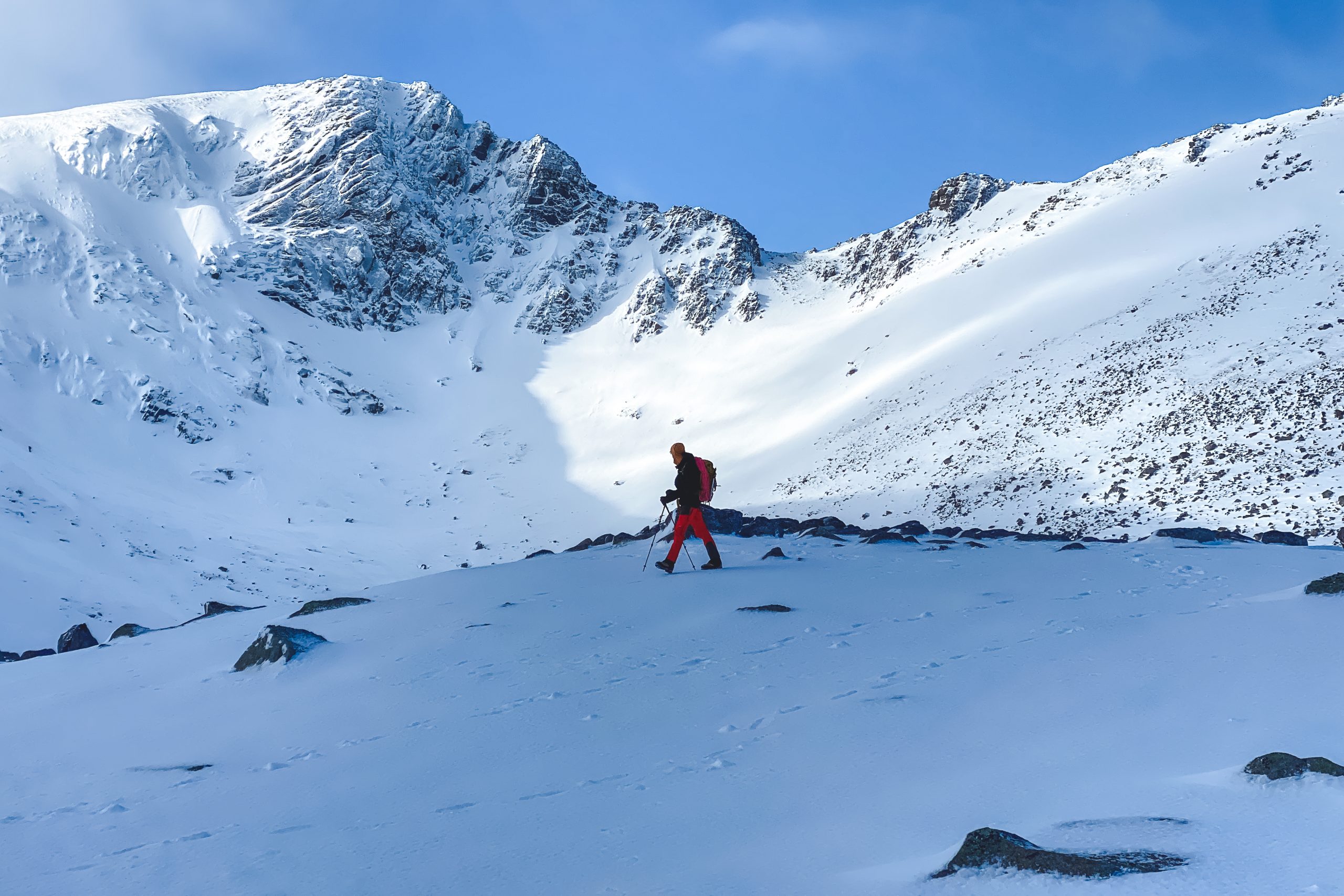 It's just a chilled day of enjoyment in the mountains, pushing my pace, feeling my leg muscles come back stronger and stronger, more and more. My chest is beginning to feel better. Recovery is well under way and I'm becoming more excited for upcoming projects, to throw myself back into shooting again… but at a much more relaxed pace than last year. Which has already meant saying no to a lot of things, which is sad, but also a really lovely feeling.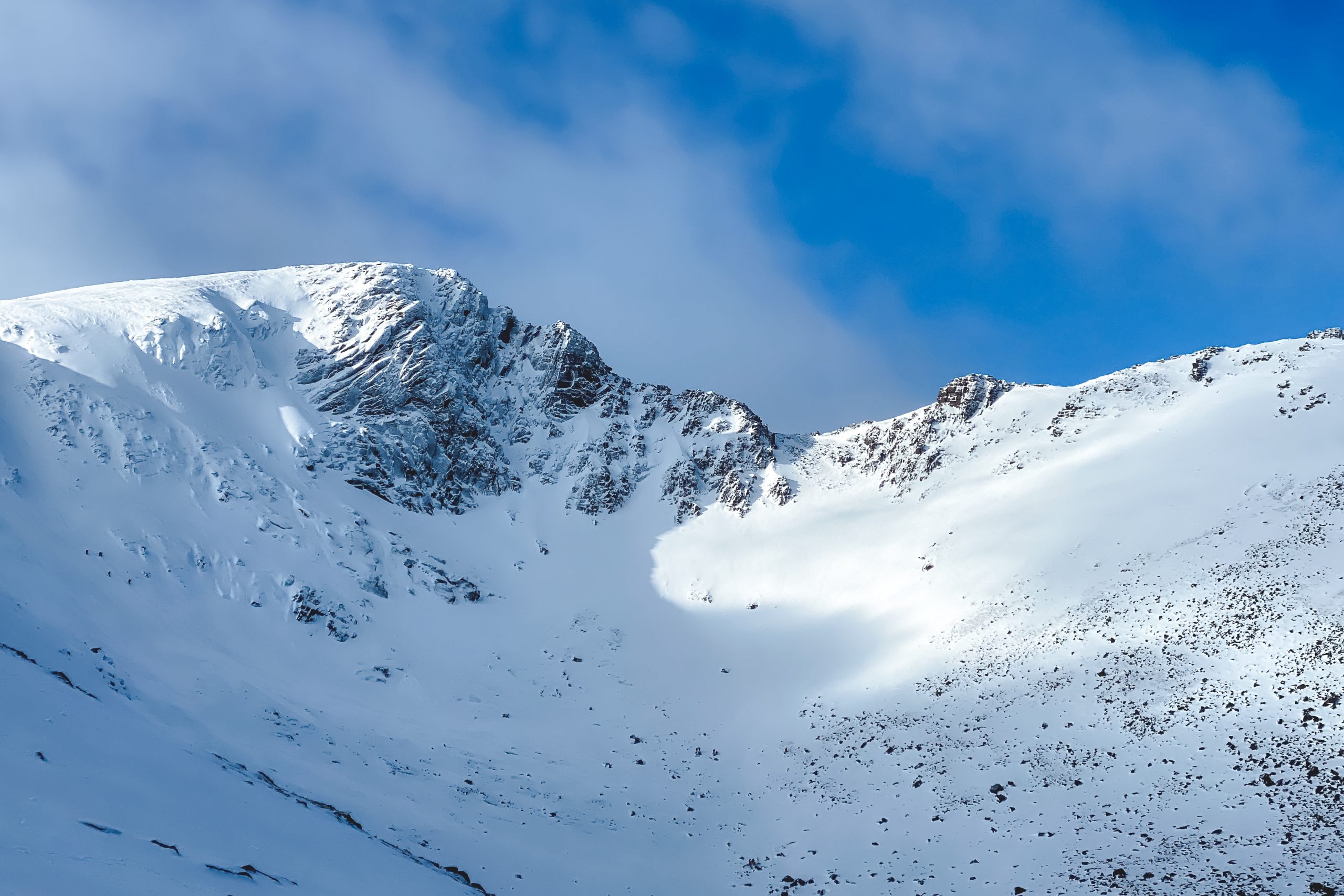 It's a stark contrast to this time last year where I didn't have any work coming in and I was in a total panic at whether I'd be able to sustain a freelance career. The rollercoaster of being a freelancer continues, and it's nice to feel content about it all right now, if a teeny bit overwhelmed by the documentaries I need to get finished off this year. Edit time is definitely running out fast, and September feels like it's pretty close already. 
We make our way towards Coire an t-Sneachda, looking up toward Fiacaill bathed in the sunshine. The air is still and I'm confused at how nice the weather is. I still feel like I am in a trap. Today we're easy, looking at getting some mileage on a couple of grade IIs and maybe Hidden Chimney at III, no pressure, we'll just see what the other people on the crag are up to and do whatever looks the most free.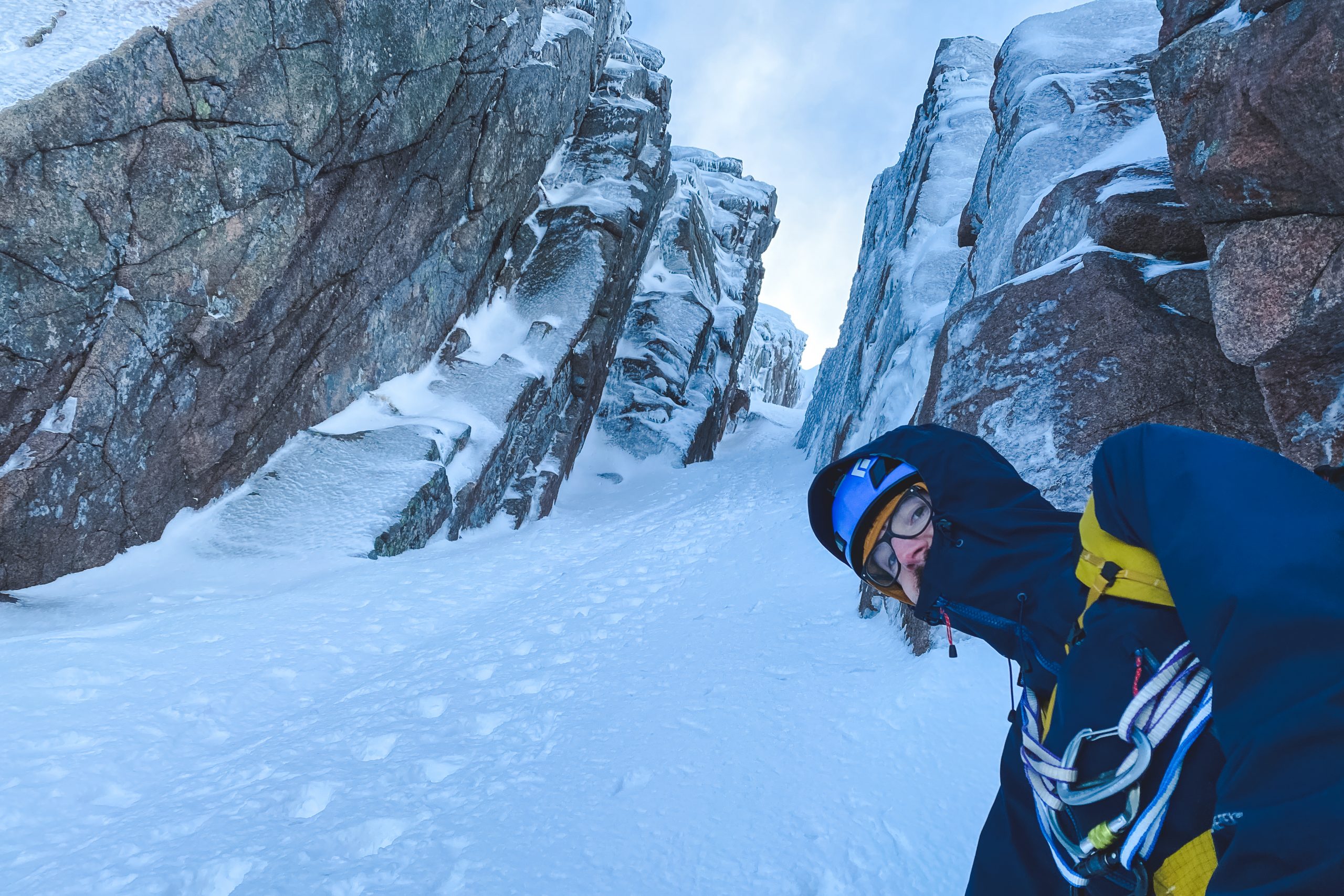 And there is a bit of a queue, and I am, once again, glad it is not a weekend-day. After hanging out in Jacob's Ladder for a while, it's our turn to go and we opt for the Slant, as there's two very slow parties heading up (or just at a standstill) at Hidden Chimney and a party behind us keen to get on Jacob's Edge. We're opting for a 'Michael leads unless Rach feels like it day', and so far I'm more than happy to be pottering on second as Michael makes his way diagonally across the snow-ice of this route.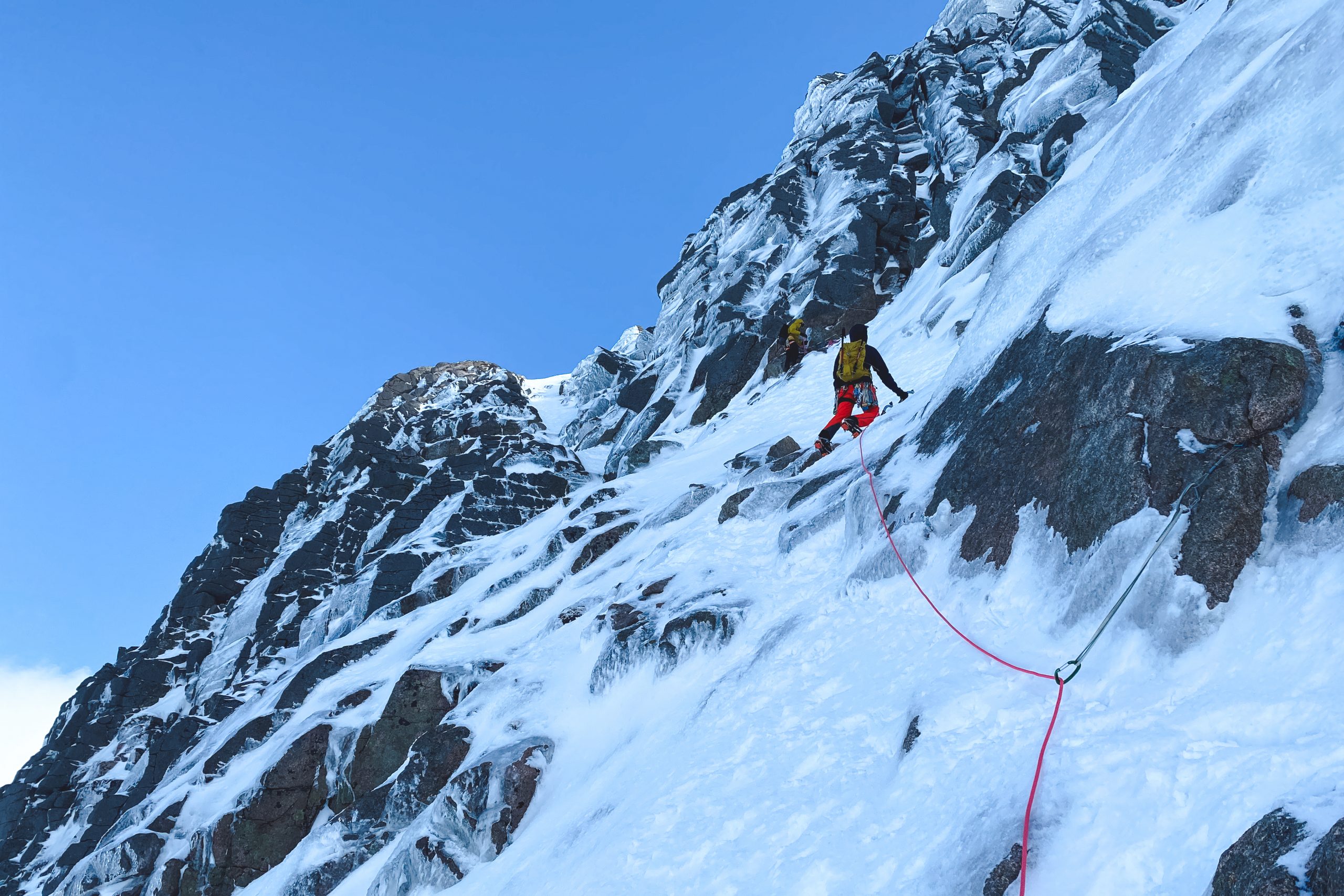 I'm definitely feeling the second vibe today. No pressure, just following the line of the rope sideways and upwards, eventually climbing out of the shade of the mountain and into the sun, which is both welcome and unwelcome. The light warms my face but also warms the snow of the exit slope, making those last ten meters a little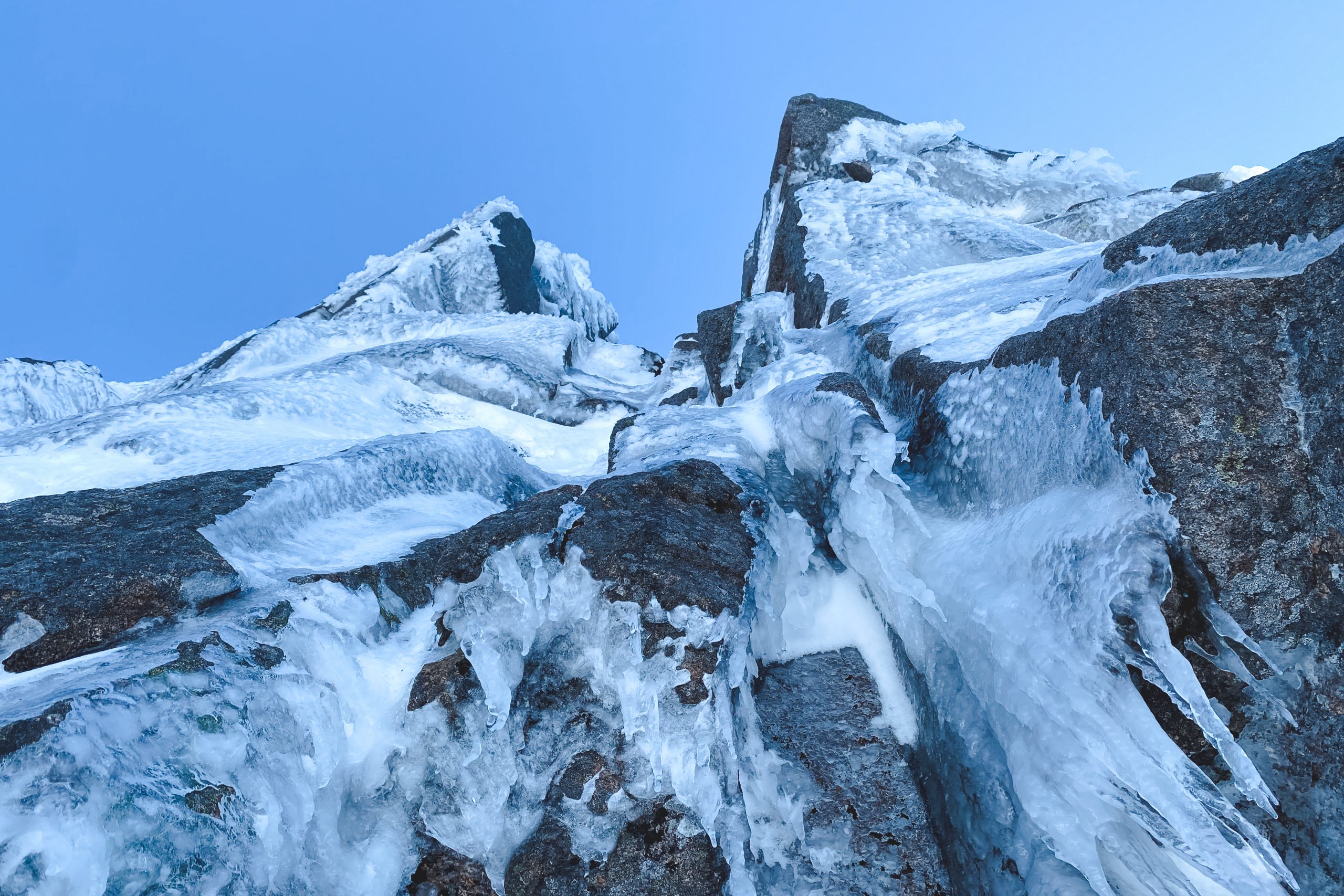 We lay at the top. It is beautiful, and not too busy. I can put my gloves down and they don't even blow away. I eat my wrap and a hiker wanders by, stopping for a chat about the beautiful conditions and how he's been sending photos to his poor wife who's stuck down in Aviemore setting up the new Nevis Sport shop, lamenting that he'd promised her he'd be down by 4, when all he wants to do is spend some more time wandering about in the sunshine enjoying the warmth and the views.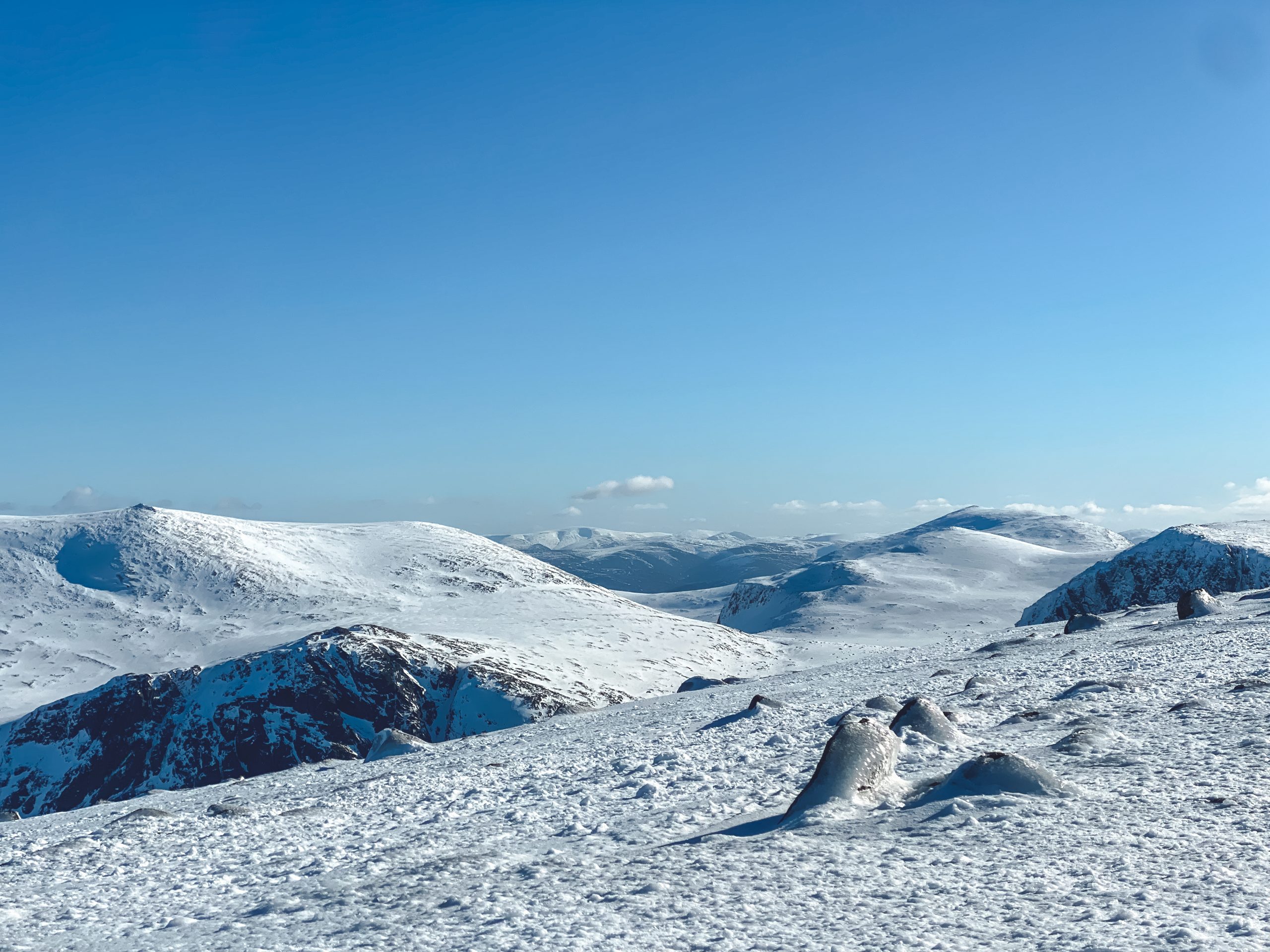 I know how he feels. Despite our little crag traffic jam at the beginning of the climb we still have plenty of the day to head down and climb another route. But do we want to? The crag is now coming into full sunshine as the day goes on, so will it be fun to climb now? And also, I'm kind of feeling like I just want to enjoy being in the mountains in this ridiculously beautiful weather.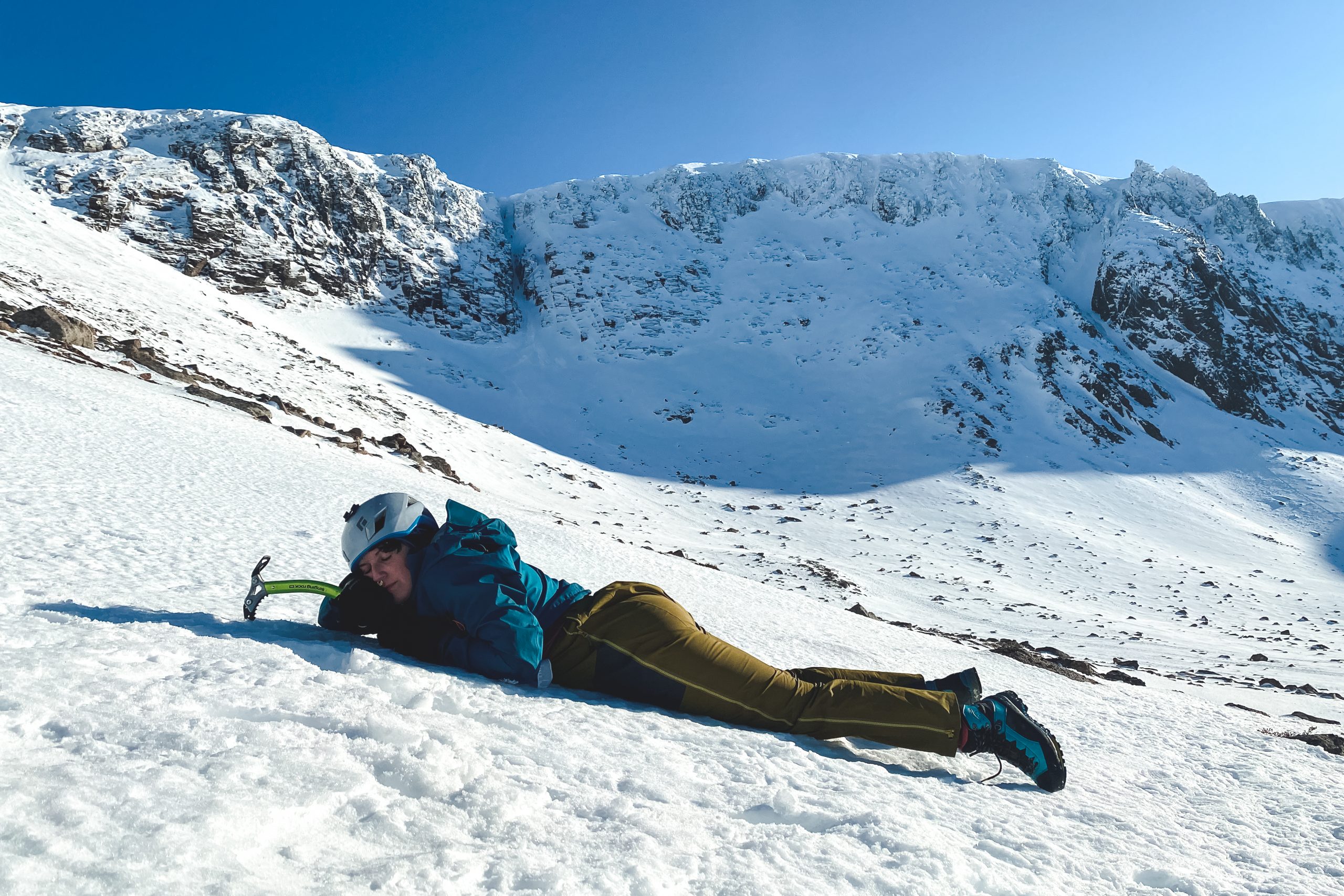 And so we do. Heading down a slope we spend some time playing around, refreshing ice axe arrests, before heading back down at a training pace to grab a cookie and a lemonade from the cafe before it closed. Sat out on the benches, watching the hikers and skiiers come in. It feels like the ratio of suffering-epic winter days to gentle, sunny ones is closing in a little, and I quite like that.