End of February, 2022, The Cairngorms.
Forecasts of blue skies, low winds, a blanket of snow across the Cairngorms. I'm suspicious. This is not what Scottish Winter is supposed to be like. This is not that Scottish Winter Climbing Experience. 
What's the catch? Where's the trap?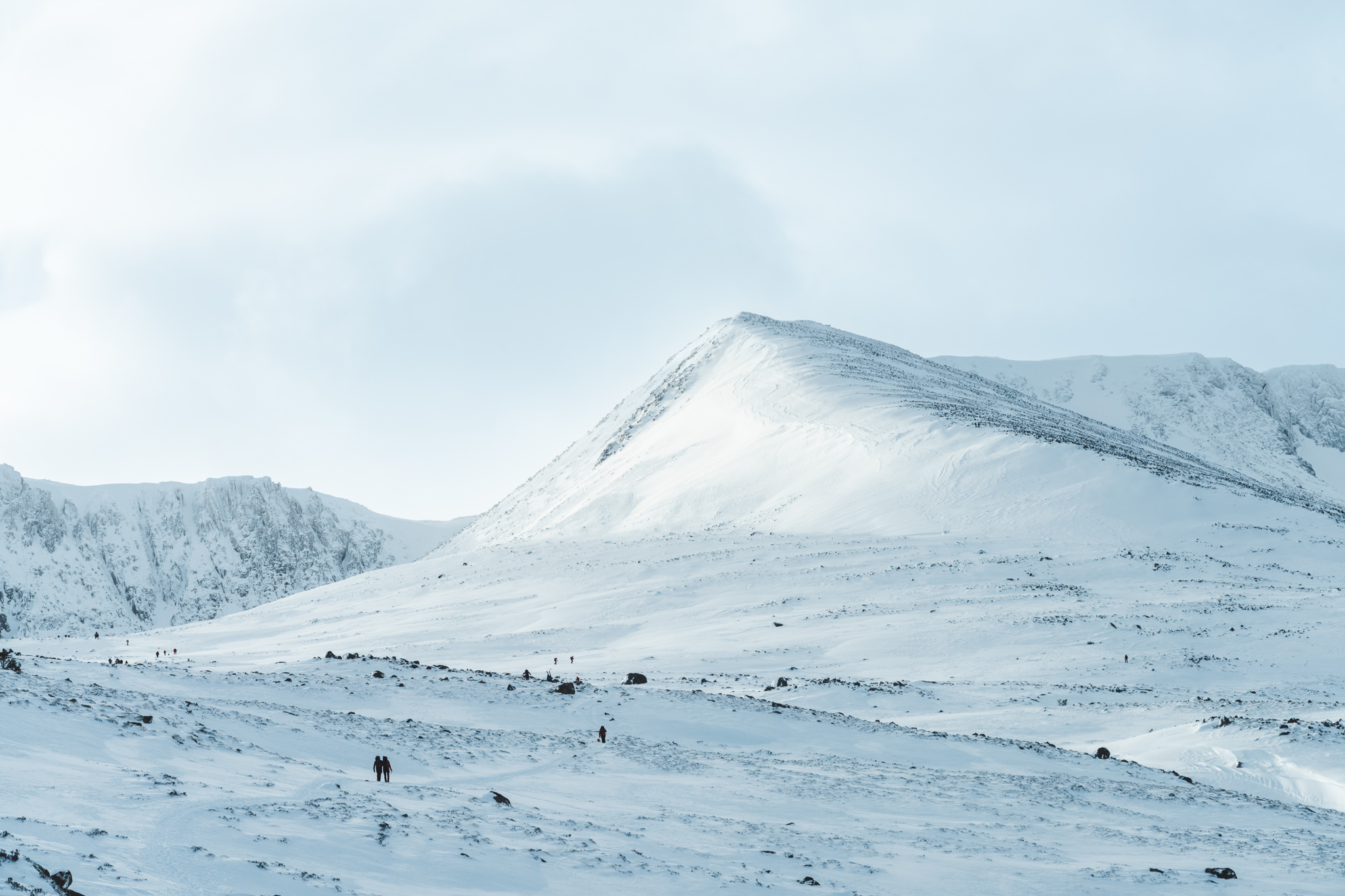 I'm so excited to be up here again. With snow that's not just snow up on the very top of the Ben. It's back in the Cairngorms! And I feel like I was here only a few days ago. Home and poorly. Then I've blinked, I'm back, and after a few days resting in the van, I'm feeling like a normal human being again. Slowly and surely I've been pulling myself out of this burn out, and it's taken several months to get to this point. The brain fog is lifting, it's becoming easier to breathe, my legs are feeling stronger, and I just generally feel more capable than I have since last Spring. It's been a long time of tired eyes and a tired mind. It's good to be back.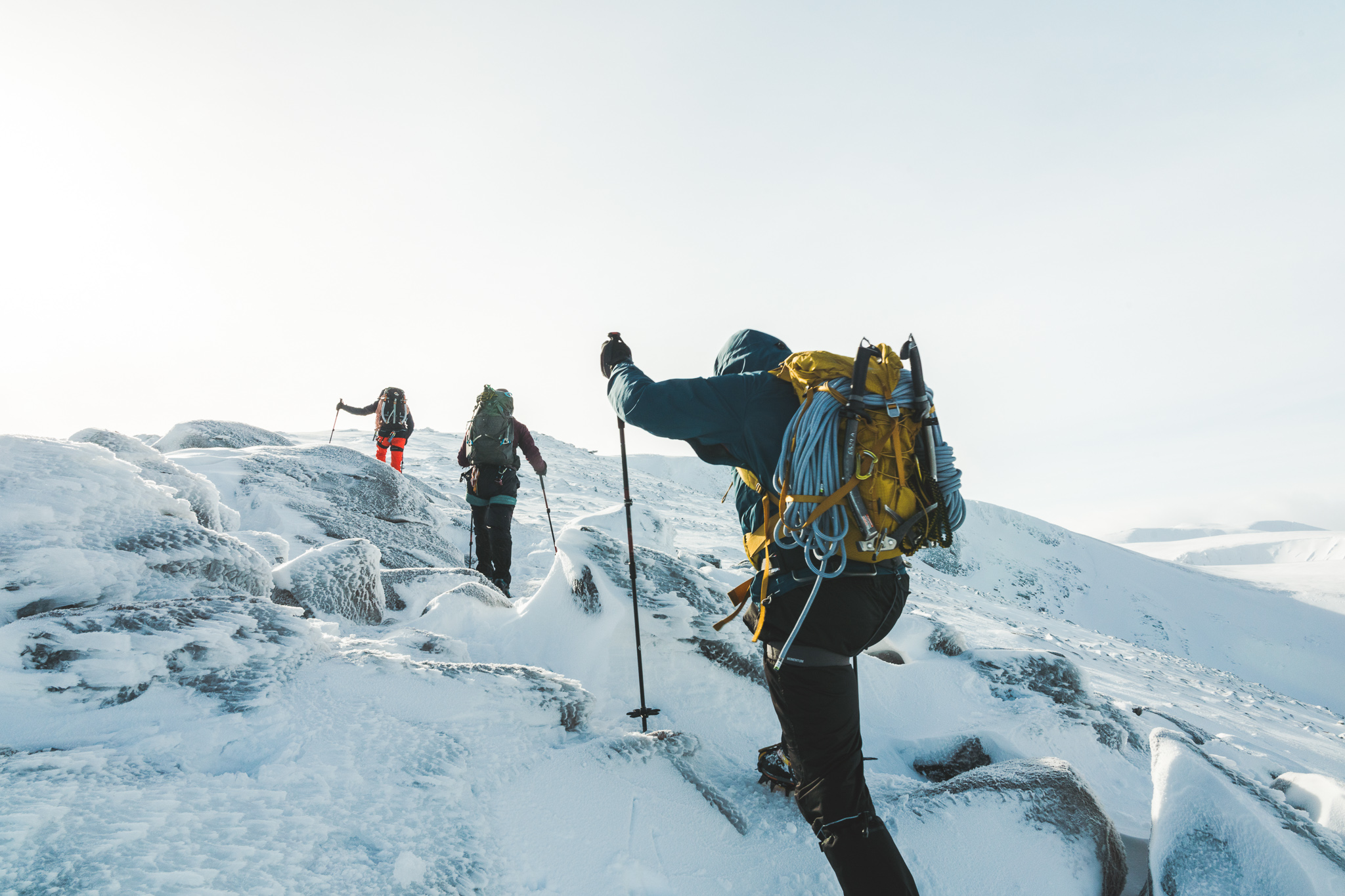 In between Ice Mile filming, we're trying to juggle work and days out in the hills. Feels like déjà vu
I'm trying to get my hill legs back to form. Turning some jelly to muscle, and our new-to-winter friends are up for a few days. So here we are, on a beautiful Friday morning, making our way toward Fiacaill Ridge. A gentle introduction for them and some unfinished business for me, as last time I was up here I was horribly poorly (thank you again, burnout) and had to turn back right near the top. 
Today is different, I'm enjoying the day, enjoying the pace. I'm trying out my new Falcam camera clip and joyfully taking photos as I run around the hills taking shots of the others, and really enjoying seeing Katy and Ian have a beautiful day out.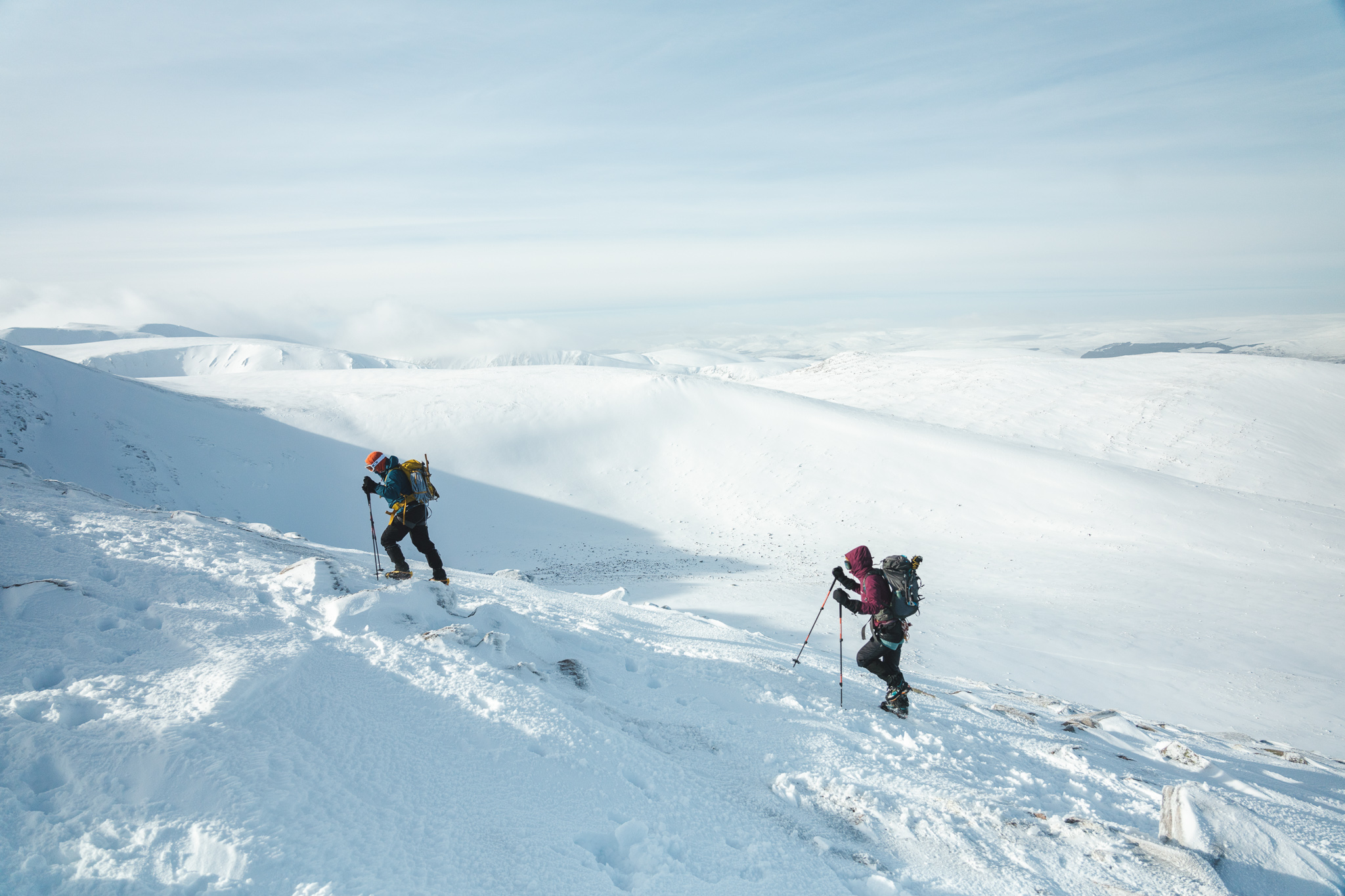 I've never seen the views go this far before. They go on forever.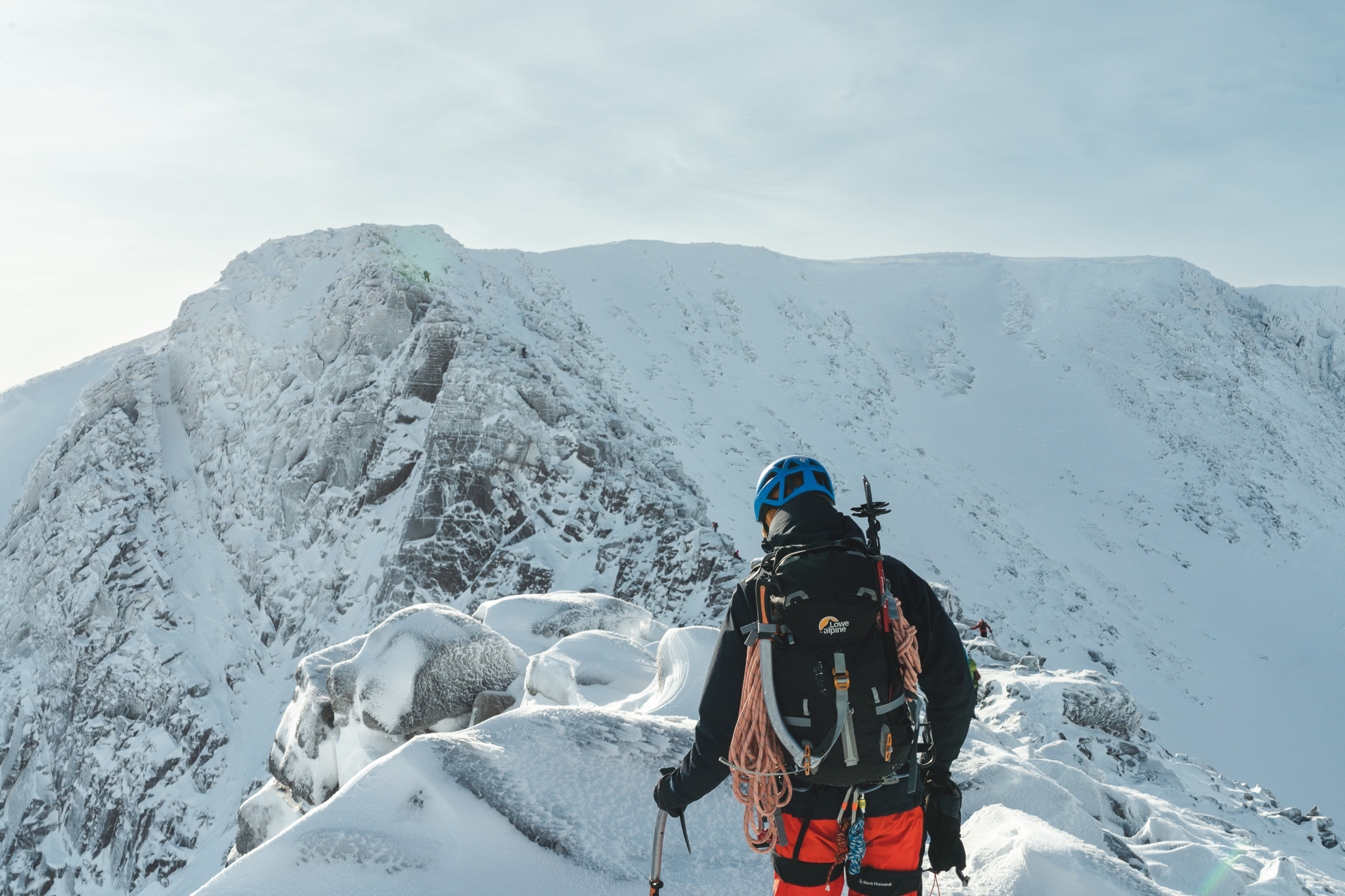 The ridge is looking spectacular.
It's fairly busy but not too busy up here, grateful it's not a weekend day but also enjoying the chit-chat with other people on the ridge as we wait at belays and clamber past one another. Having lengthy conversations with people isn't usually something I've done in winter, generally because the wind is howling and we're getting battered with spindrift and can't hear one another anyway. Today I'm starting to feel grateful for all the terrible weather days I've had out in the mountains, because it makes today all the better.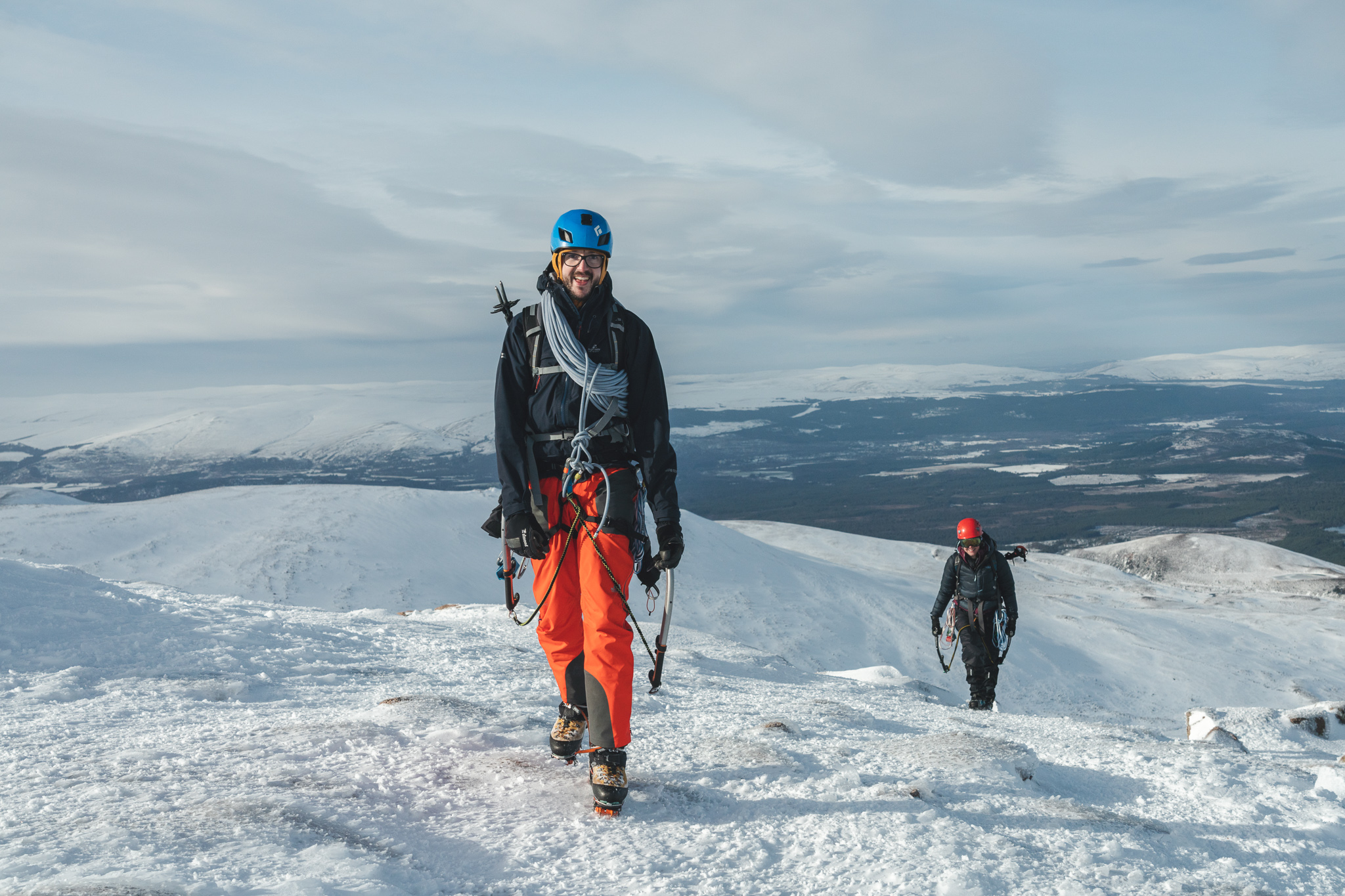 Up and up and suddenly we are at the top. I was ready for another half an hour of scrambling, but we were just there! I missed out on some of the climber bits today, as Michael took keen-climber Katy one route and I took "I hate waiting and just want to go" Ian the other, giving them both the experiences they want and enjoy in the mountains. It just means I need to come back  and climb this again, this time not missing out on that best grade II part of the ridge.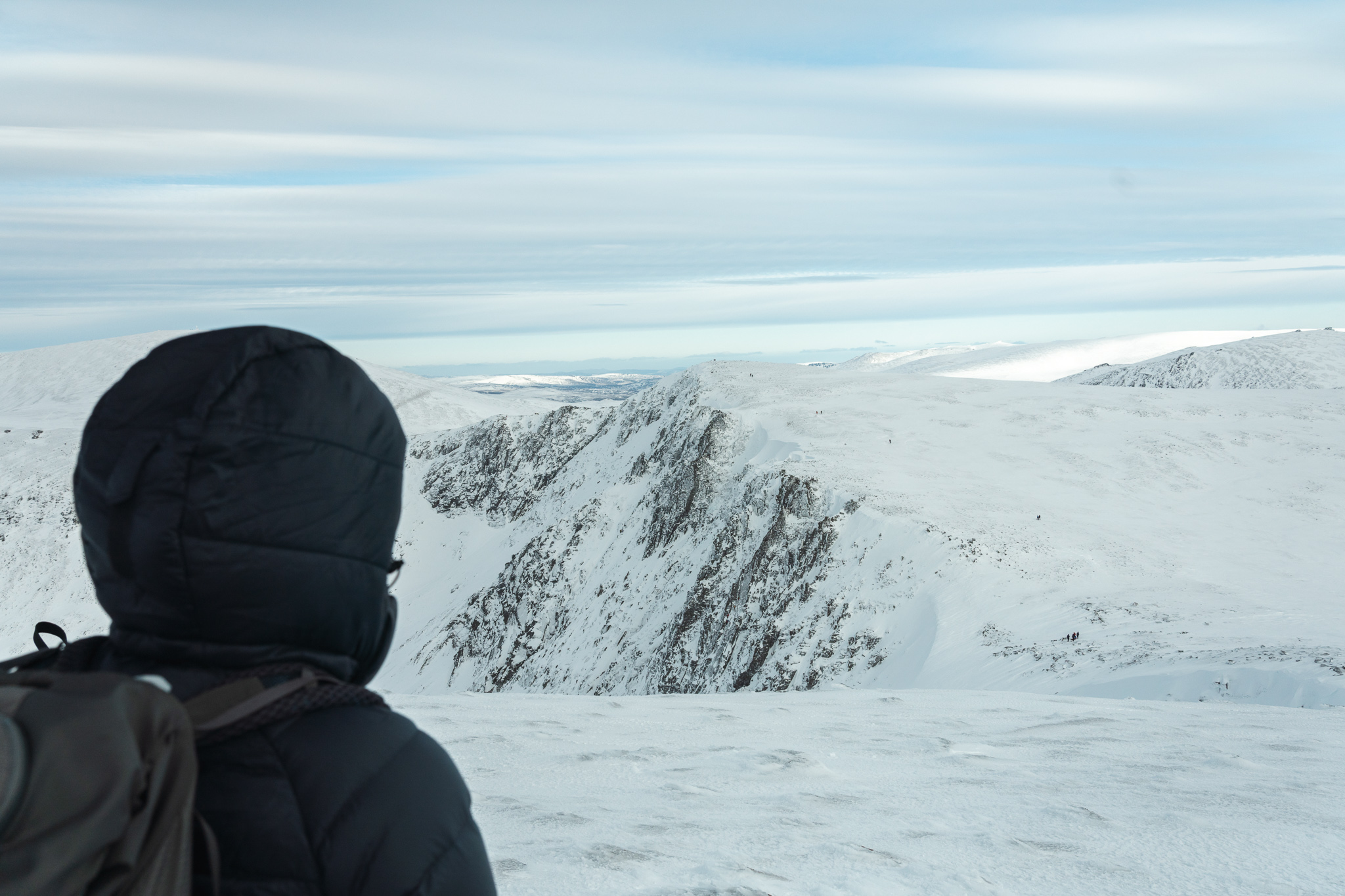 I spend quite a lot of my time in the Wintery Scottish mountains with Michael, that I kind of forgot about being out there with others, how much fun it can be, especially when I'm not trying to match my long-legged partner's pace and feeling totally inadequate. I now realise that I hike at a pretty normal pace, I just gave myself a complex by being with athletes, mountain guides, and people who are 10 feet tall.  And also heading out in the past when I'd been feeling.. not my best.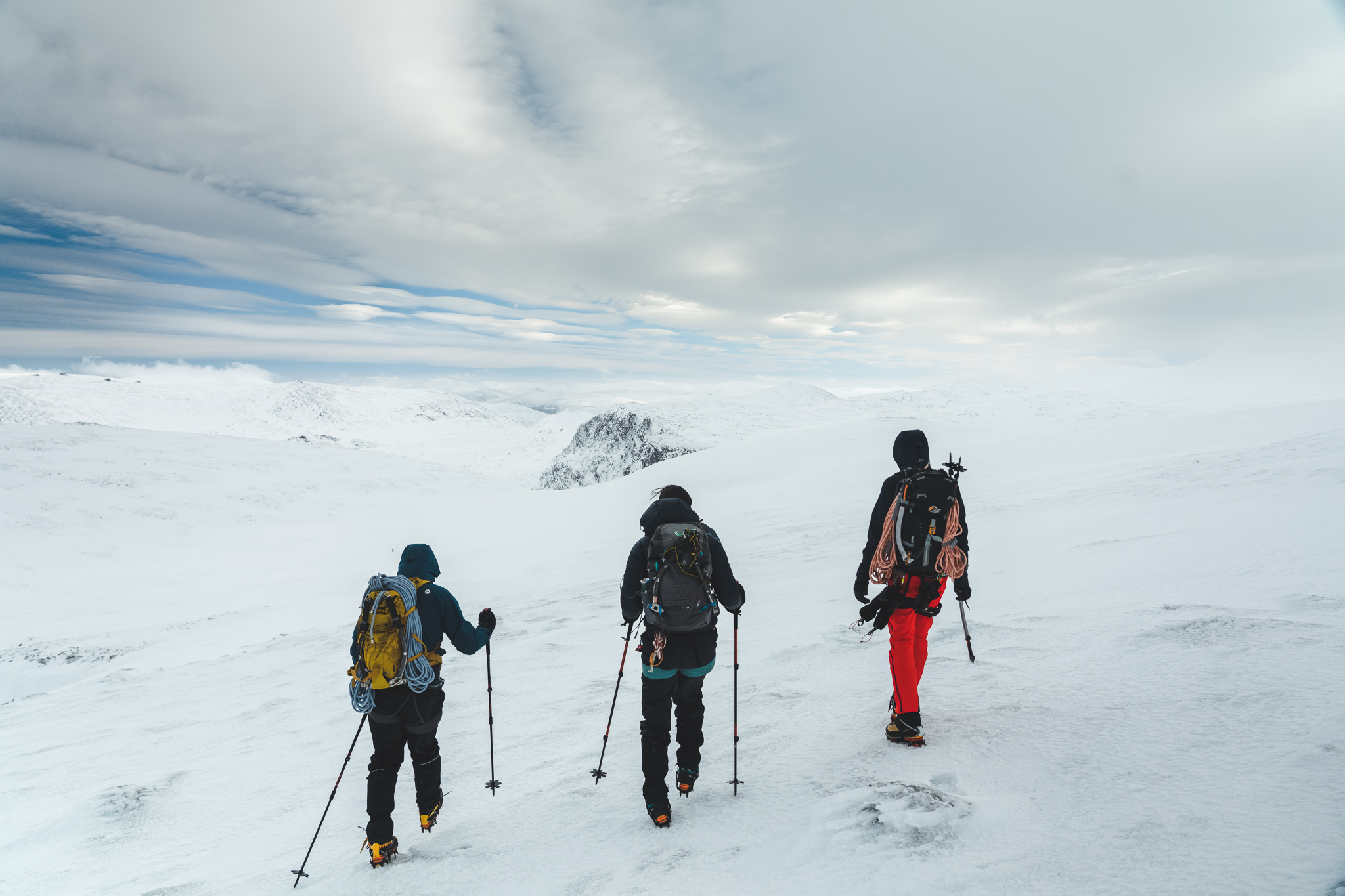 So today feels like a really fresh breath of air, feeling strong, feeling fast, and creative, too.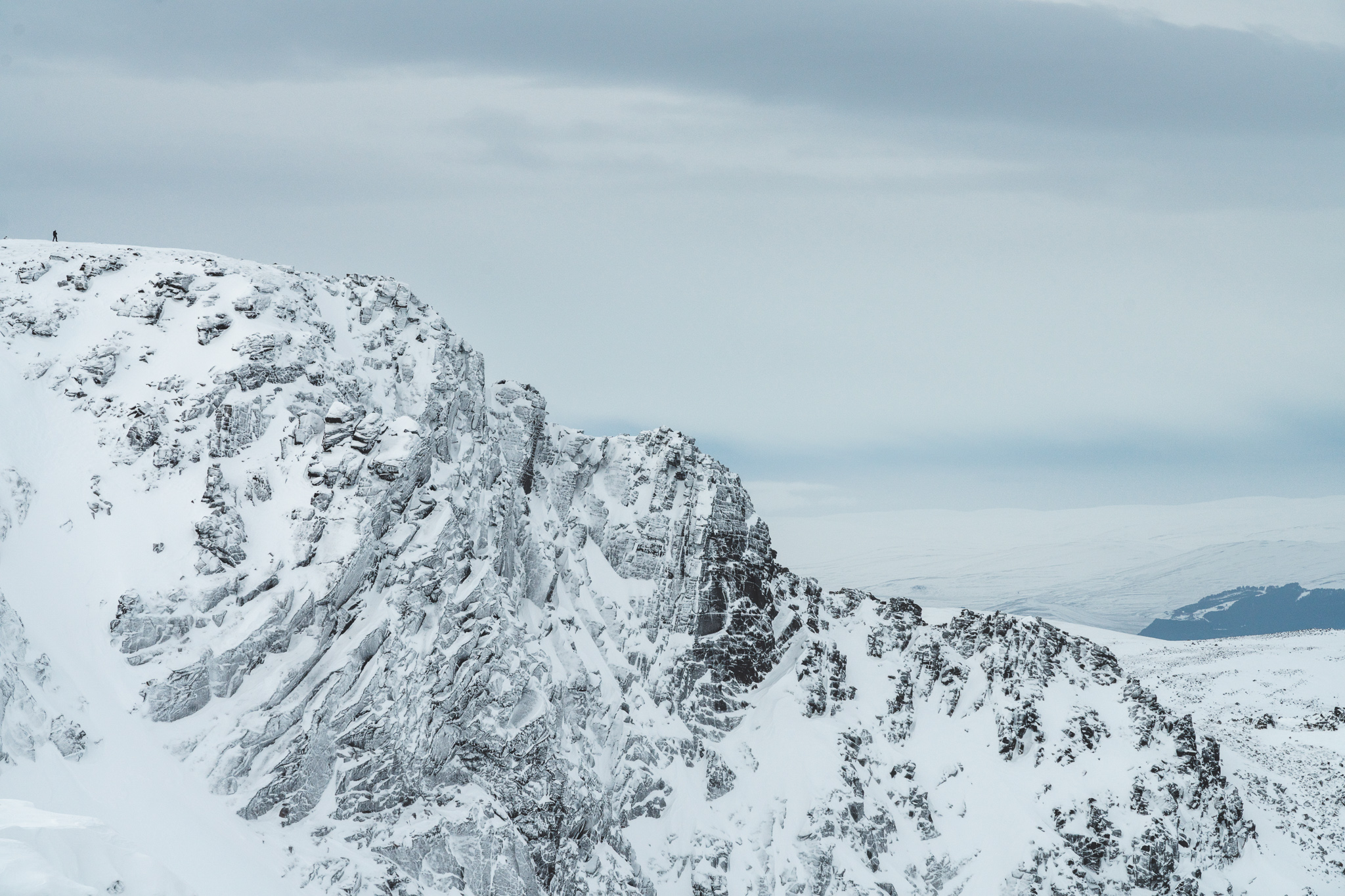 Fiacall from afar, with a pastel washed sky as the sun begins to hide.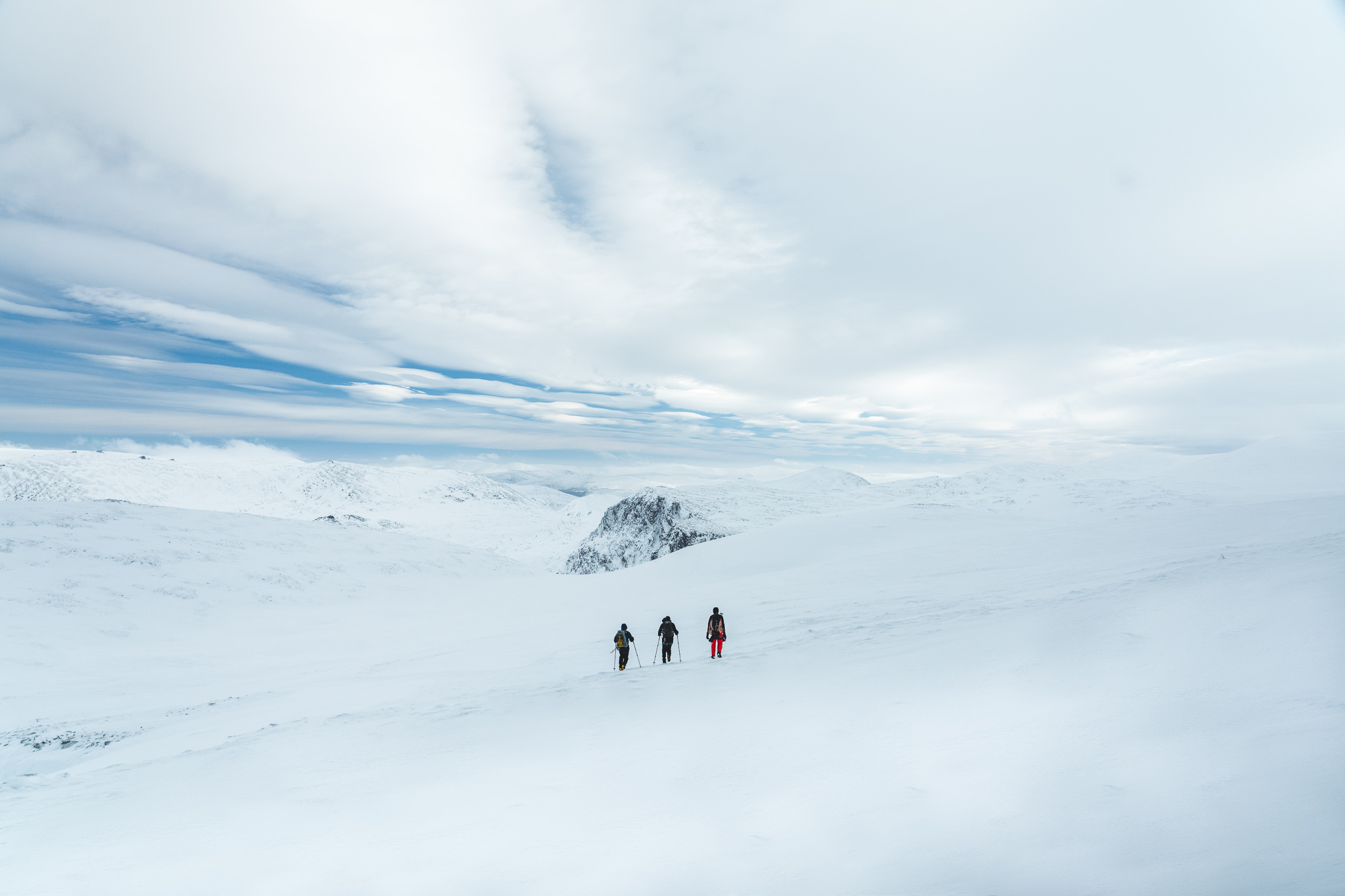 The snow is hard, crunchy, that perfect texture where the crampon bites in but you don't sink.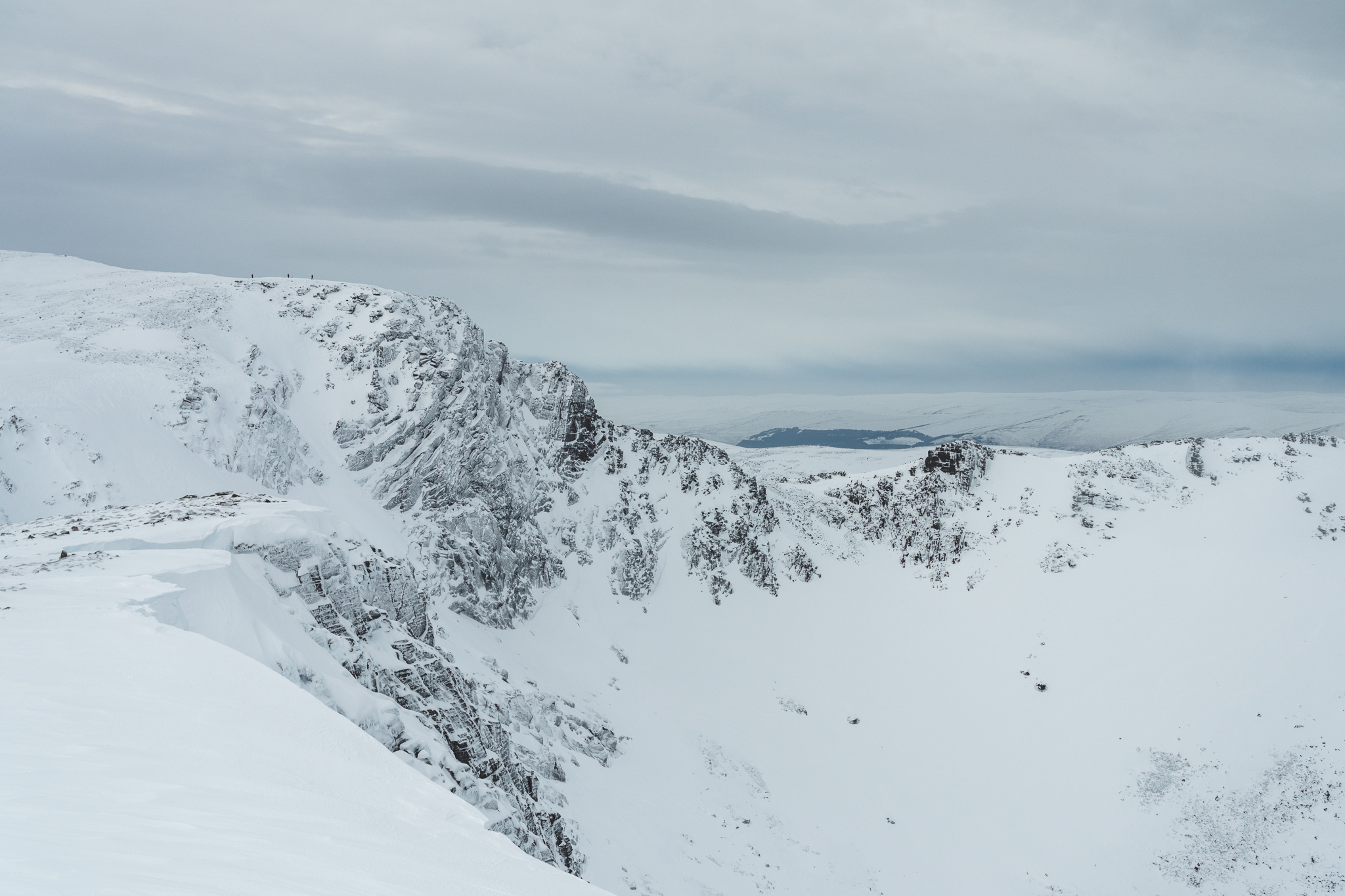 The sky is becoming a little less blue, minute by minute, as the vibe from bluebird day begins to change.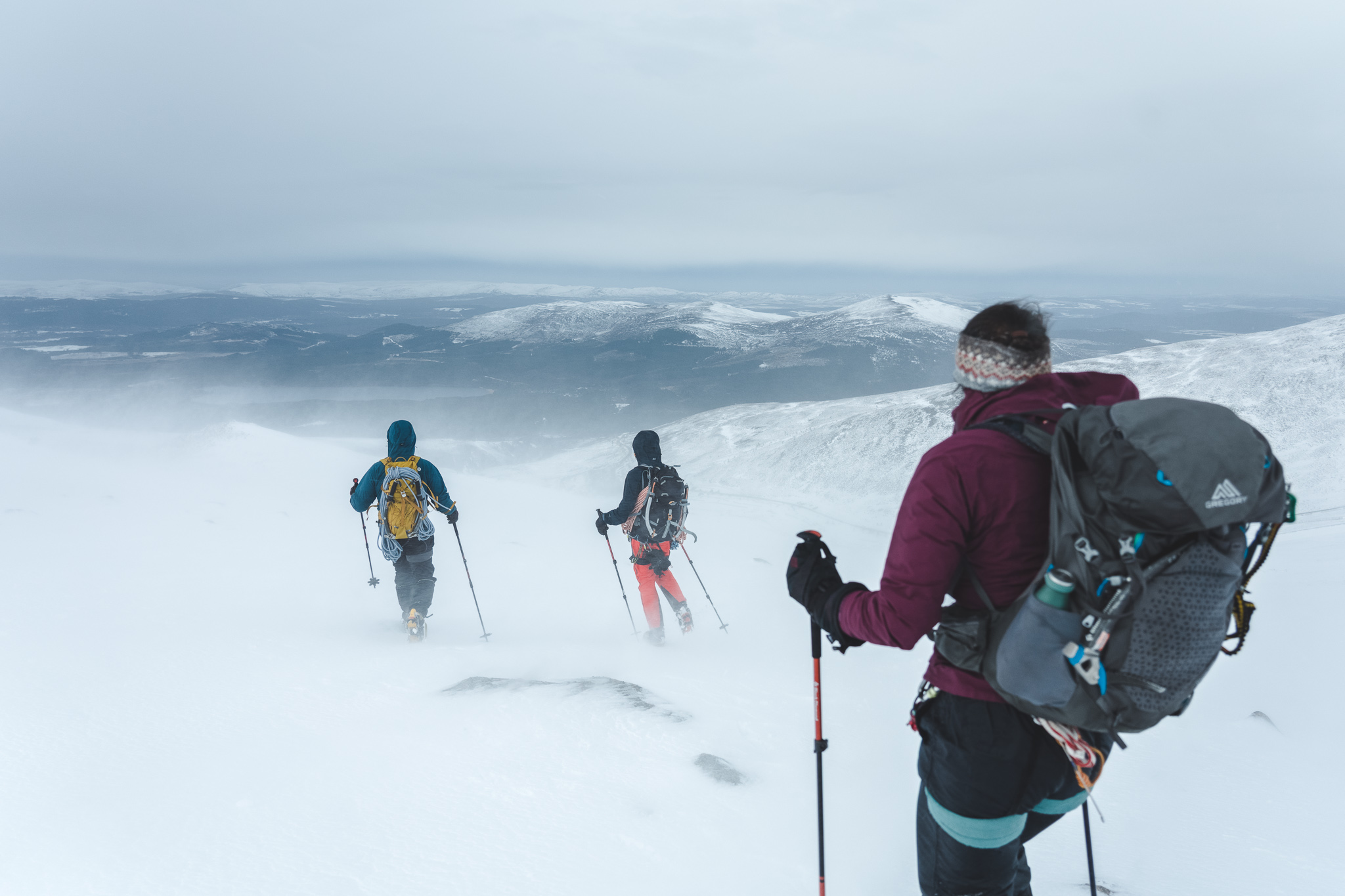 As we head down the clouds begin to roll in, whipping up the snow around us and pushing us sideways as we head back down to the car park, the view of Loch Morlich still visible through dancing powder. I'm thinking about food, and a shower, and how much fun I've had.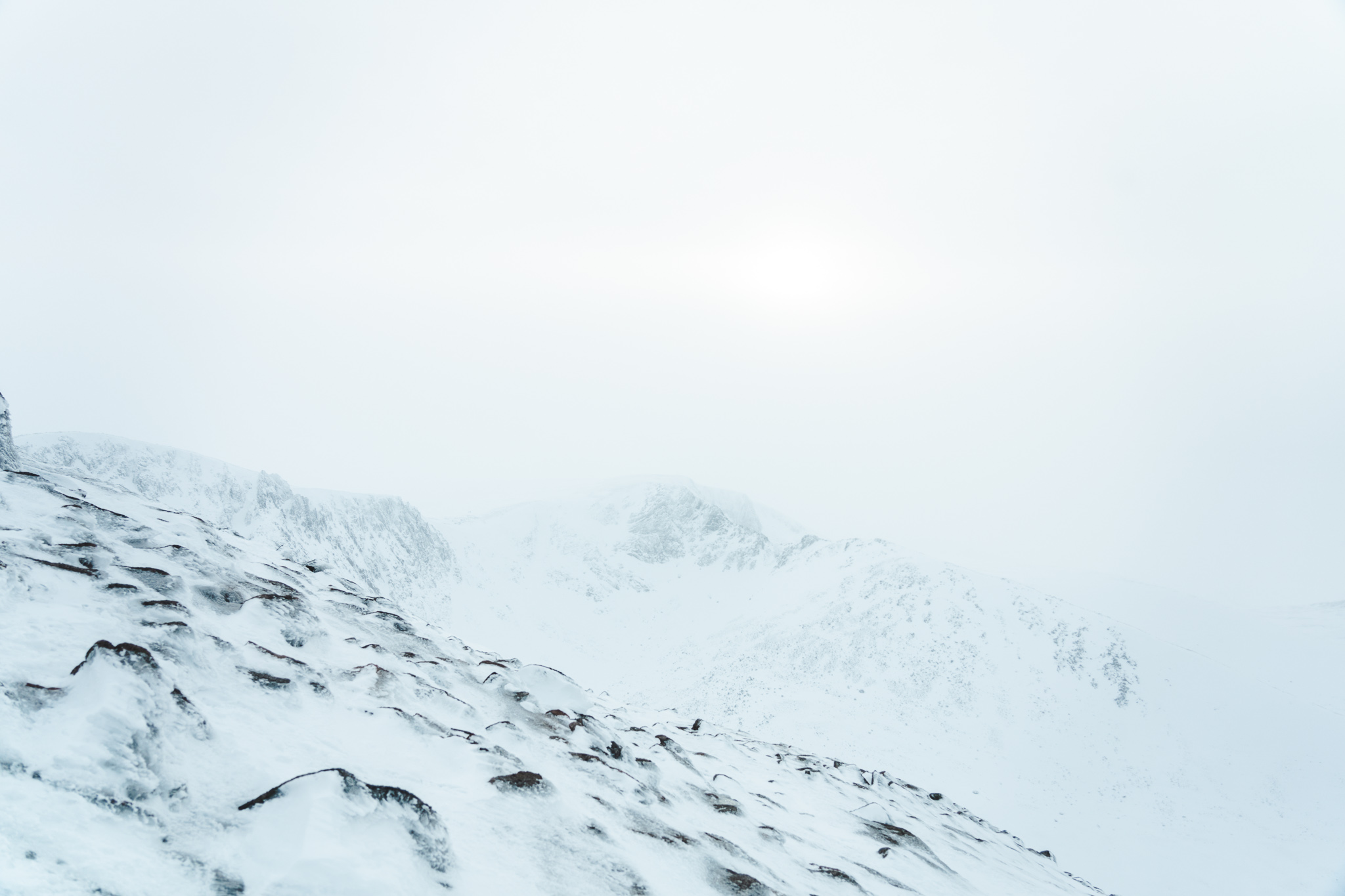 I look back. It feels pretty satisfying, as the wind becomes even more frenzied. This is the Scottish Winter I know. We go down and down, seeing the view fade into white-out, that we timed this pretty damn well. It was a day totally and utterly enjoyed, not suffered, in the mountains today.