We're back here again. That same walk in, but not quite as bad this time, due to the fact my boots are slung around my bag and I'm wearing trail runners. I'm finding ways to keep up with my lanky partner and I'm feeling quite proud of my solution, although I do keep getting glares from some people on the walk-in. Probably those who's feet hurt.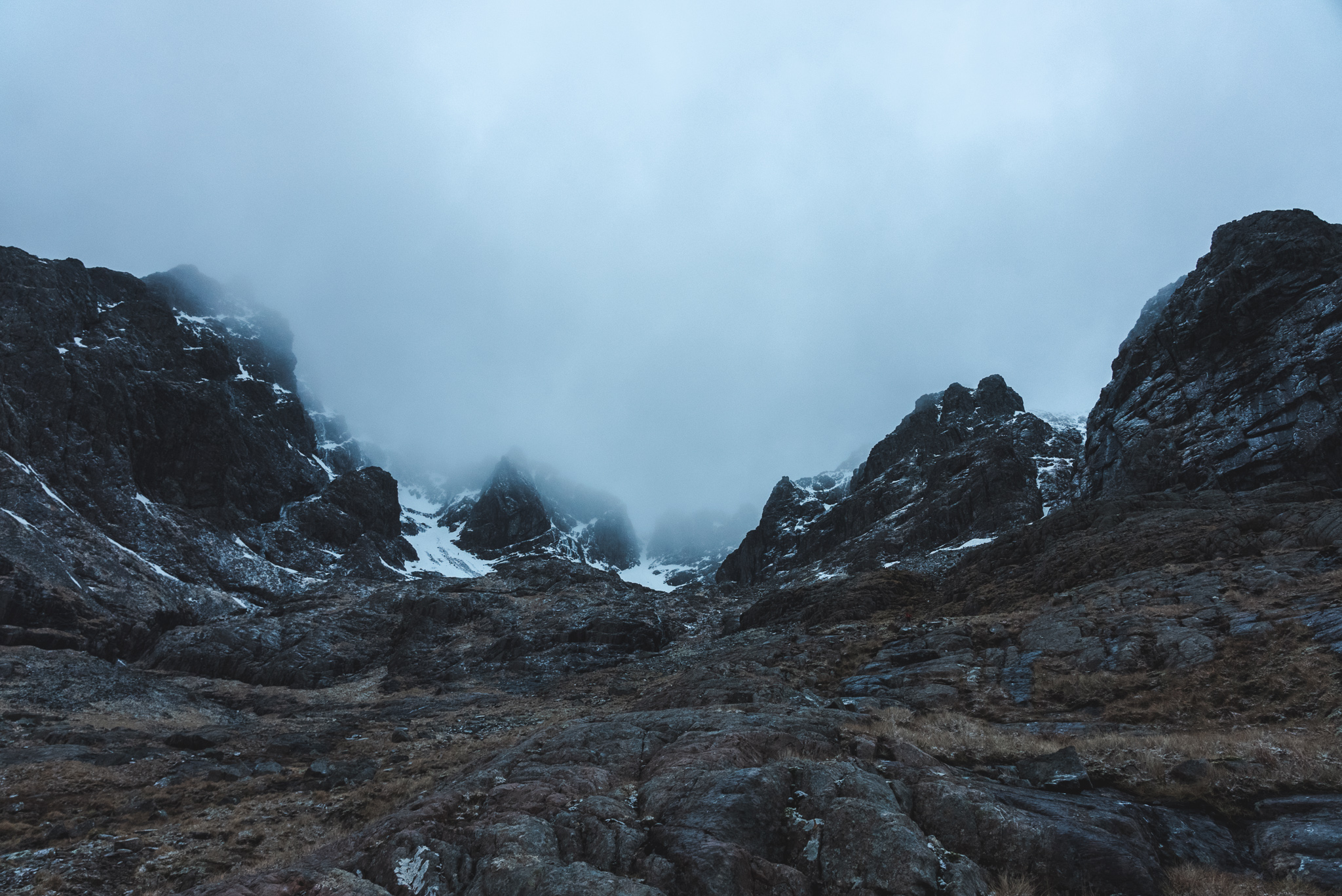 I have learned my lesson from last weekend about being slow, I sometimes find it hard to reconcile the part of me that wants to bimble and find compositions to film and photograph, and just look at the landscape, and the part of me that knows that I have to move quickly and uncomfortably because there's ground to cover and a time we need to be down. 
Today there is way more of an urgency to be up and down fast, as there's a storm rolling in this afternoon. We want to be down low by mid-afternoon when it hits, because the tops are not looking like a place we want to be when that happens.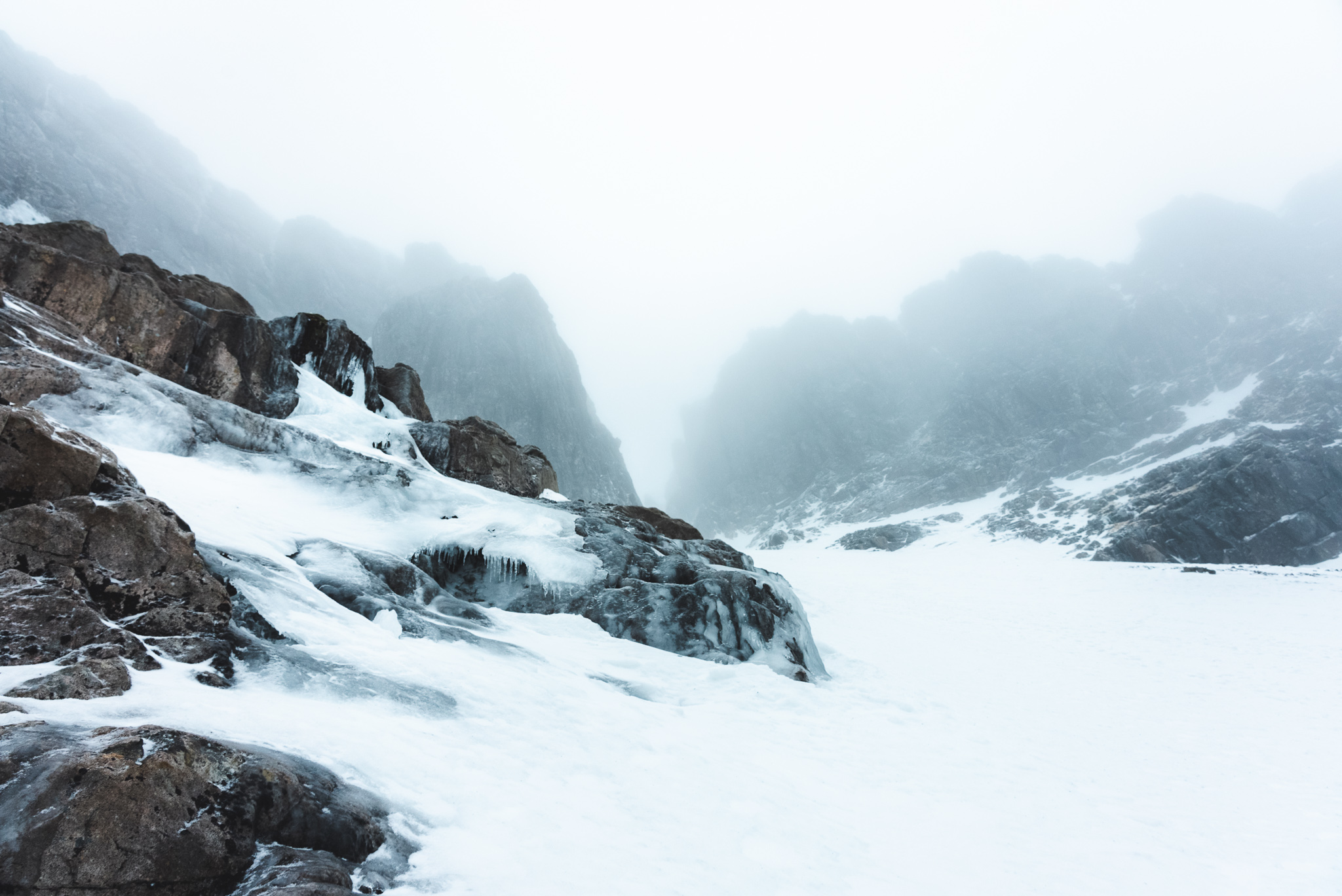 And so today we're heading up number three gully. It's gentler than number two, which we did last weekend and so it's one we think we're going to solo, but poor Michael still has a rope on his back just in case. The weather is pretty much the same as before – the same amount of snow, a little colder, and the air is stiller. Though, we know what's coming.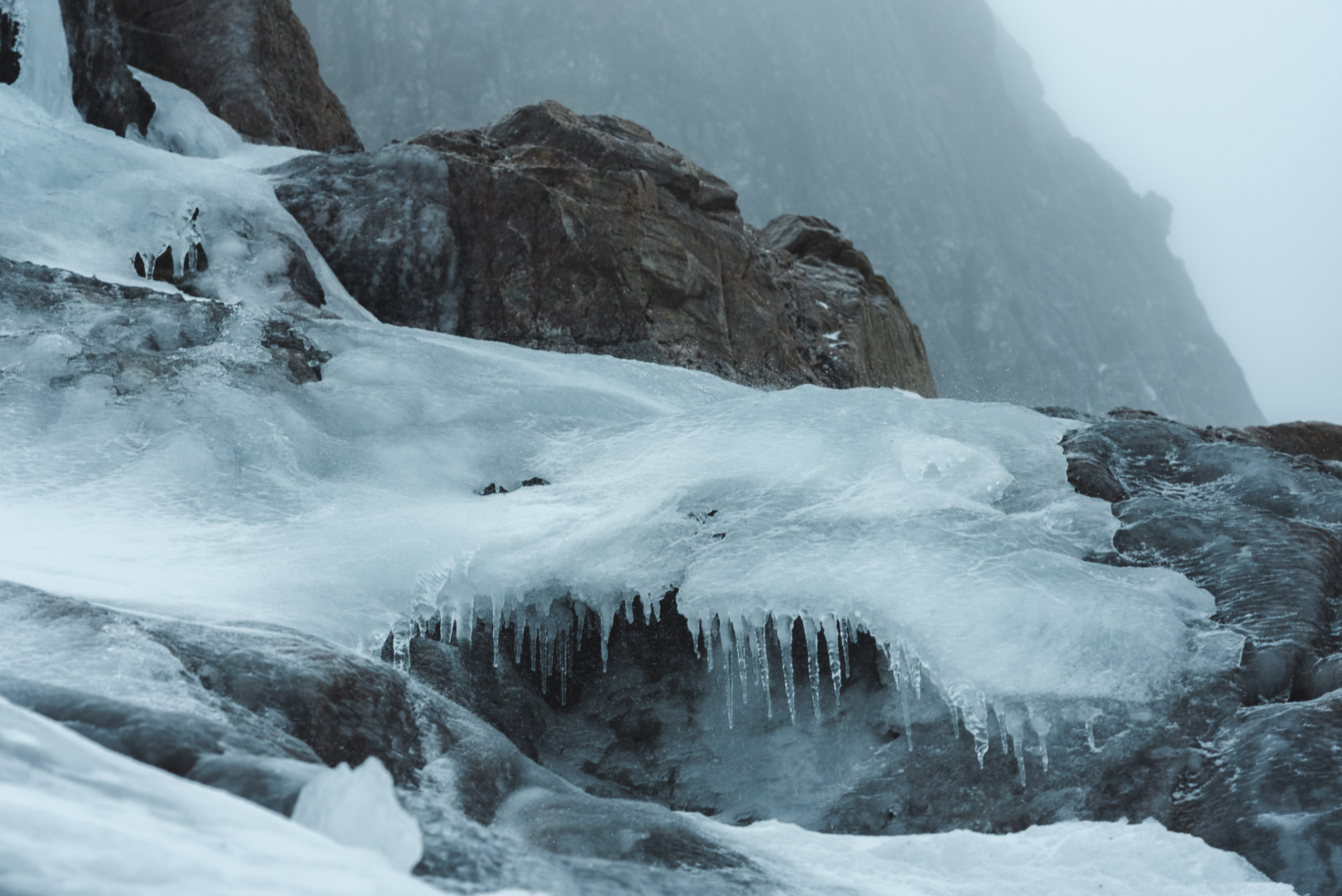 The thaws and now the cold has created some beautiful ice. I'm already finding it hard not to stop and take some photos. But I ration myself, heading up and up past a guide and his group pitching the gully and a couple pitching and simul-climbing. Occasional ice rains down on me, bouncing off my helmet and creating some small bruises on my thumb and inner thigh. I'm ahead so I shield Michael from the worst of it.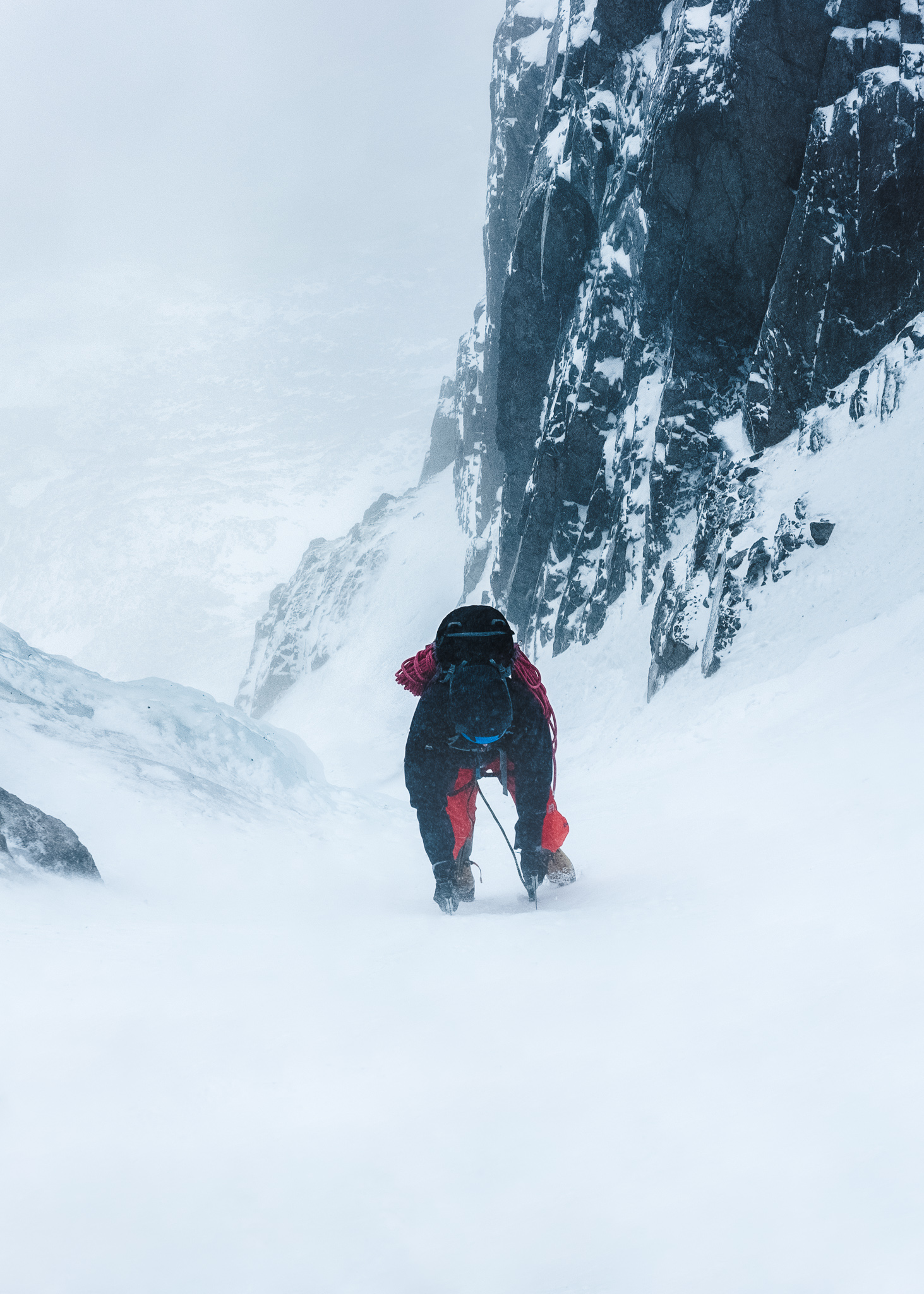 Up and up. I'm still fairly slow. Finding my confidence soloing this terrain, knowing I can but taking it steady and careful. It's starting to snow and there's some bulky, built up snow near the top that gives me a moment of pause before I shake my head and just go for it. When I first started to get back into climbing after my injury I would end up carried away by fear and panic, helpless like a current was pulling me from shore. But in those awful experiences I built up a new skill for stopping it sweep my feet away, to just give myself a moment to process how I felt and then move forwards before it could catch.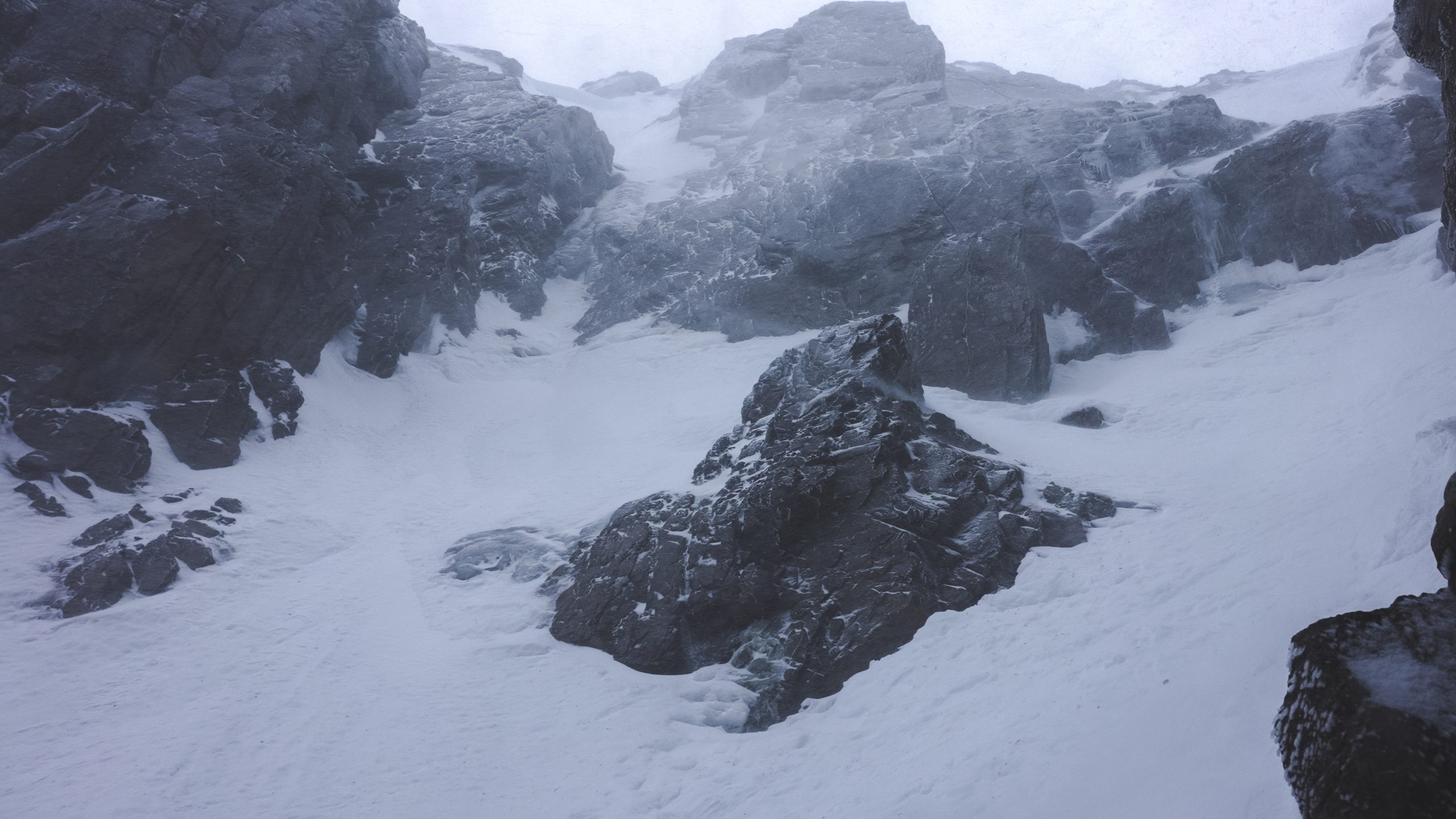 I'm way-post injury now, still affected by the lack of mobility of course but my fears now often lay in my lack of confidence in my body in general. I had felt like I was just getting a hold on my strength and fitness before burn-out totally wiped it back out. I'm still recovering from it all and although I want to throw myself back into training I've realised that I still need a little bit more rest. Before the year really starts in an exciting way. 
We top out, it's already windy, and it's nowhere near storm time. But we've made good time.
My expectations for myself are high over this spring and summer. But, a realistic, caring-for-myself kind of high. I want to be ready and to have taken enough of a breath to dive in head-first, physically and emotionally. And to be able to know my limits, too. No more overwork. No more thinking I can cope with more than I can. I found last year was wonderful, but it broke me and my work also started to suffer in a few ways. Some ways were perhaps intangible to others but all were tangible to me, but I couldn't stop. I had obligations to fulfil and too-high expectations for myself.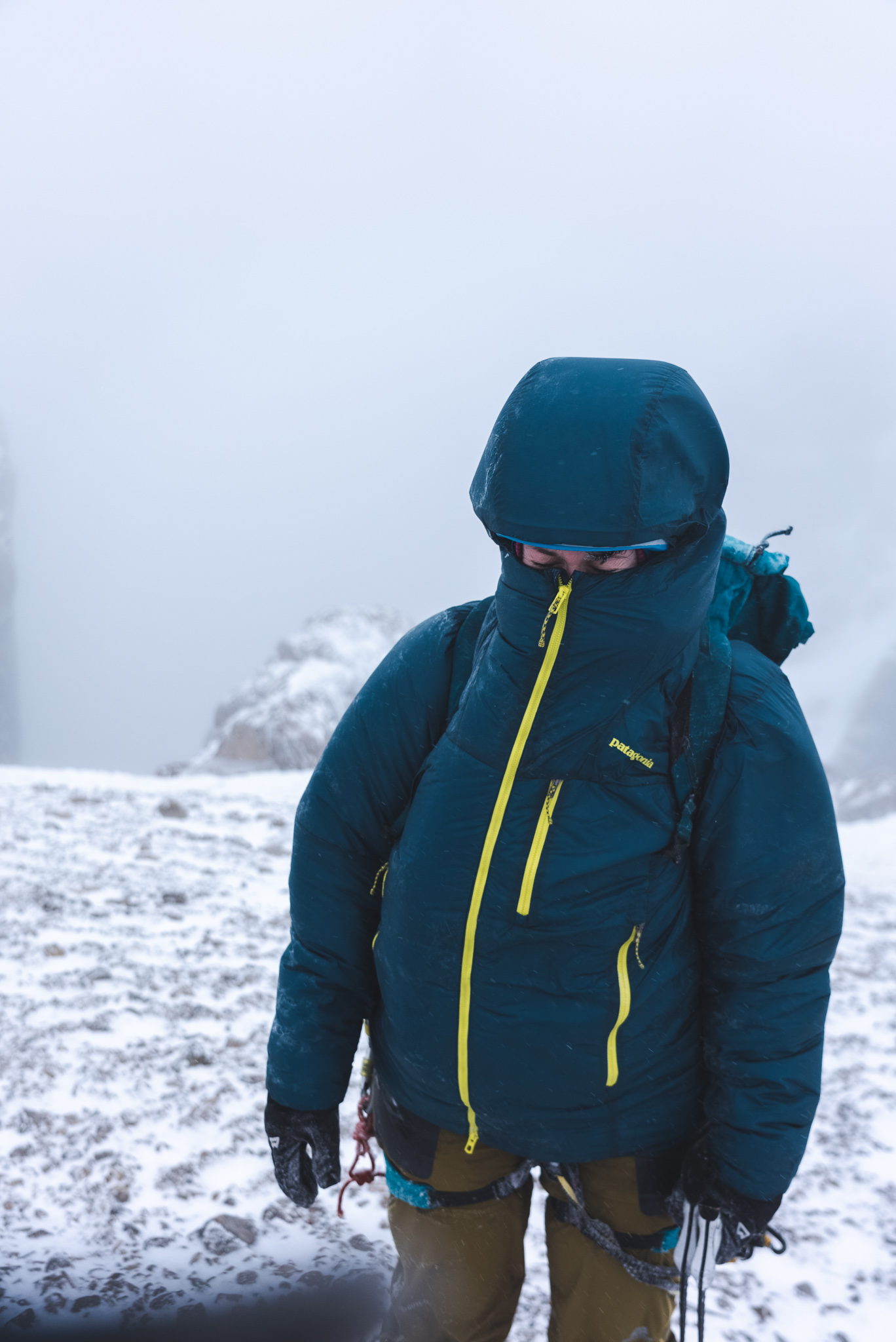 I think this photo of me sums up both how windy it was up there, and how I felt for most of last year.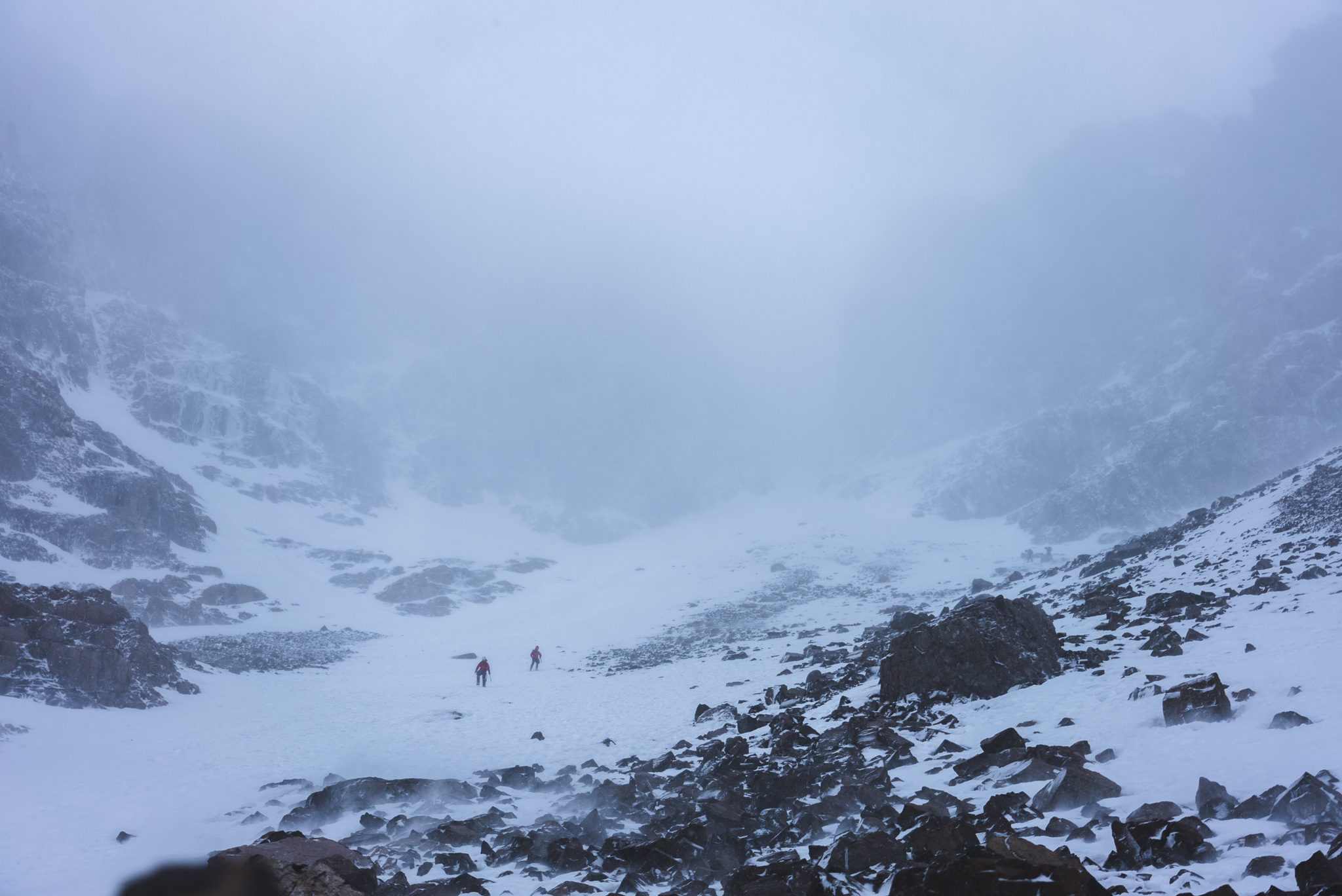 The snow is starting to come down now, and a real risk of future avalanche in the gullies with it. So down number four gully, planning to go as fast as we could. But I had a hard time coming down, actually. I'd only ever gone down one gully in the past which was steeper, but I found it no problem. But this one. I don't know I just had a little bit of a wobble on it. I'd had such a wonderful time going up number three, but now I wasn't feeling so great. Rationally I knew each step was fine but there was a voice in my head telling me to just go a bit slower. Which isn't all that helpful when there are other people coming up and down too. But I got in to it half way down. Sometimes our brains are weird.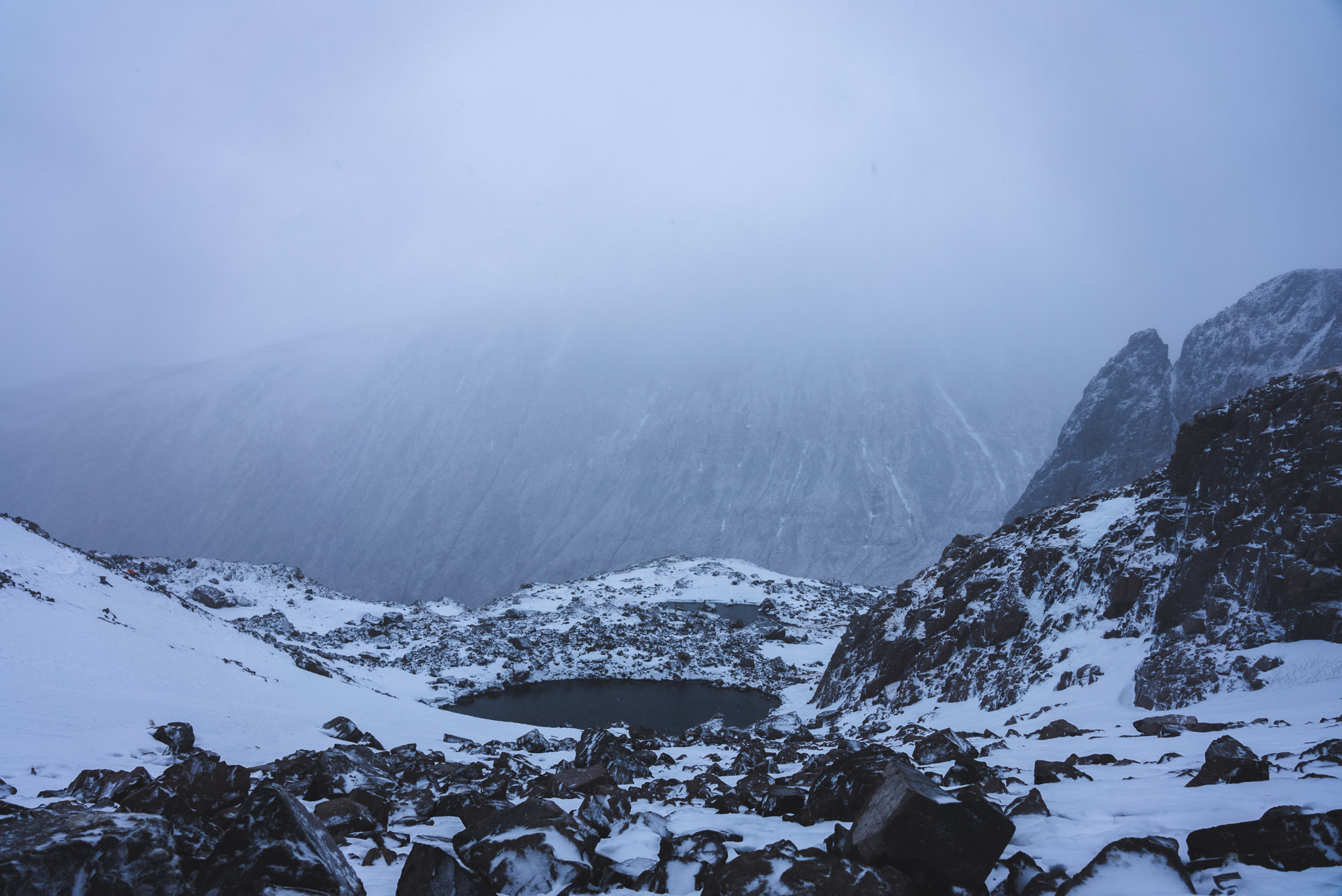 Mist continued and the wind become more and more whipped up, with coating the ground around us more. We had a quick snack break, took crampons and harnesses off, and back down we went.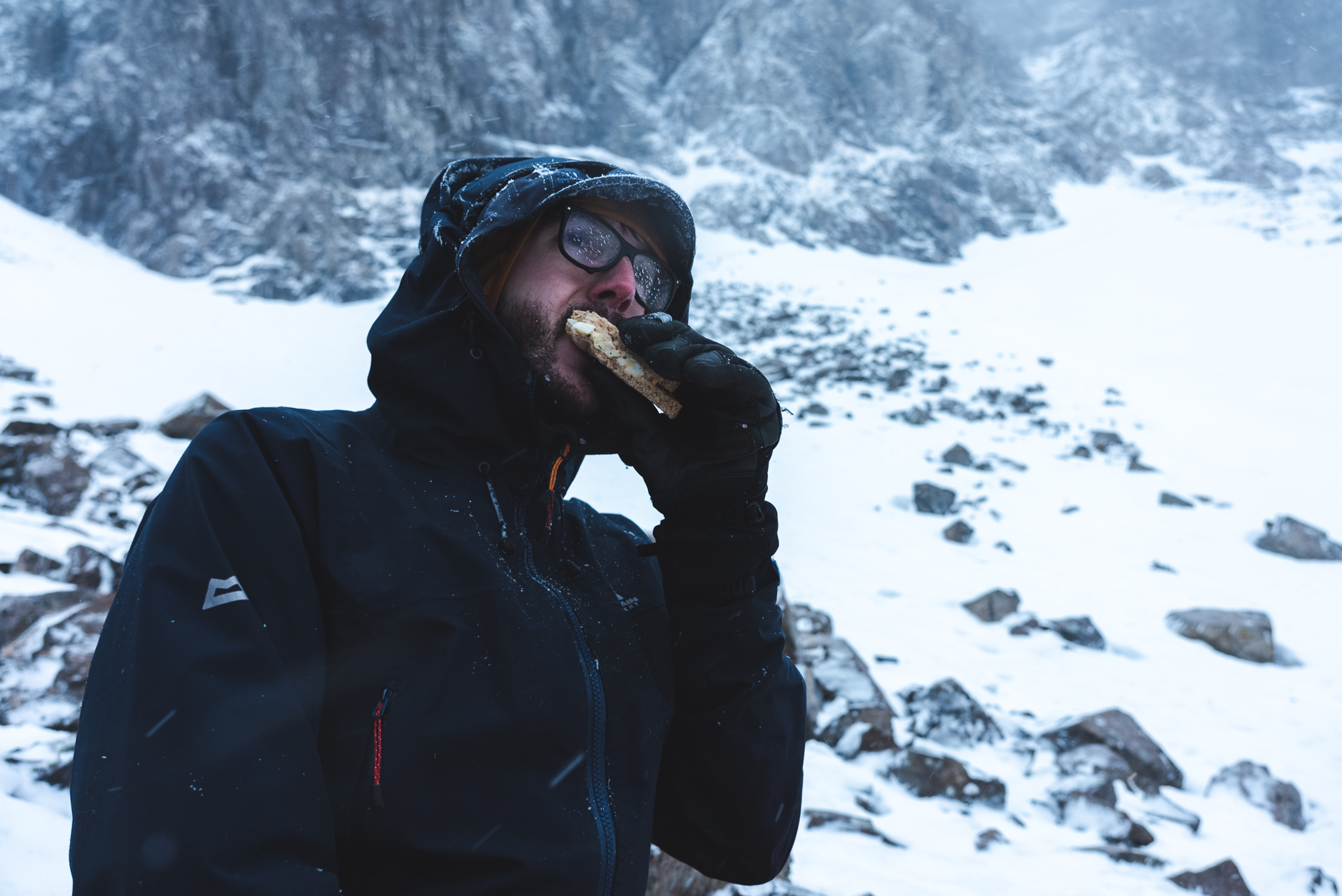 We jogged, walked, jogged, walked, snow turned to rain and on that long walk-run back down we ended up soaked head to toe, grateful for new waterproofs and dreaming of a hot drink back down at the van. The winds grew worse, often pushing us over on the path; I looked up toward the tops shrouded in mist and was so happy not to be up there, I can't imagine how windy it must be up there by now, with what it was like down here.
Down and down the forest path. We arrived back in the light, starving, craving vegan burgers. And ready for home now – to edit, unpack, do mountains of laundry, and get ready to come back up in a couple of weeks time.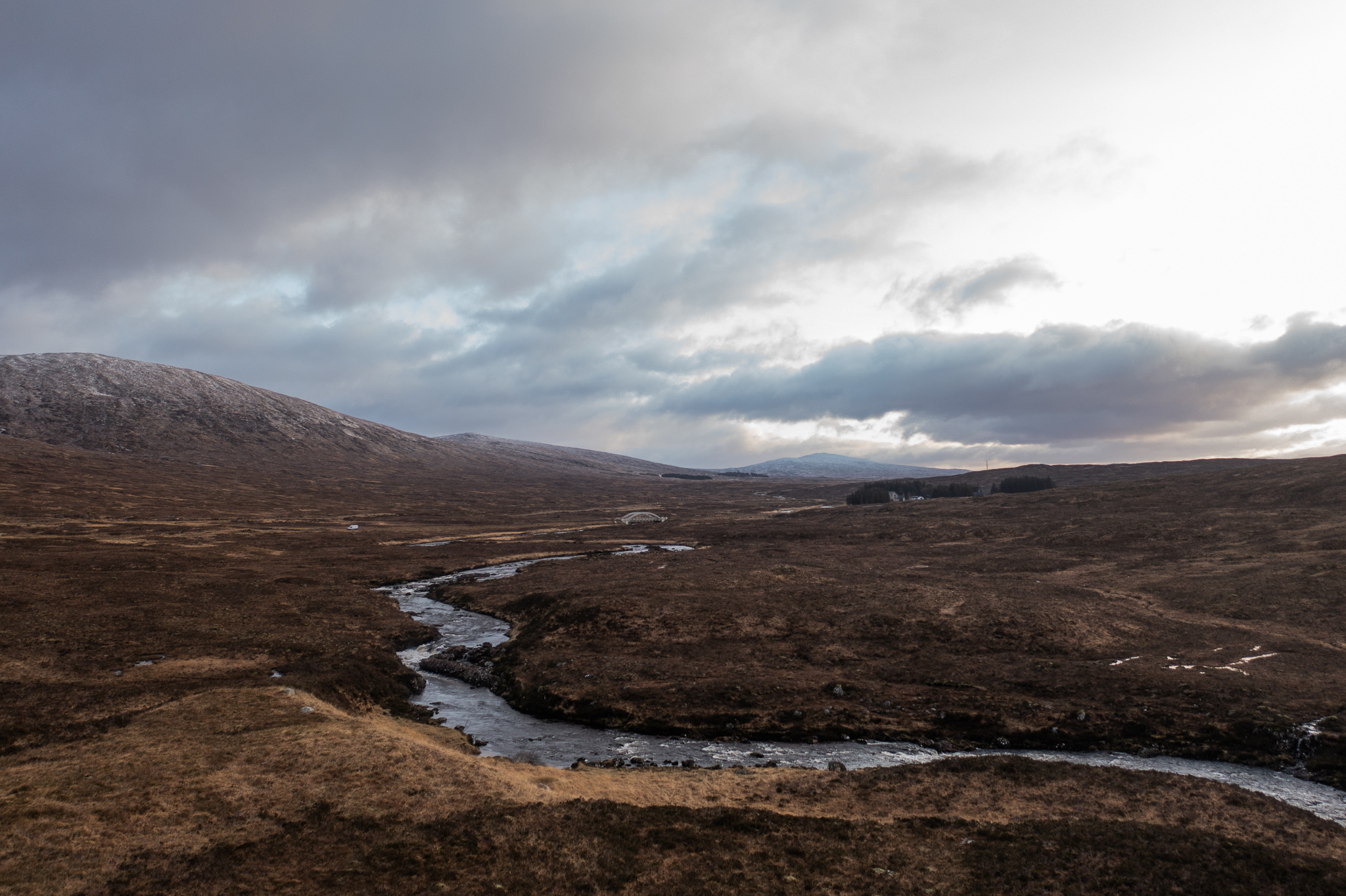 I'm home now, as I write this, snuggled in bed with another coldy-flu thing, I feel like I'm getting my quota of illness out of the way for the year. These last couple of weeks I've been home, the snow has been falling, falling, falling. And we're heading back up there this weekend, to be out in the hills, to test out my new a7r, and most importantly to film Becca's ice mile for real. We're delayed by storm Eunice, deciding not to drive up in 'the worst storm of 30 years' and we'll just take it as it comes, the weather is looking unsettled but I'm hoping for some time in the hills whilst we're up there. And I don't think it will be hard to find winter this time around, it's pretty snowy now.