Don't go to Skye! (in winter)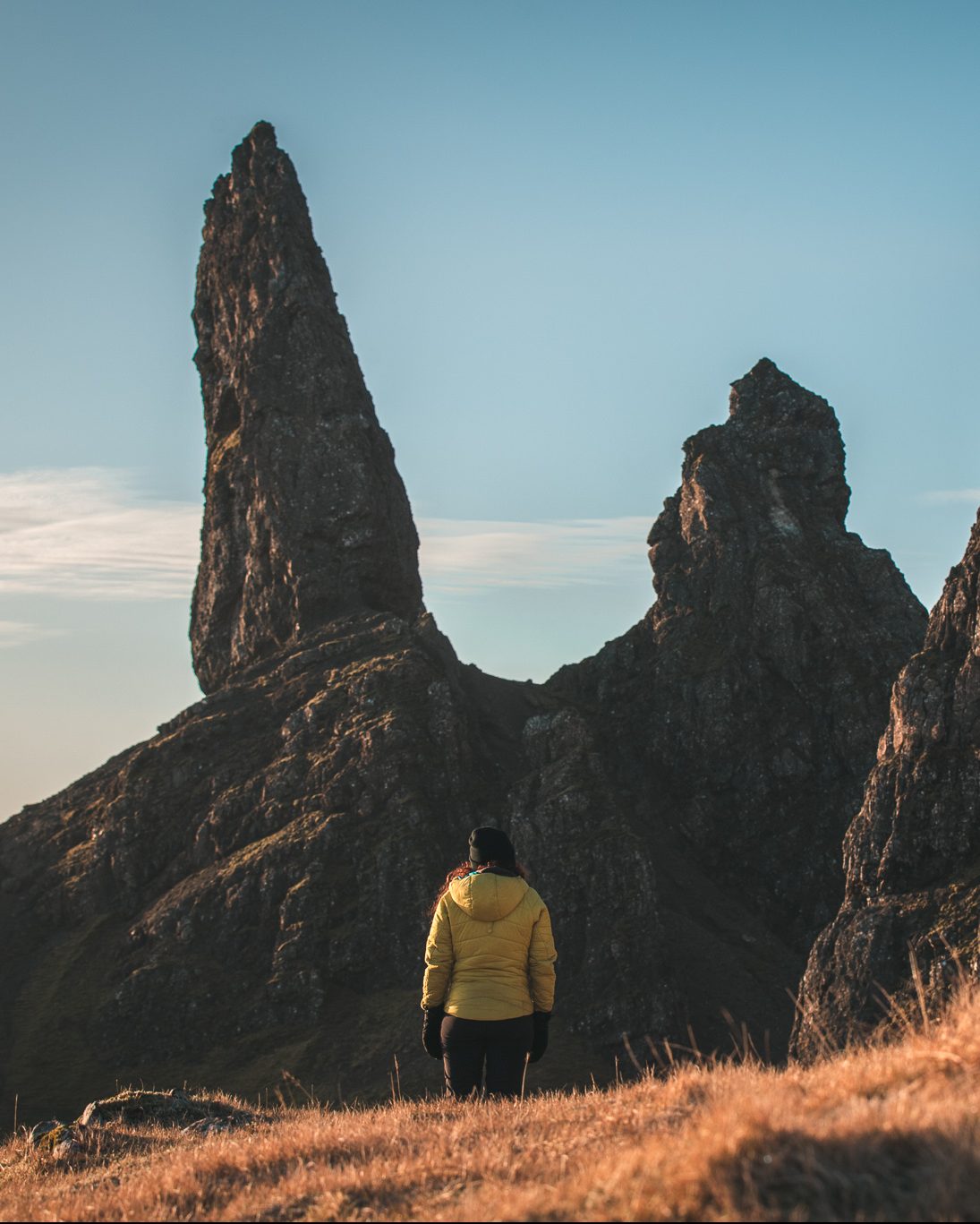 Every day of our trip so far had been stormy, rainy, battering winds and dull, heavy skies. Each morning we woke up to a non-sunrise. But that's the price you pay when you come to Scotland in the winter.
1st January 2019, 06:00, Elgol
But on the 1st, we woke up to quiet. It was still dark when we stumbled around the little cottage, gathering our things and hoping for, finally, a beautiful dawn.
Bleary-eyed we made our way down to the coast, the same place we had found ourselves yesterday when we'd been buffeted by wind and deafened by crashing waves. Today, the shore gently lapped the stone beach in blue hour light and we started hiking.
Light began to hit cliff faces and far mountains, clouds threatened to ruin the sunrise, but they didn't. Colours washed the skies and I held the camera.
"Happy New Year".
It's almost too perfect for the weather to turn so abruptly on New Year's Day. But it happened and I'm just going to accept that Skye decided to take pity on us, and give us some time to breathe in the sunshine. 
After almost flying the drone into the ocean (it's hard doing it from the top of a cliff, when you fly it down it starts measuring in minus metres), drinking a flask of coffee, and nibbling on vegan pastry, we found our way back to car and almost left. But, before we did, we bumped into another photographer, down here on this almost empty coastal beach at sunrise. Scottish, but not from Skye, we talked about the hell that is Skye in summer, how beautiful it was that it was just us here this morning, and that we were just about to leave without seeing the Honeycomb cliffs.
To get there we had to cross a stream (well, we could have gone around but where is the fun in that?) that was not designed for trail running shoes but definitely designed for wellies, and so our new friend built us a stepping stone bridge and carried our kit over for us. The cliffs were worth getting soggy feet over, though.
The rest of the day is a blur of driving, decisions, photographing, standing on the landy, and talking about how lucky we were not to be running into any tourists. We ran into the same herd of Highland Cows that blocked our road a couple of days before, and finally made our way over to Neist Point for the sunset.
16:00, Neist Point
And, you know I mentioned above about not running into tourists? Well, it's because they were all at Neist Point: a long, long row after row of photographer balanced on the cliffside: multiple cameras, tripod, a serious photographer quiet. I found myself whispering. I can hardly imagine what Neist Point is like for summer sunsets. 
2nd January, 05:30am, The Old Man of Storr
"Good morning." Another early morning. Bleary eyes and lots of coffee. The Old Man of Storr is almost two hours away from our little cottage in Elgol but we have planned to get there for sunrise, so we suffer another pre-dawn wakeup. It's been a trip of very early mornings and I'm excited for my own bed and a lie in tomorrow morning. 
We get there whilst the moon stands out against teal skies with creeping orange and pink coming to meet it from the horizon.  It's calm and clear, better than yesterday, and everything we want for a sunrise. A little late, we begin the hike in to the Storr, which is a little longer and steeper than anticipated. 
Part way up, Michael continues forward and I stop to catch my breath as well as the colours of the sky. For a photographer or videographer there's always this anxiety that with every minute the views and colours can dull and become less beautiful, and you've missed it. So I waved Michael goodbye and started unpacking the DJI. 
And it was so worth it. 
I saw the Storr with the drone before I saw it with my eyes. Flew it back down and continued up there, on foot, scanning the landscape for Michael and noting the tripods dotted about all around this beautiful landmark.
Again, I was so glad that we were here in winter. Despite the fact that there were a few of us, it was calm and there was plenty of room around us to feel like we were having the moment to ourselves. 
More coffee, more vegan Co-op pastry, we stayed at the Old Man of Storr for what must have been an hour or more, watching the sun rise and hit the rock and grass with golden light. I think it's one of my favourite landscape sunrises, ever. Everything about it was just perfect. 
And I even got Michael to pose. Can you see him?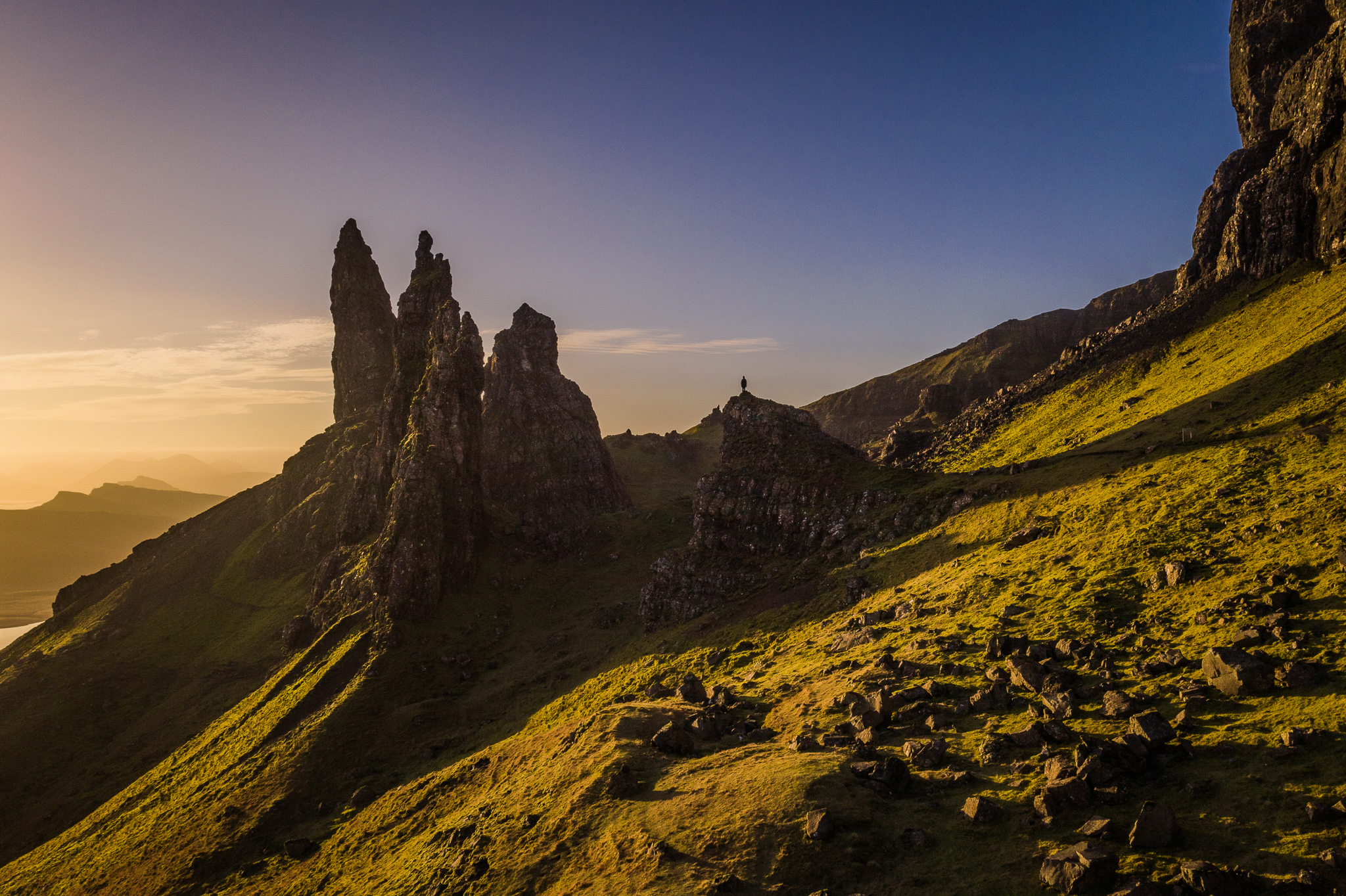 It was hard to drag ourselves away from the Storr but we had to. We'd decided we would drive all the way home tonight (what ended being a 10 hour drive) and we still wanted to fit in Kilt Rock and Quiriang, and catch the sunset before we set off. 
13:00, Kilt Rock
We arrived at Kilt Rock with the sun still hitting the ocean and the cliffs. And waited, charged up the drone batteries, ate lunch, and waited for other drone users to finish up before sending ours up there over the waterfall.
The thing about Kilt Rock is that most of the photos you see look like this one above, so you might think that this is the view you'd get from the viewpoint. 
Nope, the waterfall is almost underneath the viewpoint so you can't really see it properly and, in any matter, Kilt Rock is actually the cliff formation located where the photo was taken from, and is the actual viewpoint which you can see pretty well. Apparently it looks like a kilt.
Unfortunately the clouds rolled in just as we started flying, giving way to a moodier view then what we'd hoped for.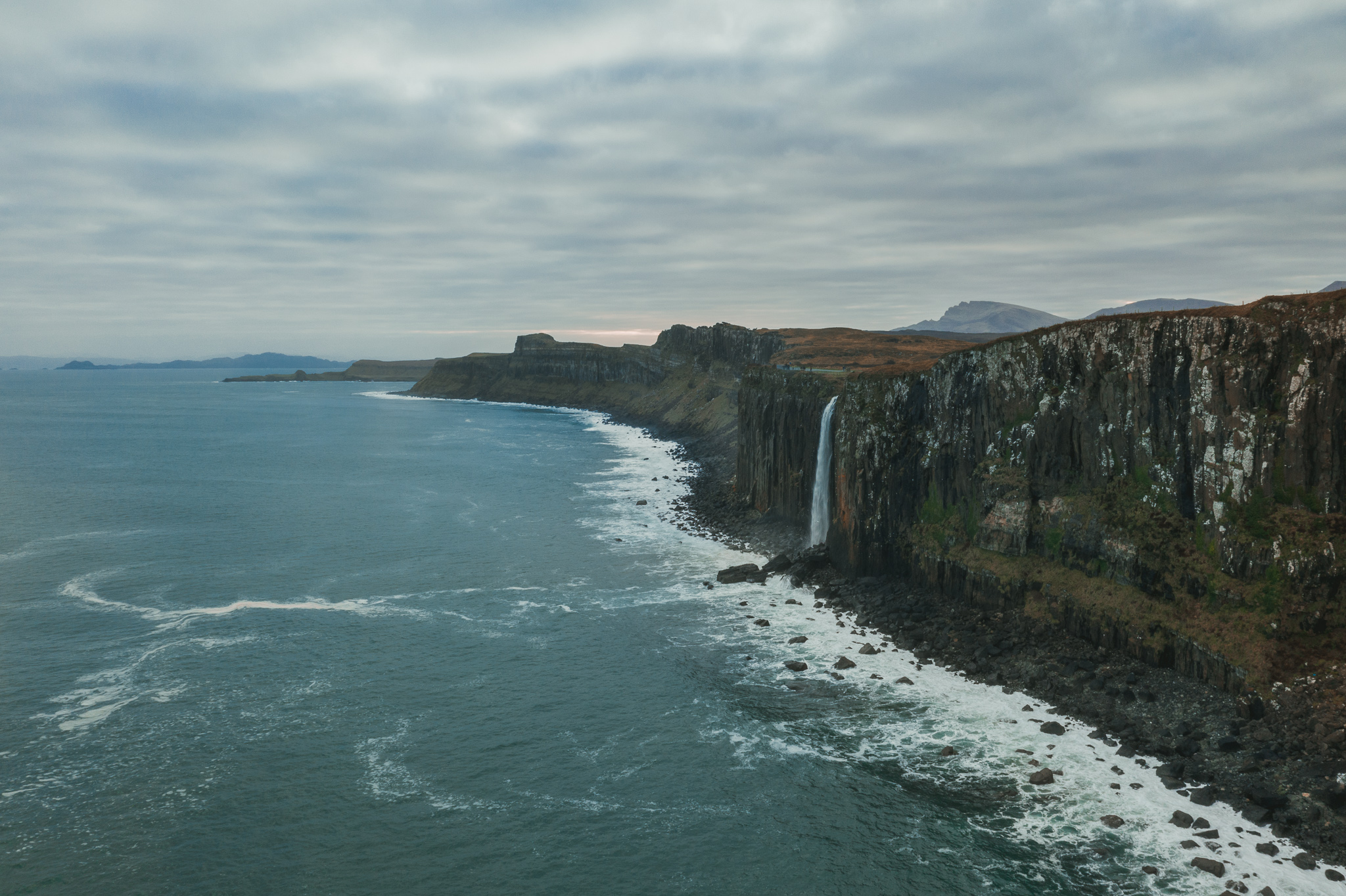 We played around with the waves, the ocean, something both of us were fascinated with capturing, more so than the sweeping landscapes. I almost flew the Mavic 2 Pro in the sea again (cliff edge flying and minus meters, again). 
Time for a coffee.
We found ourselves in a coffee and art studio attached to a couple's house just down the road from Kilt Rock, with the most beautiful artwork and photography created by the woman who claimed she was an 'amateur', which then made me feel like I couldn't even call myself an amateur, anymore. Sometimes people just don't know how good they are. We bumped into Henry, who told us about his harrowing descent to the bottom of the waterfall we'd just been looking down at, and we were almost ready to just go home before we were convinced to just go and see Quiraing. 
15:30, Quiraing
There's no hike, no difficult journey to beautiful landscapes. This road and a wander of 3 minutes gave us this view.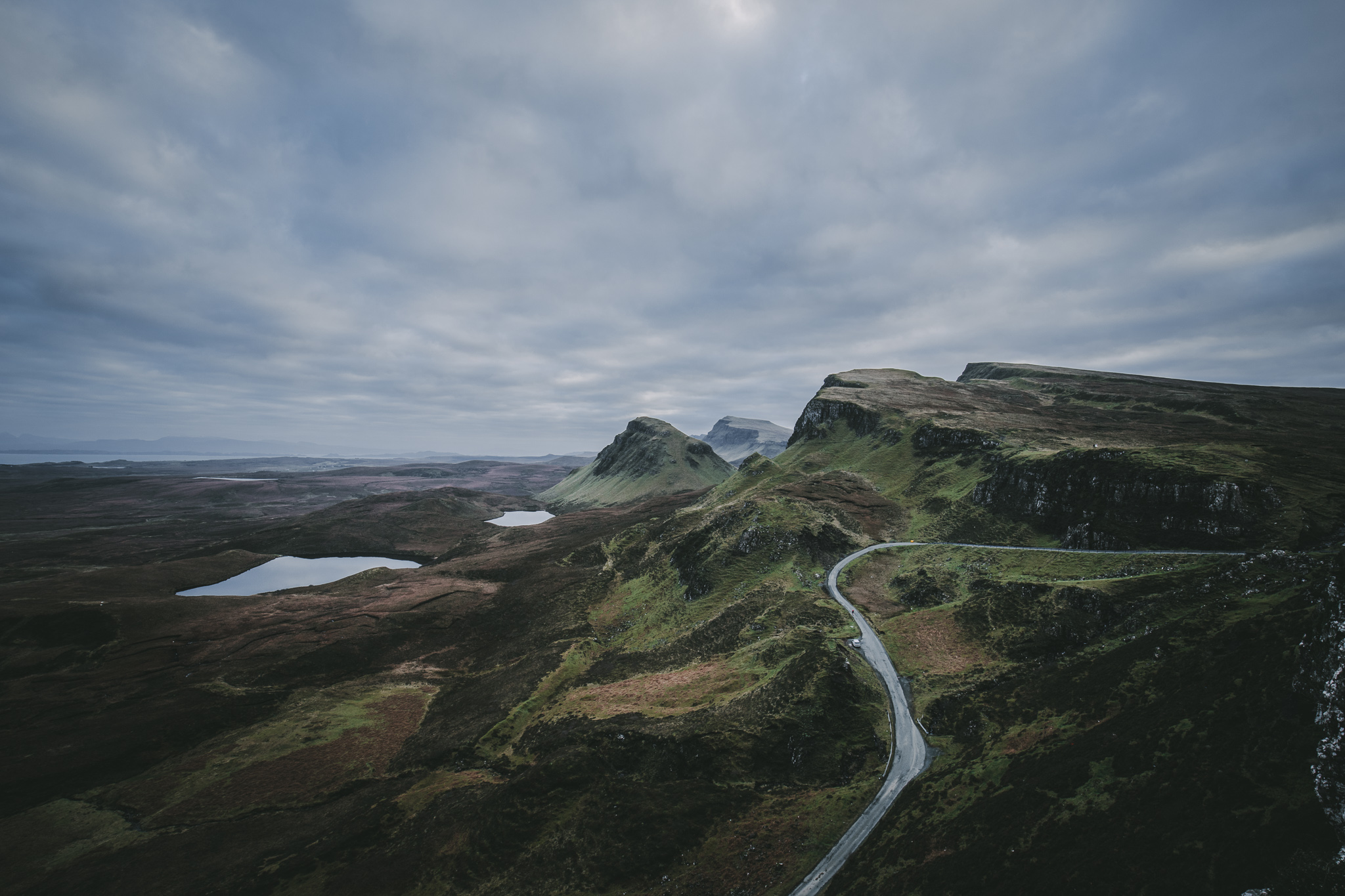 Tired, a little grumpy, and not looking forward to the journey home, we experienced Quiraing in a way that makes me want to go back and do it all again, with different skies, more time, and a full drone battery.
Sunset didn't really make an appearance, so we got back in the car and started on our 10 hour journey back, switching drivers until we found our way back to Leeds with me soundly asleep in the passenger seat. 
So, why "don't go to Skye in winter"? Well, I want to go back, and the more of you that realise it's beautiful there even when it's cold, the more I won't have it to myself.