You know when a simple comment leads to an adventure you didn't quite expect? 
That was how storms, deer, Skye, crashing seas, and Highland Cow traffic jams happened this New Year. 
It came from an offhand comment that it would be nice to go way for New Year, to have an adventure, to do our first proper Scottish ice climbs. A comment turned to a cottage-booking, looking at climbing routes, planning and packing and watching the weather.
28th December 2018, Leeds -> Fort William
Instead of edging closer, the end of December barrelled into us at full-speed, hitting us during that post-Christmas pre-New Year confusion. But, we managed finally packed the last of our supplies into the car. And then we set off North, up to Fort William. Into gloomy skies not heavy with snow but, instead, rain.
No snow. No ice climbing.
Rain. No trad climbing,
We started collecting our thoughts as we stopped off on the way at a beautiful pub in Glen Coe called The Clachaig Inn which does a damn good vegan haggis.
Over haggis, tiredness, and mulled gin, we reassessed our trip and came to the conclusion:
"We'll just make the most of it."
29th December 2018, Fort William & Glen Coe
Mountains are beautiful under the crunch of snow, the howling wind, the hammering rain. That's the one thing that can never be taken away from them. The stood half obscured by mist and, despite my disappointment that the snow had disappeared just in time for our trip, I felt calm by just being there. 
Our first day in Scotland dawned with raging winds and a dull sky. We woke up for the sunrise but, on hearing the winds, went straight back to sleep. Rolling out of bed mid-morning, we found our way to Fort William's vegan cafe, Wildcat.
Fun fact about Wildcat: they have a wall of mugs that people can borrow if they don't have/ don't want to buy a reusable cup, as they don't provide disposal cups. Kudos, Wildcat. 
You know when you're in need of a lazy day? Not the duvet kind of lazy day, but the meandering, slow kind of lazy day where there's no pressure to do anything?
That was us. After rolling out of bed and eating a lazy vegan lunch, we found ourselves driving around in the landie exploring Glen Coe in the light rain and low mist. And, we were lucky; we found a drone-friendly, rainless window. But we didn't find what we were actually chasing – 'the light'.
We found our way back to Fort William via a disappointing 'island' with a Lighthouse, and then to food, Lightroom and excited dreaming.
30th December 2018, Glen Etive -> Skye
Another dawn wakeup.
Rain.
Like, bad rain. 
"We'll make the most of it".
We got up in the darkness despite the wind and the rain anyway – we knew we wouldn't be seeing the kind of sunrise we wanted but it's okay, we were going deer hunting, vegan photography style.
You know that kind of dull sunrise where all of a sudden it's gloomy daytime and you're not quite sure when the sun came up? It was a bit like that. But we saw them, two stags in the distance, then two does in a field as we passed by. 
We stopped, took photos, I walked alongside one for a while, keeping my distance. 
On our way back, happy we'd seen deer, we saw, straight ahead, in front of us – a WHOLE family of deer! Just there, in the one-track road: a stag, several does, and baby deer.
Unmovable and curious. They just stood there.
We sat there, and slowly, the stag begun to move towards us. 
I grabbed the carrots out of the back of the car, cautiously wound down my window, and offered them out to the deer; within a minute the carrots were gone and the deer impatient for more.
Then, we headed towards Skye.
We drove through the rain, splashing in every puddle we could, arriving on the island as the sun was 'setting' i.e. it just got dark again because, well, clouds. 
And…
We got stuck behind a herd of Highland Cows!
FOR AGES!
Driving a landie that slow is actually quite difficult, I ended up changing into the low-range gear box.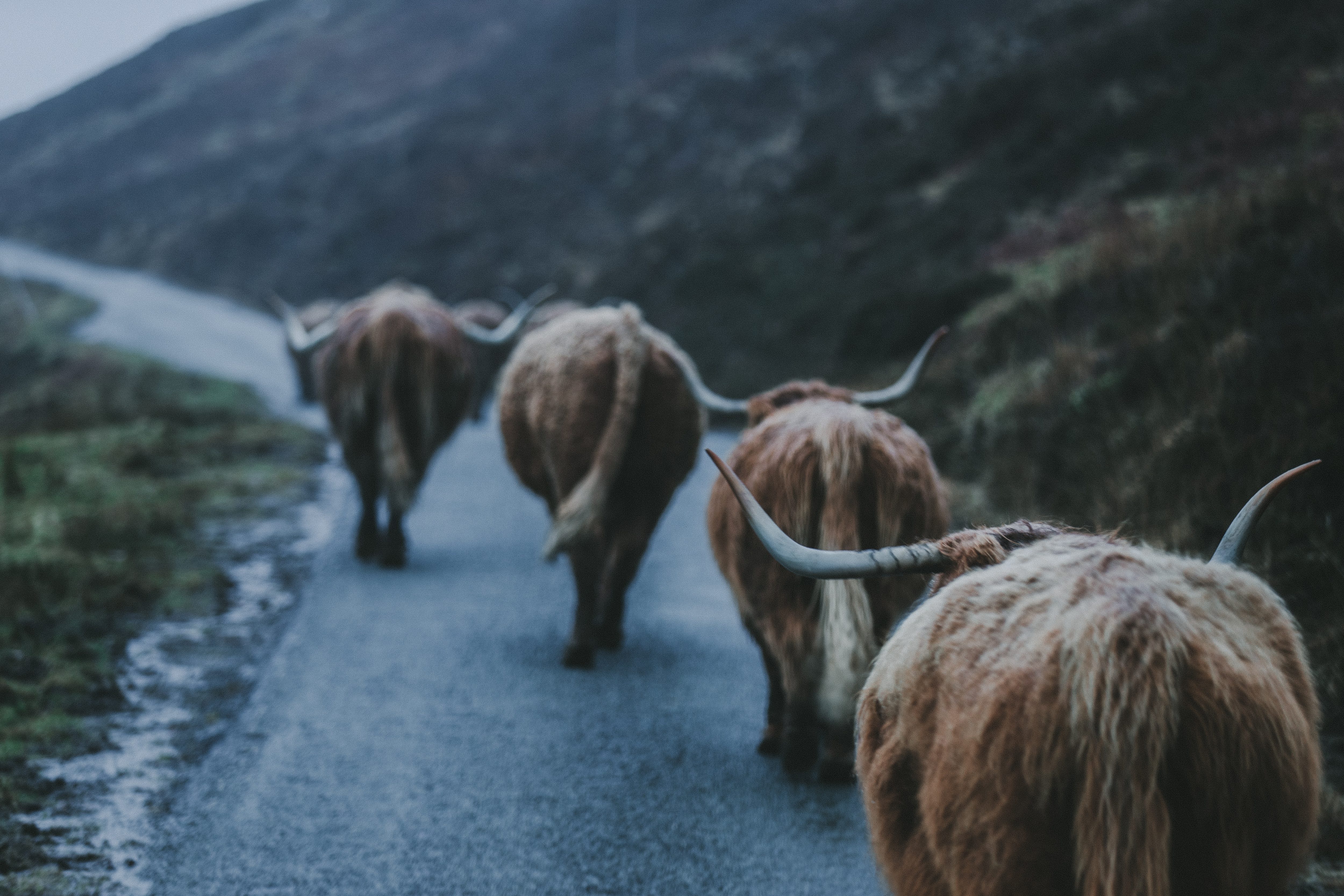 15 minutes later, the cows parted and we found our way to our little cottage all the way near the end of a single track road.
Low, hobbit-like doorframes, no TV, terrible wifi, and a proper wood-burning stove. The perfect, cosiest place to wait out a storm in Scotland.
30th December 2018, Skye
We woke up early enough for the sunrise again.
No sunrise.
Just storm, storm, storm.
We visited the coast, just over the hill from the cottage, and got soaked. The waves crashed, I attempted a new kind of self portrait. It failed:
We felt the full force of Scottish weather, and hungrily looked to the Cuillin Ridge, thinking of our broken climbing plans. Not this trip. But we'll be coming back.
Instead, we turned our attention to another part of the coast: Talisker Bay. 
The ocean, like the mountains, has a certain kind of beauty that isn't compromised by hellish weather. Talisker Beach may not have been at it's most photogenic when we were there, with its dull sky and rain, but we spent a lot of time there nonetheless – experiencing the angry seas and watching the waterfall get blown back up the cliffedge. 
Then: back Home. Well, temporary home.
A dinner of vegan haggis, neeps and tatties. Whisky and champagne. A roaring fire and staying up just after midnight.
Hoping for a beautiful sunrise (finally) to appear and welcome us into 2019.
A note on not feeding the deer
When we feed wild animals like deer, they are encouraged to stay by the road, and they also tend to approach cars without fear. 
This sounds wonderful, who wouldn't want to get up and close to beautiful, wild deer? But it actually leads to car accidents (usually involving locals), and causes the deaths of deer as well as risking the lives of the drivers involved.
—
A few months back a friend/ acquaintance of mine – from instagram – posted a beautiful close-up of a Stag up in the Scottish Highlands. Just stood there, frozen in time and seemingly head rested on hand – tame. 
It was a wild stag. But I didn't really think on that. I just saw the beautiful photography, a beautiful animal, and wanted to live that experience. I wanted to get up close to these beautiful creatures in their own environment: we researched the best place to see deer in the wild, and we went there one rainy, December morning. 
There's nothing wrong with any of this, by the way. Seeing wild animals in their own environments is the best way to see them, if you do it right.
The mistake we made was buying carrots on the way because we thought it would be nice to feed them. 
Common sense should have dictated that it's not, actually, a smart or ethical thing to do.
Mistake made, lesson learned, lesson passed on.
So please don't feed the deer.