Sometimes learning is a series of small successes, bringing you closer, and more comfortable, to hitting your goal. Aaaaaand sometimes it's small failures. Trying, failing, and feeling okay about saying "it's fine, I can come back and try again next time."
That's kind of what happened last week at Almscliffe.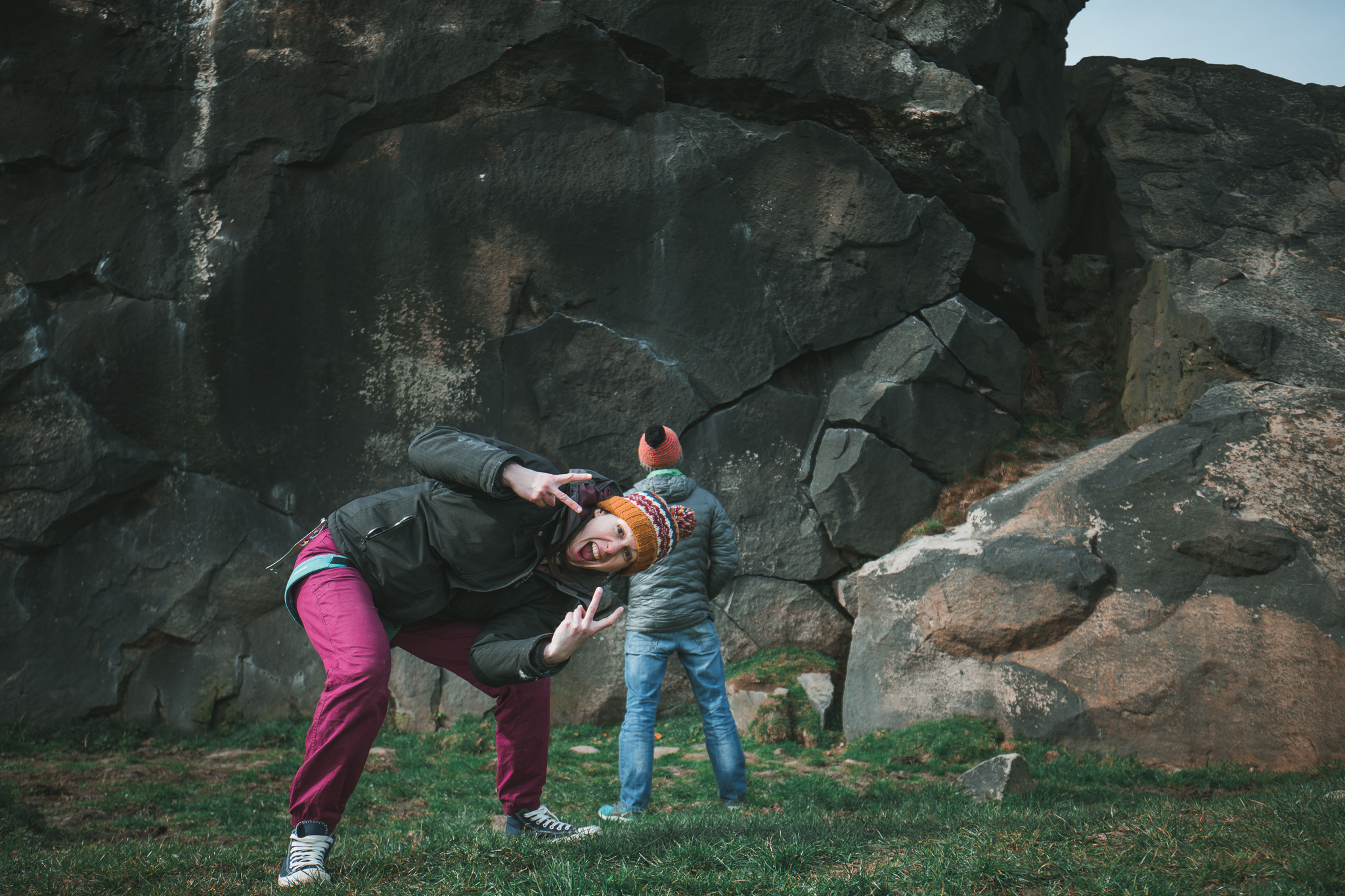 It started off pretty good. I rocked up a little later than Katy and Tom, so by the time I'd arrived they'd already warmed up on a couple of routes. 
It was Tom's first day back at Almscliffe after his nasty no-gear, ankle-breaking, trad fall on Black Wall Eliminate. It was my first time actually going out with the sole purpose of rigging a top rope, abseiling down, and photographing a climb. 
Aaaand, it didn't quite go to plan (for me, anyway). 
After a snack and some wandering around the crag, Tom and Katy settled on Overhanging Groove, HVS 5a. Pretty bold for a first day back after injury, but that's Tom. 
I scrambled up a nearby boulder, Tom breezed it with only a few squeaks of fear, Katy breezed up it too. I got some shots, and we started thinking about the next top-rope rigging-worthy climb. 
Tom was already ready to get back to an E1, Z Climb Eliminate. Told you – bold. 
Now, I know how to build trad anchors but a) I was rusty and b) I also have never built an anchor and rigged a rope with the sole purpose of abseiling down it. I had my grigri. I kind of knew what I should be doing from Google and YouTube but, nonetheless, all three of us headed up there to set me up so I didn't make any stupid mistakes. 
Anchor built, safe, happy, the others went down, I'm ready to go. 
I was just lowering myself down when I looked down and over at Katy and Tom. They were not below me; they were about 15 meters away, standing at the bottom of their climb. We had waaaay misjudged where I should be. 
Clamber back up. Anchor unbuilt. Wander over the top to the actual right place.
Hm, not really many places to rig an anchor. But still – places. One piece for safety, and I got to work -anchor precariously on a ledge. Three pieces? Not enough. Four cams and a hex? Perfect.
But actually, not perfect. As… 4 pieces are not actually very easy to equalise. One sling, two, three, ten thousand locking carabiners later and I have an anchor that's off to the side and about 2 meters along. Aka really terrible.
And all this time? Tom losing E1 psyche + me not wanting to ab out and swing ridiculously far.
Anchor dismantled. 
At least, whilst we were faffing about, Baz got his first 7a boulder over on the other side of the crag.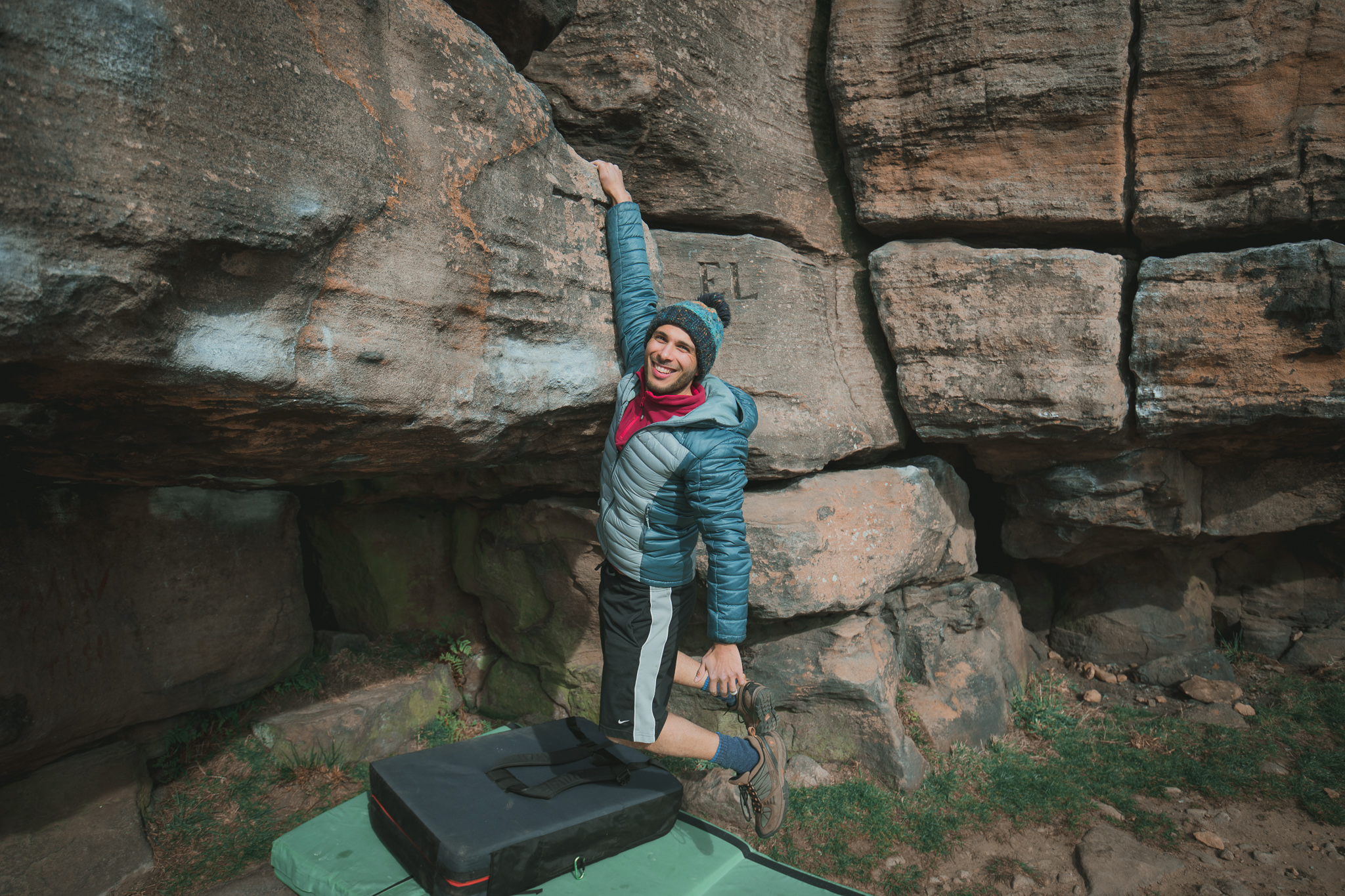 Sometimes you're really psyched and achieve what you want to achieve.
Other times you build one anchor, realise it's in the wrong place, then build another that's so bad you don't want to use it, and just go home.