You may have noticed that many of my blog posts don't seem to be in chronological order. This is because I am a terrible human being and can't seem to write and create videos on a normal timeframe. I'm working on it, promise. 
21st December, 2019, 05:00am
Our alarm goes off in the darkness. It's just 5 days before Christmas, and today we're heading off to the Lake District to trad climb. It's wet. It's miserable weather in the UK. Classic. 
We had originally planned on doing some winter climbing this weekend, but over the last few days we've watched the forecast and webcams in horror as the rain and warm temperatures swept over the mountains, melting the snow and leaving us with bereft of plans. 
I have wanted to climb Corvus for some time now.
We almost did it a few months back but the weather felt too good for it so we tried (and bailed off) a different climb instead. This time we were actually going to do it. 
Why climb Corvus in the wet?
Corvus is a 147m, five pitch trad climb found on Raven Crag, Combe Gyll, in Borrowdale in the Lake District. It's graded Difficult, and so is quite a lovely climb for beginner trad climbers.
 It's supposed to be a really good climb to do in the wet, and in big boots (instead of climbing shoes) – so we decided we would test that out. 
09:00am
We pick Rory up from Penrith Train Station. We have never climbed with him before and it will be our first time climbing as a three on a multi-pitch, I was pretty excited to have some downtime on the climb to actually use the camera. Time when I'm not climbing or belaying – a luxury. 
This is where we parked. It's a small car park and the best place to park for Corvus.
54.511157, -3.160623 for Google Maps.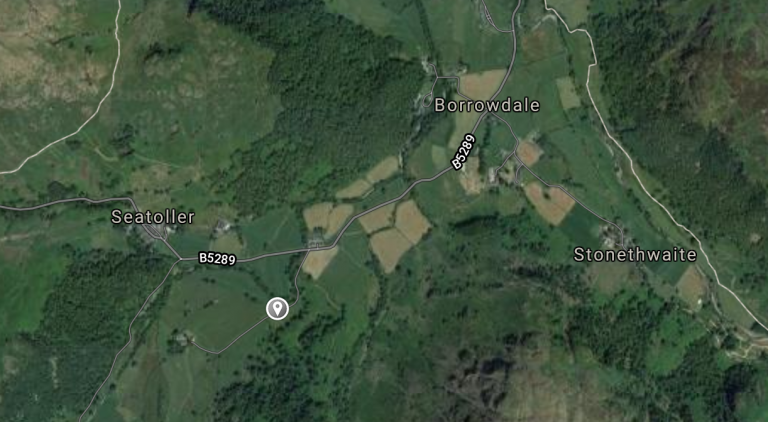 It's gloomy. Gloomier than expected, with low hanging mist obscuring the peaks and a fine sprinkling of rain ever falling, so soft and slight you couldn't really feel it. It feels like the start of a proper adventure.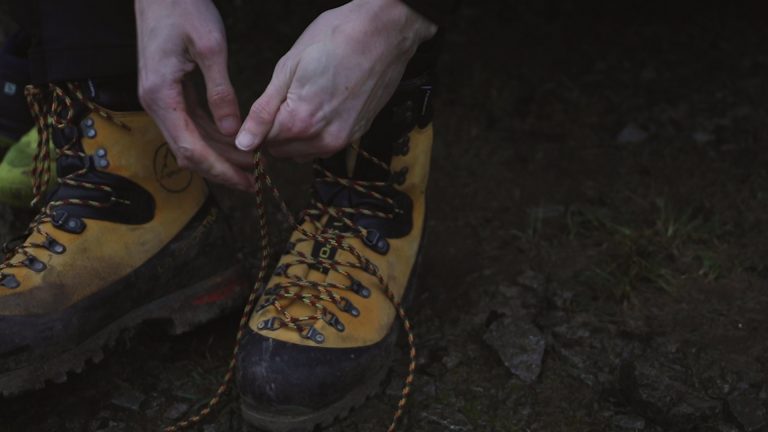 I think in the guidebook it says the approach is an 45 minutes to an hour. For us it was just under an hour and a half (I'm always slower than the guidebook). 
For the first part you can follow a newly built very muddy road up, steadily inclining before you turn off and head into the valley. From there it's a little boggy, especially on wet days like this. You continue past other crags before finding yourself at Raven Crag.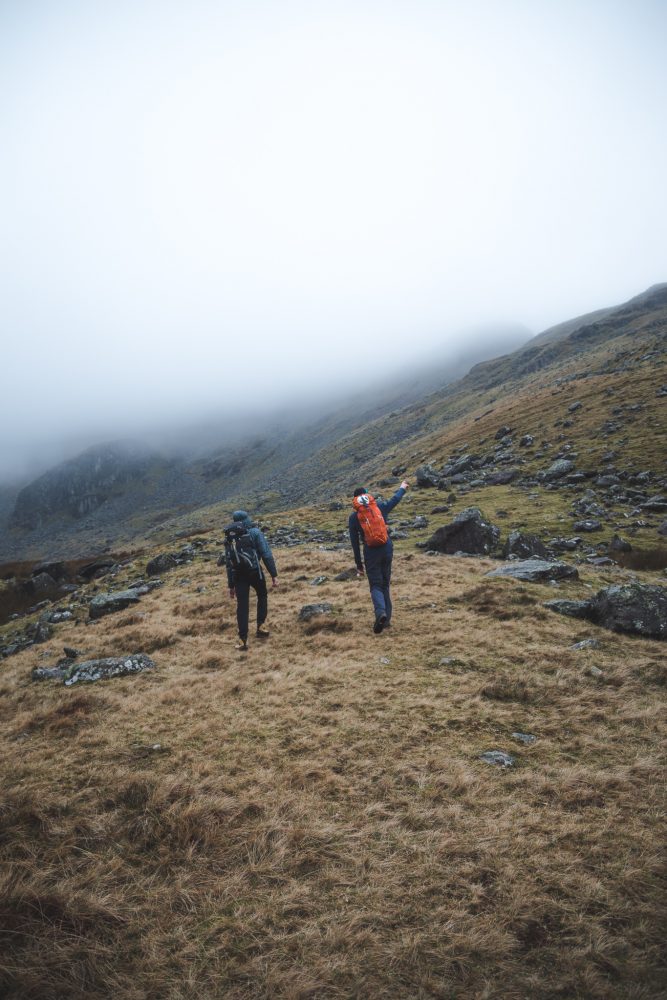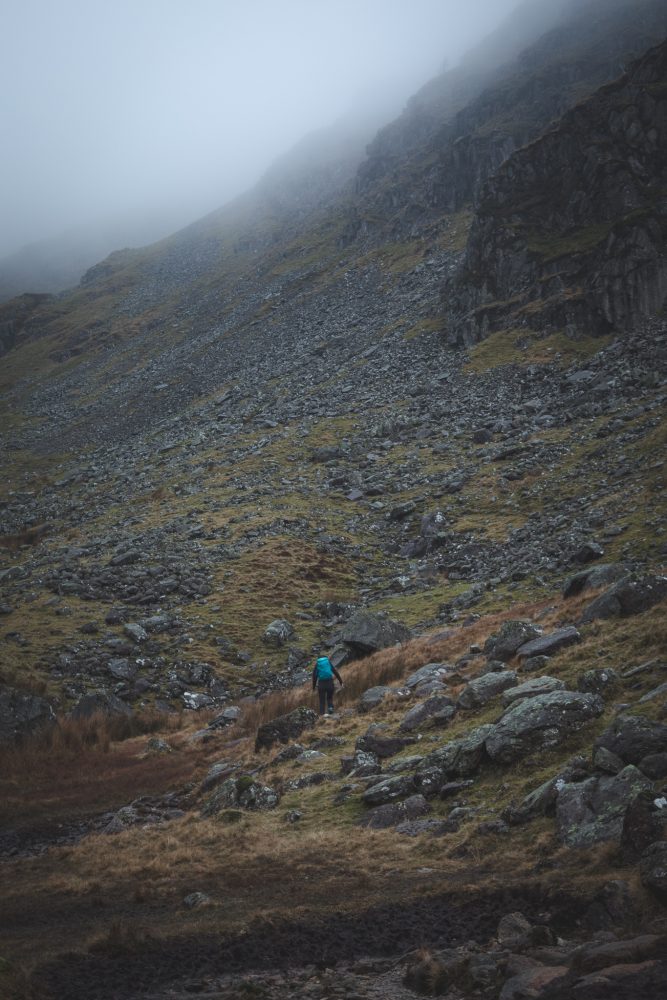 We arrived, and stared up at the route, which disappeared into the mist.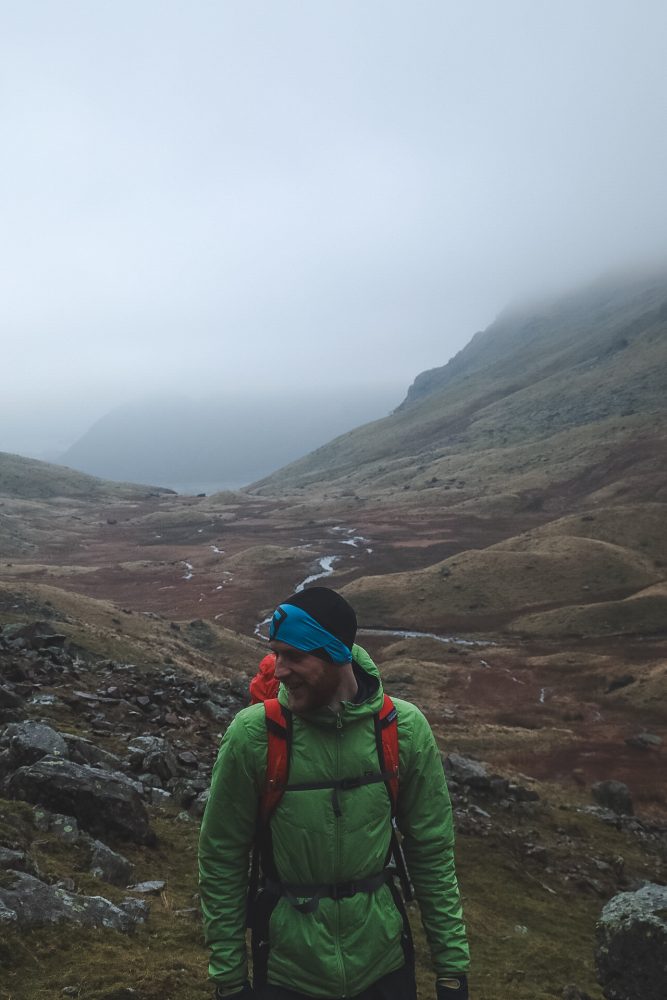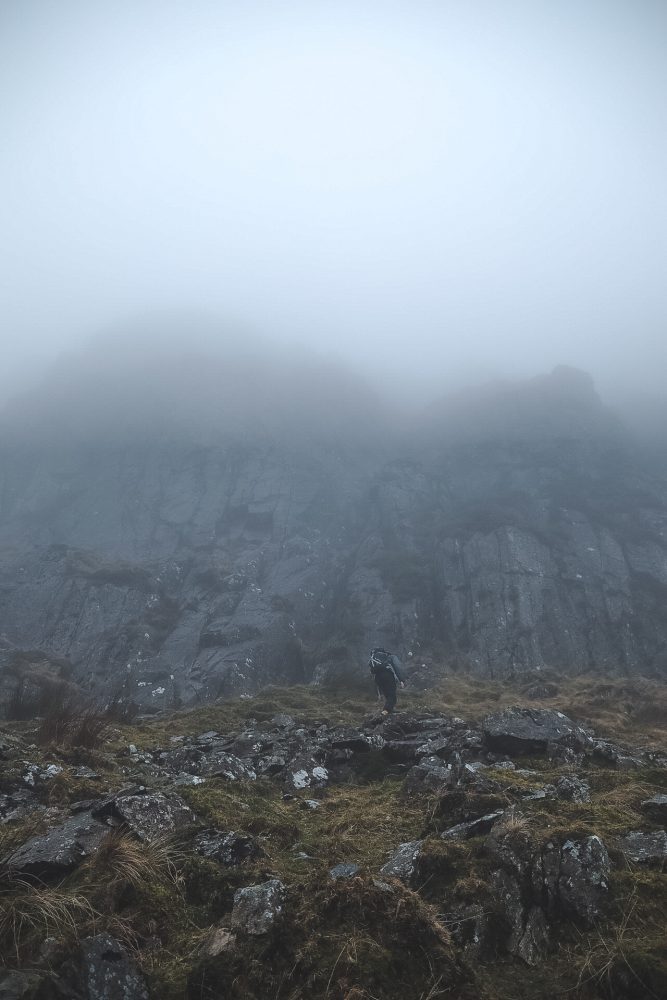 11:00am
We let a group who's done the route before go ahead of us, as they'd done the route before and we assumed would be faster than we were. Remember this fact, as it's important later. As it delayed the start of our climb for around an hour.
"Start up slabs then move right to a ledge in the gully. Climb the first V-cleft in the left wall to a ledge and block belay."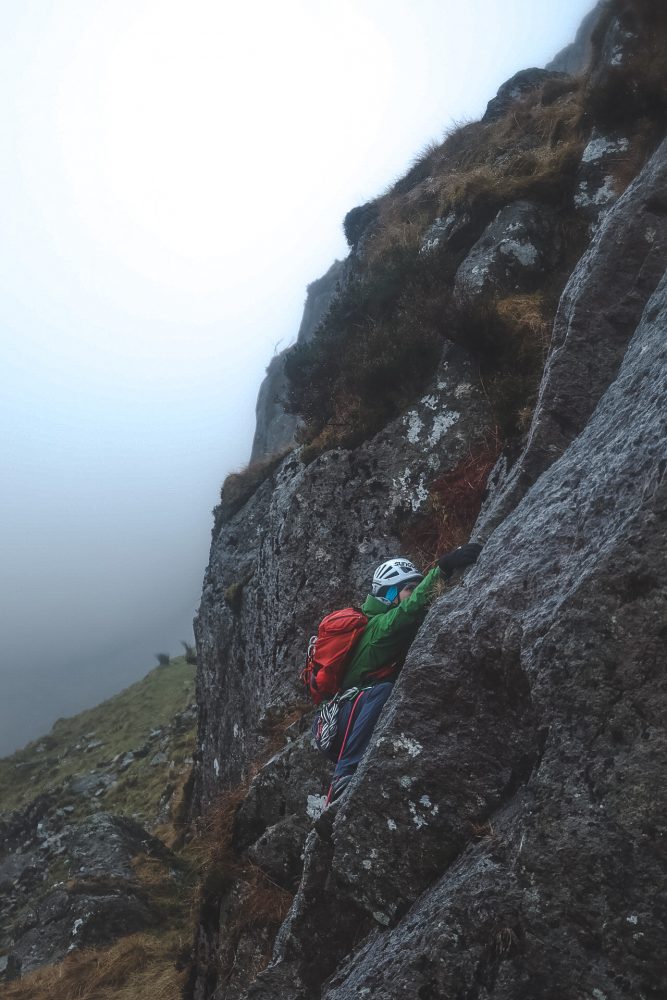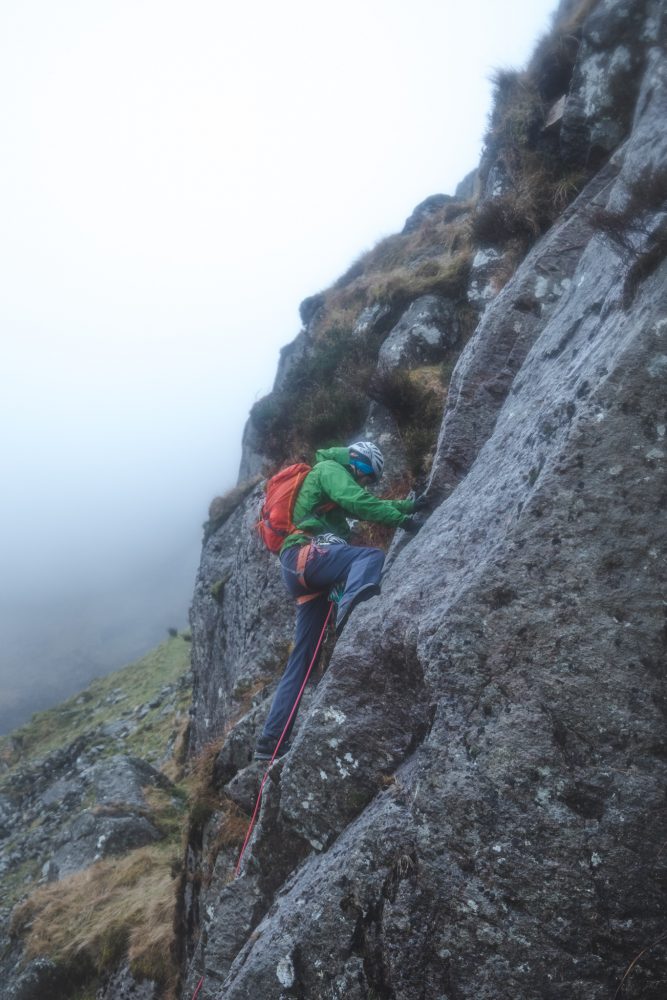 Michael started up the first pitch but came down, uncomfortable with how wet and slippery the route was and with climbing in his big boots for the first time. Rory went to do the first pitch instead. It began raining more as Rory began climbing and, as the first pitch wound right and into a chimney/ gully, it turned into a waterfall, soaking all of us as we climbed up. 
There weren't any particularly hard moves on this pitch, but moreso it was a careful undertaking in the wet with each foot placement double checked, and each hand sinking into a puddle as we pulled on slimy jugs. 
"Traverse left along ledges to a corner. Climb the corner, which deepens into a chimney, and a slabby scoop to a good stance."
My turn to lead.
In my own opinion this pitch felt easier than pitch one – the traverse was decent, on a large ledge, and the climbing up the corner felt steady. 
"A rib 5m right is climbed to gain a steep slabby wall. Belay on the right."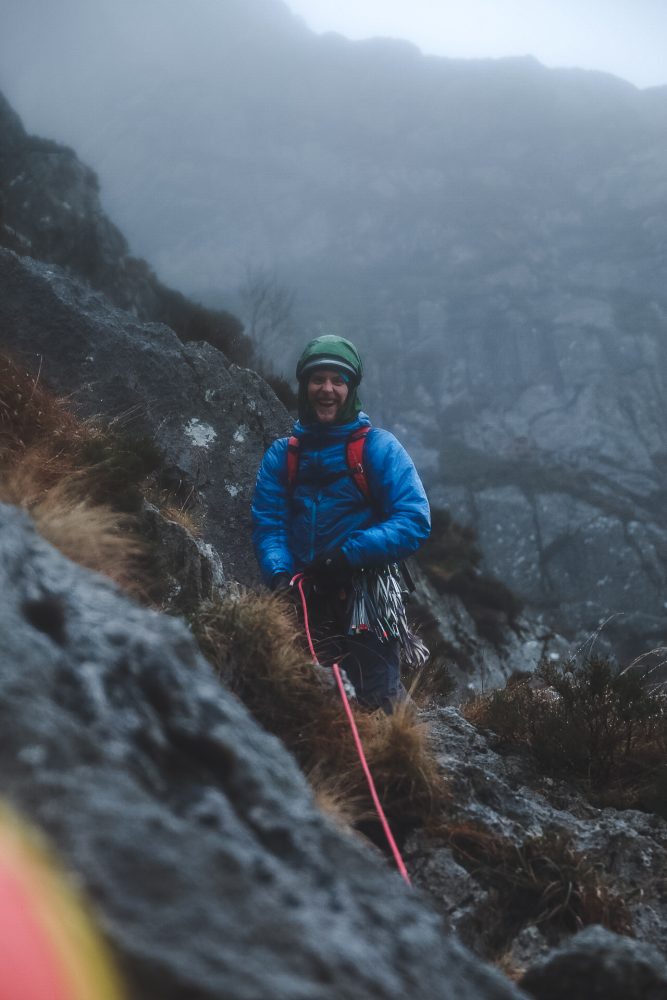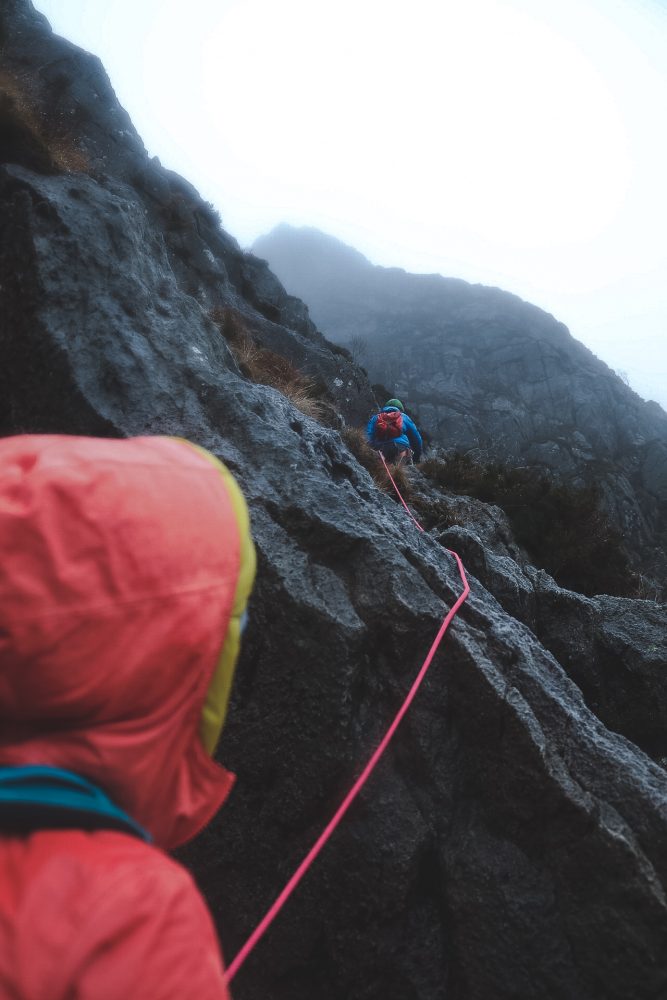 Rory's lead. After a short scramble he began climbing the rib, out of sight. It began to properly rain at this point. My thin waterproof no match for the weather. It was cold.
This pitch was potentially the most awkward so far. There's just one move – it's not super tecchy or difficult but you have to manoeuvre yourself up onto a slanting ledge – made tricky and awkward by the slimy moss and rain. Rory didn't really enjoy leading this part and Michael and I noticed this specific part when seconding. It took me a moment to get my foot right to lever myself up. 
After this awkward move, and seeing even more soaking wet mossy climbing ahead, Rory built a belay around 20-25 meters into the pitch, wanting to take a breather from leading. I did the rest of the pitch (which felt okay) and belayed the others up to the hand traverse.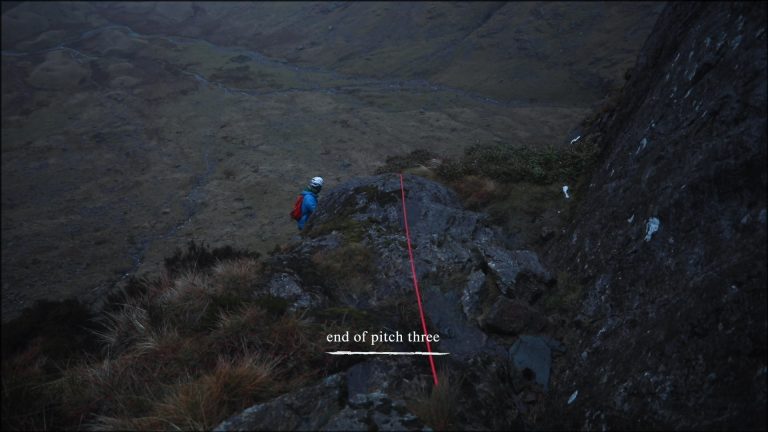 "The Hand Traverse – a line of flake hand holds leads left across the wall and to a recess."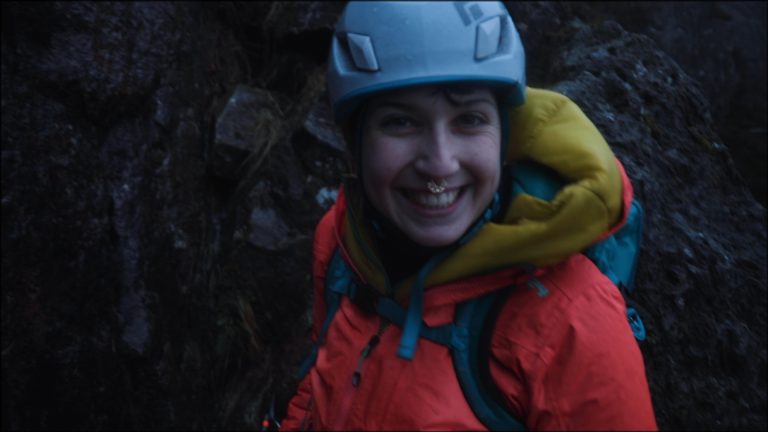 The highlight of the climb.
I wasn't going to get the photo I wanted as it became dark around us. The rain came down on us even more heavily and we stopped to get our head torches out as dusk fell. Rory and Michael are thoroughly miserable. I am still absolutely stoked (and cold, and wet, and a little nervous – but still stoked).
I racked up and started climbing.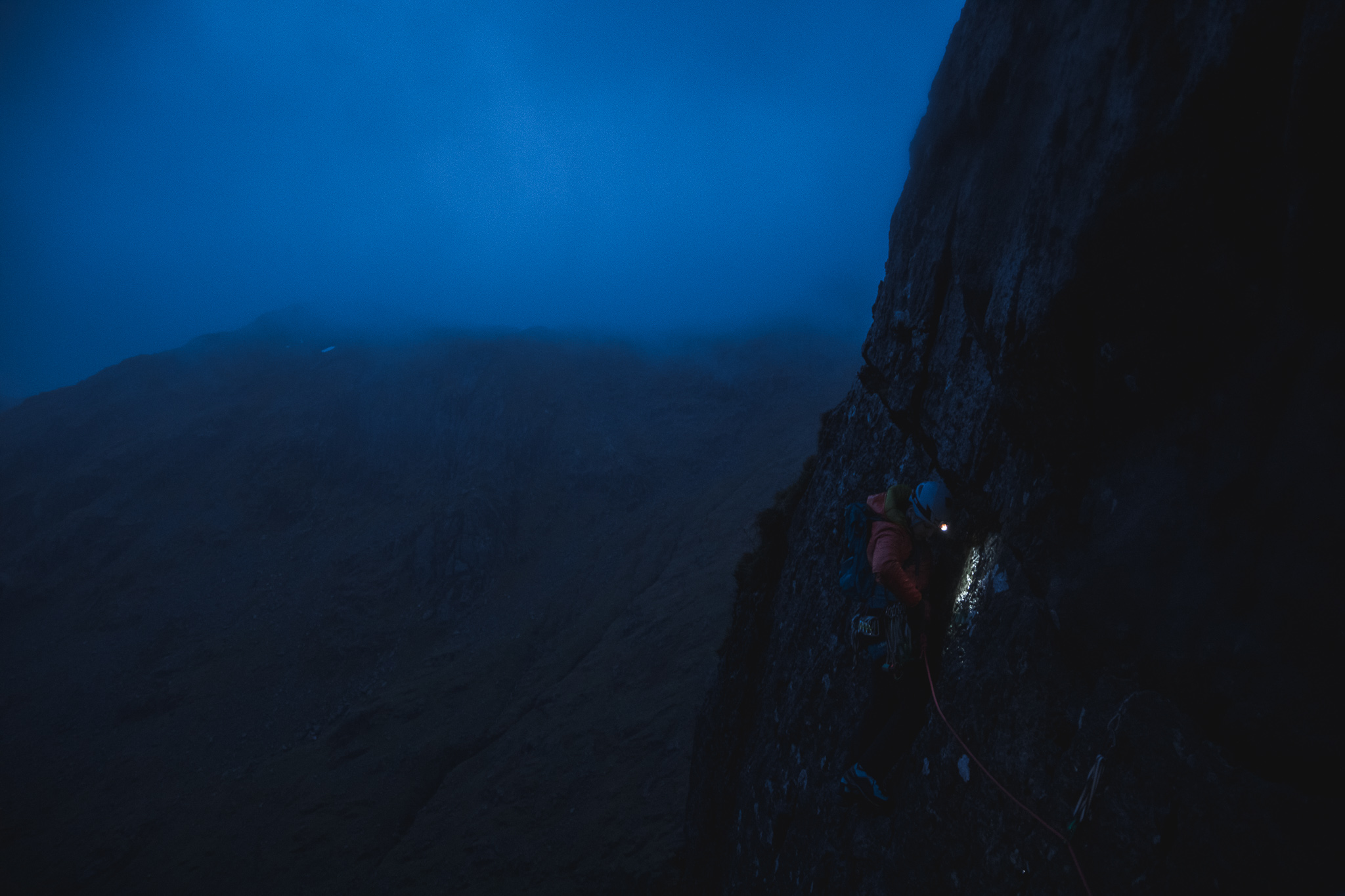 There is actually a large ledge a few meters below the hand traverse (which is not what photos may lead to to believe). 
In the dry and in climbing shoes I imagine this pitch being spectacular, beautiful, easy.
It still was, but in a lightly scarier way. The feet kind of melted off into nothingness in the pouring rain and in my big boots. I balanced the front rubber of my big winter boots on the tiny ledges, and relied moreso on the large hand crack which was thankfully, one huge traversing jug. Thankfully because, at one point, I did slip and was able to hang on with just my hands before getting balanced again. And I'm not that strong. 
I placed two pieces of gear and then hauled myself around the edge, grateful it was done and exhilarated that I'd beaten down any rising panic that had started to find purchase. 
Michael came second, yelling "how did you lead this?!" which made me feel pretty great. Rory came third. We left our grey nut behind at the belay (my too-good placement) so if anybody happens to find it, give it back please! Rory, still a little unhappy from the last bit of climbing, didn't really enjoy the traverse either. 
I can't wait to come back with them both in the dry and do this again, so they can experience what a lovely bit of climbing it is.
"Pass a large ledge, up a rib then a scoop and so to the top."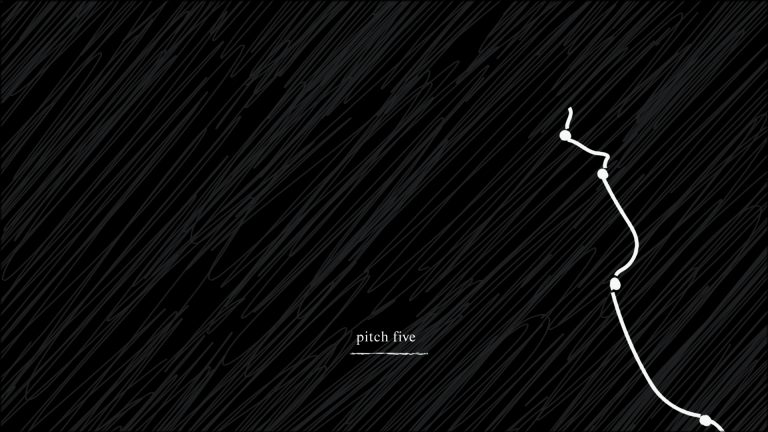 I don't really know how much good information I have for this pitch. It was completely darkness at this point. I left Michael and Rory at the belay and started up on the final pitch. Finding my way up the easiest way in the dark, my headtorch just lighting the rock ahead. 
The climbing felt okay. Nothing too worrying or difficult, I don't think. The issue was in route finding. I went around 30-35 meters before coming up to an uncertain large section of wall, perfect for a belay. Unsure of the correct way up and not wanting to go wrong, I created a belay and brought the others up, knowing that Michael had climbed on this section of wall before and that he would have a better idea of the last little bit to the top. 
Turns out we were just a short scramble away. So we were up, done, and Michael lead us down the descent walk back to the car.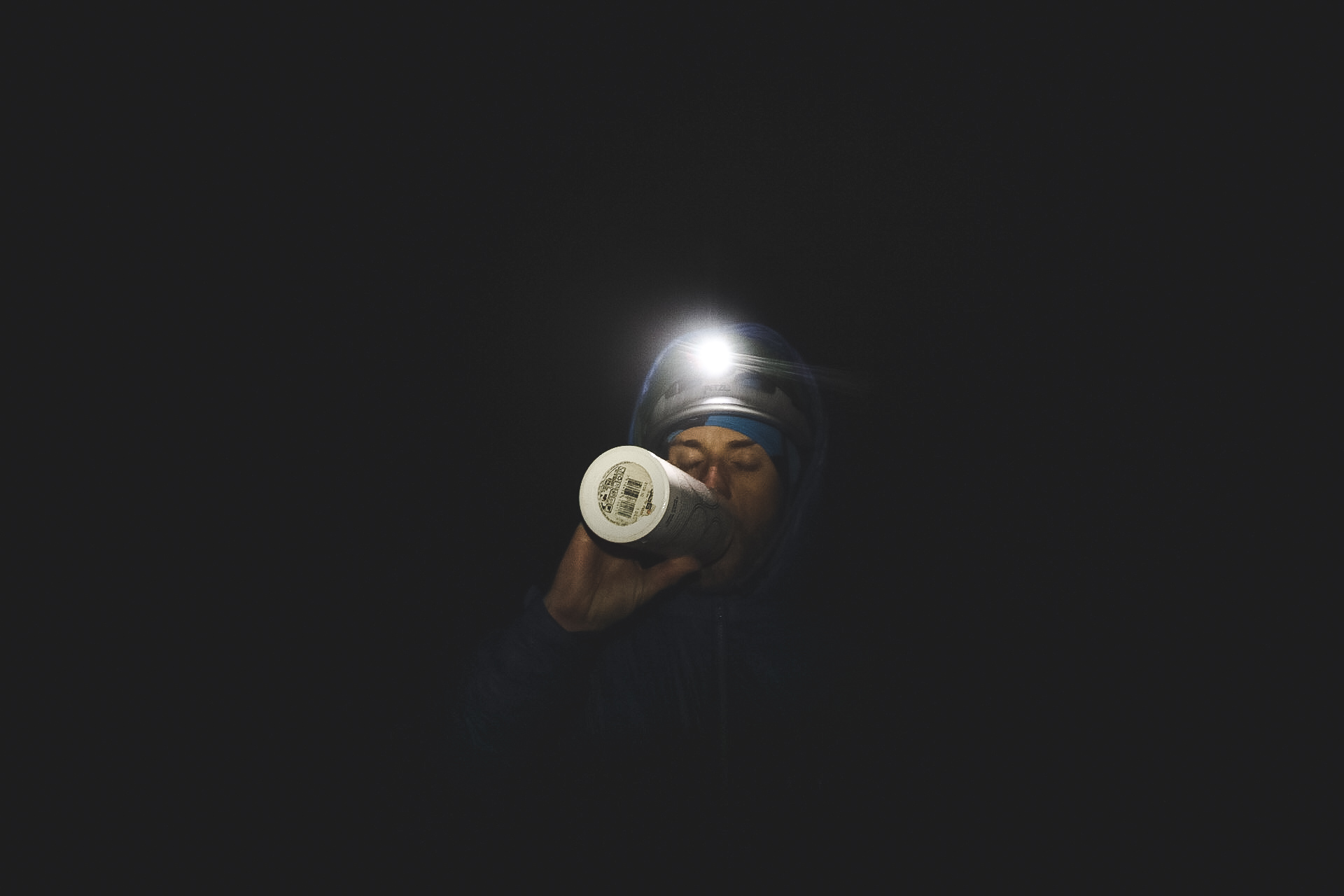 The way back down was around an hour. The skies cleared and we were lucky enough to see some stars and be spared the rain on the way down. It's gentle. I tripped over a couple of times (I'm clumsy…) and then we finally made it back to the car. 
Dinner, exhausted driving.
11:00pm
 We rolled into bed.
It was a long day.