Saturday 6th April, 
Eyes open. It's Michael's birthday today. 28. 
We had a later one than anticipated last night. Full adult mode. Friends round, games night. Not ring of fire-esque games, but board games, card games. Games we spent money on. This is adulthood, right?
We sleepily make our way into the world of the awake, I jump in of the shower, out of the shower. Tell Michael not to have breakfast but to be showered by the time I get back. 
I run out of the door and return 45 minutes later, box in hand, sugar rush (and sugar crash) ahead of us. 
Coffee made, remnants of last night tidied, climbing rack dismantled and dispersed into bags , we fill up the car with climbing gear and snacks and photography equipment and head on the all familiar road to the Lakes, with Kentmere bouldering in mind.
We'd never actually been bouldering in The Lakes! We've always hiked, scrambled, trad climbed. So.. we didn't have a guidebook for bouldering. The new one comes out in May and looks to be pretty rad so we thought we'd wait. But – that did mean we were guidebookless, which can be kind of annoying when you're at a crag looking back and forth from a piece of rock to your phone, to the rock, to your screen. It's just not as easy to work on the climbs.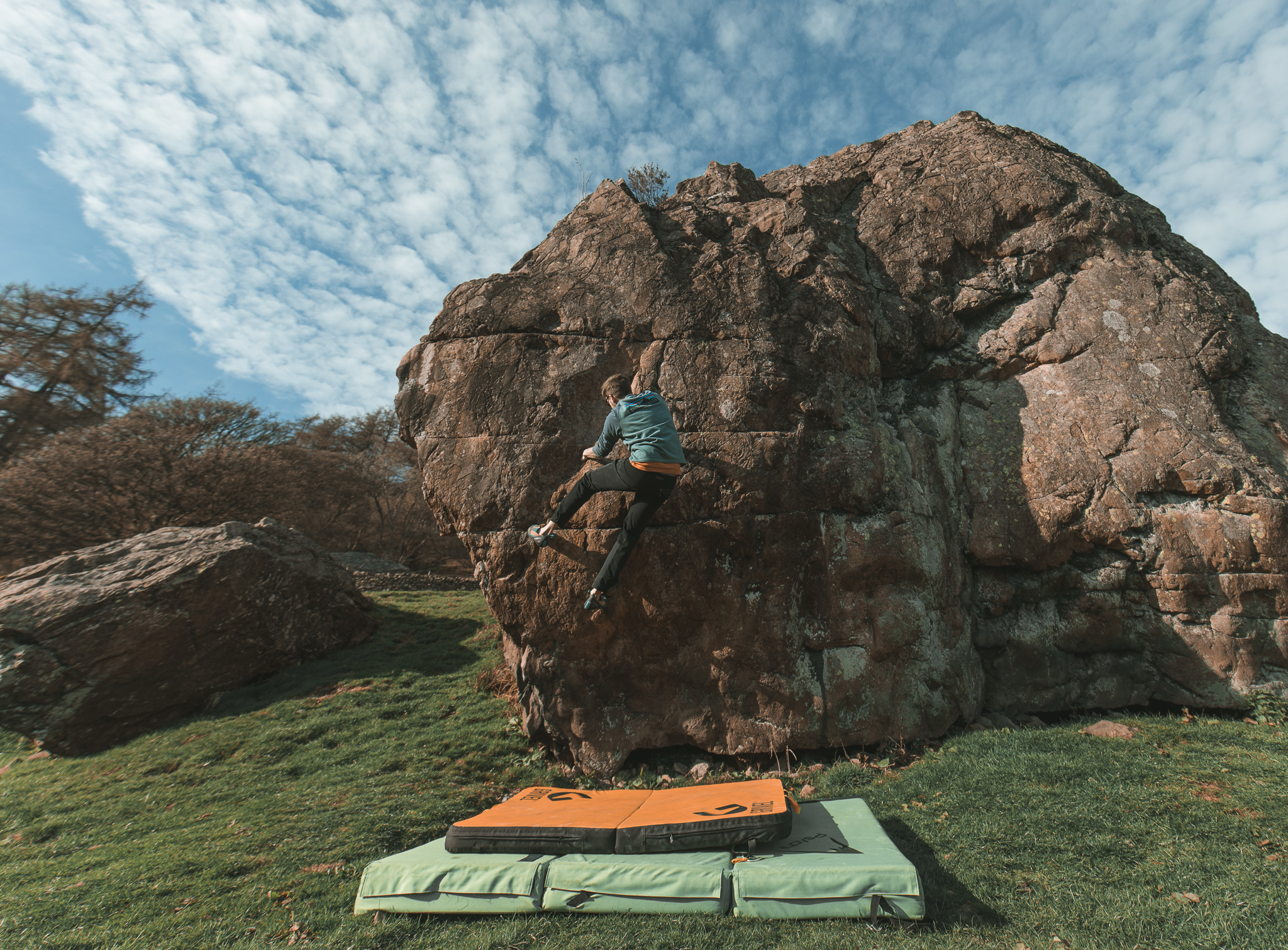 We proceeded to find the highest piece of rock in Kentmere and set our mats underneath it, Michael looking at the relatively easy climbs and me, well, I had already decided that I wouldn't be at the top of that no matter how easy the climbs were. That just isn't the way to combat a fear of outside bouldering. 
After a few tentative starts, Michael found his aptitude for heights and breezed all the way to the top of the rock. 
Onto the other (lower) side, please and thank you! 
We (Michael) set to work: first deciphering which route was which (there were varying ones without much description), and then actually trying to climb them. At this point in any given bouldering trip outdoors I get the classic not-wanting-to-boulder vibe. I find it all too overwhelming and feel like I'm going to fall and die. (Well, perhaps not die, but I definitely feel like I'm going to get injured).
But…  it being Michael's birthday and all I felt like I had to at least try. So I put on my bouldering shoes and we went to working out the route together – Michael easily climbing one 6a variation except the first start move – a crimpy sit-start. 
The sun dipped lower and lower. I fell, again and again.
And then, I just… got it.
Beautiful moves, and excitable and nervous top-out. A milestone when it comes to my headgame, and confidence. Not so much because of the grade but because I managed things I hadn't really wanted to try before: sit starts, top-outs, overhangs, big moves. All things I'm not even comfortable doing in the gym.
We missed golden hour, the drone flying over shadows and just about capturing the clouds.
We packed up, wandered down the hill, and drove to our Airbnb by the sea.
I guess I don't mind bouldering outside after all.