With everything happening right now, it feels like it's more important than ever to breathe life into old projects, to revisit memories of beautiful times and adventures. As a freelancer I've now found myself with very little work, and more time. With so many videos and adventures left unfinished, I've decided to try and finish some of them. 
Wednesday 19th February 2020, 2:00am
I am wondering why I am awake. 
I fell asleep around an hour ago at 1:00am and now, an hour later, I am stirring from warm bedsheets, in the dark, about to get up and showered and dressed and packed and ready to drive over 2 hours to the Lake District for the hope of some views. 
Well, I hope it's worth it.
2:15am
I've been stood in the shower so long. But it is so hot. I don't want to get out, even though I know that Katy and Gee are driving over to mine and will be here in 15 minutes. I need to be dressed, I need to finish packing everything. One camera battery, Two camera batteries. Drone, batteries, ND filter, water, coffee, microspikes, Clif bars, portable phone charger, map, hat, gloves.
I feel a little sad that we aren't heading to Glyder Fach today. I've been checking and checking and checking the mountain forecast for days and it looked beautiful in Wales. Just for a few hours. Enough to capture the sunrise and be back down again before the new storm hit. But the storm grew faster and more tilted toward Snowdonia, squeezing and squeezing our weather gap until it didn't exist anymore. 
But the Lake District stayed open, a tiny window of calm between storms Ciara and Dennis. 
The walking route up Blencathra
5:15am
Parked up. We are here, parked up at Scales Tarn just by the White Horse Inn, which is just over 200m up. I've already drank all of my coffee and I'm ready to guide the other two up Blencathra, finding our way up there by an easy route, fingers and toes and everything else crossed for a beautiful sunrise over Sharp Edge. 
It's dark. We start up the path to Blencathra by torchlight, little lights bobbing in the darkness, steadily heading upwards into the mountains, hoping for the sunset. I know where I'm going but I created a route on my OS app just in case, and we have the paper map in Katy's bag. Just in case. 
The clear skies we had hoped for were looking dangerously heavy, instead. Tiny flecks of snow passed by my headtorch as I walked. Even though I checked Mountain Forecast a few hours ago, I wonder whether the storm is arriving early. This isn't the forecast we had hoped for. We continue, finding snow as little as 400m up, little scrambles over rock and snowy patches, enjoying the flat walk through the valley. I imagine the view I saw last time I was here, the darkness swallowing it up. I looked up at the sky: as blue hour approaches, this uncompromising thick blanket of black cloud makes itself even more obvious. 
6:45am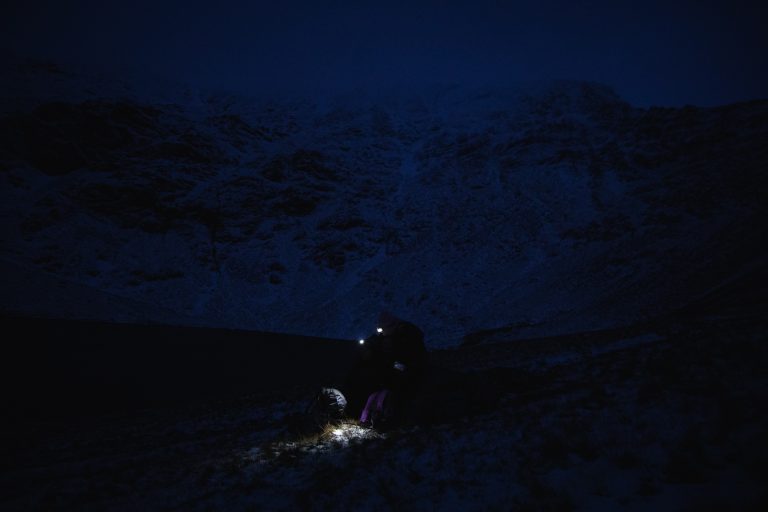 It's not quite blue hour yet. We're at Scales Tarn, uncertain on whether we should go further. It's windier than forecast. A lot windier. Gusts of up to 50mph so far, when it was only forecast 25mph, max.  Through the gloom we can see mist covering the entire summit and top of Blencathra. The blanket of cloud hasn't budged. We wouldn't get a view up there and, even if we did, would we get a sunrise? Or one of those nonsunrises where it's just suddenly light and everything is dull?
We decide to forgo the summit, in favour for waiting it out at the approach to Sharp Edge.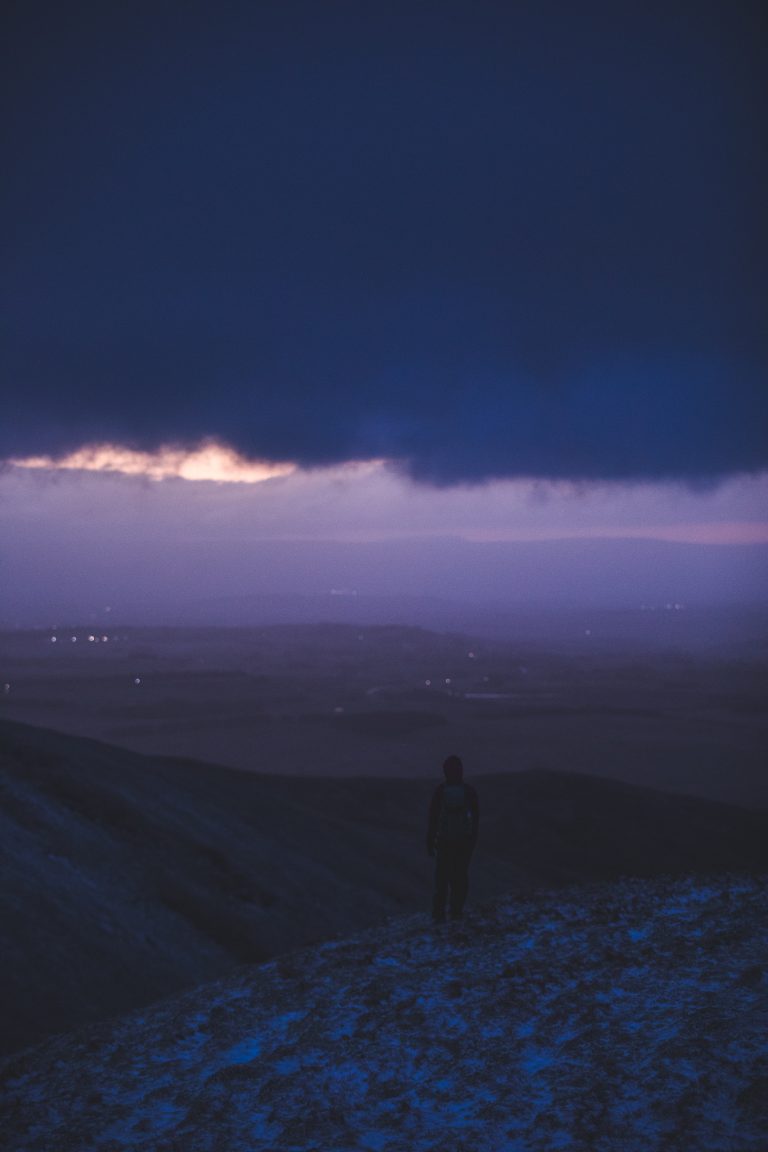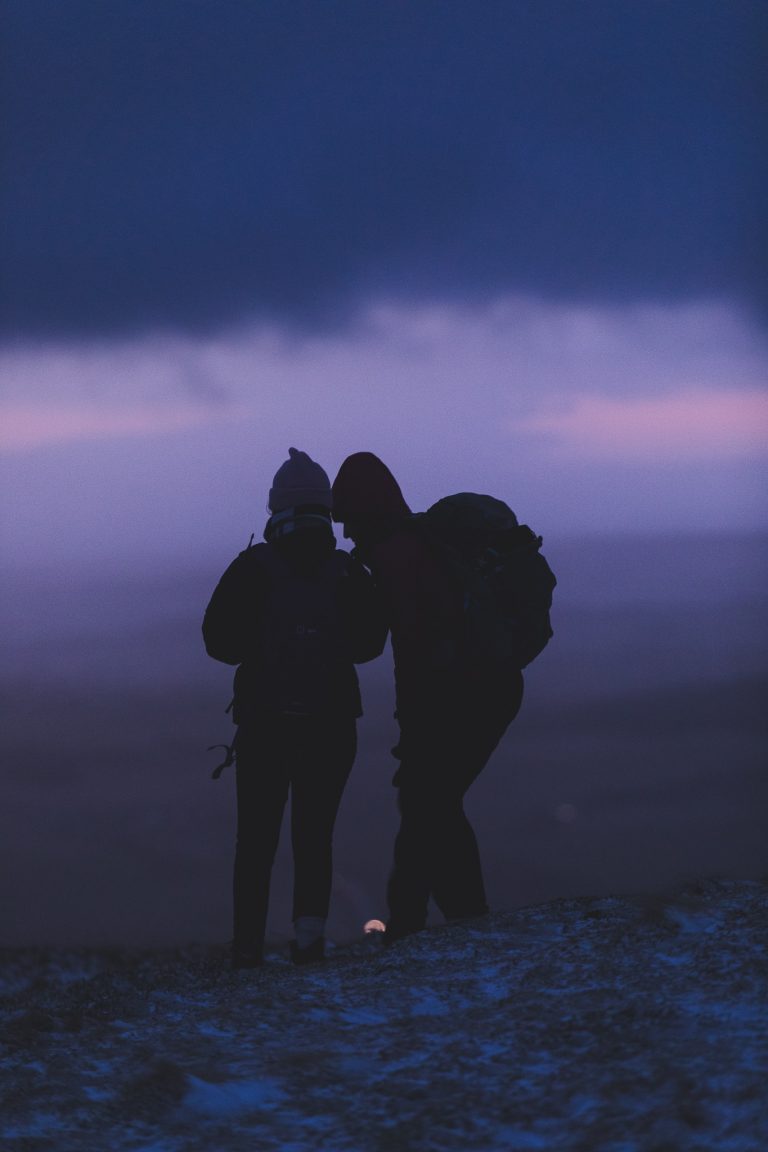 We glimpsed a small gap in the cloud. Hoping that it would grow and we might catch a glimpse of the sunrise. It may look peaceful, but the winds rose to around 60-65mph as we stood on the ridge, at one point blowing Katy clean off of her feet.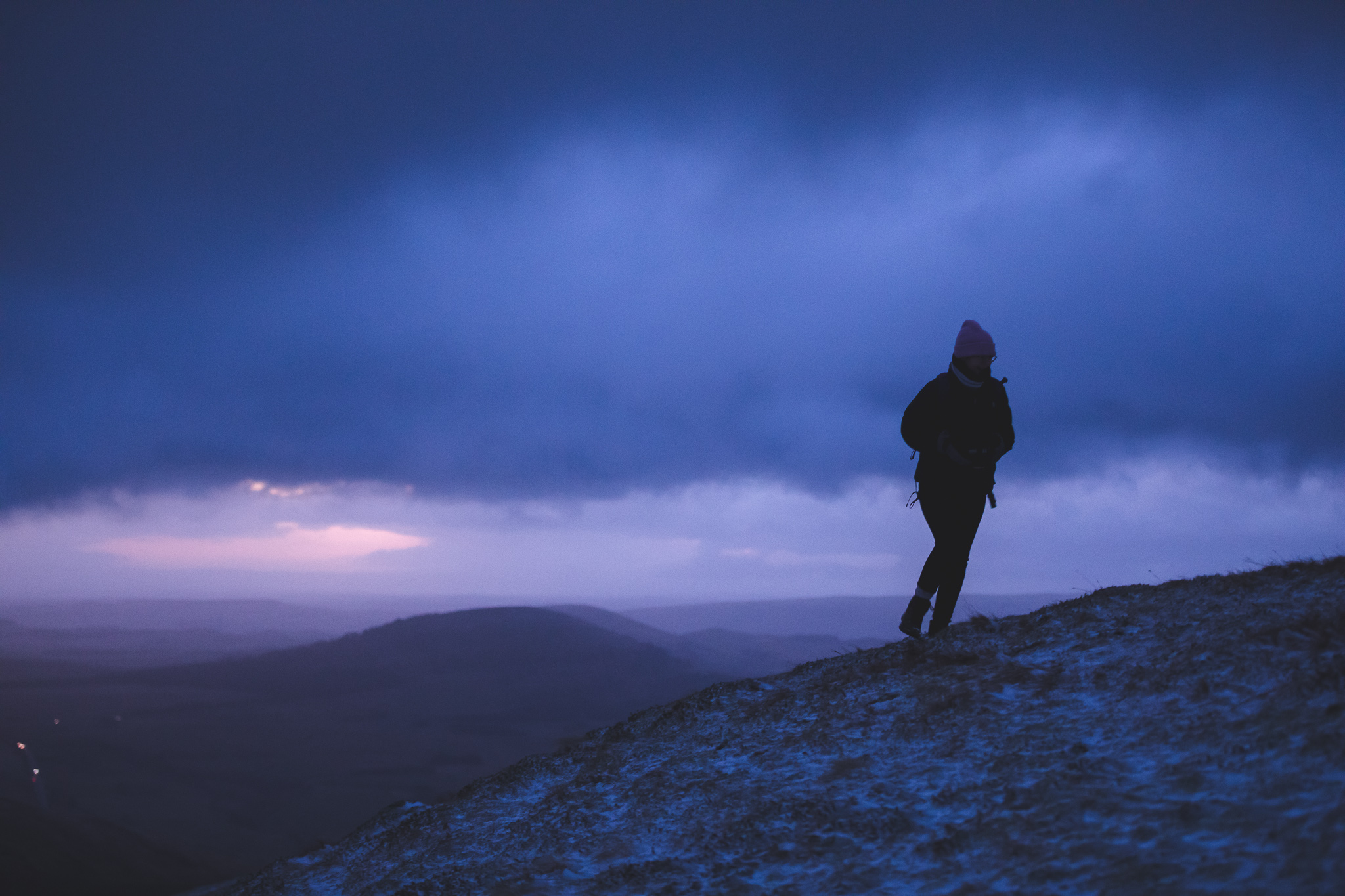 07:15am
The gap widened. The sun threatened to make an appearance. 
07:30am
And then it did, for the briefest of minutes, rising between the clouds before disappearing again.
The wind picked up and we headed back down the hill.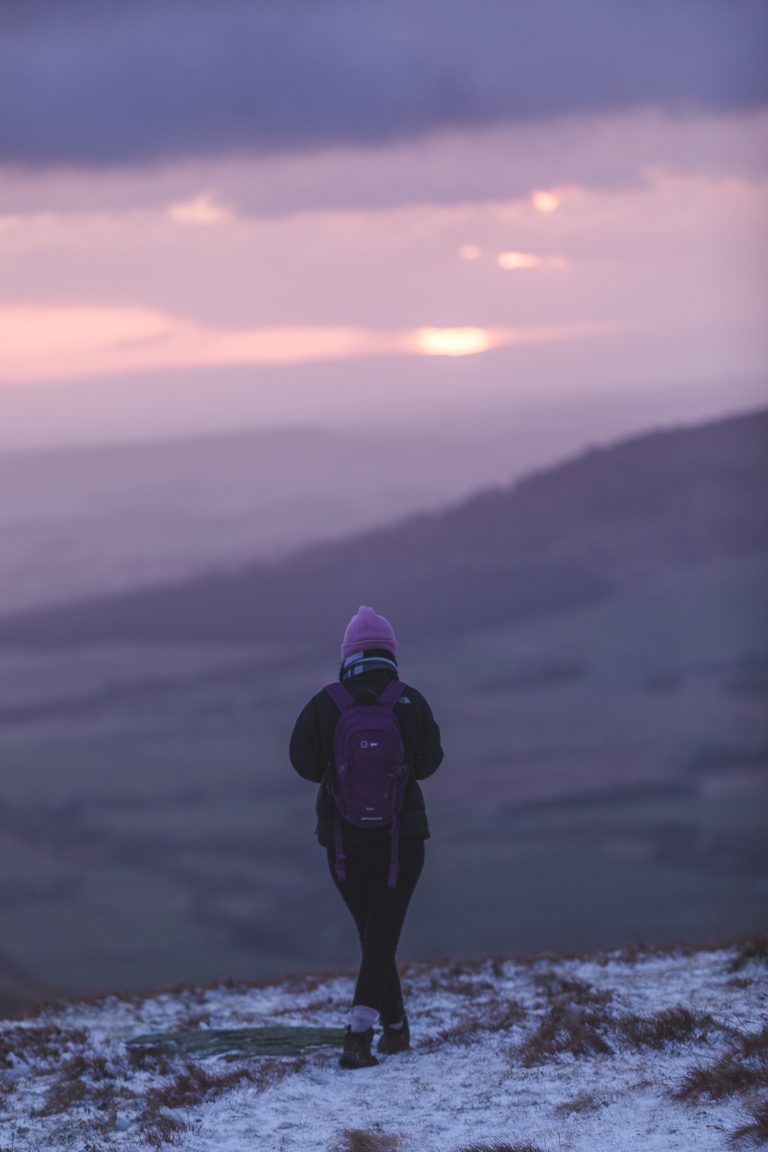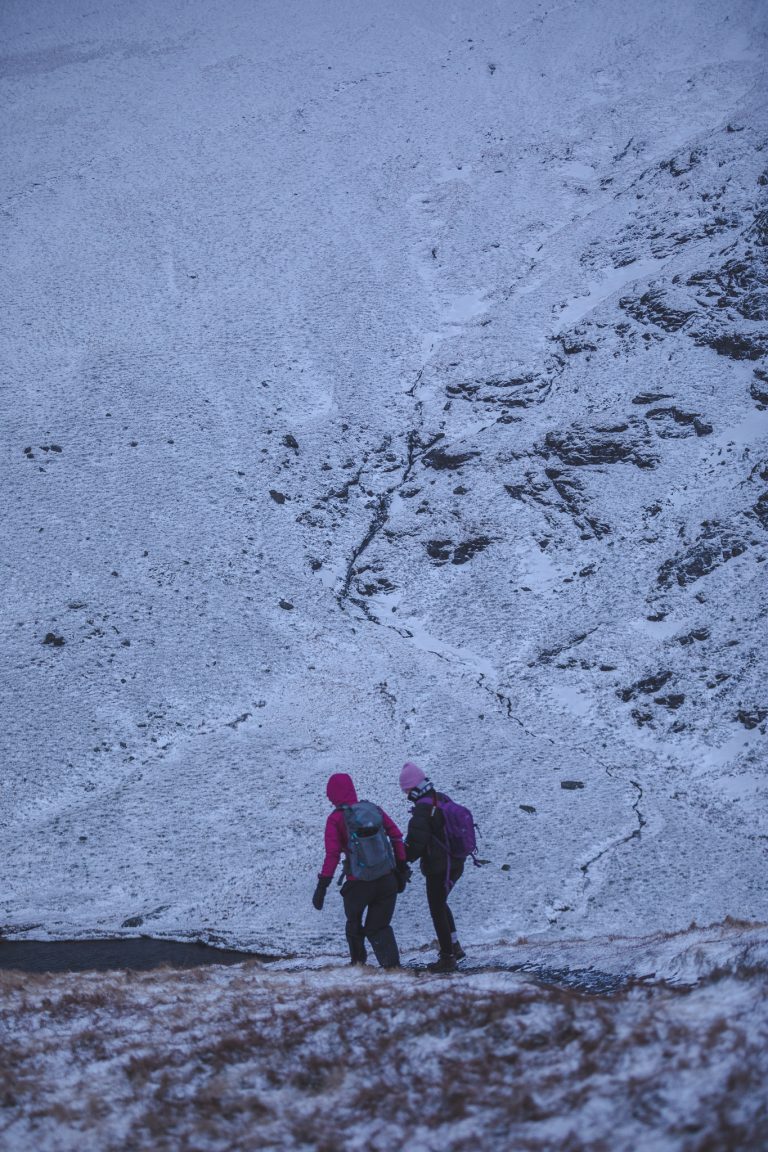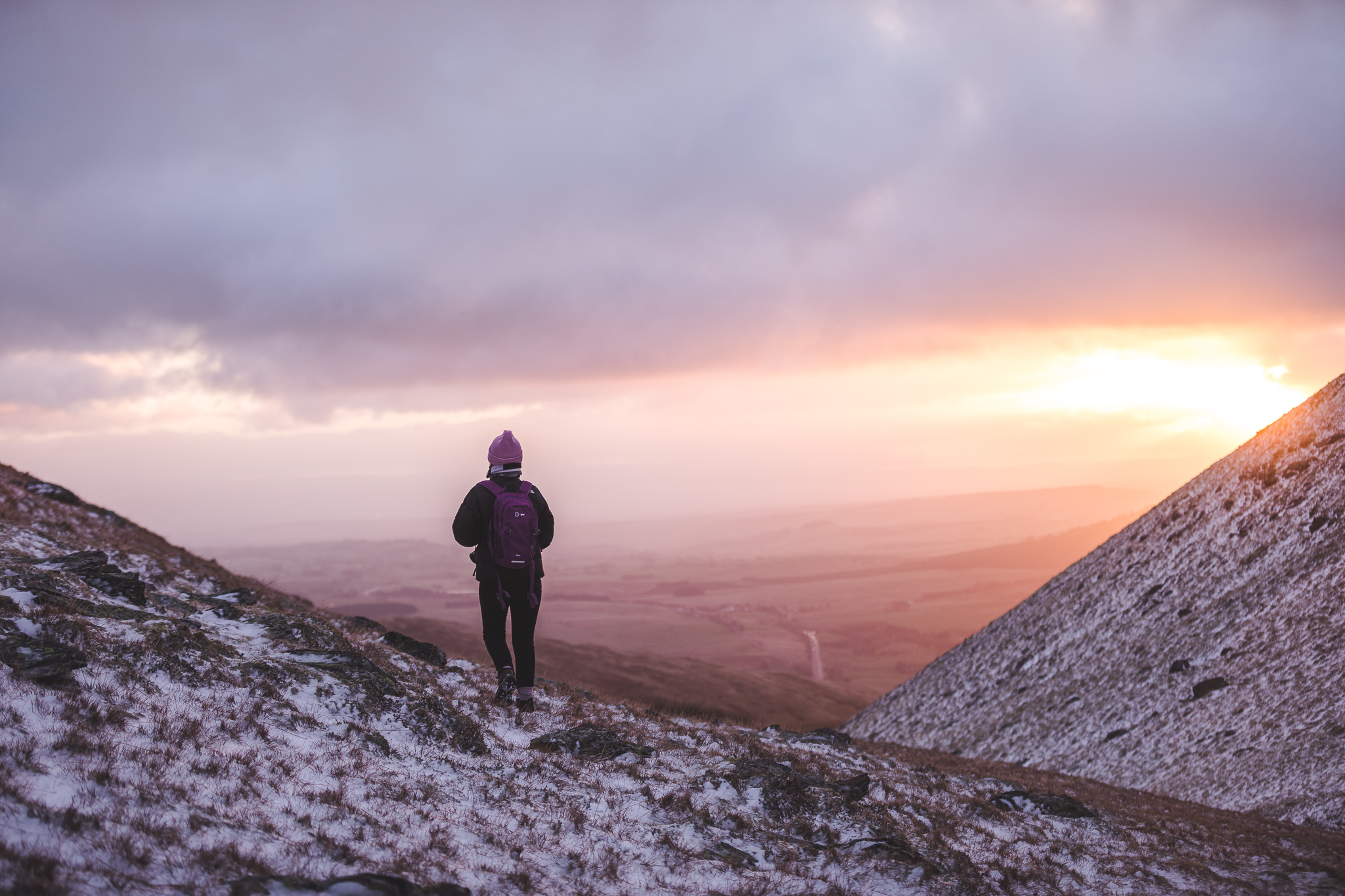 It lasted for a minute. Maybe two. No longer.
The sky was lit up for the smallest amount of time before changing into greyness.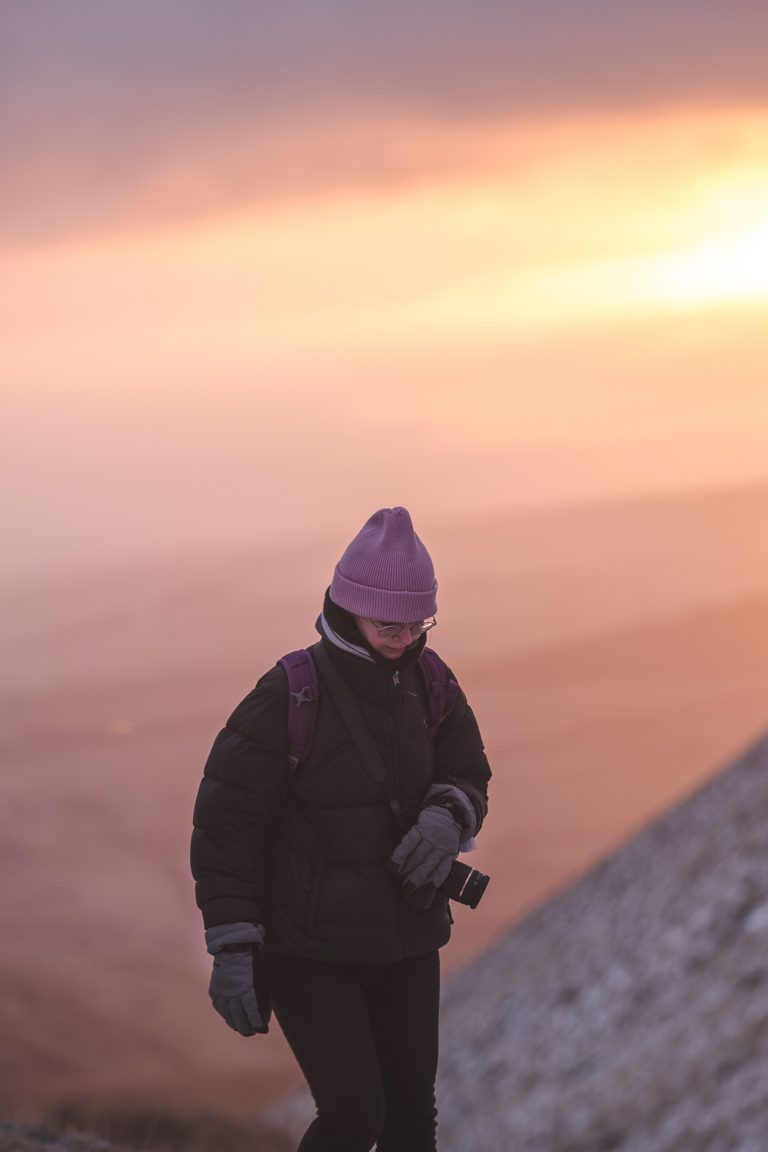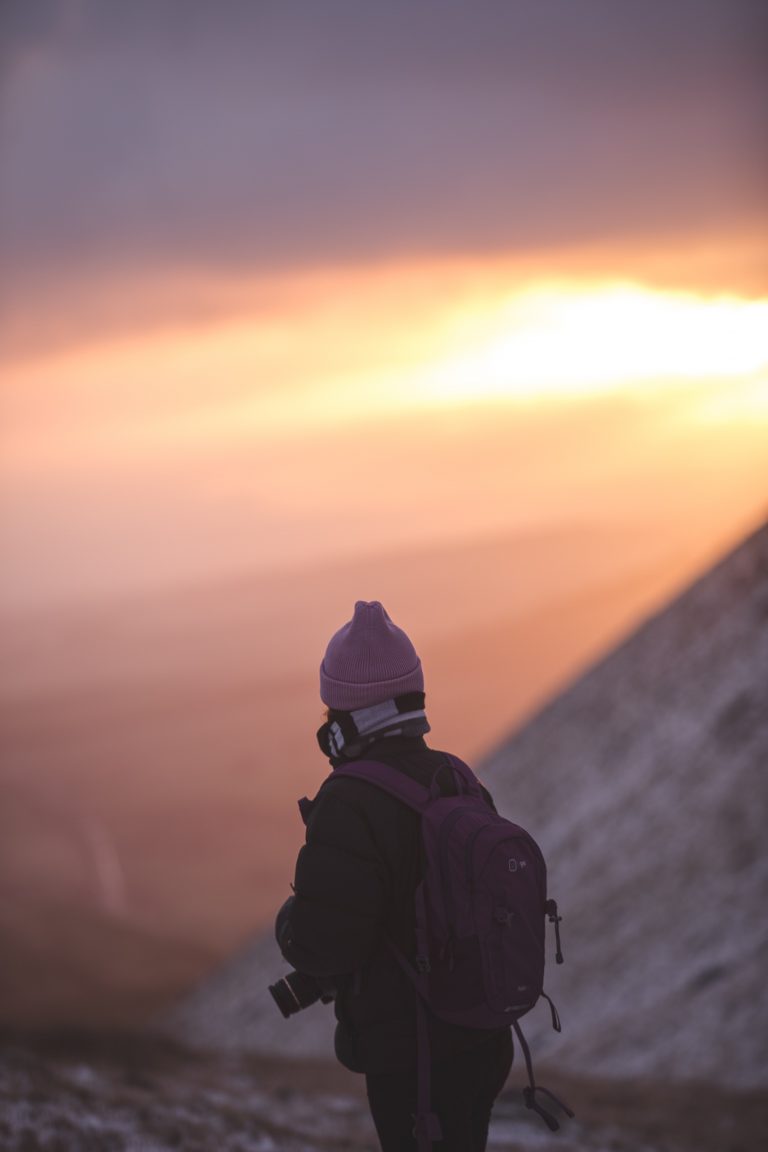 And, magically, a minute later, the wind died down. I took a moment, before deciding to take the risk to fly the drone.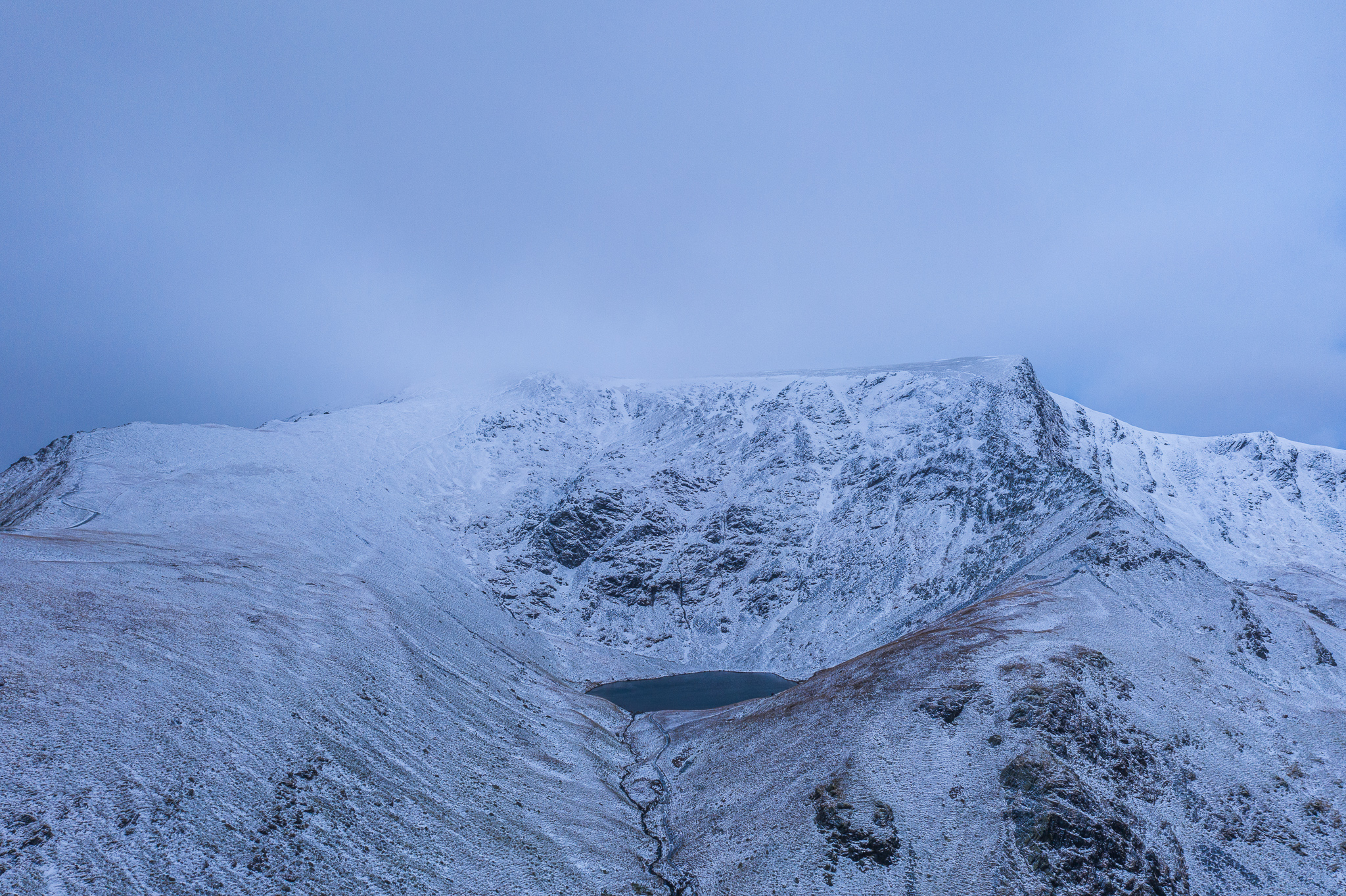 And it was worth it. It was up for no more than 5 minutes but the photo and footage has drawn me in a lot more than so many of the other photos taken this morning. 
I don't know why. Maybe it's seeing where we were on such a grand scale – a celebration of the greyness after the fiery skies – the love for seeing this place in a way I've never seen it before. Being a tiny ant, barely visible.
Staring at the laden skies, growing ever more dull, we made our way back down, careful stepping down the icy steps and across the waterfall.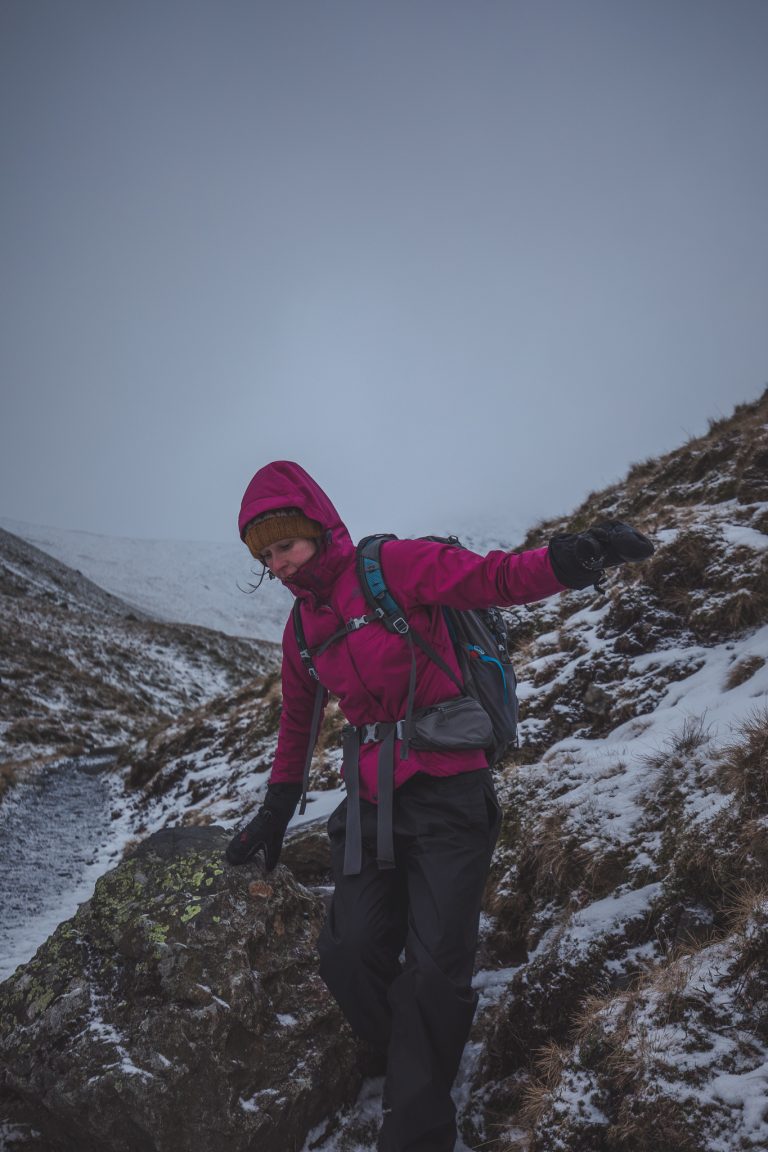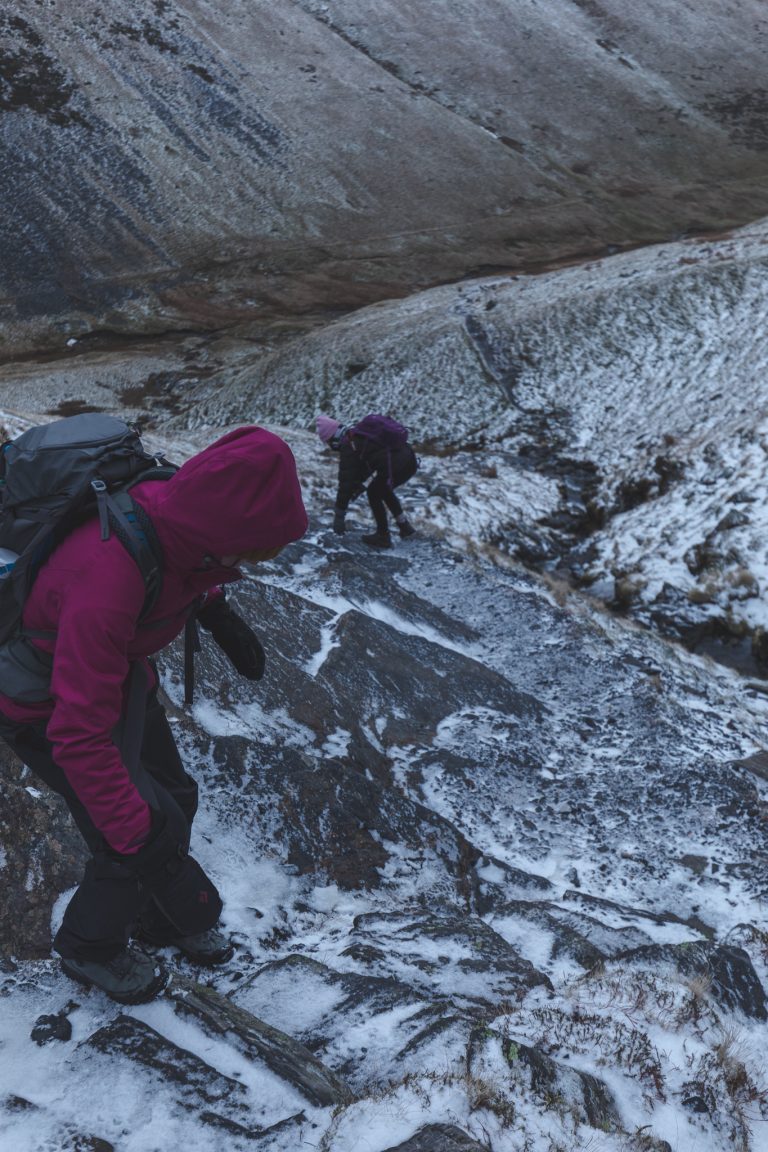 Back in the valley, we looked back at the snowy scene. Wholly different to our pitch black approach.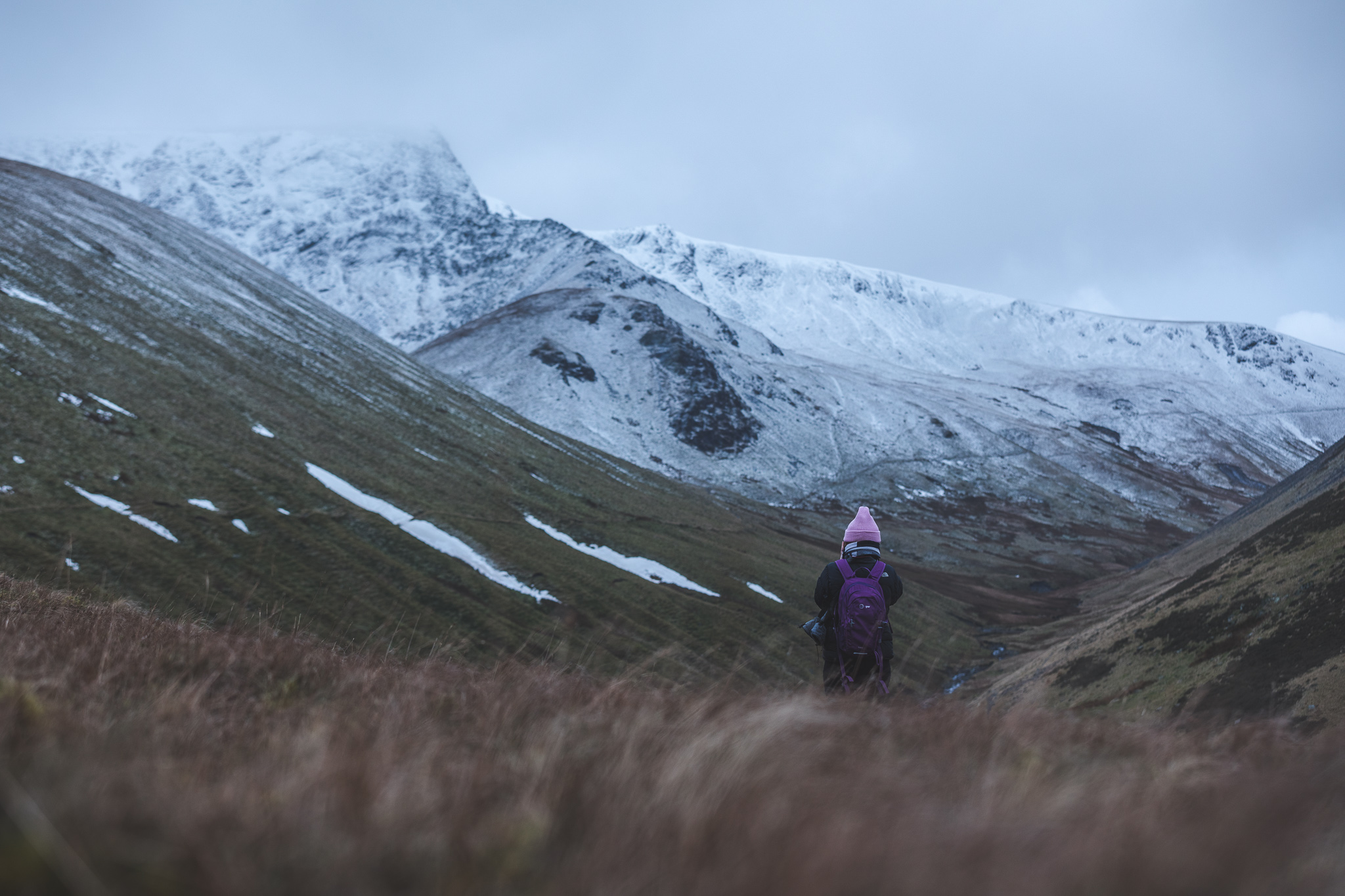 09:30am
Sometimes I'm not even awake by 09:30. But we are back at the car, already planning a coffee stop, a bath, and a nap for when I got home.